Build an easy, inexpensive raised garden bed with this simple step by step tutorial!
A couple of weeks ago I hauled my 3 boys to Home Depot determined to get the supplies I needed to build my own cedar raised garden bed. I had an hour before meeting some friends for a much needed girl's night so I was a woman on a mission! I somehow managed to maneuver three boys and two carts (in a dress no less!) and get my supplies. I had intended to use Ana White's $10 raised bed plan but when I took a closer look at my wood the next day I realized I had purchased 6' cedar fence slats rather than 8'.
If you don't want to build from scratch, check out my experience with raised garden bed kits, and also my garden planning calendar, and be sure to also read my tips for beginning gardeners!
A little quick improvising and in less than an hour I had made my own raised bed, albeit a little smaller than I originally planned!
To make the bed I bought a total of 6 cedar fence slats for under $3 each. I started by cutting two of them in half to create the end boards. I used 1.5" wood screws to attach the boards to scrap 2 by 4s I had on hand to brace the corners. It seriously took me about 35 minutes to make one. I was so excited-such an instant gratification project!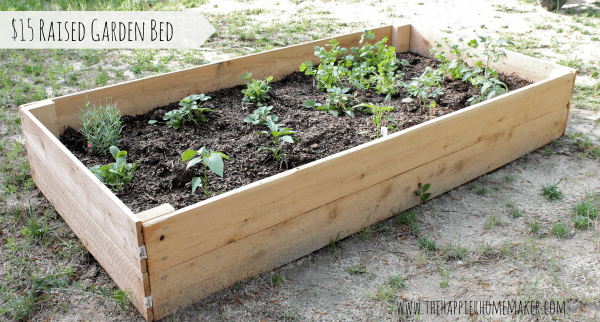 When I had it all built I removed the weeds underneath and turned the dirt over as deep as I could (this area of the yard has a lot of clay and not so great dirt due to the construction of the house last year as you can see from the not so pretty grass around the garden...the dirt is super hard!) Then I filled it with six 40 lb bags of 99 cent topsoil and 2 large bags of miracle grow garden soil.
I am really excited about what I planted-my intent is a salsa garden so I put in two tomatoes, jalapeno, bell pepper, 4 cilantro plants, and then I also added a banana pepper, zucchini, lavender, and my son's strawberry plants that weren't doing so hot in another part of the yard.
So pretty right? And easy!