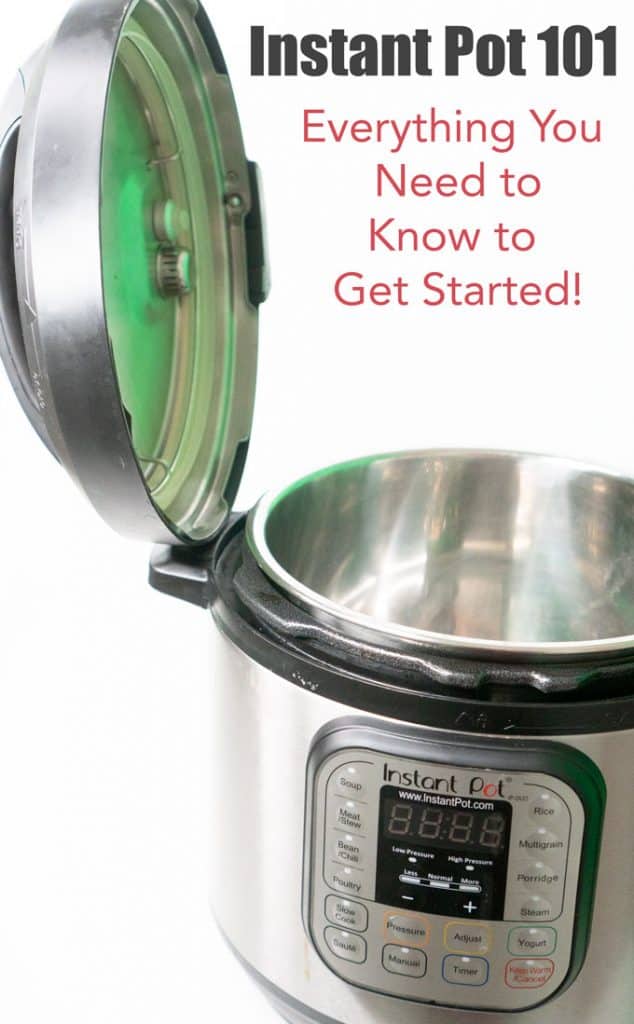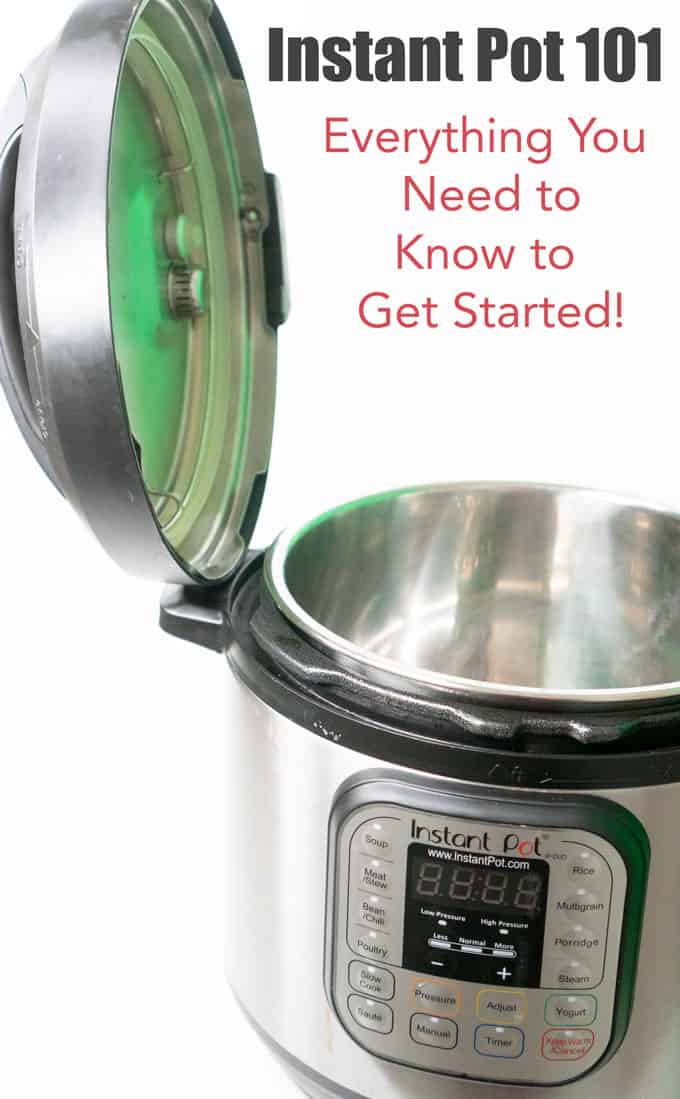 Can I be honest? I was so excited to buy an Instant Pot and when I finally got it I let it gather dust for seriously, SIX months before I used it. It just seemed so intimidating! Once I actually learned how to use the Instant Pot I was using it constantly. It is seriously one of my favorite things in the kitchen. If you're new to using an Instant Pot, I encourage you to just get started! It's much easier than you think and you'll love it once you get the hang of it. So without further ado, here is your Instant Pot 101 class sharing exactly how to cook with a pressure cooker!
Unpack the Box!

Your pot will vary depending on model but it is very easy to set up. You'll want to unpack everything in the box. Depending on the model that could include a Steamer Rack, Rice Paddle, Soup Scoop, Rice Measuring Cup, Condensation Collector, Quick Reference Guide, Recipe Book, and Manual. Remove any plastic and wash the inner pot, lid, silicone sealing ring, and accessories in warm soapy water and dry thoroughly.

Warning: NEVER immerse the outer Instant Pot housing in water or any other liquid

Plug the cord into the back of your Instant Pot and plug into the wall, you should hear a beep once it is plugged in. If you don't, check the connection at the base.

Place the inner pot in the base and finally, install the condensation collector on the back of your Instant Pot. It slides right into the slot on the back. 

Inspect the Seal of the Instant Pot

Now it's time to get familiar with your Instant Pot! If you look on the inside of your Instant Pot lid you will see a clear silicone sealing ring. It is very important to give this a quick check each time you use your Instant Pot to ensure there are no tears. They will wear over time and you can purchase replacement silicone sealing rings here easily and inexpensively.

Learn How to Shut the Instant Pot Lid

You will also want to get familiar with opening and shutting your Instant Pot. If you look carefully you will see black markings on the lid and base. The top will have an inverted triangle and the bottom has a locked and unlocked triangle. They are a little difficult to see if you are not looking for them. To shut your Instant Pot simply line up the inverted and unlocked triangles then twist clockwise to lock the lid. Twist counterclockwise to unlock.
Warning: NEVER unlock the lid without releasing the pressure first!

Learn How to Vent the Instant Pot

Next, we'll practice with the Steam Release Valve. Check to ensure it's fully attached to the lid and pushed down all the way. It's perfectly normal and necessary for it to be loose. You will use this valve to release the pressure from the Instant Pot before opening. Look carefully to see the venting and sealing locations for the valve. Also, check the Instant Pot Float Valve right next to it. It should easily pop up and down (you can push on it from under the lid.)

How to Remove the Instant Pot Valve

You can remove the Instant Pot valve for washing but simply pulling it straight up. 

Learn How to Use the Instant Pot Buttons

Most of your recipes will tell you exactly which buttons to push on your Instant Pot. Here is a very brief overview of each button's function:
-Manual & Pressure Buttons allow you to set the time and pressure yourself rather than a preset button. Use the +/- to adjust these settings.
-Saute This allows you to cook as you would on a skillet. 
-Soup adjusts the Instant Pot automatically to avoid boiling the liquid. Adjust the time per your recipe.
-Steam is used to steam vegetables, seafood or reheat food. Use the steam rack that came with the Instant Pot and add 1-2 cups of water to the bottom of the Instant Pot.
-Slow Cook allows you to use your Instant Pot as a slow cooker. It defaults to a four-hour cycle but you can adjust the time with the +/- buttons.
-Bean/Chili has a default of High Pressure for 30 minutes. Refer to your recipe or the Instant Pot manual for the specific cooking time of different beans.
-Meat/Stew has a default to a High Pressure for 35 minutes. 
-Multigrain is for preparing brown or wild rice, which typically takes longer than white rice to cook. Cook brown rice to a 1 part rice to 1.25 parts water ratio and wild rice to a 1:3 ratio rice to water.
-Porridge has a default to a High Pressure for 20 minutes. Because of the high starch content, always allow porridge to naturally release the pressure after cooking to avoid splatters and injury.
-Poultry is set to High Pressure for 15 minutes. Use this for already defrosted chicken.
-Rice should also be released naturally. Use a 1:1 ratio of rice to water.
-Keep Warm/Cancel At anytime when you are using your Instant Pot you can press the Keep Warm/Cancel button to cancel your program. When pressure cooking is done, the Instant Pot will beep and automatically go into the Keep Warm function. It will display an L in front of a number to indicate how long it's been warm, for example, L0:30 for 30 minutes. It will keep food warm up to 99 hours making it perfect for pot lucks.
-Timer button lets you delay the start of your cooking for either slow cooking or pressure cooking. Press the Timer button with 10 seconds of pressing either the Pressure / Manual button or Slow Cook button. Use +/- buttons to adjust the hours you would like delayed, then wait a second and press Timer again to set delayed minutes. You can cancel the Timer anytime by pressing the Keep Warm/Cancel button.
-Yogurt button allows you to make your homemade yogurt. The scope of the entire process is beyond this blog post but I will post a tutorial for it soon and link it here!
There you have it! You now are ready to use your Instant Pot for the first time! Looking for a good recipe to try? Here are some no-fail easy Instant Pot recipes: