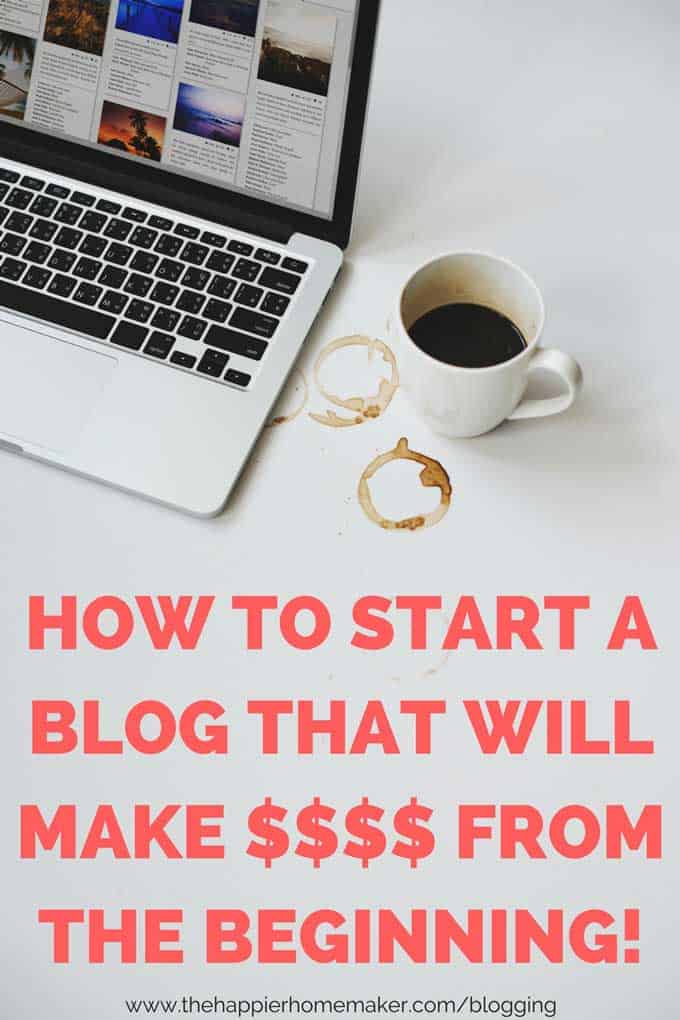 Years and years ago when I start blogging there weren't a lot of people out there talking about making money blogging. I started my first blog for family, then I blogged about my hobbies before launching this blog as a way to pass time while my husband was deployed in 2011. When I realized that blogging could actually earn me money I was determined to make it happen and within two years I was earning a full time income from my blog.
Nowadays the internet is full of people talking about how much money they make online and making it all sound so easy-don't be fooled. For everyone person actually earning and income blogging there are tens of thousands who are struggling and frustrated. Earning an income from a blog takes a lot of upfront work but it can be done. Today I wanted to share 5 tips for starting a blog that actually makes money from the very start.
1. Choose the Right Topic
If you are not passionate about what you are blogging about you are unlikely to make money writing about it. Think about your life and your hobbies. What do you love sharing with others? What conversation do you end up having with others when you meet new people? Brainstorm things you are passionate and knowledgable about and use those topics to start a blog. You don't have to be a world class expert in whatever subject you blog about, just knowledgeable enough to help help others who don't know as much as you do.
2. Set Up Your Blog Self-Hosted from the Beginning
I set up my blog on a free platform and spent countless hours and a lot of money switching it over to WordPress later on. A self-hosted WordPress.org (NOT WordPress.com) blog is the gold standard in blogging in my opinion. If you are serious about making money from blogging spend the small time and money investment in the beginning to get it set up properly and save yourself the headache of moving it later.
From my experience self-hosting is essential for monetizing your blog without limitations (free platforms vary on how you are allowed to monetize your website, if you choose this route choose carefully so you're not limited down the road.) In addition, WordPress.org gives you complete freedom in your blog's design and functionality and helps you create a very professional looking blog. Click here for an easy step-by-step tutorial for setting up your WordPress blog in 15 minutes.
3. Create Quality Content
There is absolutely no way around it-if you want to blog professionally you need to produce top-notch content. Find your voice and be engaging. I like to write like I talk and imagine when I'm blogging that I'm talking to a close friend. Nobody likes reading something that sounds like a robot wrote it!
Ensure that your blog is grammatically correct and for the love of all things check your spelling! WordPress has built in spellcheck but you can also use a free tool like Grammarly to check your blog posts before publishing. Nothing shouts "amateur" more than poor writing on a blog.
Finally, in this age of Pinterest you MUST have nice images to accompany your blog posts. Use a free/inexpensive tool like PicMonkey to edit your photos. Pinterest prefers tall vertical images with overlay text while Facebook likes horizontal images with no text. Create one of each for each blog post you write. Invest in a photography class (I recommend Shoot, Fly, Shoot or The Food Photography Book as they did amazing things for my photography!) If you don't want to take pictures use a program like Canva.com to create images inexpensively with stock photography.
4. Monetize Wisely
Do not, I repeat, do not start a blog and fill it top to bottom with ads from the very first week. First, you'll make no money off of them until you have a decent amount of traffic and it can be off-putting to your readers. In the beginning of your blog the focus should be on creating consistent, quality content in order to build an audience. While you're in the process of building your readership you can monetize immediately with affiliate marketing and by creating your own products or services to sell.
Affiliate marking it the simple process of recommending a product or service and receiving a commission when your recommendation leads to a sale. Your readers don't pay any more for the product and you get a small bonus for recommending it. A word of caution-don't be greedy and make bad recommendations. Your audience trusts you, don't abuse that trust. I never recommend products here on The Happier Homemaker that I haven't personally used and trust. Amazon Affilates and ShareaSale are two affiliate programs that are easy for new bloggers to get started with.
Creating a product is something that many bloggers forget to think about when monetizing their blog. What can you offer your readers that would be of value to them and help you create an income-an eBook, eCourse, consulting services, meal planning, printables, the possibilities are endless. Think of your particular talents and skills and brainstorm how you can use them to create a product of service for sale on your blog.
Once you have steady traffic to your blog look into adding ads through Google AdSense, and later when your traffic is over 100,000 pageviews a month I highly recommend AdThrive.
5. Start an Email List
If you ask around most full time bloggers I bet you 99% of them will tell you that they regret not building their email subscriber list from the beginning. Social media algorithms change almost daily and there's no guarantee that your readers will see the content you put out on Pinterest or Facebook.
By starting your email list from the beginning you create a way to directly connect with your blog readers regardless of the whimsy of social media networks. You may choose to send out an email every time you have a new blog post, do a weekly newsletter, or just check in once and a while with your subscribers. You can start off with a free tool like MailChimp to start collecting emails for your list and then switch to an email marketing tool like ConvertKit when you are ready to take on more advanced email marketing tactics. (See this article about why you need email marketing and this article about Why I left MadMimi for ConvertKit)
Taking these 5 tips into account when you start a blog will go a long way in helping you to build a professional, money earning blog right from the beginning. If you would like more support for growing your blog please request to join my private blogging Facebook group and sign up for my blogging emails below! Happy Blogging!
–Big List of Blogging Resources
–How to Install a WordPress Theme