Finally, get your oven sparkling clean with this step by step tutorial for how to clean oven glass, including those stubborn interior stains!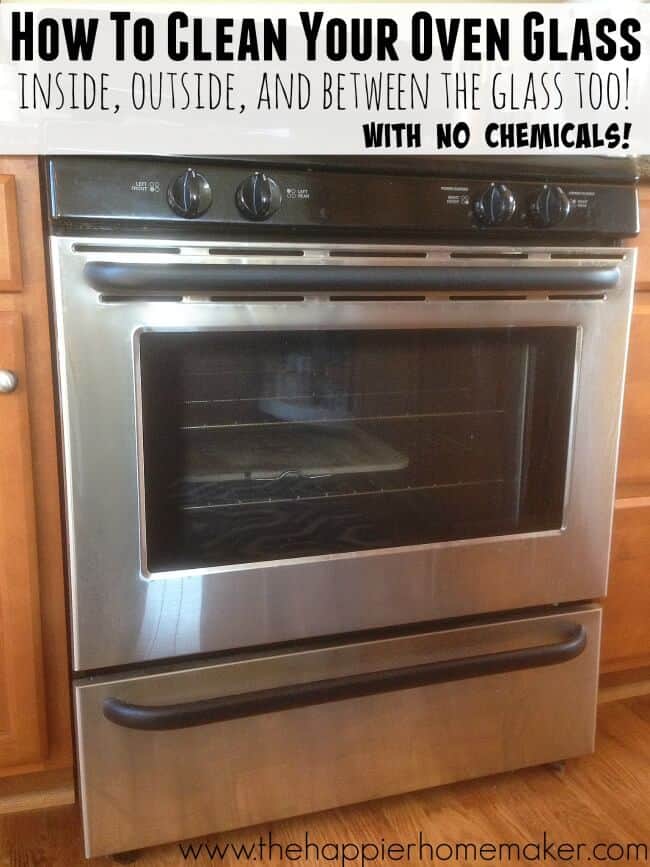 How to Clean Oven Glass?
You know those nagging to-do list things that never seem to get done? Motivating to clean oven glass has always been one of those things for me. We just moved into our home six months ago so my glass wasn't too bad but it was bad enough that I noticed it every time I opened the oven (and I may or may not have hung multiple tea towels on the handle to cover it up from the outside!)
Because this is one of the cleaning questions I get asked the most I wanted to share my full step by step tutorial showing how to clean oven glass with you today.
Cleaning Oven Glass Tutorial
For tackling the entire oven, see this tutorial on how to clean your oven.
Items Needed:
white vinegar or other glass cleaner
½ cup baking soda
scouring pad
paper towel
Directions for getting oven glass clean:
Spray outside glass with vinegar and wipe down with paper towels.
Clean inside of the oven glass with a scouring pad using the "hack" below.
Sprinkle inside oven glass liberally with baking soda.
Use a damp scouring pad to create a paste and rub into the oven glass.
Leave the paste up to twenty minutes to allow dirt to loosen.
Wipe oven glass with a damp paper towel to remove paste.
Here is what I was working with (don't judge!)
I held the tea towel behind it so that you could see the grime. Pretty gross, right? I wiped down the exterior with white vinegar and that surface came clean easily. Next, I wanted to clean the interior of the glass-this is one that challenges a lot of people. There are two ways you could go about it depending on your commitment level.
Cleaning Between Oven Glass Layers
Option 1: First, you'll see screws on the inside of the door-depending on the brand of oven you may need a special tool to open it which you can easily find at any hardware store. I recommend taking a picture of your screw and showing them at the store so they can direct you to the proper tool-I've seen star-shaped screws, square, etc.
*Update 2018-a reader comment below mentioned someone breaking their oven glass trying to remove it with the screw method, so I recommend trying the hack method first if possible to avoid undue risk!*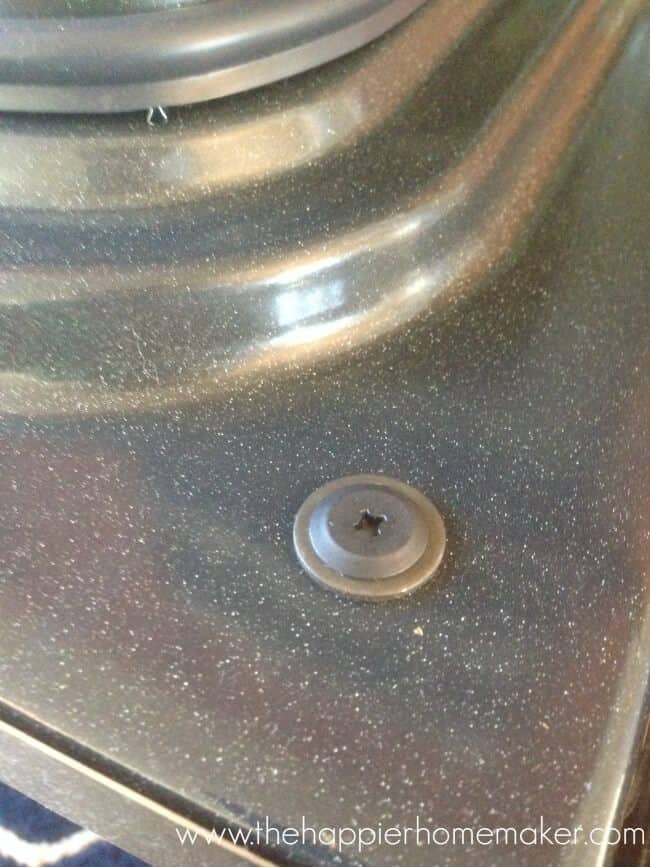 Option 2 (preferred): If you don't want to go through the trouble of opening it or if you're like me and your interior glass isn't terribly dirty you can go the "hack" route. Open the bottom drawer of your oven and feel along the bottom edge-there are openings along there.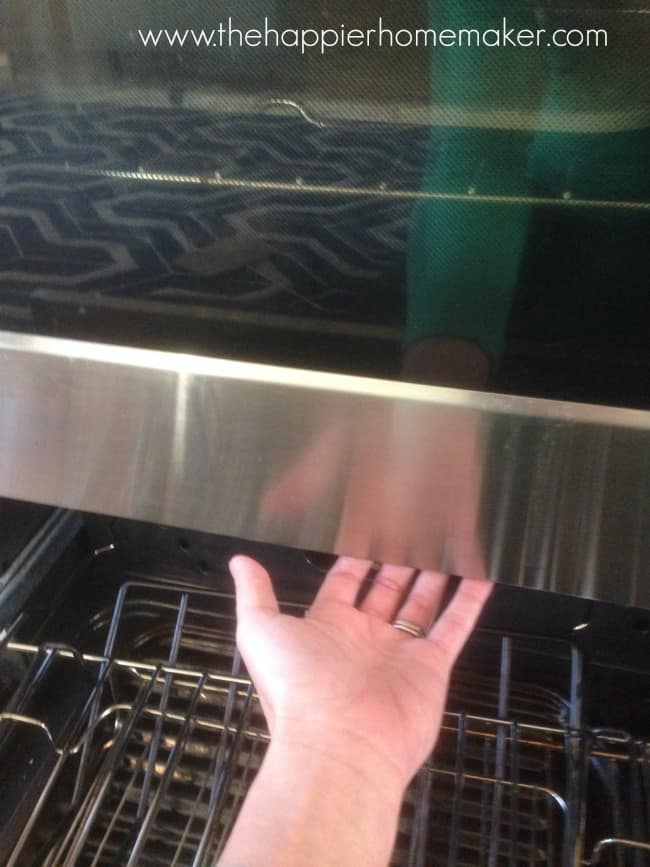 Using a long wooden skewer-attach a scouring pad, wet rag, or sponge to the end and stick it up in there to clean it out. I used a damp natural scouring pad and it worked fine, but as I said I just moved into my home 6 months ago and mine was not very dirty.
Be careful if you do this method with a metal coat hanger, I've seen tutorials with them online that seem like they could easily scratch your glass if you aren't careful.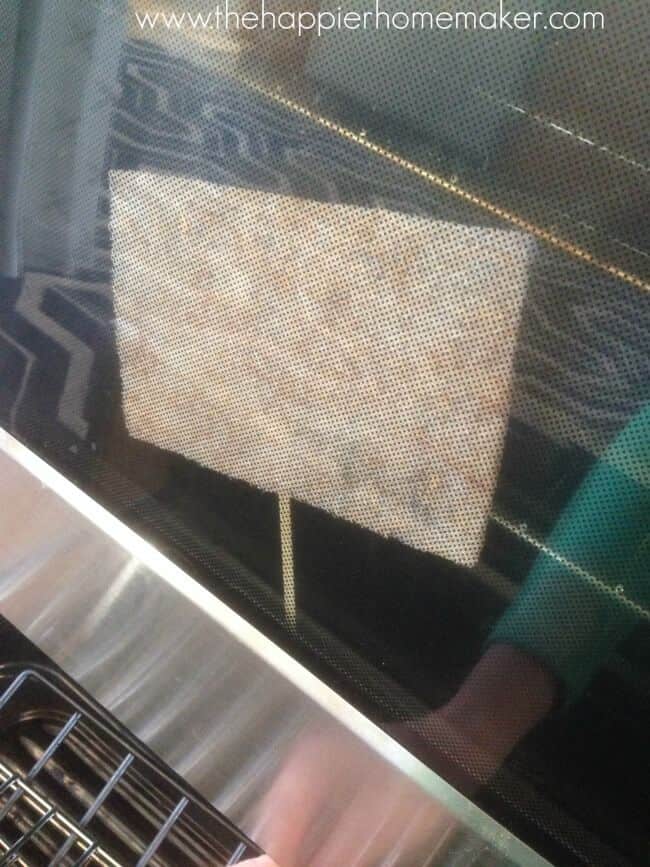 Cleaning inside the oven door
Next onto the interior of the oven door-this is where the worst of the gunk is baked on. But that's okay because we have the best cleaner out there-baking soda! Sprinkle liberally across the glass.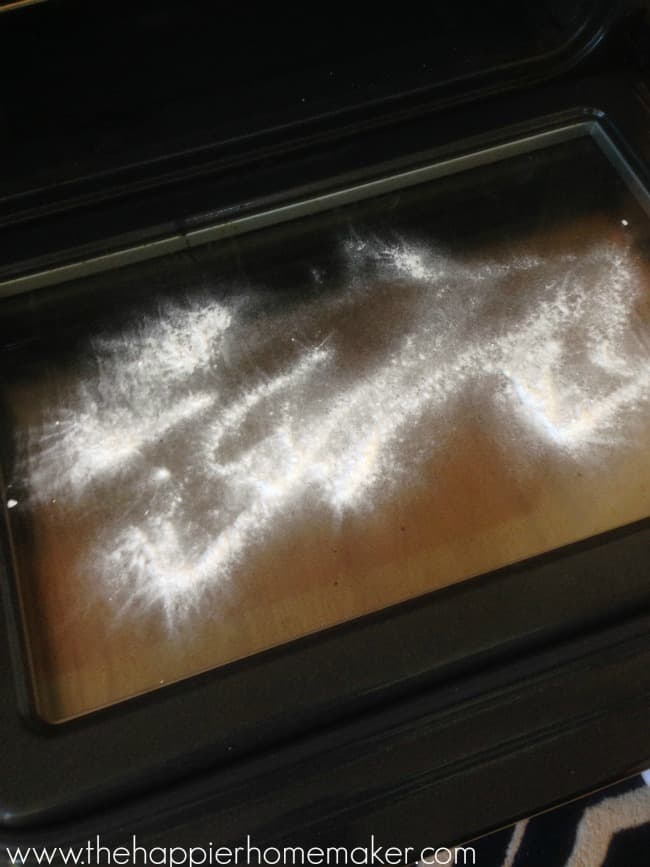 Use a wet scouring pad to create a paste and scrub the glass thoroughly-this takes a little elbow grease but I prefer that to stinky chemicals any day! If your oven glass is very dirty you can leave the paste on the door for twenty minutes. This will allow it time to work it's magic!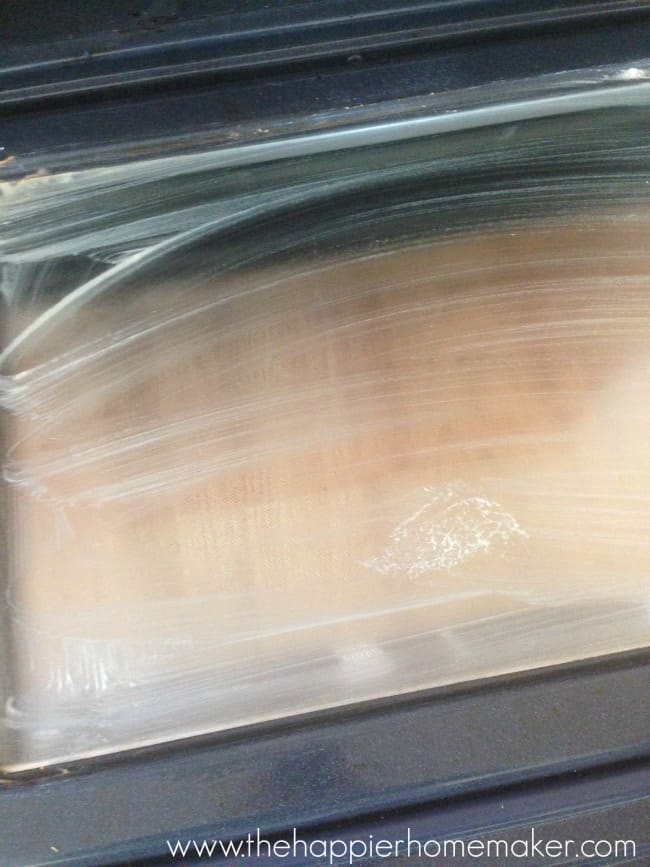 Finally, wipe the door clean with damp paper towels. Voila! A clean oven door!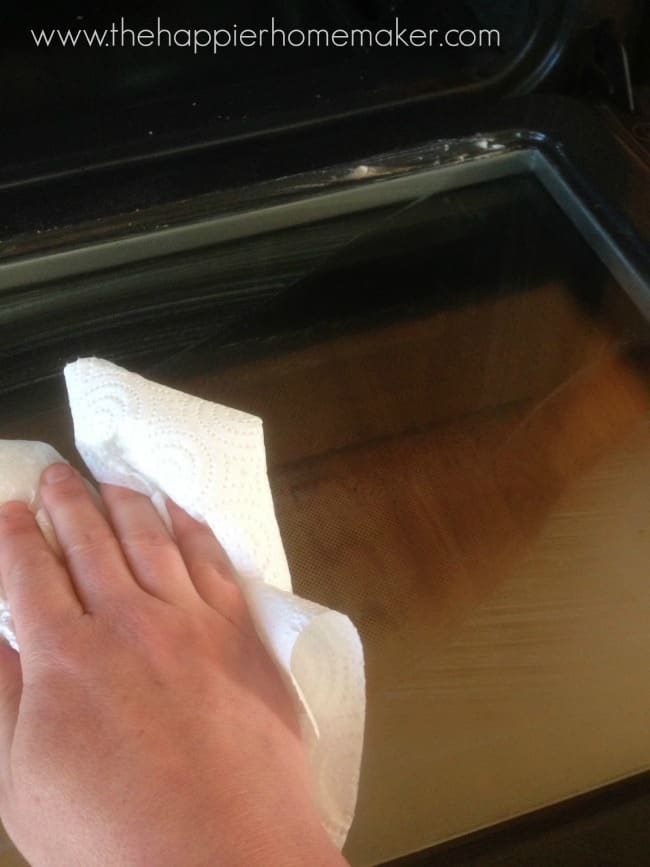 See the difference?? (I held the towel under it again to see the contrast with the picture at the top of the post.)
That's it-you're all done. It only took me about 10 minutes from start to finish and makes a world of difference in the glass!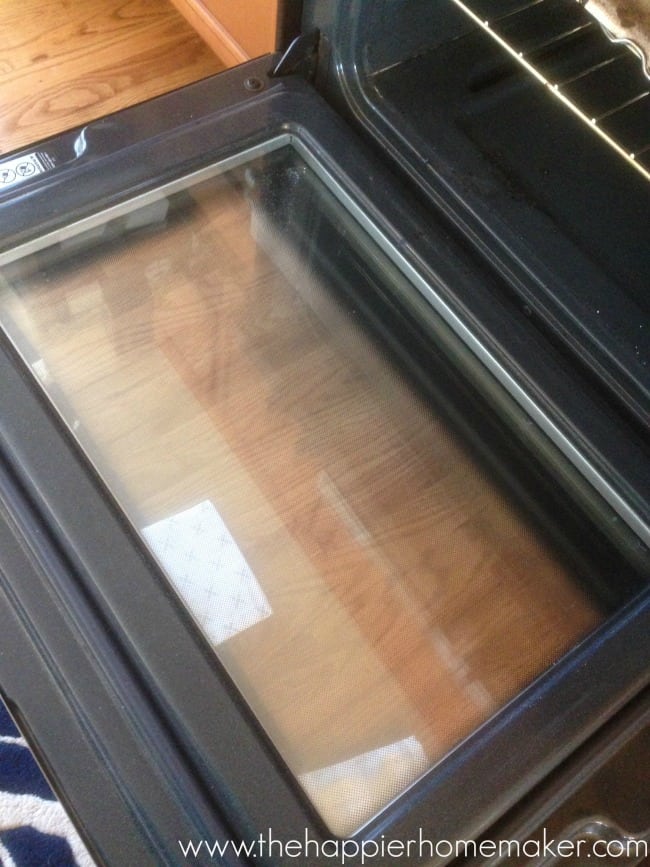 Now you can brag to all your friends that you know how to clean between oven glass! You're a cleaning superstar!
You might also like these cleaning tips:
Get Organized!
Sign up for my FREE 7 Day Organizing eCourse-exclusively for my subscribers!