Making a DIY Cinnamon Candle is an easy way to make your home smell absolutely delicious!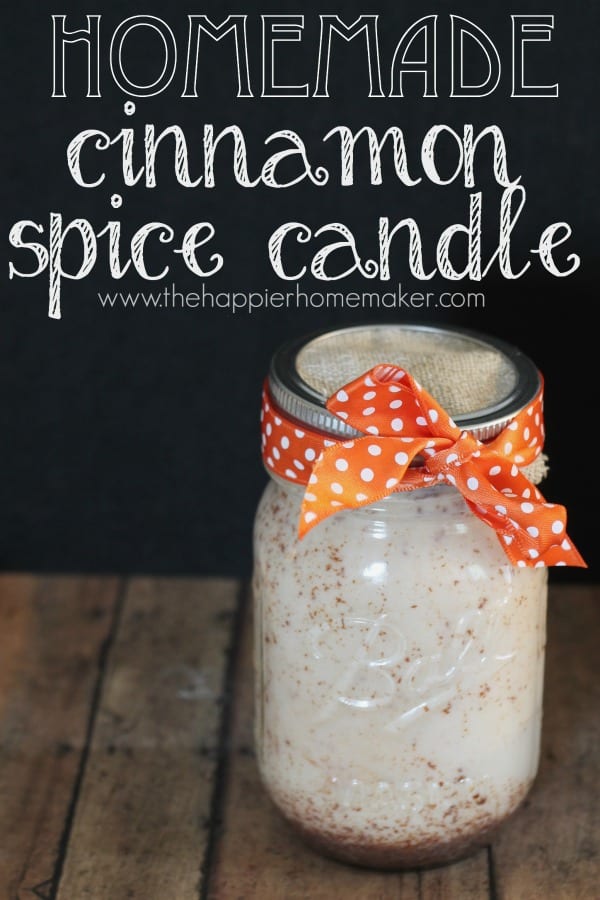 I love the scents of autumn-whether it's putting on a simmering pot or the smell of fresh apple bread baking-it's an easy way to lift my mood. This week on a particularly dreary rainy day I decided to make a scrum-delicious smelling DIY cinnamon candle and it was so easy I thought you all would enjoy trying one for yourself!
Cinnamon Candle Supplies:
Mason Jar or other container of choice
1 tablespoon pure vanilla extract
1 tablespoon cinnamon
½ tablespoon ground clove
Instructions
Start by melting your wax. You'll need about 2 cups of melted wax for a standard pint mason jar. Start with one cup of wax flakes and microwave for two minutes. Continue microwaving at 1-minute intervals until melted.
Add another cup of wax to the container and again microwave in one-minute intervals until it is all melted. Mine took 5 minutes total. (I have an old glass measuring cup designated specifically for candle making-you won't want to use the one you use for food.)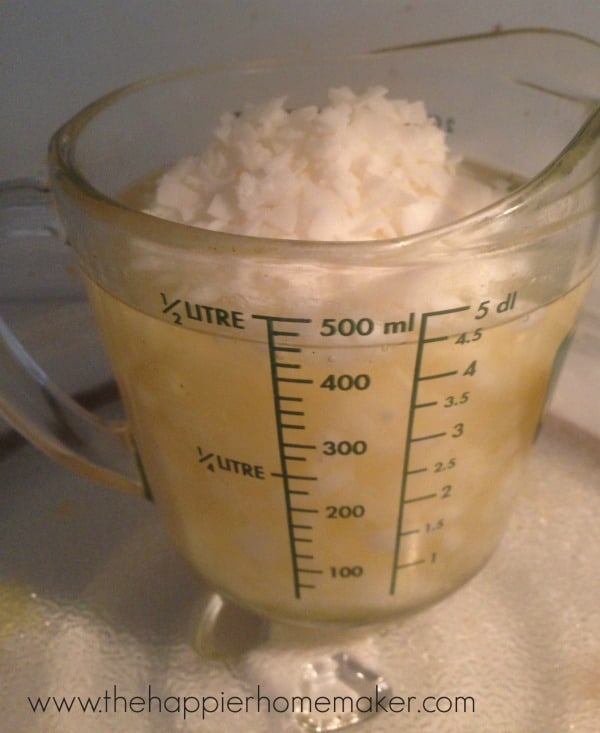 While you wax is melting, prepare your candle wick. Wrap the end of the wick around a wood skewer or pencil and balance the skewer on the top of the jar-this holds the wick in place while your candle sets.
Make sure the metal end of the wick rests all the way at the bottom of the jar.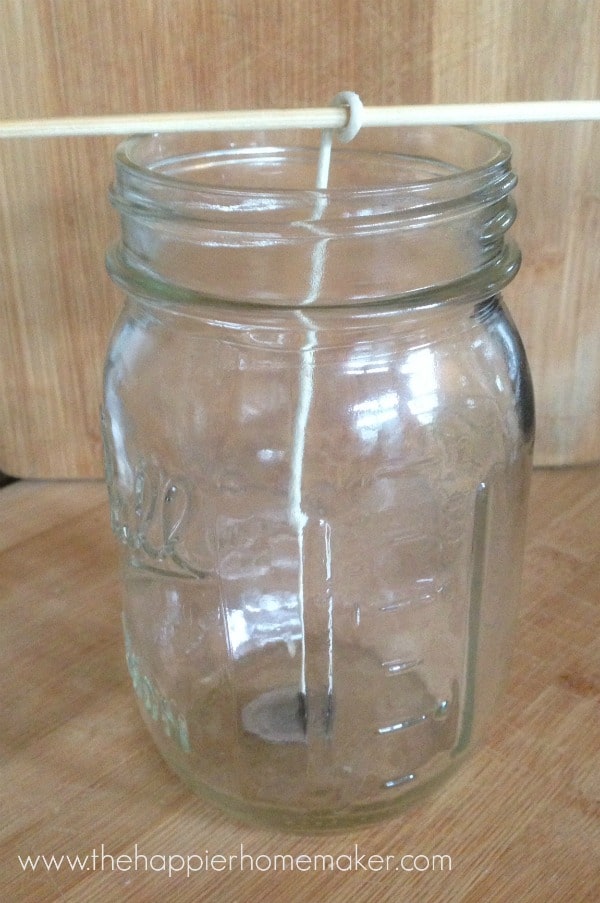 When the wax is completely melted add vanilla and spices, mixing well with a skewer.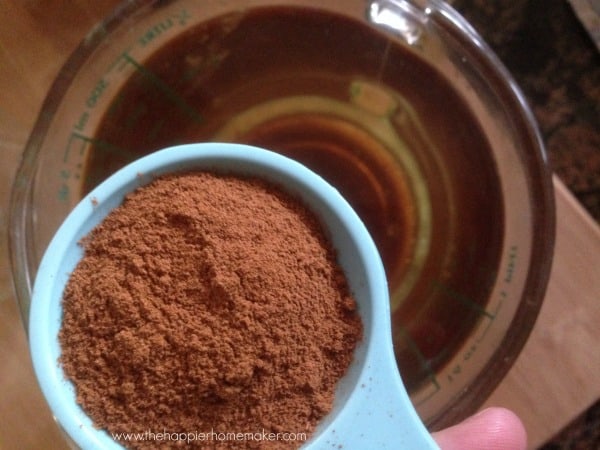 Slowly pour the wax mixture into the jar, adjusting your wick if it moves during the pouring. If there are any air bubbles on the sides of the jar use your wood skewer to rub the inside of the jar to release them to the top. This is aesthetic-if you're using an opaque container this isn't an issue.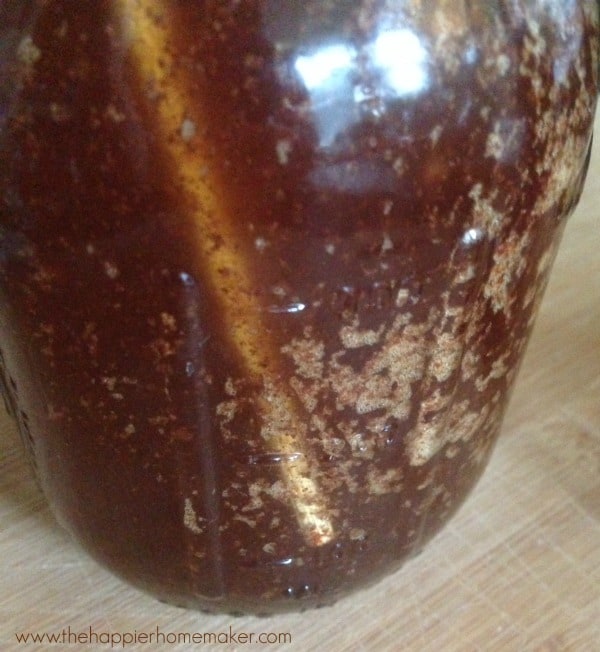 Allow the cinnamon candle to set for 4-5 hours until firm.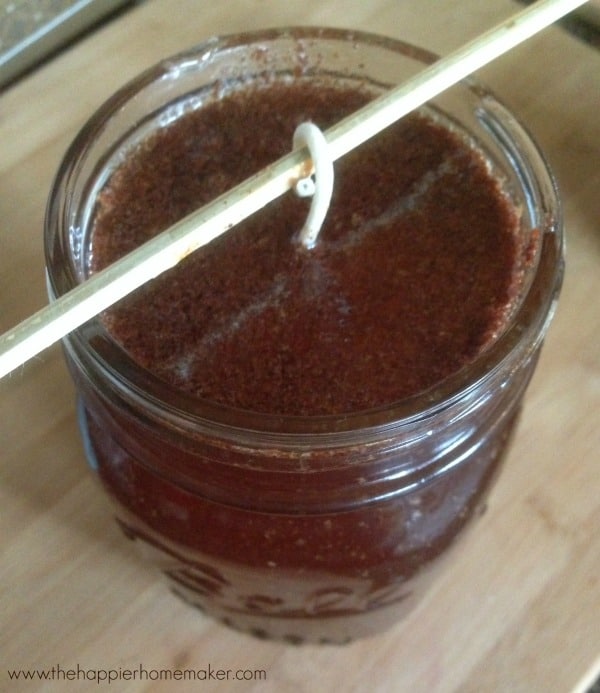 Light it up and enjoy! I love seeing the specks of spice in the wax and how it settles in different ways through the wax as it dries!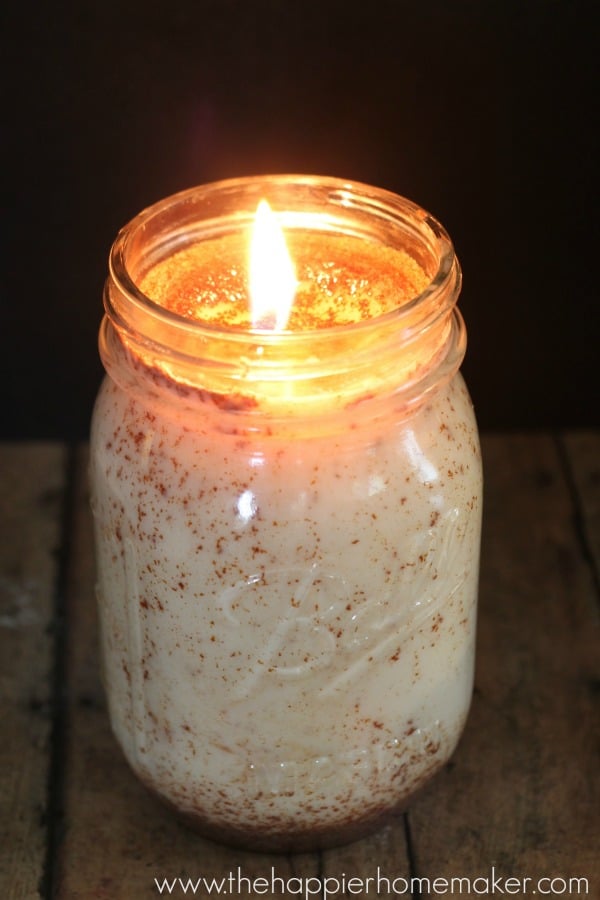 These cinnamon candle make great DIY gifts as well...if you're going to make quite a few I recommend buying the bulk-sized packages of the wax (affiliate link)-you'll save a lot of money! You can also save money by giving them in homemade gift bags made from wrapping paper!
What are your favorite autumn scents? Have you tried making your own cinnamon candle before?