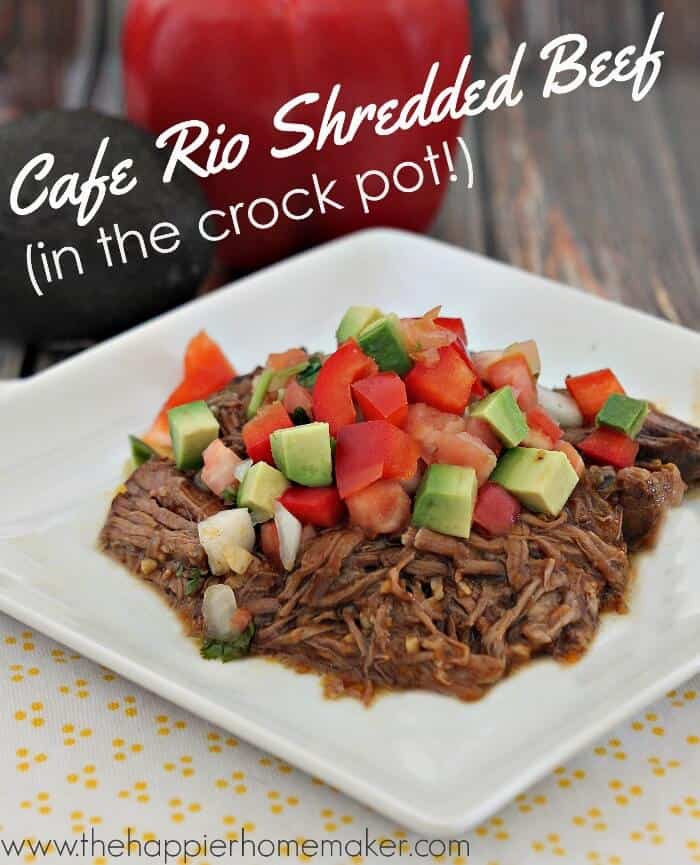 Do you all live near a Cafe Rio? I had never heard of it until we moved to DC last year and a coworker of my husband's took him there for lunch. He came home raving about it and insisted on taking the entire family and of course, we were hooked immediately on the fresh Mexican food!
As soon as I tasted their shredded beef I started searching online for a copycat Cafe Rio recipe-it's SO good! I found quite a few versions online, some even having you cook the meat in soda! After trying a few versions (not the soda one-that doesn't go at all with my clean eating goals!) I found that this combination of ingredients gave me the exact flavor I wanted. It's a super easy meal thanks to the slow cooker, beware though, it smells amazing while it's cooking, you may be tempted to dig in before it's finished!
Ingredients
3 lb chuck roast
10 oz can green enchilada sauce
½ cup plain tomato sauce or tomato paste
1 ½ tablespoon ground cumin
2 tablespoon minced garlic
1 ⅓ cups beef broth
1 medium yellow onion, peeled and quartered
salt to taste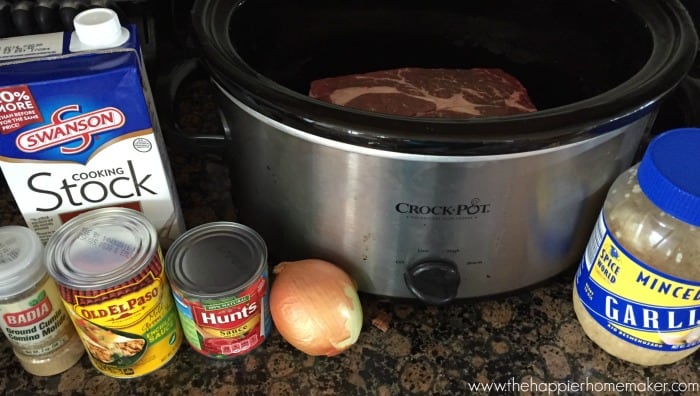 Directions:
Place roast in the bottom of a slow cooker. Pour beef broth, enchilada sauce, and tomato sauce/paste over the roast. Top with cumin and garlic. Place onion slices over the top. Cook on high 6-8 hours. Use a slotted spoon to remove onion. Shred meat with two forks. Season with salt if desired.
You can also combine the ingredients ahead of time in a freezer safe container and freeze for up to three months. Then just thaw overnight and cook as directed.
My favorite way to eat this shredded beef is in a bowl topped with fresh peppers, pico de gallo, and avocado but it's amazing in tortillas or over rice as well!
Have you tried Cafe Rio? If so what is your favorite meal there?