Tea sandwiches are a classic staple for any tea party or get-together, but you may be wondering what to serve with tea sandwiches. They are the perfect snack for any occasion, and they are fun to make and customize. From savory sides to sweet treats, we're going to explore all the options.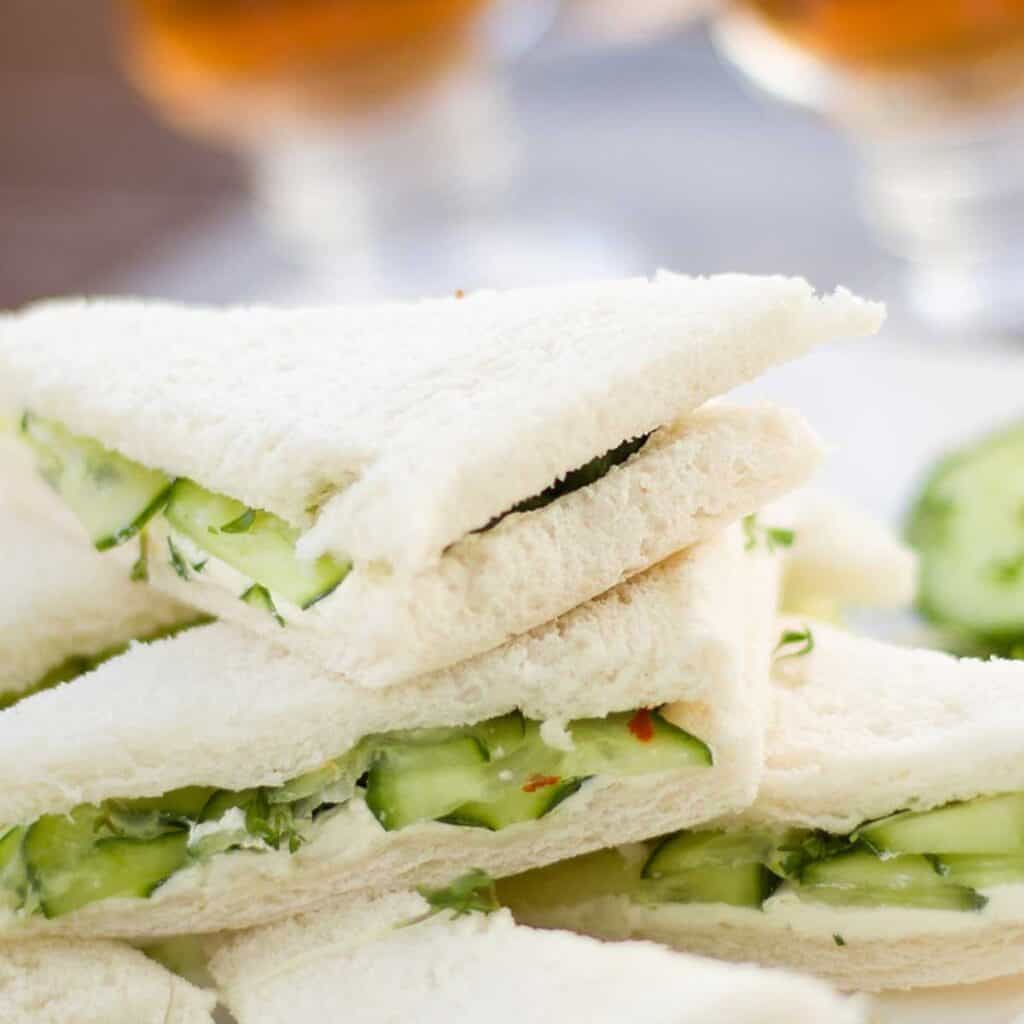 Traditional tea sandwiches (also called finger sandwiches) are small sandwiches typically served at high tea or tea parties, a British practice, and popularly served in the US with a spread of other foods for get-togethers like baby showers.
They are usually cut into fun shapes such as triangles, rounds, and fingers, and made with white bread with a variety of fillings like cucumber, egg salad, salmon, or chicken salad.
Whether you're hosting a bridal shower, a baby shower, a birthday party, a Kentucky Derby party, or a simple get-together, we've got you covered with the perfect accompaniments of easy recipes to serve with your tea sandwiches. Grab your favorite tea sandwich recipes and explore my list for the perfect pairings!
[ez-toc]
What to Serve With Tea Sandwiches
Tea sandwiches are the perfect little finger foods, so let's look at other finger foods that are perfect for serving with tea sandwiches.
1. Assorted fresh fruit
Fresh fruit cups or skewers are great for adding a healthy and colorful element to your food spread. You can also make a fruit platter of bite-sized pieces and serve it with a dip. No matter how you choose to serve it, fresh fruit is a bright and delicious addition to any party!
2. A variety of cheeses
A cheese platter is a great party appetizer because it is easy to make and assemble, it's a crowd-pleaser, and it can accommodate a variety of age groups. Most kids and adults enjoy cheese. Serve your cheese platter with crackers or just mini blocks of cheese with toothpicks.
3. Olives
Black or green olives are tasty to serve with or without the cheese platter. They are great for snacking and adding a little something extra to a light food spread.
4. Cucumber salad
Cucumber salad is made with raw cucumbers and a variety of other ingredients like onions, tomatoes, vinegar, olive oil, herbs, and spices. You can serve it in individual serving cups an easy and refreshing addition to your tea party menu.
5. Pickles
Snack-sized pickles are great for a spread of appetizers and finger foods. The best part is, they are so easy to prepare!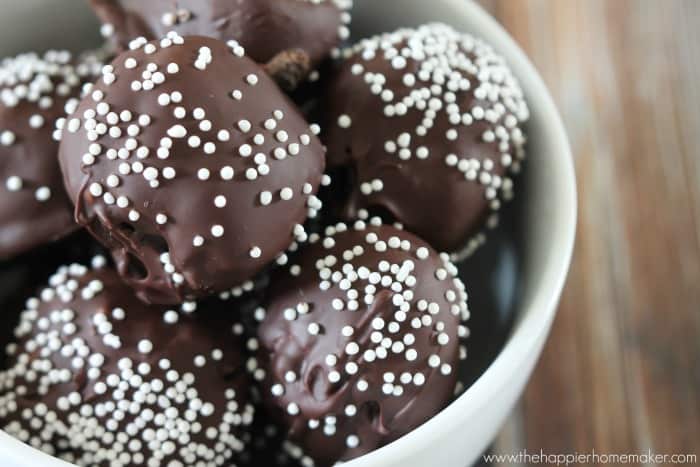 6. Chocolate truffles
Chocolate truffles are made with chocolate, cream, and butter. They are usually round or cone-shaped and have a soft, creamy filling inside. The outside is usually covered in cocoa powder, chopped nuts, or other decorations.
You can also try one of our many easy cookie-based truffles like our chocolate mint truffles, peanut butter truffles, or Nilla Wafer truffles!
7. Shortbread cookies
Shortbread cookies are a type of cookie traditionally made from one part white sugar, two parts butter, and three parts flour. They are usually rich and crumbly, with a buttery taste.
Shortbread and tea go hand in hand, but even if your tea sandwiches aren't for an actual afternoon tea party, shortbread cookies are a nice light and popular cookie that will fit right in with your spread.
8. Mini quiches
Mini quiches make great party appetizers because they are bite-sized, easy to make in large batches, and can be customized really easily to make a variety of flavors.
These are next-level appetizers in my opinion. They're like a mini meal! They can be served both hot or cold, which makes them a great option for any type of get-together.
9. Scones
Scones are a type of quick bread, similar to a biscuit, that originated in Scotland. They are usually sweetened with sugar, currants, or dried fruit, and served with butter or jam. Scones can be made bite-sized and are perfect finger foods.
10. Muffins
Muffins are a great party appetizer because they are easy to make, really easy to make in bulk, and in a variety of flavors. They're also pretty inexpensive.
Muffins can be made in advance, so they can be ready to serve as soon as guests arrive. Plus, muffins are a great way to add a bit of sweetness to a food spread. They're especially perfect for a brunch setup! Our favorites are bakery style blueberry muffins and banana streusel muffins.
11. An assortment of other mini sandwiches
Tea sandwiches can be made in so many different ways! Why not just make a big variety of them to add more bulk to your spread? Cucumber sandwiches, chicken salad, roast beef, tuna salad, egg salad sandwiches, easy ham sandwiches, cheese sandwiches, the possibilities are endless.
You could even make mini PB&J sandwiches for kids! You can even make tangy and sweet sandwiches with fruits and lemon curd. These dainty sandwiches are such easy finger foods, having a large variety of them will be convenient and enjoyable for your guests!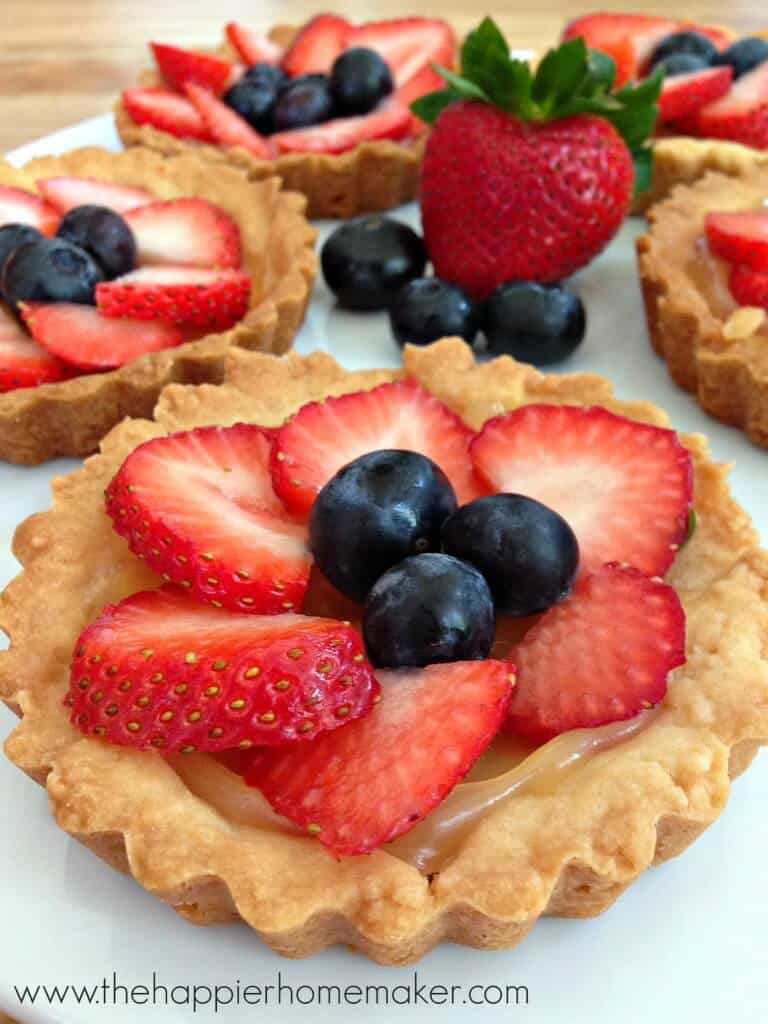 12. Tarts
Tarts are a type of pastry with a sweet or savory filling. They are usually made with shortcrust pastry and can be filled with ingredients like fruit, custard, or meat. You could make a combination of flavors! The berry tarts pictured above are a great option, as are savory spinach feta tarts.
These roll-ups are a great pair to little sandwiches. Small rolls of meat, cream cheese, olives, red peppers, and lettuce make fresh and filling finger foods. They're a fun twist on a regular sandwich and are always popular with guests!
14. Meatballs
Crockpot apple jelly meatballs or grape jelly meatballs are one of the easiest appetizers ever! Plus they are always a huge hit! These meatballs are filling and so popular every time I make them!
15. Hummus
Hummus and veggie cups are super simple and convenient! You can cut celery and carrot sticks and stick them right in the individual cups of hummus for easy serving.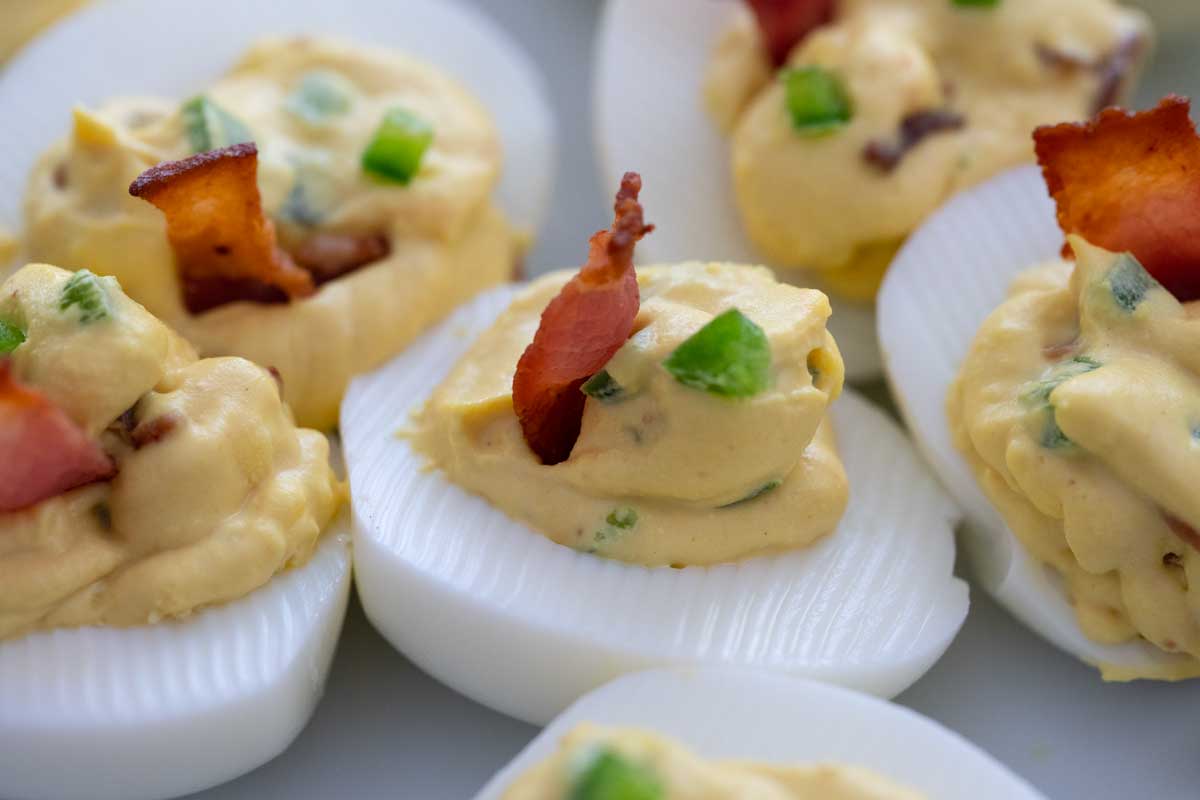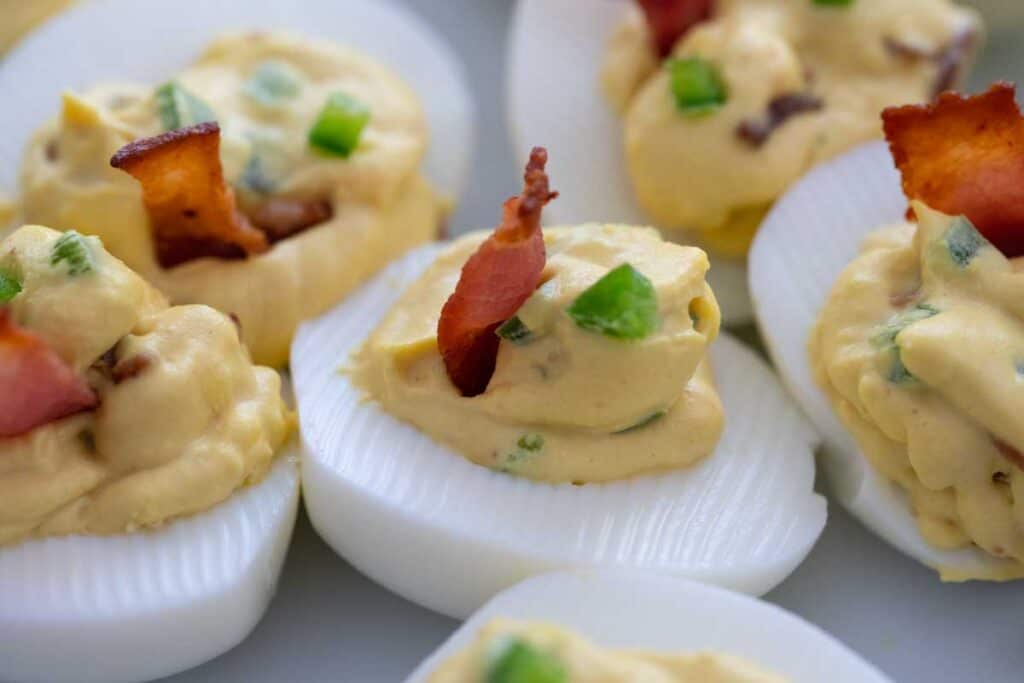 16. Deviled eggs
Deviled eggs go fast at parties! Really fast! They are easy to make and are great small bites for an appetizer spread. You can also easily make a large batch with different flavors, some spicy jalapeño bacon deviled eggs and some traditional deliver egg flavor!
These are incredibly easy to make and people rave about them every time I make them! If you're looking for simple recipes, put this one on your list!
18. Nuts
Another simple solution to filling up your appetizer table, nuts are great for snacking and are more filling than they seem. You can prep them in individual cups to make serving easier.
These are great to serve with easy finger sandwiches because they're delicious, but also because some people just don't like sandwiches, even super cute mini crustless tea sandwiches. These skewers are filling and easy to eat at a party!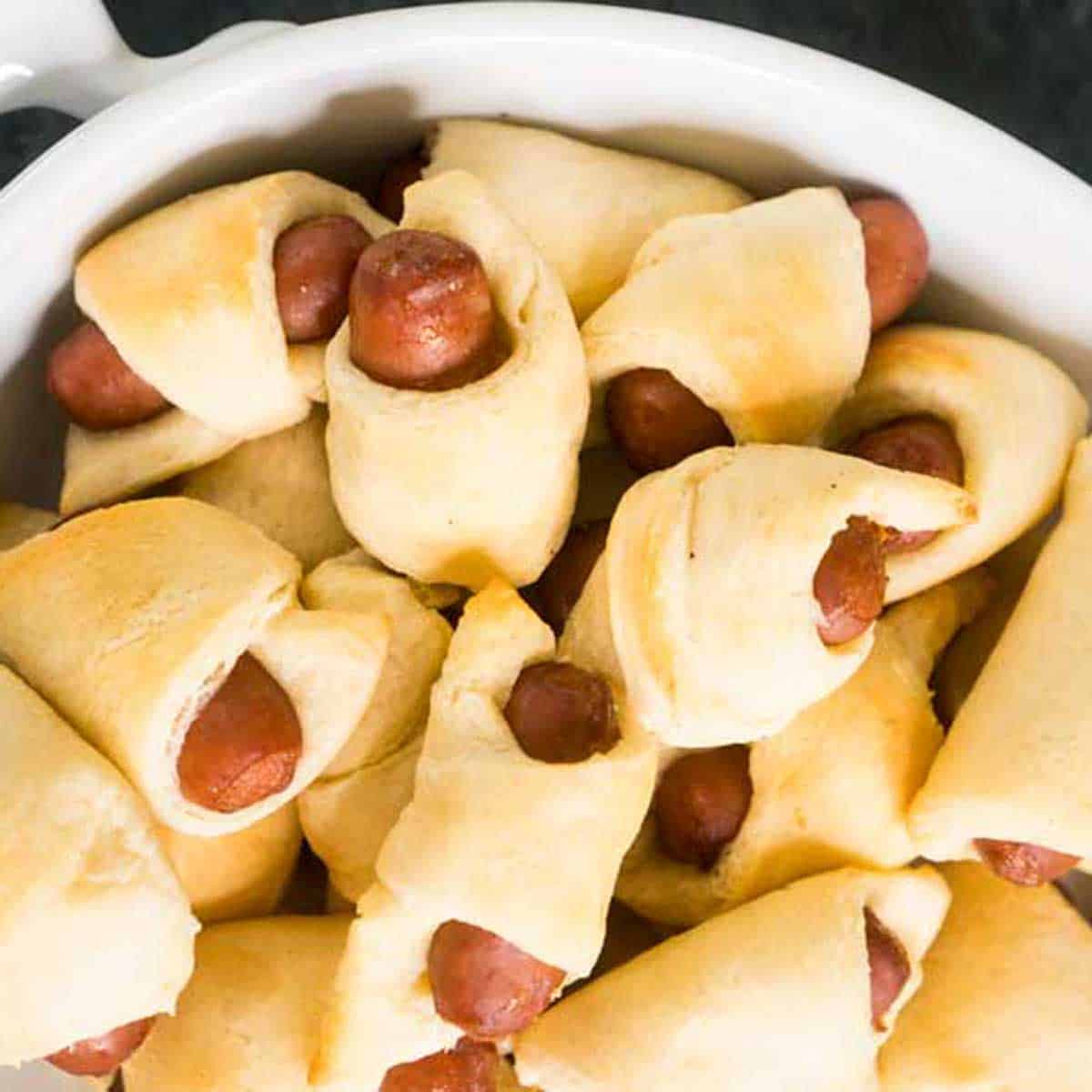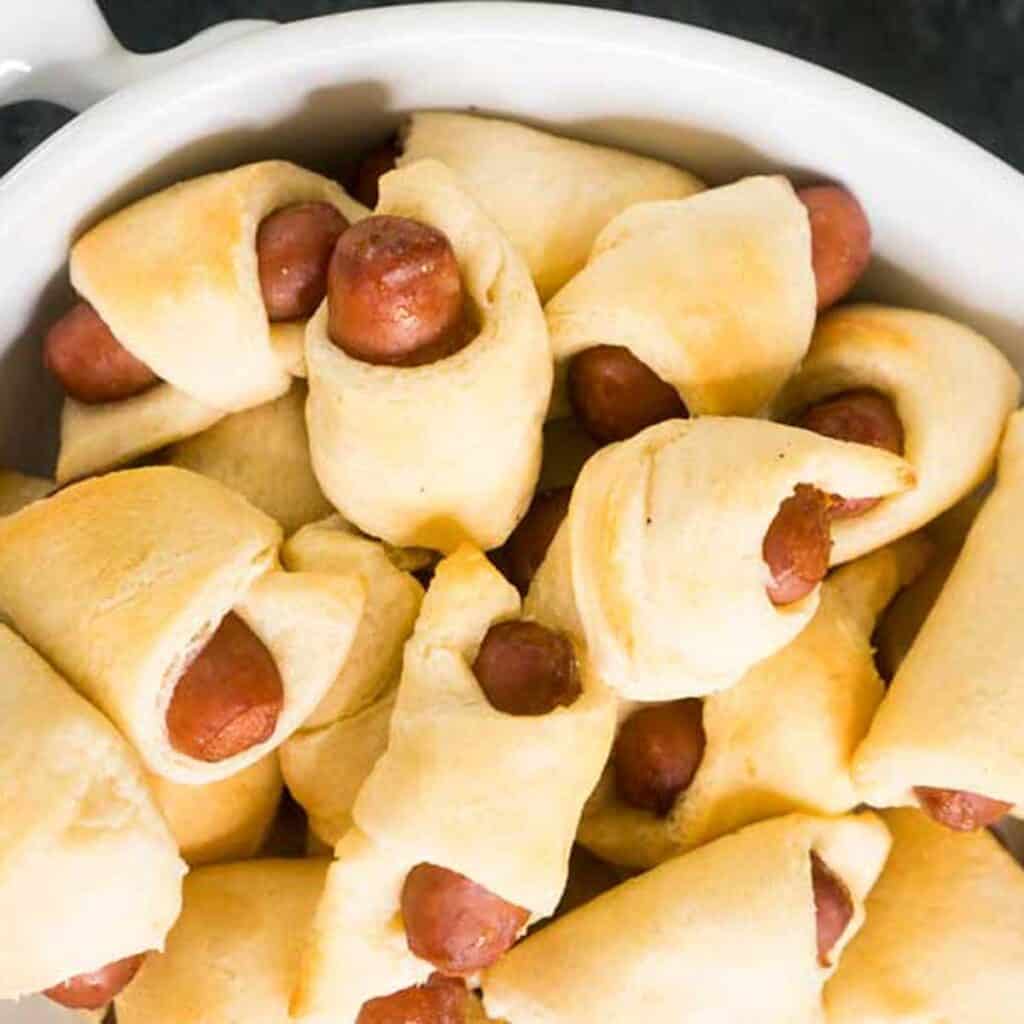 20. Cocktail sausages
Tangy crockpot lil' smokies are a lot like meatballs at a party, they fly off the table! They are dainty bites that are easy to serve and eat at a party. Guests always love them and they'll add a little more heartiness to the table.
You can also use cocktail sausages to make pigs in a blanket in a variety of variations as well!