Fish and chips is a classic dish that never gets old! It's easy and comforting, but what else should you serve with fish and chips? Read on for 15 of my favorite side dishes for fish and chips.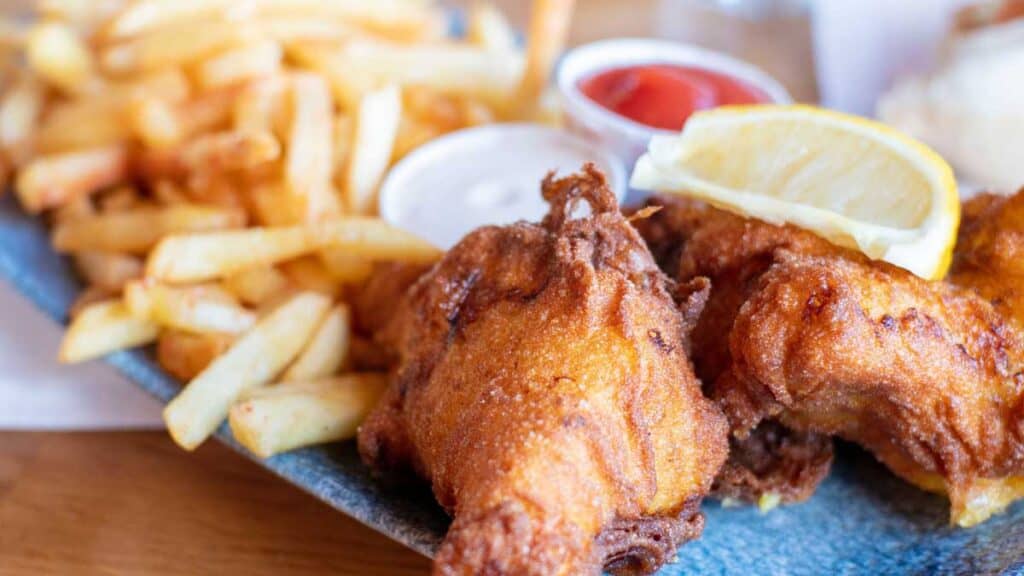 Fish and Chips is a traditional British dish of deep-fried battered fish and chips (slices of potato-usually similar to french fries). It is believed to have originated in London in the 1860s when some Jewish immigrants started deep-frying a combination of fish and potatoes. It quickly became popular among the British working class and is now a popular dish around the world.
This white fish that's fried to golden brown perfection make a delicious dish for any occasion. For a healthier version of fish and chips, use the air fryer instead of the deep fryer. The flavor will still be amazing but your meal can be totally guilt-free! Plus you won't have to worry about dealing with hot oil.
Whether you're preparing a traditional fish and chips dinner or seeking to add a bit of variety to the menu, here are some great ideas for what to serve with fish and chips. 
What to Serve With Fish and Chips
A traditional accompaniment to fish and chips, mushy peas are made from dried marrowfat peas that have been boiled until they become a satisfyingly mushy side. The creamy texture serves as a great contrast to fried fish and chips. This side dish is the perfect combination for crispy fish and chips if you're going for the most traditional meal possible.
2. Bread and Butter
A nice hot, crunchy piece of fried fresh white bread compliments the fried fish and chips by providing a delicious carb with the meal. Adding a little butter just helps it go down smoother. This is a classic side dish for fish and chips.
3. Tartar Sauce
This classic condiment adds a creamy tartness that cuts through the richness of the fish and chips. It pairs excellently with pieces of fried fish or salt and vinegar chips. You'll usually receive a serving of tartare sauce if you order this meal in a restaurant.
Another delicious way to add crunch to your fish and chips is with a side of onion rings. Crispy on the outside and gooey on the inside, they bring some sweetness to the dish as well.
5. Pickled Onions
The unique flavor of these tangy onions makes an excellent accompaniment to fish and chips and provides a nice contrast to the fried flavors. Best served as a topping, the slightly sweet and sour flavor goes a long way.
6. Baked Beans
A classic side of baked beans is always a crowd pleaser and helps to break up the monotony of eating fish and chips. These have a sweetness that complements the savory flavors of the dish and will help fill you up.
7. Coleslaw
A creamy coleslaw with a crunchy bite is a great side dish and pairs very well with fish and chips. Its crunch complements the crunch of the chips, while its mild flavor pairs perfectly with almost any type of fish.
8. French Fries
Homemade fries are the ultimate companion to fish and chips. In fact, in the United States, when you order fish and chips at a restaurant, you will probably get french fries instead of chips. With their similar crunchy texture, they make an excellent side dish. For a real indulgent meal, try smothering your chips in gravy. 
Fried mushrooms go well with almost any type of fish fillets and chips. Their juicy texture and earthy flavor make for a delicious side dish that brings just the right amount of flavor to any meal.
Fresh corn on the cob pairs perfectly with deep-fried fish. Veggies like corn are great for keeping the rest of the meal on the lighter side to balance out the richness of the fried foods.
A fun and flavorful way to add to your fish and chips, fried pickles have a tangy flavor that brings a nice contrast of flavors to the plate.
12. Salad
This classic British dish paired with a healthy salad makes a delicious meal! If you're making air fryer fish and chips as a healthier alternative, a fresh salad is the icing on the cake. Make easy salads like a plain side salad or a Caesar salad to keep it simple.
Since fish and chips is a heavily fried meal, a light, and fresh side and a simple recipe like tomato salad is a great addition to your fish dinner.
14. Hush Puppies
Hush puppies are a traditional southern, American side dish that is deep-fried dumplings made from a cornmeal-based batter. These savory and delicious cakes are one of the best side dishes for fish dishes because they provide a contrast in texture to the crunchy, fried fish and potato chips.
15. Applesauce
Applesauce is a sweet topping that brings a bit of balance to the meal. It's subtle sweetness and contrasting texture pairs nicely with the savory taste of the fish and chips.