Looking for ideas of what to serve with bacon wrapped scallops? We have the tasty sides that perfectly complement this delicious dish, from flavorful salads and colorful veggies to soups and starches.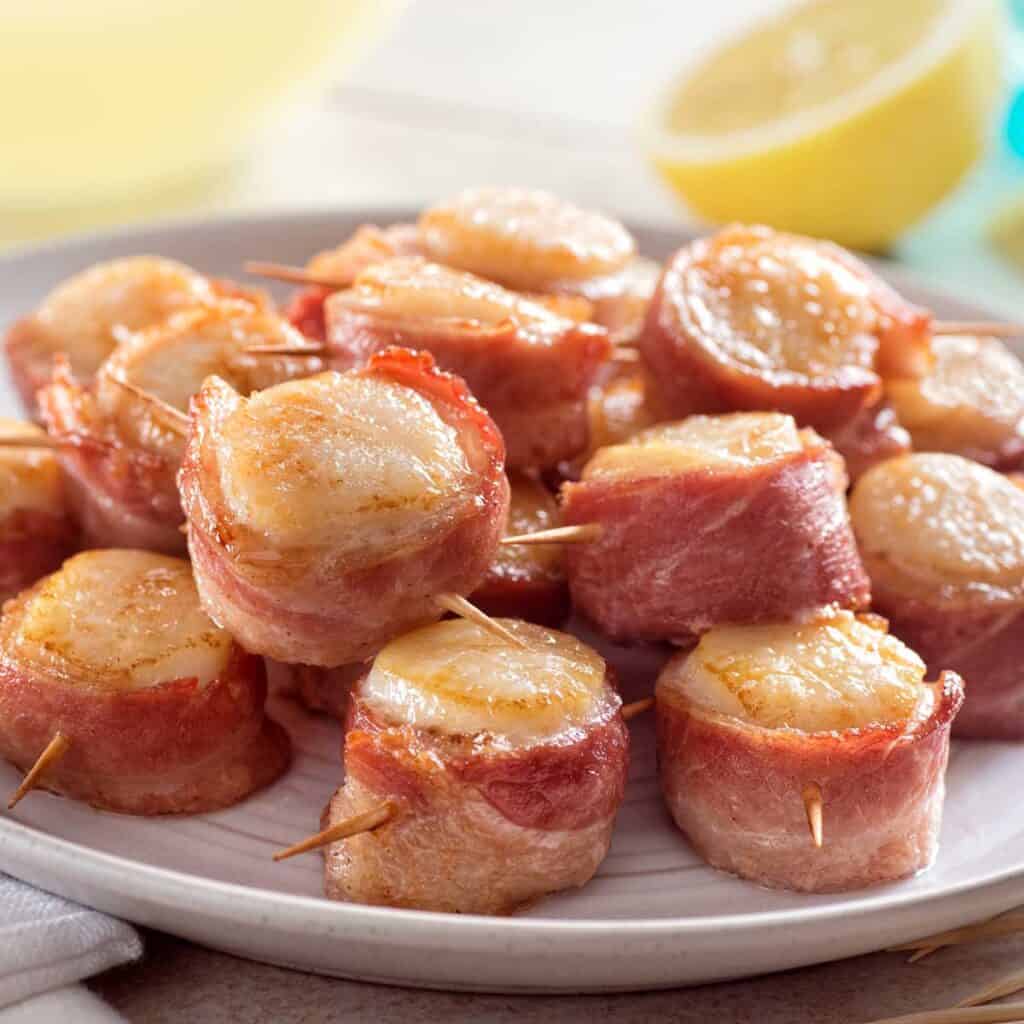 The earthy, slightly bitter flavors of asparagus pair perfectly with the savory goodness of bacon wrapped scallops. Roast this scrumptious dish with a generous sprinkle of parmesan cheese for a delightful combination of textures and flavors. Simple ingredients and easy steps make this a great option for a busy weeknight meal to pair with your fresh scallops wrapped in bacon slices.
The sweetness of the scallops is balanced out by the savory and nutty flavors of the golden rice pilaf. The bacon adds some crunchy texture and extra saltiness to the dish. The golden color of the rice pilaf also helps to create a visually striking presentation in the dish.
The bisque adds a creamy, cheesy flavor to the scallops and the bacon adds a smoky, salty component that will contrast and complement the bisque nicely. The pairing of these two flavors will make the perfect balance and it will leave you wanting more.
The sweetness of the butternut squash soup complements the salty bacon, while the scallops bring an added layer of protein to the meal. The combination of textures and flavors is sure to be a winning dish!
The smoky, salty flavor of bacon scallops complements the creamy and bright texture of the Greek Pasta Salad. The feta and olives bring an additional layer of perfect flavors to the dish, while the herbs and spices make it an all-around balanced meal. Not to mention, it's a great way to get your daily serving of protein and carbohydrates. Enjoy!
This pairing of Kale Apple Salad with a honey dressing and bacon wrapped scallops is a perfect combination for a dinner entrée. The sweetness of the honey and the tartness of the apples in the salad balance the richness of the bacon and the meaty scallops. The crunch from the kale adds texture to the entire dish.
You can't go wrong with a fresh green salad as a side dish for any meal. This is great if you want to tone done the savory flavors and keep the rest of the meal light. A nutty spinach salad loaded with fresh vegetables and topped with a light vinaigrette is sure to be a hit! If you have extra crispy bacon you could even crumble it on top of the salad for more flavor!