Wondering what to eat with hummus? From the usual ideas to some surprisingly tasty, we have 17 ideas that pair perfectly with this chickpea dip!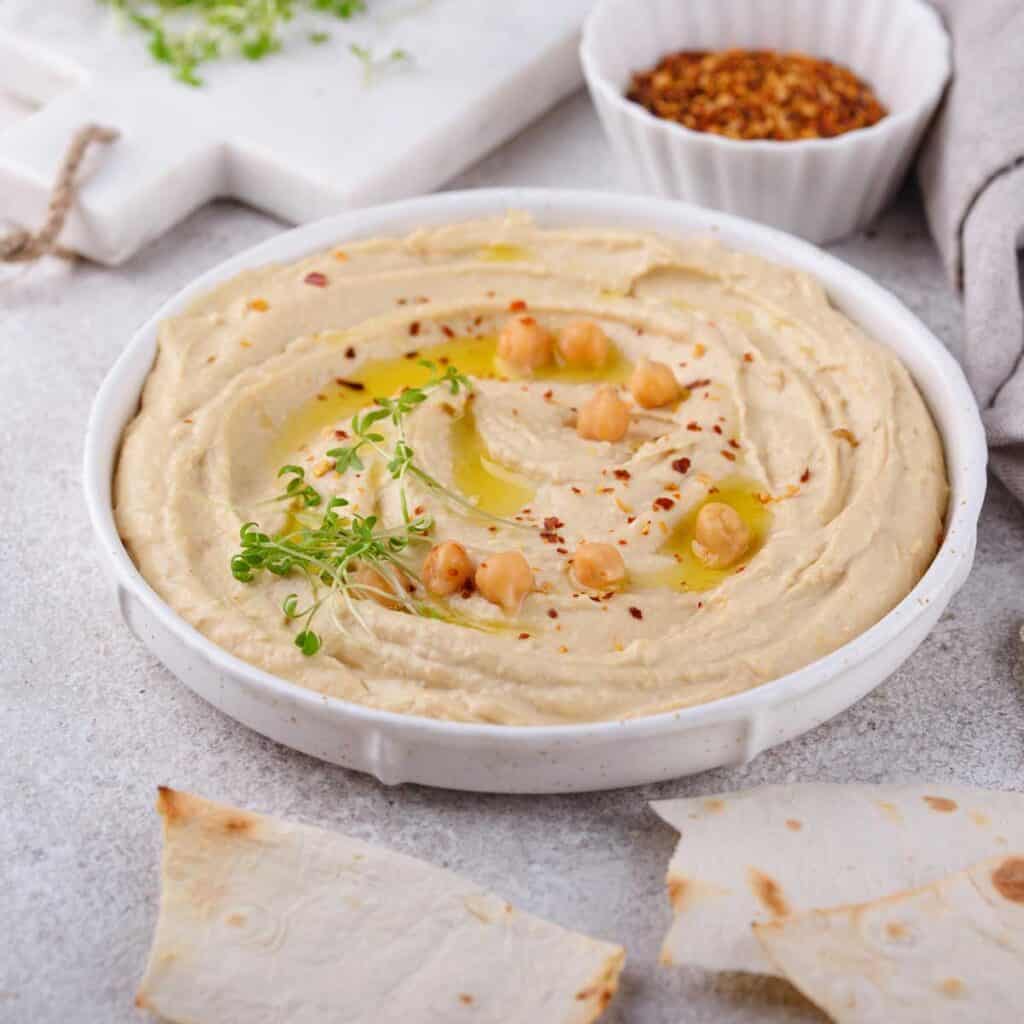 Hummus is a delicious and versatile dip that can be used for so many different occasions. When you're serving it as an appetizer, you might wonder what to serve with hummus. Whether you're looking for something light and savory or something a bit more substantial, there are plenty of options to choose from. From vegetables and crackers to chips and meats, the possibilities are endless! 
What to Serve With Hummus
When it comes to serving hummus, there are some classic pairings that never fail to impress. These combinations have stood the test of time and are loved by hummus enthusiasts all over the world.
If you're new to the hummus game or just want to stick to the tried-and-true, I've included some classic pairings that are guaranteed to satisfy your taste buds. If you're looking for something different to serve with hummus dip, I've got that covered for great ideas there too! 
1. Pretzels
Using pretzels for this delicious dip gives you more versatility because they taste great in plain hummus, red pepper hummus, chocolate hummus, or whatever flavor you like! You could serve a whole spread of different hummus flavors with just pretzels, or a variety of dipping options.
2. Carrot Sticks
Crunchy, sweet, and vibrant, carrots are a classic accompaniment to hummus. The natural sweetness of the carrots pairs perfectly with the savory flavors of the dip. Plus, the bright orange color adds a pop of visual appeal to your hummus platter. Serving with raw vegetables is a great way to keep this healthy dip an overall healthy appetizer.
3. Celery Sticks
Another crunchy vegetable that complements hummus beautifully is celery. Its mild, refreshing taste provides a nice contrast to the richness of the dip. Plus, the natural grooves in celery stalks make them ideal for scooping up hummus.
4. Cucumber Slices
Crisp and cool, cucumbers are a refreshing choice to serve with hummus. Their light flavor and high water content make them a great palate cleanser between bites of creamy hummus. You can slice them into rounds or sticks for easy dipping.
5. Red Bell Pepper
For a burst of color and sweetness, red bell peppers are an excellent choice. The slightly smoky and sweet flavor of roasted red bell peppers pairs beautifully with the creamy hummus. Cut them into strips or bite-sized pieces for easy snacking.
6. Cherry Tomatoes
Bursting with juicy sweetness, cherry tomatoes add a delightful burst of flavor to hummus. Their small size makes them easy to eat in one bite, making them perfect for snacking while mingling with guests. Using fresh veggies for dipping in hummus not only makes a super easy appetizer, it also makes serving healthy food really simple and delicious!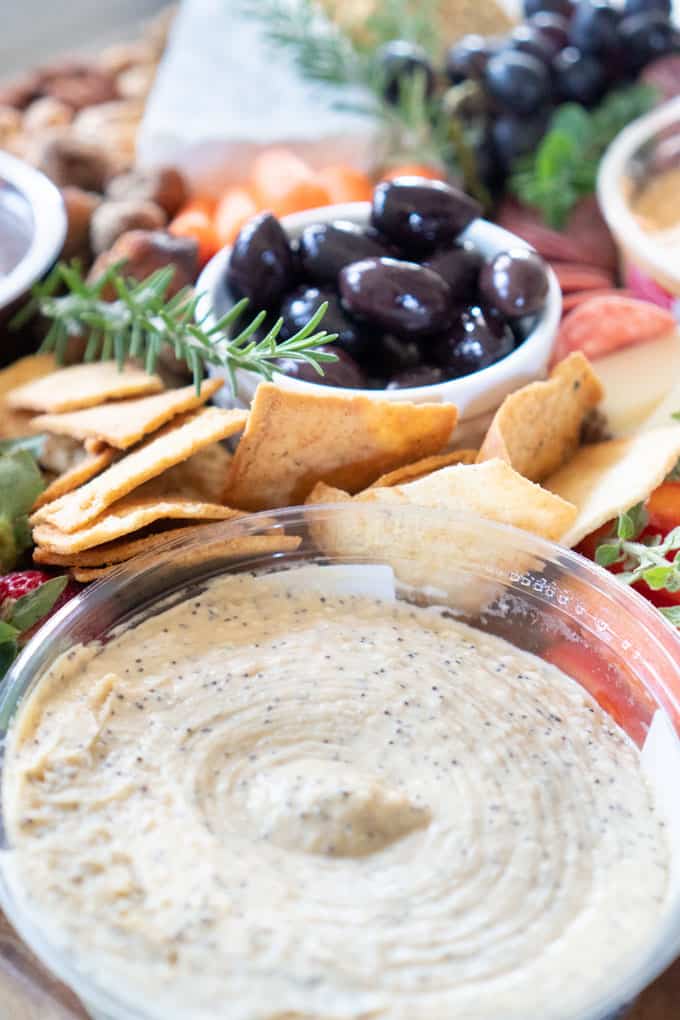 7. Olives
If you're a fan of briny, tangy flavors, then olives are a must-have for your hummus spread. Whether you prefer green olives or kalamata olives, their salty flavor and smooth texture add depth to the creamy hummus. This super savory flavor is a really tasty treat that guests will love!
8. Radishes
For a peppery bite, radishes are an unexpected but delightful pairing for hummus. These fresh vegetables give a little extra bite and texture to the creamy texture of hummus. It's a nice balance of crunchy and smooth.
Swap out traditional pita bread for some flavorful roasted garlic naan. The rich and aromatic taste of the garlic pairs beautifully with the creamy hummus, creating a match made in heaven. This is one of my favorite ways to enjoy fresh hummus!
Add a touch of indulgence to your hummus platter by serving it with grilled halloumi. The salty, squeaky cheese complements the smooth hummus perfectly, creating a luxurious bite that your guests will love. Serving halloumi and hummus together on crackers is the best way to make this appetizer a little more filling.
Elevate your hummus game by serving it with homemade za'atar crackers. The fragrant Middle Eastern spice blend adds a savory and herby twist to the classic pairing. Plus, making your own crackers is easier than you might think!
You could also easily make homemade hummus to go with them! Classic hummus is extremely simple to make and you can make it any flavor you like! All you need is a food processor or a high speed blender (affiliate link) and a recipe for traditional hummus.
12. Smoked Salmon
For a touch of elegance, serve your hummus with thinly sliced smoked salmon. The silky texture and delicate flavor of the salmon contrast beautifully with the creamy hummus, creating a sophisticated appetizer that will impress even the most discerning guests. This is a delicious way to serve this creamy spread if you're having a little bit of a fancier get together.
13. Stuffed Mini Peppers
Spice things up by stuffing mini peppers with a flavorful mixture of cream cheese, herbs, and spices. The sweet and tangy red peppers provide a delicious vessel for scooping up hummus, adding a burst of color and flavor to your spread. You can even add a dollop of hummus to the inside of the stuffed peppers for an easy finger food so guests don't even have to dip!
14. Pita Chips
This great option makes a delicious and satisfying snack that is perfect for any occasion. Pita chips are oven-baked, crispy triangles made from pita bread that can easily be purchased from the store. If you make them homemade, they're fantastic in the air fryer.
15. Bagel Chips
Bagel chips and hummus make an incredibly flavorful and healthy snack or appetizer. The salty, crunchy bagel chips are the perfect partner for the creamy dip's nutty flavor and they're a more exciting alternative to tortilla chips. 
16. Sandwich wrap
Adding hummus to a sandwich wrap with feta, bean sprouts, chopped veggies, or spinach is a great way to make this dip usually used as an appetizer into a full meal! The result is a healthy and filling vegetarian lunch wrap.
17. Fruit
Because you can get hummus in so many flavors, fruit is a unique option for serving. Chocolate hummus in particular is tasty served with fruit for a sweet end to your meal without excess sugar.