This fun and easy DIY Chocolate Flower Bouquet is the perfect gift for a teacher, Mother's Day, or any special occasion. Learn how to make it in this step-by-step tutorial.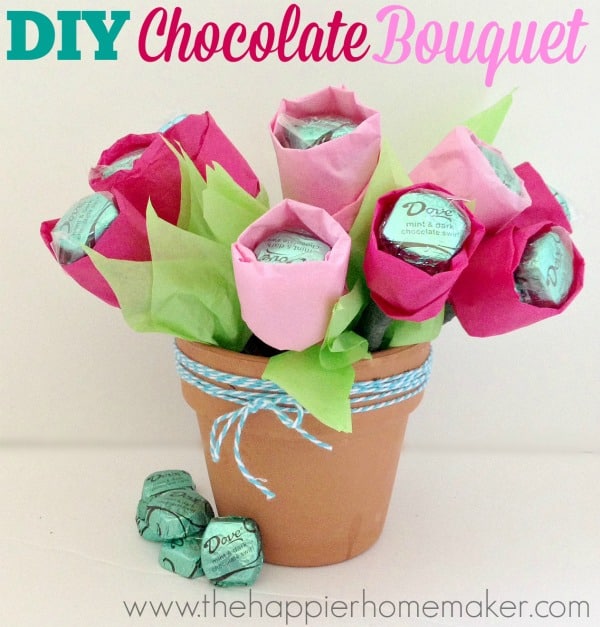 Today I have a super fun and picture heavy tutorial for a DIY chocolate flower Mother's Day bouquet-because if there are two things we moms like it's flowers and chocolate right?!
Materials
(2) 8.5 oz bags Dove Dark Chocolate Promises
clear cellophane
floral tape
wooden skewers
pink/red tissue paper
green tissue paper
terra cotta pot or other "vase"
baker's twine (optional)
Instructions
I love these Dove Dark Chocolate Promises, not only are the the perfect size/shape for these flowers, they taste amazing-for my bouquet I used two flavors-Mint & Dark Chocolate Swirl and Sea Salt Caramel Dark Chocolate-can you say yum??
To begin your flower stack three chocolates in one hand.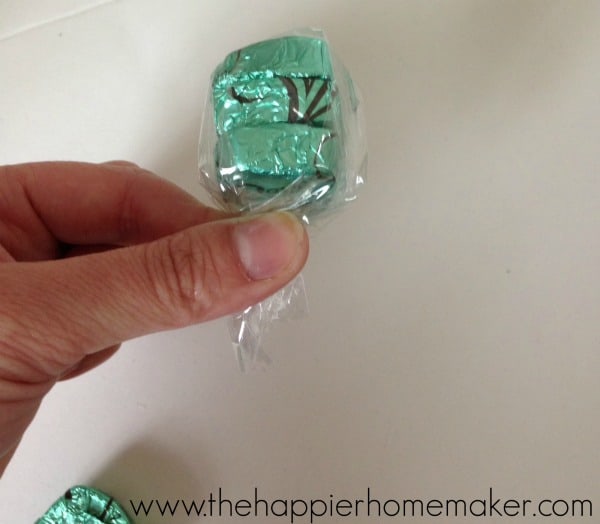 Wrap with a piece of cellophane.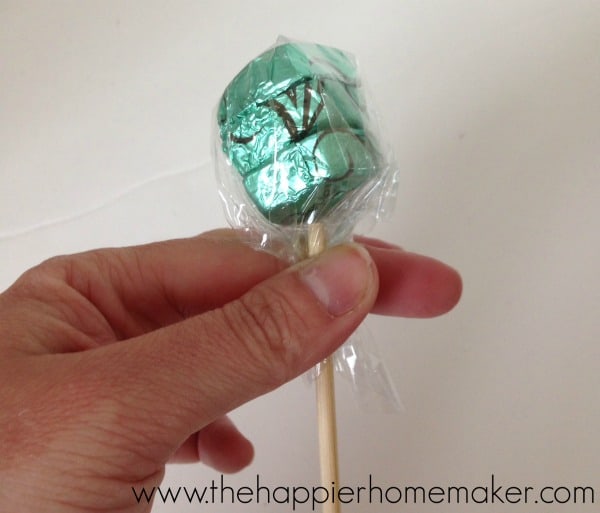 Insert blunt end of the wooden skewer under the chocolates and twist the cellophane around the skewer to hold into place.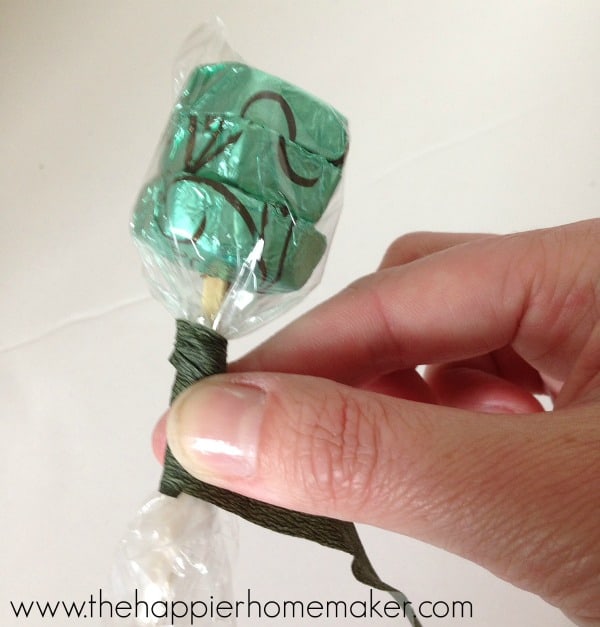 Use floral tape to tightly wrap cellophane around skewer, trimming cellophane if necessary to shorten. Make sure you wrap past the cellophane and onto the bare skewer to make sure everything stays in place.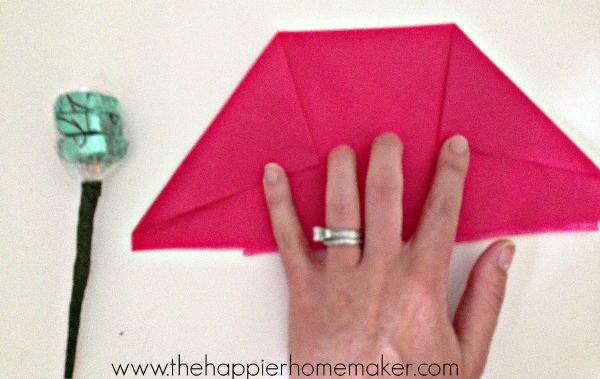 Sorry about this picture-it's insanely blurry but I didn't have any others of this step! Cut a 12 by 12" square from a couple layers of tissue paper and fold in half with folded side up. Fold corners down slightly.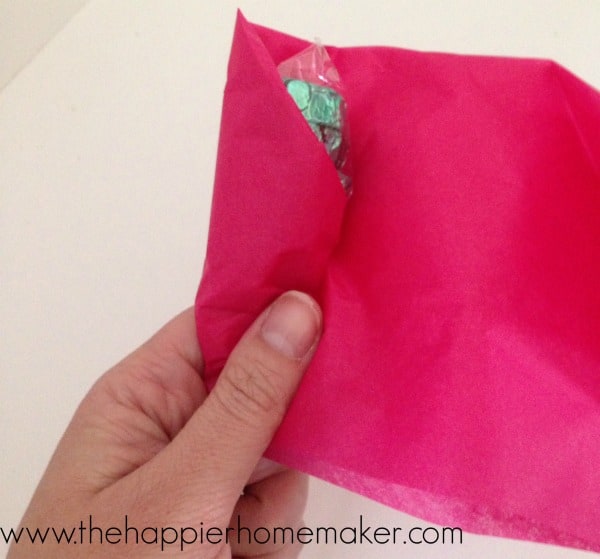 Starting at one folded corner begin rolling your chocolate flower in tissue paper.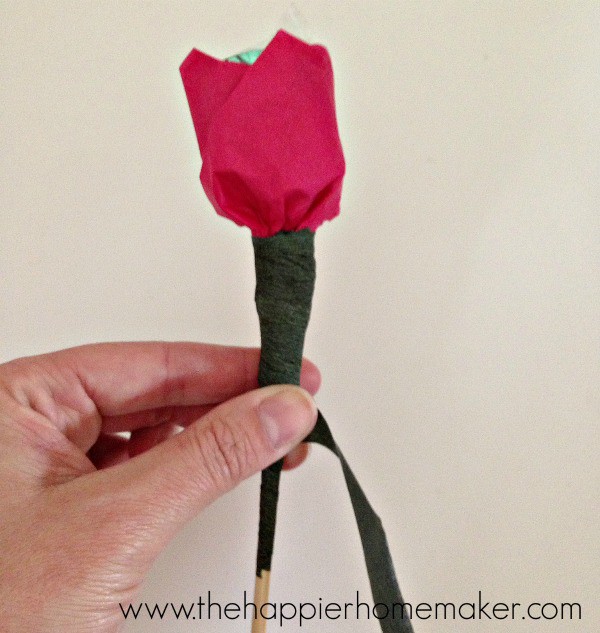 Once your flower is rolled again use floral tape to secure the tissue paper in place.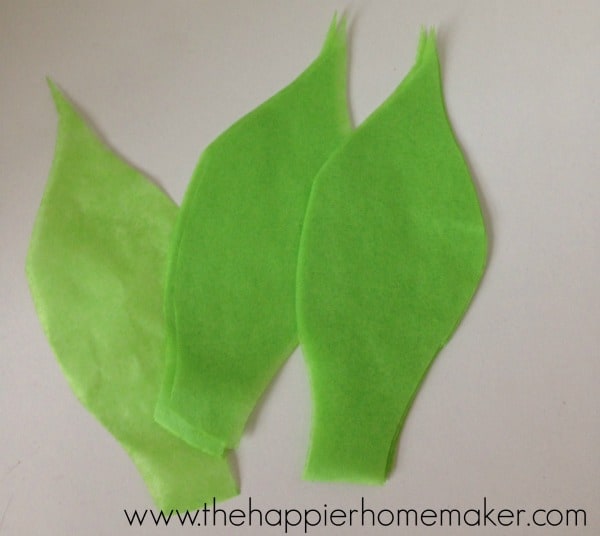 Cut leaf shapes from green tissue paper.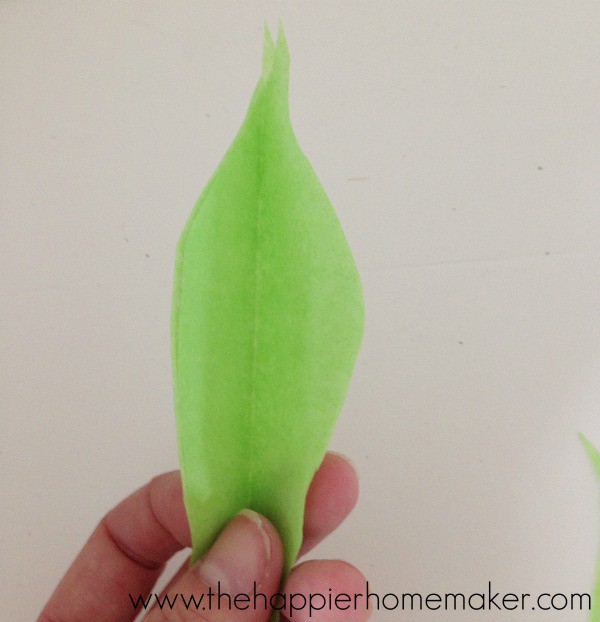 Layer two leaves over one another and fold in half to produce more of a natural shape.
Add layered leaves to the side of your flower and wrap the bottom with floral tape to secure.
Continue to make the desired number of flowers-it actually goes pretty quickly once you make the first couple and get the hang of it! If necessary trim the ends of your skewers to get the desired height. Add to a pot or vase and decorate as you like. I used a small terra cotta pot wrapped with bakers twine. You can also create skewers with just leaves on them to fill in any bare spots in your bouquet if needed!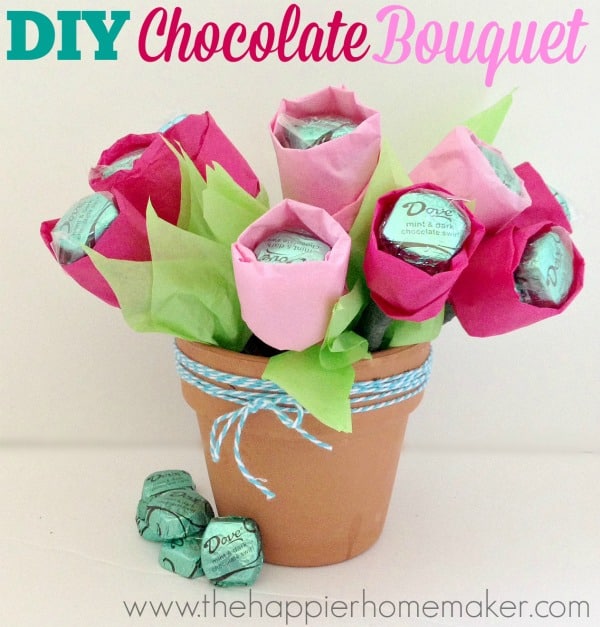 Isn't it a cute gift? I would love receiving this on Mother's Day (or any day really!!)