Lavender Bath Salts are relaxing and smell amazing, plus they make a wonderful DIY gift that is always appreciated. Mix up this Bath Soak in just a few minute with this tutorial!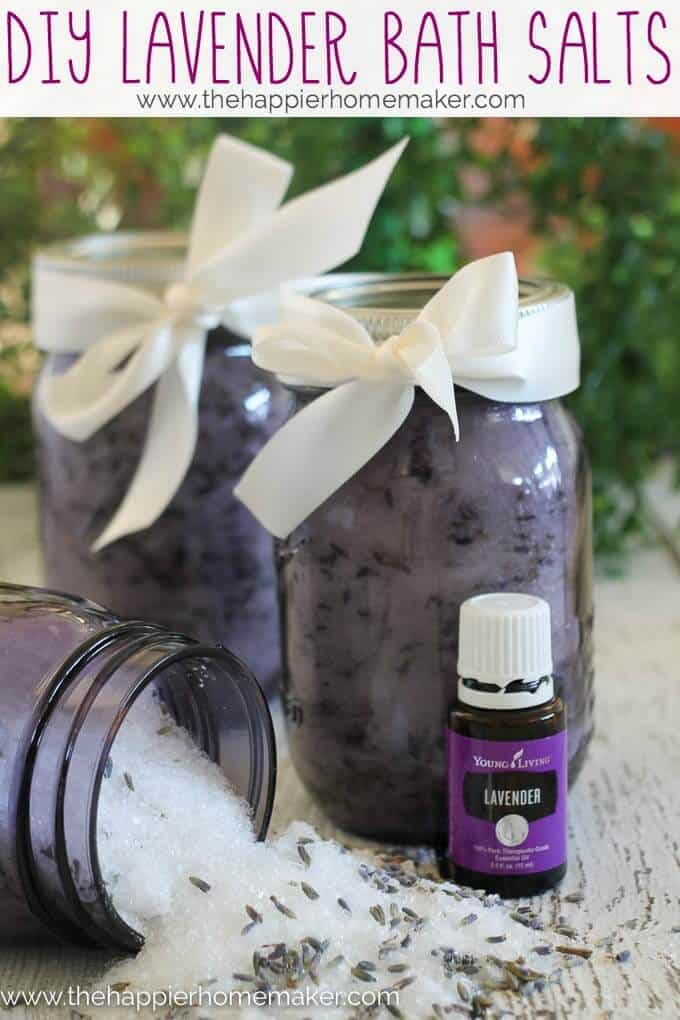 I've shared a HUGE amount of DIY gifts here on the blog over the years and am always brainstorming more ideas-today I'm sharing DIY Lavender Bath Salts that make the perfect gift for anyone on your list that might need a little relaxation (which is us all isn't it??)
It's been about five years since I made the switch from store-bought to homemade gifts for the vast majority of my gifting list.  It's been a huge help not only for my budget but it also helps keep me out of the rampant commercialism of the holidays and really thinking about what the special people in our lives might enjoy rather than feeling like I need to spend X amount of dollars per person.  
When you are ready to give your homemade gift please be sure to check out our tutorial for how to make a gift bag from wrapping paper, it's so easy!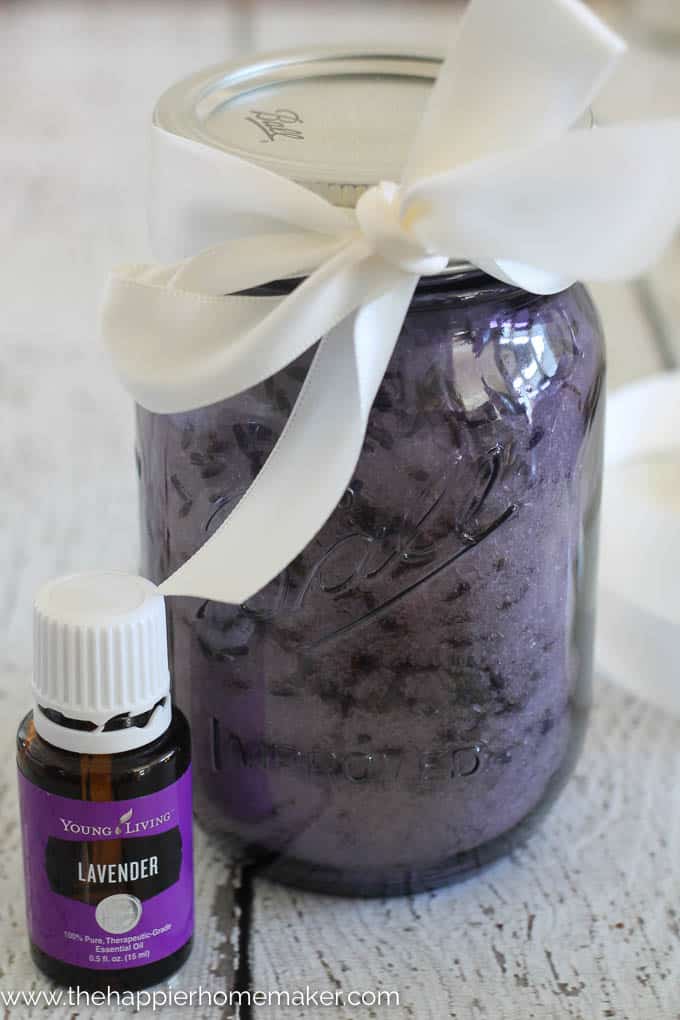 These bath salts would make great gifts around the holidays, teacher gift, housewarming gifts, or just a nice gif tot yourself after a long day!
Why are bath salts good for you?
These bath salts are made with Epsom salt which has been touted for its restorative properties for years.
Epsom salt is good for the body. Epsom salt helps relax muscles and relieve pain in the shoulders, neck, back and skull. For example, by relaxing the muscles surrounding the skull, the magnesium in Epsom salt may help release a headache or migraine.

Some researchers also think that magnesium is good for reducing inflammation in internal organs. This may help reduce the risk of cardiovascular disease and improve digestion/bowel movement. Integrative medical experts commonly recommend Epsom salt to patients with chronic fatigue syndrome and cold intolerance.

Cleveland Clinic
Why is a lavender bath relaxing?
Science Today confirmed that smelling lavender is the key to getting the relaxation benefits. The key is a chemical called linalool that is found in the essential oil. It's the actual smell of the linalool that affects the mood, not the absorption of the chemical. So what better way to smell it and reap the relaxing benefits than taking a nice lavender bath soak?
Is an essential oil bath soak safe during pregnancy?
This is a very important question! We always hear the positive benefits of essential oils but there are some oils that shouldn't be used in pregnancy.
...some are safe during pregnancy, while others are not. Spanish Lavender, Lavandula stoechas, is not recommended during pregnancy, but Lavender (aka English Lavender or True Lavender), Lavandula angustifolia, is a safe and effective choice to manage muscle pain, insomnia, and headaches.

Motherly
Favorite Resources:
Young Living Lavender Essential Oil
Yield: 1 cup
Lavender Bath Salts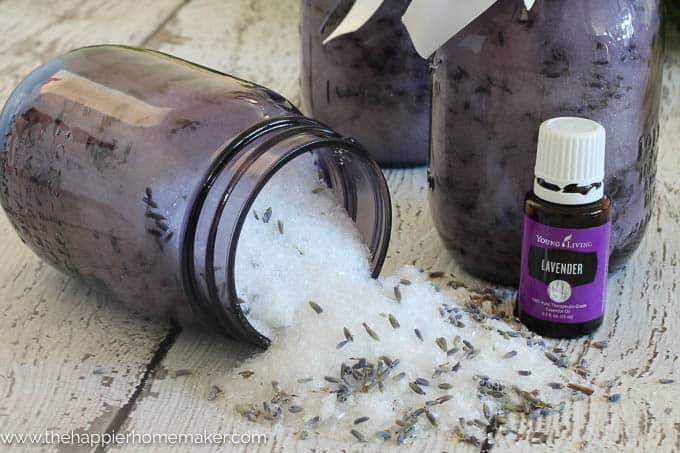 Materials
1 cup Epsom Salt
2 tablespoon Lavender buds (optional)
6 drops Lavender Essential Oil
Mason Jar or other container
Instructions
Mix Epsom salts,Lavender Essential Oil, and Lavender buds together stirring well to distribute the oil.
Package as desired
Notes
Buy Epsom salts and lavender buds in bulk for the best pricing.
Use a safe essential oil suitable for the skin, I prefer Young Living.