Homemade dog treats are easy to make and a delicious way to tell your furry friend you love them. These Homemade Beggin' Strips are one of our favorite dog treat recipes!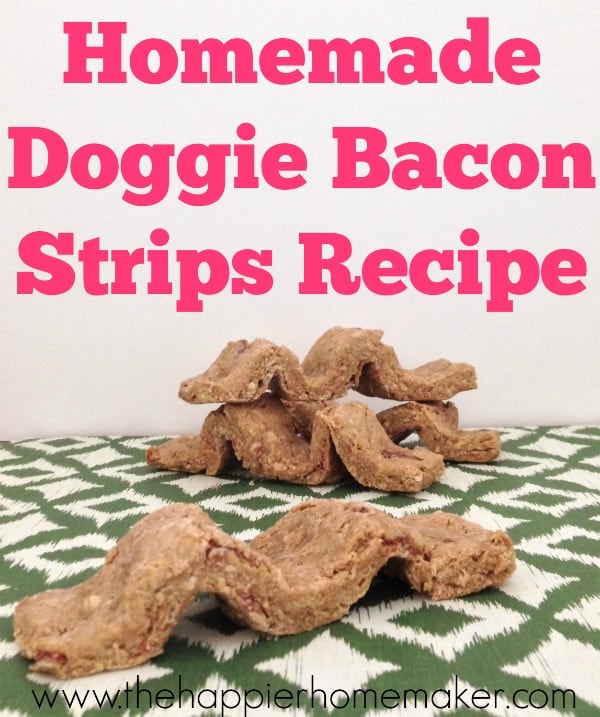 I've done you all an injustice...you see, there's a very important member of the family who you haven't met, he's definitely not getting his fair "shake" (sorry for the bad pun!) His name is Bear but you can also call him The Best Dog Ever.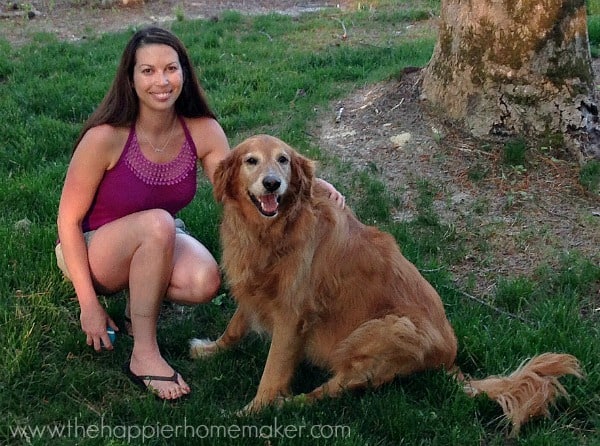 Because we love him so much, the boys and I like to make him homemade dog treats often. (I also gift these homemade dog biscuits at Christmas time!)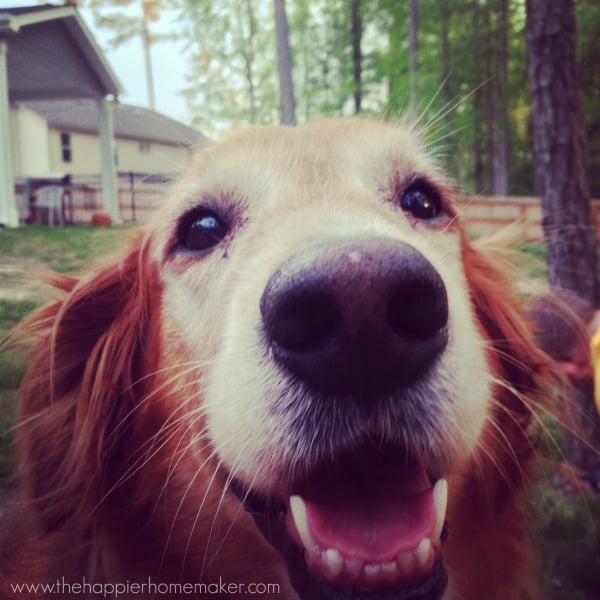 This recipe is a copycat version of the popular Beggin' Strips you can find at the store. I like making them fresh (our Bear has food allergies) so I know exactly what is in them. Plus it's so easy, why wouldn't you?
Ingredients:
3 pieces of bacon, cooked and finely chopped
½ cup peanut butter
⅓ cup beef broth
½ cup quick oats
1 egg
1 cup whole wheat flour
Instructions:
Preheat oven to 315 degrees.
In a medium sized bowl combine all ingredients, using your hand to mix.
Roll dough to ¼" thick rectangle and use a knife cut dough into 1" wide strips. I made mine about 6" long because Bear is so big but if you have a smaller dog you can cut them smaller of course!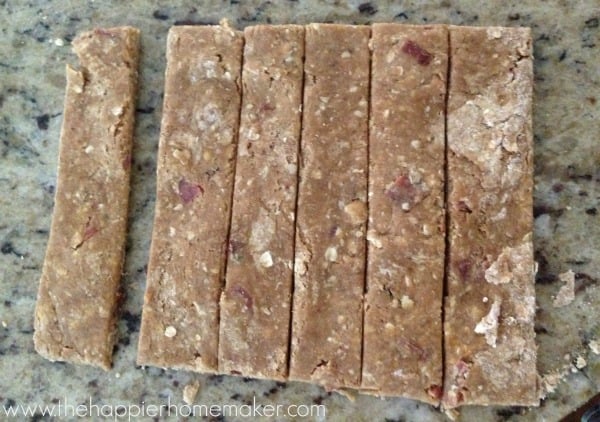 Line a cookie sheet with with aluminum foil.
Place the strips on the cookie sheet, using your fingers to ripple the dough so it looks like a piece of bacon.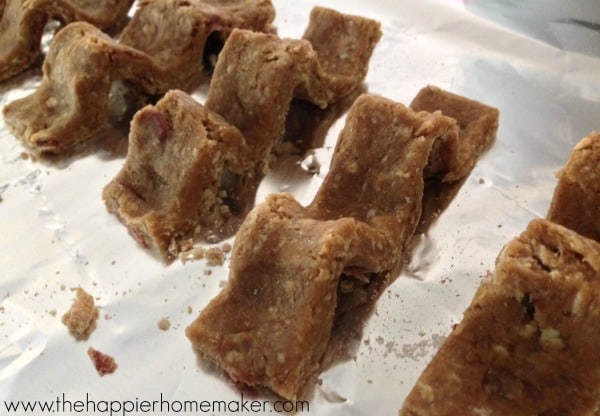 Bake for 20 minutes, allowing them to cool completely before serving. I keep mine in the fridge and use within a week or two for the best taste.
FAQs
Is peanut butter good for dogs?
Natural peanut butter is perfectly safe for dogs, it is the ingredient Xylitol that is in some peanut butters that is poisonous to dogs. Xylitol is a sugar substitute so be sure your peanut butter does not contain that before using it in this recipe. Read more about peanut butter and dogs here.
Is oatmeal good for dogs?
Oatmeal is a good source of carbohydrates for dogs as long as:
it is not given raw
it is not prepared with milk
it is not have added sugar or flavorings
Read more about dogs and oatmeal here.
How long do homemade dog treats last?
Store these treats in an airtight container for up to 5 days. Keep in the refrigerator up to 1 month, and they can be frozen up to 6 months so make a double or triple batch and save some for later!
If you're not up for homemade, the next best thing is to order from Chewy.com, you can read my entire Chewy.com review here.