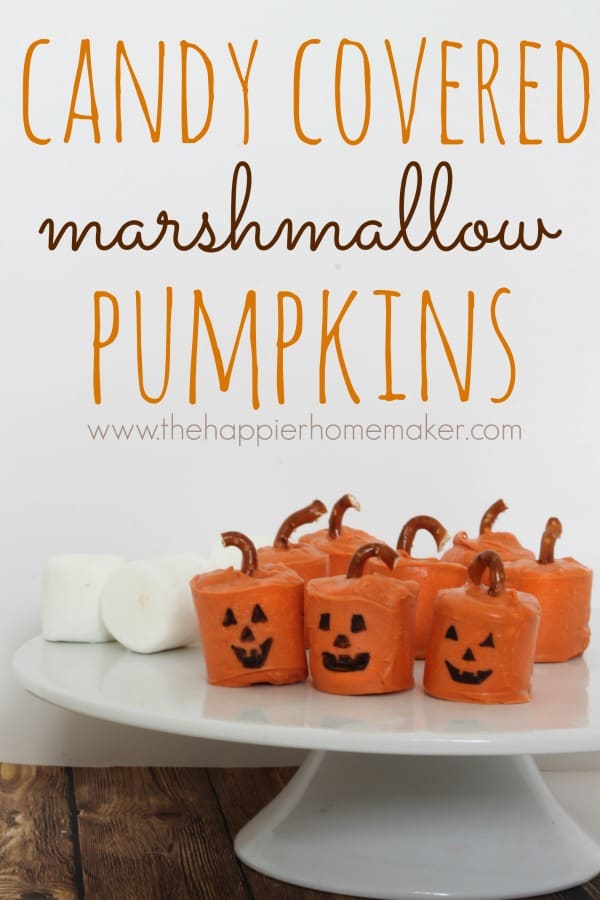 Are you getting in the mood for Halloween? I was brainstorming ideas for treats I might send in with my boys to school later this month and came up with these adorable little marshmallow pumpkins!
You'll Need:
marshmallows
candy melts-I used Pumpkin Spice
pretzels
skewer or other means to dip marshmallow
wax paper
edible food writing pens (optional)
I had originally picked up plain white candy melts and planned on coloring them orange with food coloring but I lucked out and happened upon orange colored Pumpkin Spice Melts at the grocery store so I snatched them up! Less work for me and the candy smells heavenly!
Per the package instructions I microwaved the melts in a bowl at 50% power for 1 minute then in 30 second intervals until totally melted. Be sure to stir each time after microwaving and don't overheat or it will ruin the consistency. I used a skewer to dunk each marshmallow in the candy coating and a butter knife to help spread and smooth it around the marshmallow.
When the marshmallow is coated set it on wax paper to harden. As soon as you take out the skewer stick a pretzel piece in the hole to act as the stem. I used mini pretzels broken into pieces so my "stems" would be curvy but you could use any type.
Allow the marshmallows to harden completely before handling or moving. If you'd like to create jack o' lanterns use an edible food pen to draw your pumpkins some spooky faces!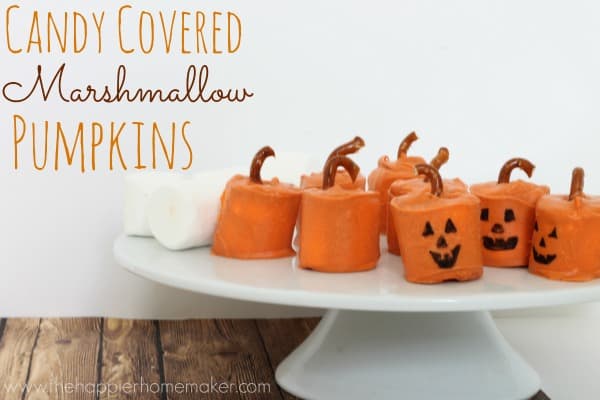 I think they turned out super cute and my boys were mesmerized by them! I'll definitely be making them again!