This is a Sponsored post written by me on behalf of BISSELL Homecare, Inc. for SocialSpark. All opinions are 100% mine.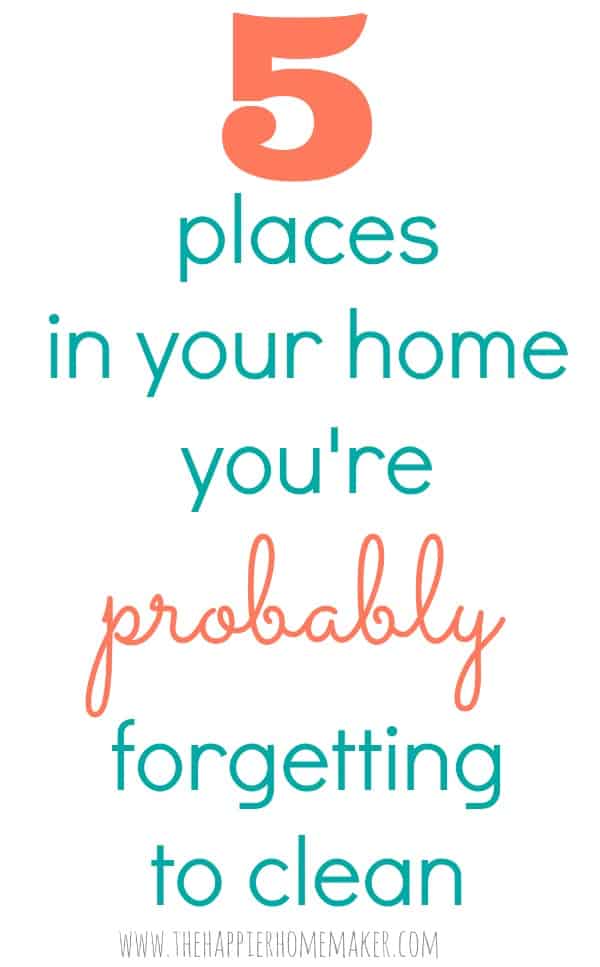 **Update September 2016-it's been 3 years and I still HIGHLY recommend this vacuum, it's the best vacuum I've ever had and amazing at lifting pet hair out of the carpets!**
So do you all remember a few weeks ago when I shared my Fall Cleaning Checklist and shared that I had just received a BISSELL PowerGlide® with Lift-Off® Technology to try out...and of course I promised to report back-well, today's the day! I have put this vacuum through the ringer so that I could give you all an accurate review and in the process I discovered that there are a few cleaning tips on how to NOT forget those places throughout the house that I (and probably a lot of you too) are forgetting to clean!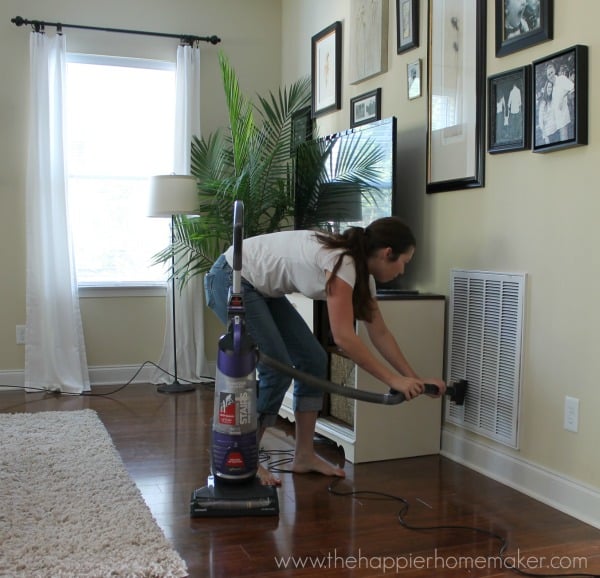 The first place I realized I have not been paying enough attention to are my air conditioner/heating intake vents. These babies were just begging for a quick pass of the BISSELL's upholstery brush to remove the hair and dust.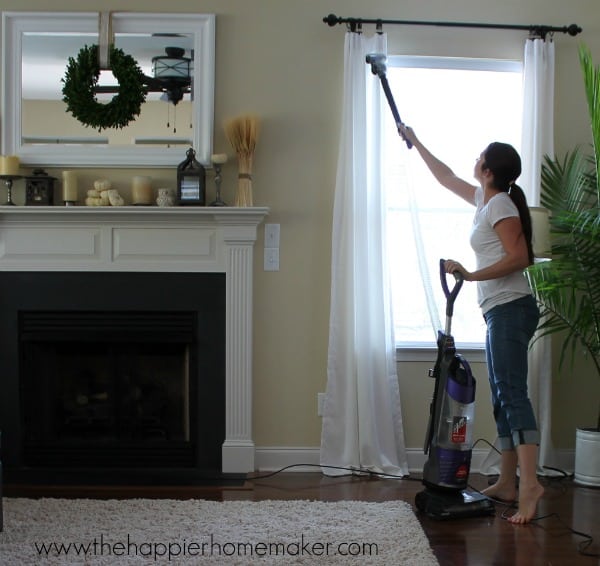 Next I realized that my curtains were another place that hair and dust were accumulating and I was none the wiser. With a houseful of boys with horrible allergies I'm kicking myself for not having a vacuum previously that made cleaning the curtains so easy. If you have medium to heavy weight curtains simple use the upholstery brush to give them a quick once over!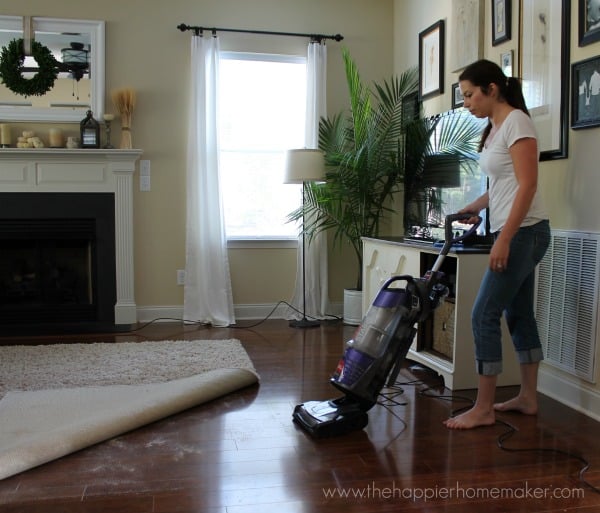 Yet another sneaky place that dirt, dust, and pet hair were hiding were under my area rugs. I vacuum my rugs nearly daily but even after vacuuming the top of the rug I found this disaster underneath. Not only do I not want this grit and grime rubbing into my wood floors with all the foot traffic over top, but this was yet another place for allergens to hide in our home. Yuck!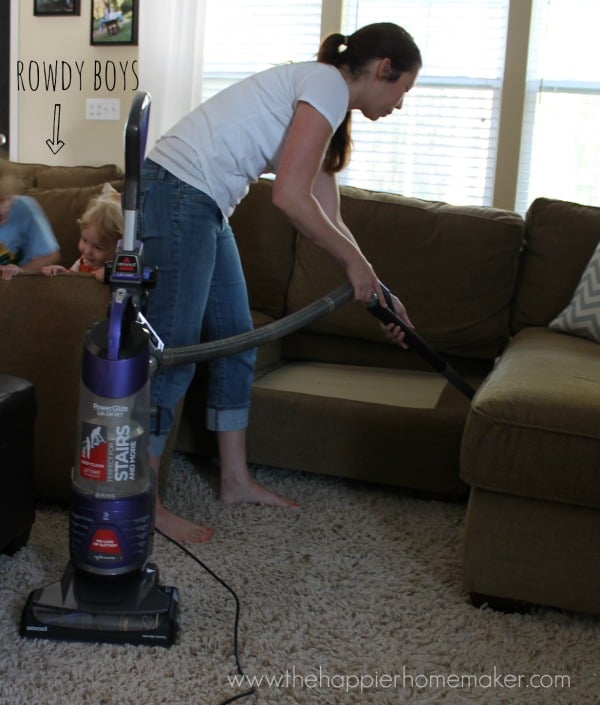 Recently our animals were exposed to fleas and unfortunately the flea preventative we were using did not live up to it's claims. Luckily our veterinarian helped us find a better product but since they had been introduced to the house I realized that neglecting to vacuum my upholstered furniture, including under the seat cushions was allowing any residual fleas a nice comfy place to inhabit and reproduce.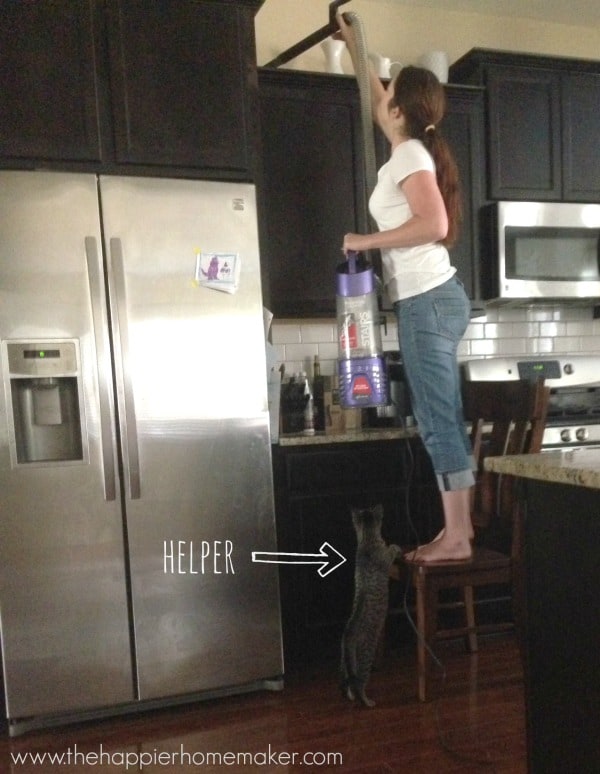 Last but not least I realized that the tops of my cabinets had not been cleaned since we moved into the house a year and a half ago. I can only imagine how much dust was up there but again the removable pod on my BISSELL PowerGlide® with Lift-Off® Technology made it super easy to reach.
So far I am 100% sold on the quality and effectiveness of the BISSELL PowerGlide®. I had won another brand of vacuum in an online contest last year-a pretty high end brand-and the BISSELL by far and away outperformed it. Here's another look at the awesome features I mentioned when I first received it:
- No loss of suction and sealed system
- One-step removable pod for portable cleaning
- Long-stretch hose
- Lightweight
- Swivel steering for maneuverability
- Adjustable handle for easy use and storage
- 12-inch foot for stability
- Large capacity dirt cup
- 27-foot cord
- Included TurboBrush® and crevice tool
The first thing I did when I got the vacuum assembled was to compare it to my previous vacuum. I vacuumed my hallway (where my golden retriever sleeps at night) with the other brand then immediately went over the area with the BISSELL and it filled half a canister with dirt and pet hair the other "fancy" brand left behind. Again, with the severity of the allergies of my family that is something I just can't be okay with. I highly recommend this vacuum after using it these past few weeks and will be sure to follow up as the months continue with updates on it's performance!