Surf and turf, the ultimate indulgence for dinner, combines a juicy steak and a delicate seafood dish like shrimp or lobster tails. Whether you're celebrating a special occasion or simply treating your family to a gourmet meal at home, these 15 amazing sides will complete your surf and turf meal perfectly!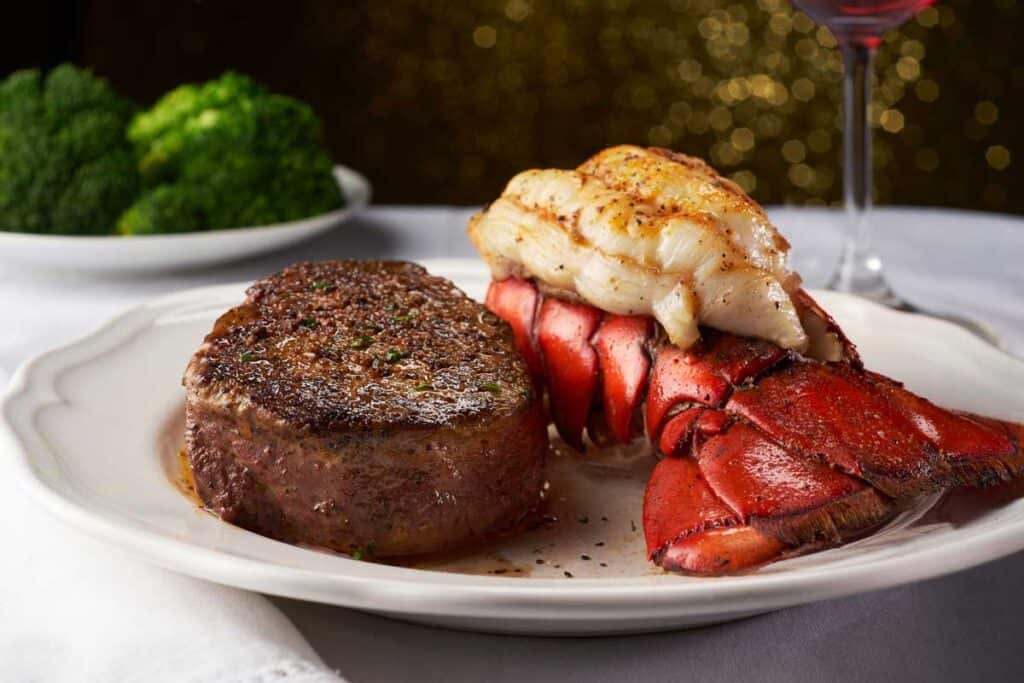 Surf and turf can be made in so many different ways with different types of red meat and different types of seafood. But no matter what you choose for the surf and turf, these side dishes will take an already delicious meal to the next level!
A mixture of wild rice and aromatic vegetables, cooked in a flavorful broth and garnished with toasted nuts and fresh herbs is perfect to complete your surf and turf dinner. Wild rice pilaf is a hearty and slightly nutty side dish that adds depth and texture to your meal.
What's better than mac and cheese? Lobster mac and cheese! And it's the perfect way to elevate your surf and turf meal even more! When it comes to surf and turf side dishes, this is the comfort food king!
A classic side, creamed spinach complements the steak's savory flavors and adds a touch of elegance to your plate. Add a little lemon zest for a fresh and bright flavor!
Enjoy the freshness and crunch of roasted asparagus, brightened with zesty lemon and Parmesan cheese. This is a great option for a classic surf and turf meal!
5. Grilled Vegetables
A simple side dish of a medley of grilled vegetables such as zucchini, bell peppers, and mushrooms adds a healthy, smoky note to your meal. Grilled veggies are an excellent way to keep your meal healthy and pair perfectly with any cut of meat!
Enhance the seafood component with a velvety lobster bisque, a luxurious soup brimming with rich flavors. This is the perfect choice for either a lighter meal or a nice warm winter meal!
Take the classic mashed potatoes side dish to another level with truffle oil! It adds a touch of earthy decadence that pairs perfectly with the surf and turf. Try truffle oil in truffle mac and cheese too (you'll thank me later)!
Creamy and rich mashed potatoes infused with the rich flavors of roasted garlic and cheese is one of those classic surf and turf sides that are basically a go-to. The creamy texture balances the boldness of the turf and adds a delightful, savory note to your plate.
9. Crab Cakes
Crab cakes are a classic dish and a great way to add more textures to your surf and turf meal and stick with the theme. Pair them with a delicious sauce and you'll have a seriously filling and satisfying meal for your taste buds.
Grilled corn is one of those classic sides that never fails to be a match for any meal. Savor the smoky sweetness of grilled corn on the cob, brushed with butter and your choice of seasonings. This easy recipe with simple ingredients is always a hit!
Roasted Brussels sprouts combined with crispy bacon create a mouth-watering side dish that complements the savory steak. The Brussels sprouts take on a bit of a sweet flavor when they're roasted, which makes them so delicious!
Creamy mushroom risotto is a luscious accompaniment that harmonizes with both the red meat and seafood components of a surf and turf recipe.
Serve steamed artichokes with a dipping sauce for a unique and elegant side that adds a touch of sophistication. This simple dish is the perfect side dish with a surf and turf meal for dinner parties.
A wedge salad topped with creamy blue cheese dressing, bacon, and tomatoes offers a tangy and savory contrast and is an excellent choice alongside steak and seafood. This is one of the best side dishes because it's delicious but it's so simple to create! This is also so tasty with a bit of balsamic vinegar drizzled on top!
15. Baked Sweet Potatoes
Enjoy the sweetness of a baked sweet potato with your surf and turf meal! This is a good choice if you're grilling your surf and turf because you can also make the potatoes on the grill! You can serve these potatoes sweet with brown sugar and butter, or savory with salt and garlic butter for plenty of extra flavor added to your main course dish.