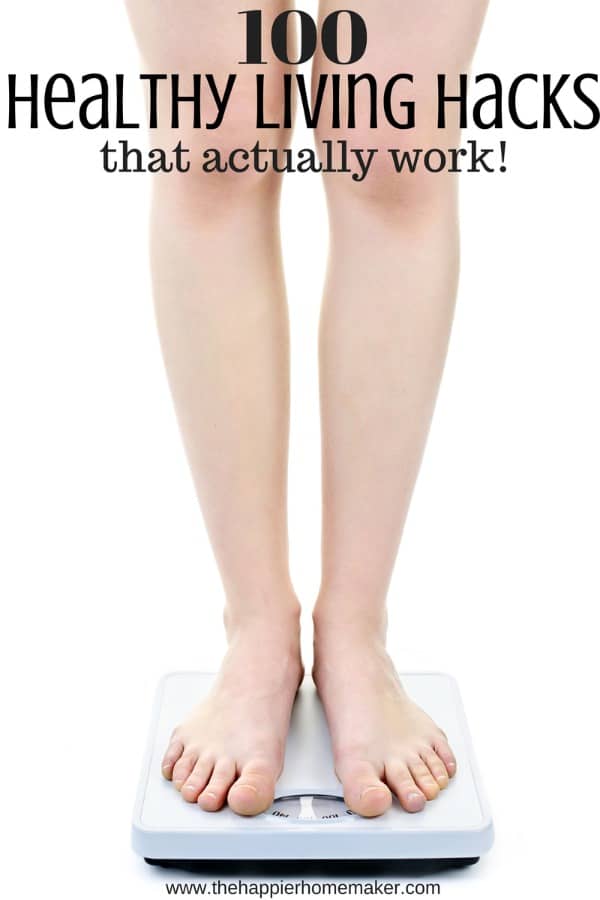 Like most people I have struggled with my weight and staying healthy over the years. I grew up "skinny fat" and by that I mean I was a beanpole who could eat anything (and I did!) and never gain an ounce-and I never exercised. That is, until I was in my early 20s. All of a sudden that burning metabolism screeched to a halt and the scale started ticking up. I had to teach myself to eat properly, learn to love exercise, and create healthy habits. Over the years I've added to my list of easy healthy living tips and tricks and hope some of these can help you all as well!
Fill a large container with your water for the day and make sure you drink it all by the end of the day-64oz is a good goal for most people.
Eat a salad or light broth based soup before lunch and dinner to help fill you up without as many calories.
Exercise first thing in the morning if possible-it sets the tone for your entire day and helps you make better food decisions.
If you're short on time consider High Intensity Interval Training-it's maximum calorie burn in minimum time (I use the TurboFire DVDs from Beachbody)
Keep an honest food journal-I use the My Fitness Pal app on my phone-it helps me be realistic about my calorie intake and see those pitfalls that may be slowing my weight loss or causing gains.
Use a food scale and/or measuring cups to measure your portions until you can accurately eyeball serving sizes. We live in a supersized society and many of us have warped ideas on how much a serving is-you'd be surprised!
Eat on a smaller plate-trick your brain into thinking you're eating more than you are!
Make a playlist of your favorite energizing songs for your workouts-it will help motivate you and keep your energy up!
Get a workout buddy-whether it's your spouse, kids, or a long distance friend-have an accountability partner.
Slowly introduce healthy substitutions-think skim milk instead of 2%, light salad dressing intead of full fat-those substitutions will start to add up!
You don't have to go hard core right from the beginning-I find that slowly implementing healthy choices is better than tryingt o drastically change your lifestyle all at once-you're less likely to give up and revert to bad habits if you make changes slowly.
Plan meals ahead of time and have healthy choices on hand so you make good decisions.
Get rid of temptation-don't keep candy or cookies (or whatever your weakness is) in your house-stock up on healthy alternatives instead.
If you think you're hungry drink a glass of water and wait 15 minutes-many times we think we're hungry when we're actually just thirsty.
Turn of the technology while eating-focus on your food and enjoying it so you're not mindlessly eating.
Eat more protein-it will keep you full longer and packs less calories than carbs and fats.
Stop drinking soda-even the diet kind if you can. Try flavored sparkling waters or better yet, just plain old water!
Choose whole wheat over white grains-they are better for you and keep you fuller longer.
Substitute Greek yogurt for sour cream in recipes.
Save dessert for once or twice a week rather than every night.
Choose whole fruits over juices-they are more filling and better for you.
Have one splurge meal a week but don't make yourself sick overindulging!
Don't skip breakfast-studies show it leads to overeating later in the day.
If you're not a breakfast person try a protein shake-I use Shakeology and love it!
Try sweet potatoes instead of regular potatoes.
Steam your veggies rather than cooking in oil or butter.
Do situps or jumping jacks during television commercials.
Don't eat the two hours before bed.
In a restaurant ask for a box as soon as you get your meal-immediately put half in the box to take home.
Don't let one bad decision throw you totally off track-one scoop of ice cream cheat doesn't mean you should eat the entire container!
You don't have to clean your plate-many of us grew up with that mentality and it makes us overeat. It's okay not to finish if you're full!
Eat slowly-it takes your body a bit to feel full, if you're eating too quickly you are likely to overeat and miss your body's cues of fullness.
Pre-portion your snacks in individual containers and bags so you can grab and go without worrying about overeating.
Replace white pasta with whole wheat or try spaghetti squash instead.
Try to cut out white sugar-use honey or agave instead but watch those calories regardless!
Eat the rainbow by making your veggies colorful-yellow squash, green zucchini, red tomatoes, orange peppers.
Take an after dinner walk to help digestion and burn extra calories.
Stretch daily-it's relaxing and helps your body feel wonderful!
Try one meal a week without meat, increase as you go on.
Chew your food thoroughly-take the time to taste and enjoy it!
Try infusing your water with fruits, veggies or herbs to add variety.
Get a good night's sleep-no one can be at their best without it!
Don't grocery shop on an empty stomach-you'll make spur of the moment decisions which can lead to unhealthy choices!
Don't snack if you're not hungry-many times we snack when we're bored or upset-ask yourself if you're really hungry.
Do squats while you wait for the microwave, brush your teeth, or blow dry your hair!
Use olive oil instead of vegetable oil.
Think fitness and healthy rather than "skinny." There's a difference.
Don't restrict your calories too much-it will slow your metabolism.
Try a gentle cleanse.
Eat three meals and 2-3 snacks a day. Smaller meals more often are vital to keeping your metabolism up.
Choose real foods without unnecessary preservatives-opt for regular cheese over "cheese product."
Choose natural peanut butter over varieties with preservatives.
Even better, choose almond butter over peanut butter.
A ten minute workout is better than no workout at all.
You don't need fancy equipment to work out-a jumprope (or just pretending you have one) can rev up that heartrate!
Lift weights-muscle burns fat! I love the ChaLean Extreme workouts for learning how to work with weights effectively and getting max results fast!
Change workouts often-doing the same thing over and over becomes less effective over time.
High intensity doesn't have to be high impact. I have horrible knees and can't do high impact exercises but I can still give 110% to my workouts for maximum burn!
Even if you don't feel like working out, just commit to start. Nine times out of 10 you'll feel better once you get going.
Try soy or almond milk instead of regular milk.
Avoid pricey and high calorie coffee shop concoctions-make your own skinny versions at home, like this skinny pumpkin spice latte.
Want a super high calorie burn fast? Try a Tabata workout-give your full intensity to get results.
Moms and Dads-watch for mindless eating while making snacks for the kids-I had no idea how many bites of food I was taking here and there until I started keeping a food diary.
Track your workouts-I use the My Fitness Pal app on my phone for this too.
Keep track of your weight. I weigh once most days in the morning after using the restroom. Realize that hormones and water weight can make your weight fluctuate day to day so look for overall trends.
Put your workout clothes on as soon as you wake up.
Make it easy to workout-choose a gym nearby or keep you home equipment in a convenient, accessible place.
Sign up for a 5K or other fitness event and work towards that goal.
Place an encouraging quote on your bathroom mirror so you see it as soon as you get up every morning and just before bed.
Situps aren't the only way to train your abs-standing crunches and planks are very effective without back strain.
Diet is key-you can workout constantly but without working on your diet you may never see the results.
Take before pictures and measurements so you can track your progress and see your results.
Throw out old clothes as you lose weight-no need to keep them, you're never going back!
Park in the back of the parking lot (assuming it's safe of course) and walk a little farther.
Always warm up before a workout to help prevent injuries...something as simple as marching in place or slow squats can get blood flowing and warm up your muscles.
Excess salt can lead to water retention and bloating-limit your salt intake.
Eat fish or seafood once a week-it's low in calories and high in good fats.
It's all math-to lose one pound of fat you need to burn 3500 more calories than you take in. That's 500 calories a day. Simply do a 250 calorie workout and eat 250 calories less and you're on your way!
Try to add fruits and vegetables to every meal to get your recommended 5-7 servings a day. I don't let myself have my small "treat" of the day (usually a piece of dark chocolate) until I've had all of my fruits and veggies!
Use this guideline for making your plate of food-fill half the plate with produce, a quarter with healthy protein, and the last quarter with whole grains.
Try new (healthy) foods-you may be surprised at what you enjoy! Quinoa anyone?
Cut out alcohol-it's empty calories. If you do drink pay attention to calories and try to opt for lower calorie options. Beware sugary cocktails especially.
Once you lose the weight don't revert to old habits or it will quickly return.
Set realistic small goals, rather than saying "I want to lose 100 pounds" set smaller goals like losing five pounds this month.
Push yourself when working out-you are capable of more than you think.
Try to eat at least 8 grams of fiber for breakfast-it will fill you up and set the tone for your day.
Try to live a more active life day to day-instead of going to the movie, take the family to the park. Try kayaking or biking as well.
Pack a lunch when you're away from home instead of relying on fast food.
Google is your friend, if you have to eat out use Google to find the healthiest options wherever you are going.
Plan a non-food related reward for yourself as you meet your goals.
Cut your food into smaller pieces-it tricks your brain into thinking you're eating more!
Don't skip meals-it makes it more likely you'll binge later and slows the metabolism. If you don't have time to eat grab a shake, smoothie, or a piece of fruit and handful of protein snack like almonds.
Drink green tea-it is high in antioxidants and has been shown to give your metabolism a little boost every time you drink it!
Experiment with different spices-they are a low or no calorie way to flavor food and can help transform blah night after night foods like chicken into a wide variety of flavored dishes.
Join a fitness community like Beachbody or My Fitness Pal to chat with people working for similar goals.
Pay attention to portion size even when eating healthy foods-you can still overindulge whether the food is healthy or not-remember it's all about the math and overall calorie intake counts!
Limit eating out to once a week-commercially prepared food is usually significantly higher in calories and fat than meals prepared at home.
Measure yourself-arms, chest, waist, hips, thighs-many times your progress can be disguised by the numbers on the scale, especially if you're lifting weights. Muscle weighs more than fat but takes up less room so you may be losing inches even if your weight stays the same!
If you need to indulge try a small 1 oz piece of dark chocolate-it contains antioxidants and caffeine. Try to really enjoy and savor it as you eat!
Be positive. Absolutely NO good comes from beating yourself up, even when you have set backs. You are worth the effort you are putting into your health. You CAN do this. You are amazing!