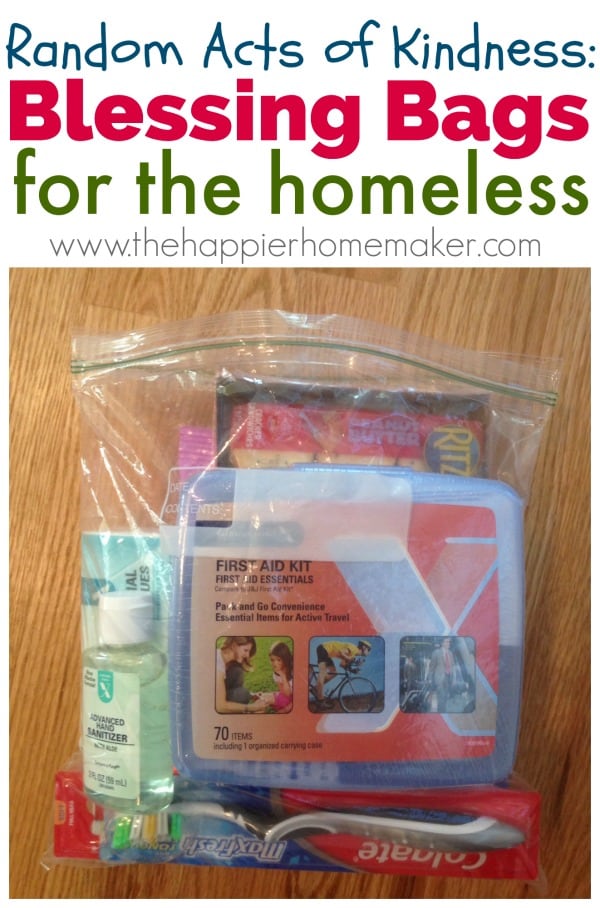 When we moved from suburban North Carolina to the Washington DC area this past summer it was a pretty big lifestyle adjustment. There were little daily things like learning to go to a park rather than being able to play in our own backyard, or dealing with what's been designated the worst drivers in the country. Then there were the larger adjustments like explaining some realities of life to our young boys. In our area we rarely drive anywhere without seeing a homeless person-whether sleeping at the park or holding a sign asking for help at an intersection. My boys began asking questions and we have been trying to answer them thoughtfully. This led to discussing how we could help those who are less fortunate.
In particular on the way to church each Sunday we pass an older gentleman who is a disabled veteran-veterans are extra special in my heart due to my family's history of service. I wanted to help him so we decided to make a care package or "Blessing Bag" to give to him this past Sunday. My mother taught me about blessing bags when I was a child-she used to keep many of them in her car in case she saw someone that needed help and I thought it was a great idea for our family too given the great need we see in our area.
Here are some ideas for filling blessing bags if you'd like to do the same, we usually put ours in gallon sized plastic bags:
toothbrush
toothpaste
baby wipes
hand sanitizer
first aid kit
fruit cups
canned meats, soups, pasta (make sure they can be opened without a can opener)
eating utensils
peanuts
trail mix
mini packs of tissues
cracker snack packs
cough drops
raisins
hand warmers
granola bars
energy bars
water bottles
fruit snacks
deodorant
quarters (useful for laundry mats)
soap
chapstick
razor
comb
lotion
sunscreen
socks
underwear
gloves
hat
gum
gift card
small note of prayer or encouragement
Travel size toiletries and hotel toiletries are great for these uses, I also like to take advantage of couponing and sales to get a lot of the toiletry items for free or low cost so if you're a couponer take advantage-even if it's a brand you don't use in your home, it could be a blessing to someone in need!
Have you made blessing bags? Did you include anything I left off my list? I'd love to hear your experiences.