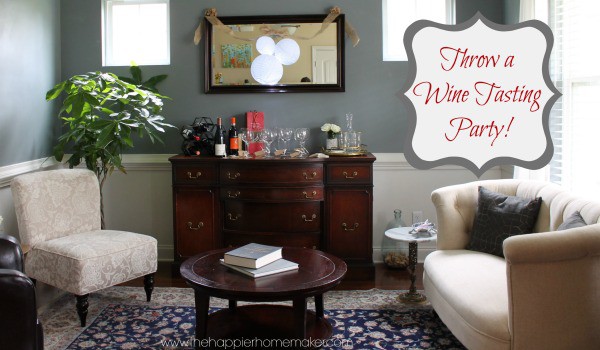 Wine Tasting Party
My husband is in the Army and in his unit the spouses have a Coffee Group that meets each month...we do anything but "coffee" though! In the past we've had craft nights, Cinco de Mayo celebrations, and ugly bridemaid themed parties!
This month was my turn to hostess and I decided on a wine tasting party! We even let the husbands tag along so our ladies had designated drivers!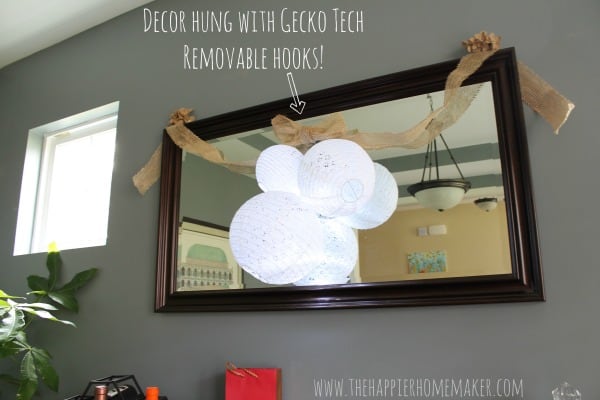 I set up the Sitting Room as the wine station.  I added some cute lace hanging lanterns and burlap ribbon bow to the mirror above the buffet/bar area.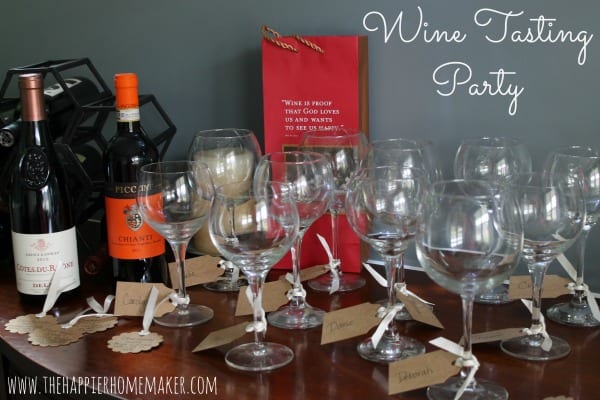 On the bar, I had all the glasses displayed and added a cute tag to each one as a sort of name tag and to help prevent glass mix-ups!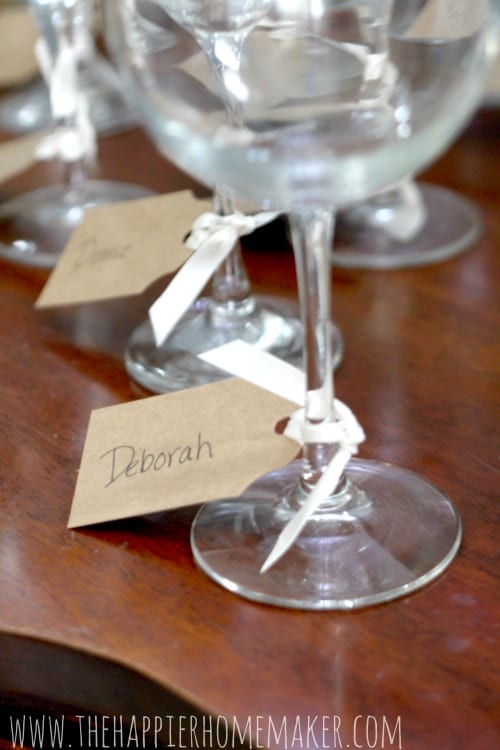 I added tags to the wine bottles too, describing the wines-where they were from, the variety, and a brief summary of the taste.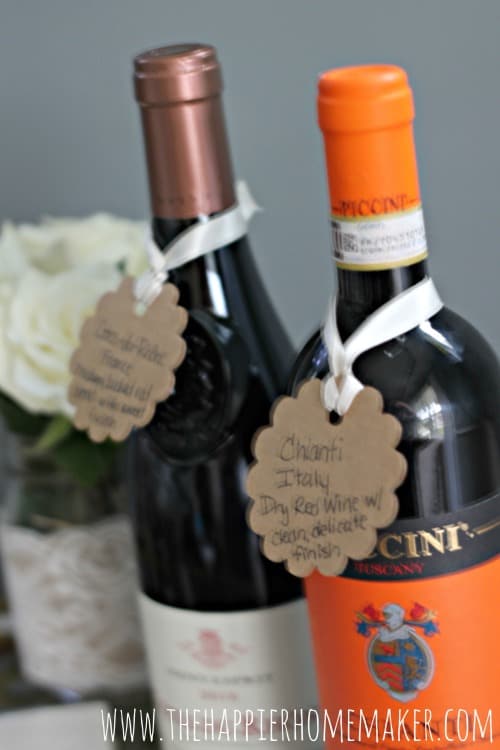 I tried to keep the decor simple but casually elegant...
All throughout the house, I had small bouquets of creamy white roses in mason jars I wrapped with burlap (like my stepsister's bridal shower) and then covered the burlap with lace.  I loved the look!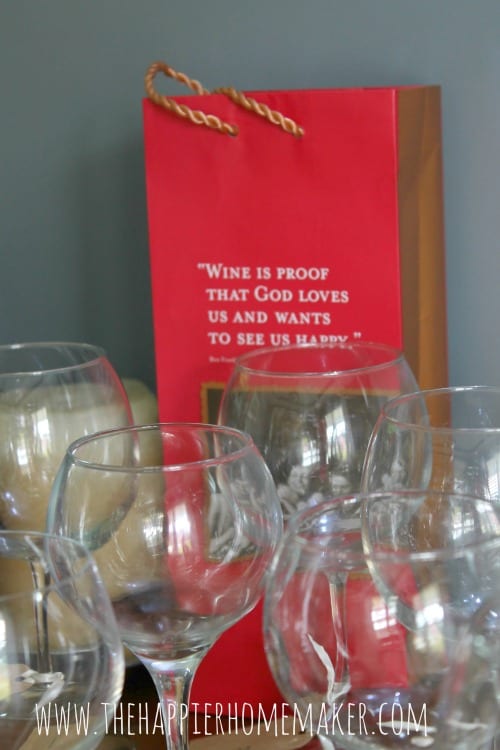 We do a little raffled off gift each month and I found the cutest bag for this one-isn't it funny? I filled it with wine glass tags, chocolate made to accompany different types of wine, and cute little wine-themed cocktail napkins.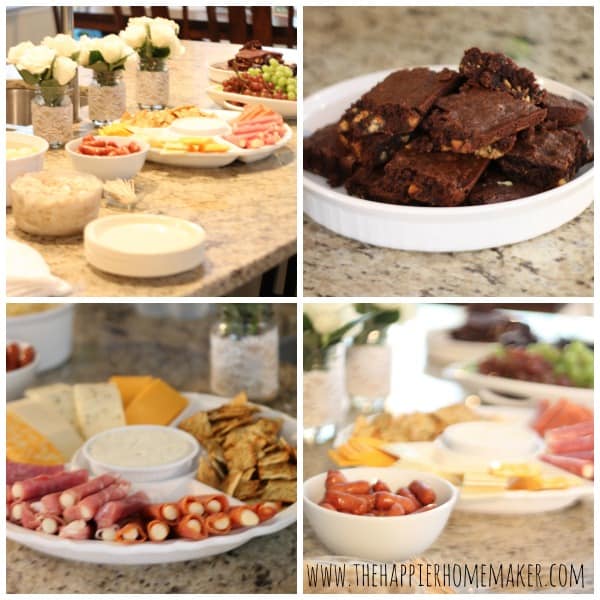 I had a nice selection of appetizers...cheeses, crackers, meat wrapped mozzarella...even some amazing triple chip brownies! (cause what's better than wine and chocolate together?!)

Printable Wine Tasting Sheets
I also made some wine tasting printable note cards so the ladies could make notes on the different wines they were tasting and remember what they tried. You can print your own wine tasting note cards out here!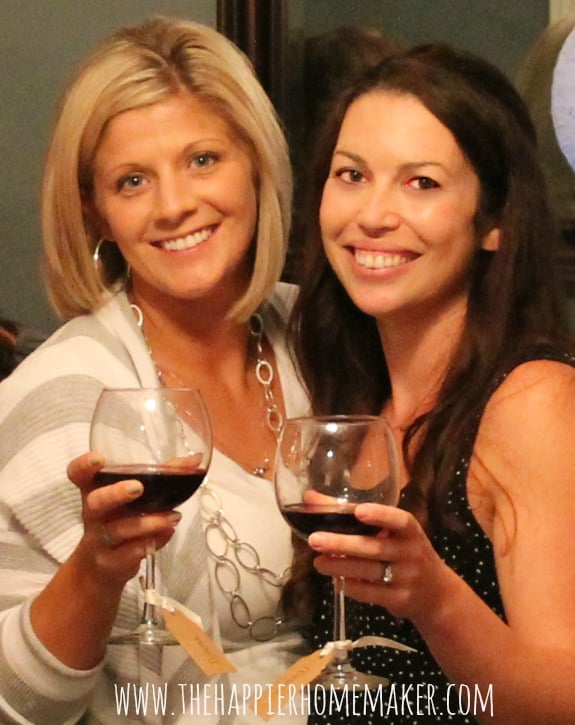 We had an absolute blast (as you can see with me and one of my partners in crime Athena!)
Have you ever thrown a wine tasting party? What's your favorite type of wine?