This printable reference list of Weight Watchers Zero Point foods is a game changer. We love the Weight Watchers Freestyle points system and this free printable list is so handy to keep as a reference!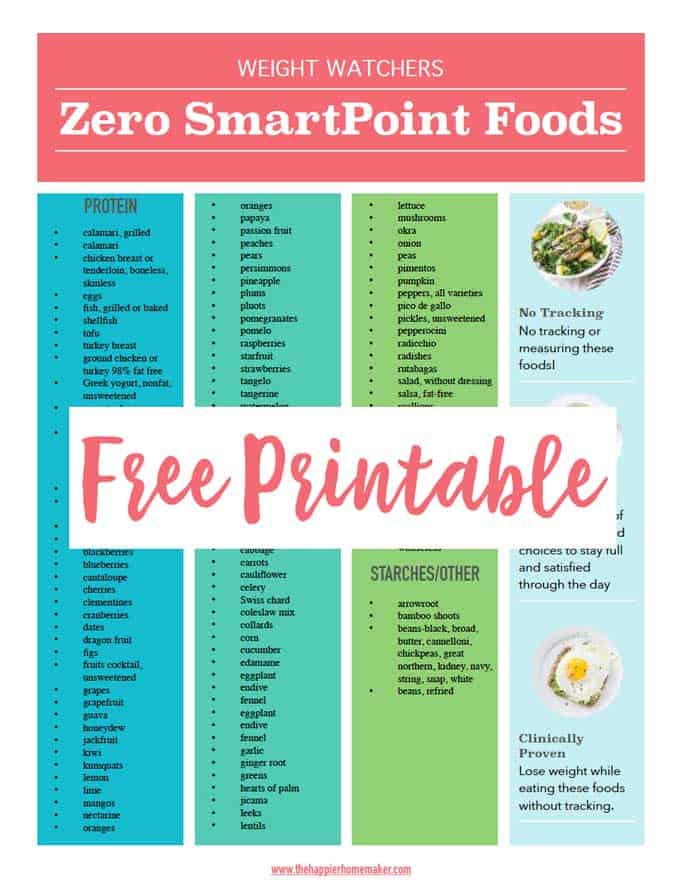 Weight Watchers Zero Points List
Today we're talking Weight Watchers and their new Freestyle Points System. I recently joined Weight Watchers for the second time in my life (the first was after having my third son and it helped me to lose my baby weight in less than six months while nursing.)
The program has changed since I last was a member in 2012 and I'm head over heels in love with the Smartpoints and especially with the huge list of zero points foods that you don't even have to track.
It's amazing y'all.
Today I'm making a giant list and printable for you to reference when working the Weight Watchers Freestyle System! (Free printable Weight Watchers Zero Point Reference Guide at the bottom of this post.)
Why I joined Weight Watchers
I've written on the blog a few times in the past about my struggle with my weight. I have always been a thin person naturally without watching what I ate and working out.
As I got married and further into adulthood I realized if I wanted to stay that way I was going to have to learn to exercise! I enjoy exercising and workout 4-5 times per week doing everything from running to Pilates to boxing. It's my "me" time and I love it.
Despite working out over the past few years as I approach 40 my body shape has drastically changed. I've gone from gaining weight in my bottom half to gaining it my middle. And NOTHING has gotten it off.
In all honesty, I don't have much weight to lose...just maybe 15 pounds...but the inability to lose it despite being very active and trying every fad diet out there has been so frustrating.
Like I mentioned above, I was able to lose 45+ pounds of baby weight in six months after my third son was born years ago so I finally decided to go back to Weight Watchers because it worked for me before. The system is different now but so far I'm truly enjoying it and starting to see some baby steps of progress so I'm very optimistic!
What are Weight Watchers Smartpoints?
With the new Weight Watchers Freestyle Program you are given a certain number of Smartpoints to budget each day. You are also given a flexible weekly number of points you can use a little each day, or save for a special occasion. This makes the Freestyle points system incredibly flexible. There's truly nothing off limits which is why I think it works so well.
Smartpoints are calculated based off calories, protein, fat, and sugars in foods.
Calories form the baseline. Sugar and saturated fat drive the number up, protein brings the number down. -Weight Watchers
There are also over 200 foods that are assigned ZERO points so you can eat as much as you want of them without having to track them. It's amazing. I have found it so easy to commit to this program and track with the phone app.
Which Foods are Weight Watchers Zero Points Foods?
I sell this printable in my Etsy shop but am offering it here free as a limited time bonus for my email subscribers. Click here if you would like to purchase it instead or see my full Weight Watchers bundle here.
I'm glad you asked, here they are by category.
Protein
calamari, grilled
calamari
chicken breast or tenderloin, boneless, skinless
eggs
fish, grilled or baked
shellfish
tofu
turkey breast
ground chicken or turkey 98% fat free
Greek yogurt, nonfat, unsweetened
yogurt, plain unsweetened
yogurt, plain soy
Veggies
artichoke hearts
artichokes
arugula
asparagus
beets
broccoli
brussels sprouts
cabbage
carrots
cauliflower
celery
Swiss chard
coleslaw mix
collards
corn
cucumber
edamame
eggplant
endive
fennel
garlic
ginger root
greens
hearts of palm
jicama
leeks
lentils
lettuce
mushrooms
okra
onion
peas
pimentos
pumpkin
peppers, all varieties
pico de gallo
pickles, unsweetened
pepperoncini
radicchio
radishes
rutabagas
salad, without dressing
salsa, fat-free
scallions
sauerkraut
shallots
spinach
sprouts
squash, all varieties
succotash
tomatoes (I know they're a fruit but, come on!)
tomatillos
turnips
water chestnuts
watercress
Fruits
apples
applesauce, unsweetened
apricots
banana
blackberries
blueberries
cantaloupe
cherries
clementines
cranberries
dates
dragon fruit
figs
fruits cocktail, unsweetened
grapes
grapefruit
guava
honeydew
jackfruit
kiwi
kumquats
lemon
lime
mangos
nectarine
oranges
papaya
passion fruit
peaches
pears
persimmons
pineapple
plums
pluots
pomegranates
pomelo
raspberries
starfruit
strawberries
tangelo
tangerine
watermelon
Starches/Other
arrowroot
bamboo shoots
beans-black, broad, butter, cannellini, chickpeas, great northern, kidney, navy, string, snap, white
beans, refried
Using the Weight Watchers Zero Points List to Create Healthy Meals
As you can see, it's easy to incorporate these zero Smartpoint foods into your daily diet in order to feel full and satisfied without going over your daily "budget." Some examples of low Smartpoint meals I've had recently:
salad with lettuce, cucumber, squash, black beans, corn, and leftover grilled shrimp-only 2 points for my salad dressing!
Veggie omelet, topped with spicy salsa-0 points!
Greek vanilla yogurt with strawberries, blueberries, and pineapple- 2 points, this is my go-to breakfast
If you're not sure how to download or print this printable, reference the video below.
And for reference I am allotted 23 points per day with 35 extra flexible points I can use throughout the week. To be honest, once I got used to the program after about a week, I rarely use my extra points and often come in under my daily budget without feeling hungry or deprived, it's been amazing!
Have you tried Weight Watchers? I'd love to hear your experiences in the comments!