Did you know that the average family in America spends about 10% of their annual income on food? That's a lot when you look at your overall budget! Even just a little savings off your food budget can go a long way, but for many of us, using coupons is just too much of a hassle and too time consuming.
The good news is that you can absolutely save a ton of money on groceries without coupons, even in 2022. Read on for 20 easy & simple ways to save starting today!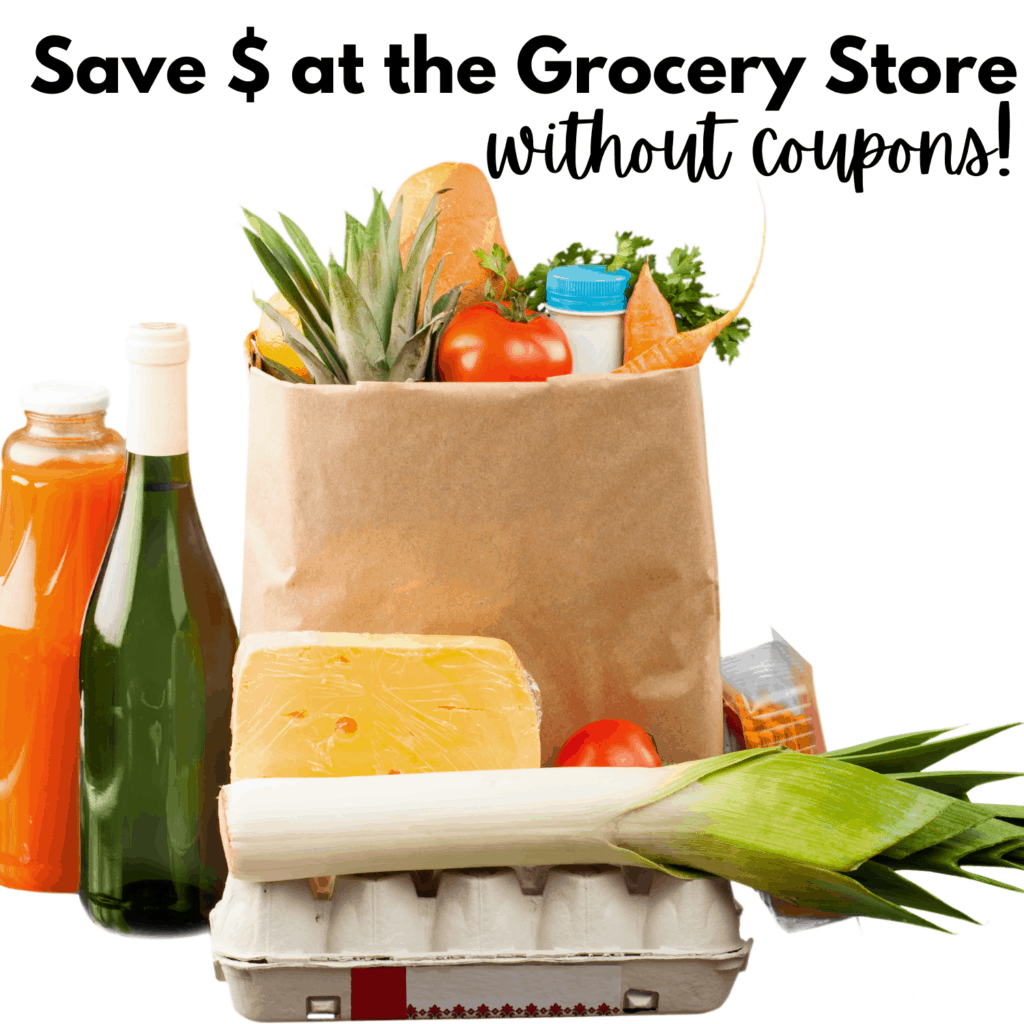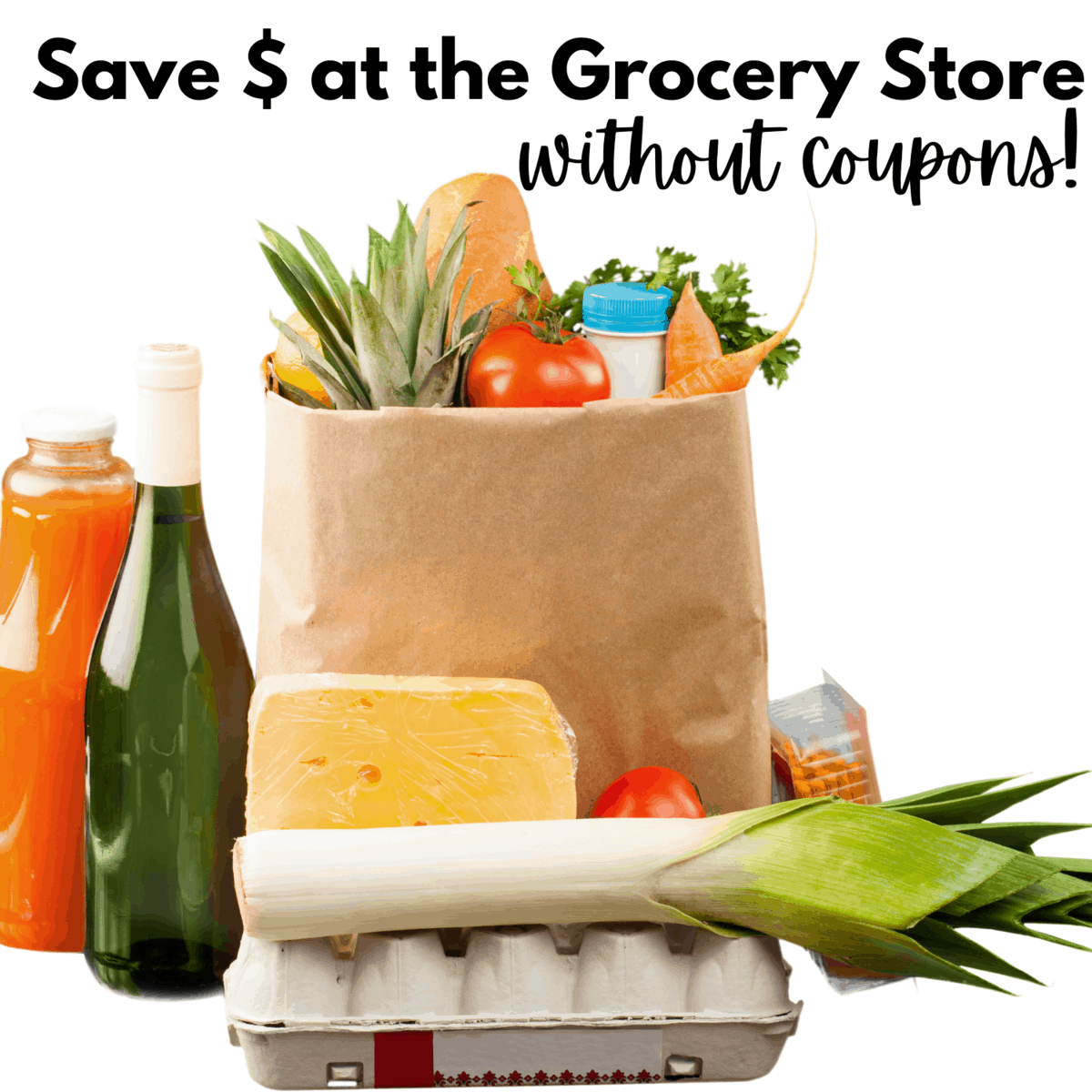 Choose your grocery store wisely
Knowing which local grocery stores are available in your area and what their average prices are is a great place to start when it comes to saving money. If you have time, you can even divide your shopping up between multiple grocery stores to get the absolute best prices.
If you have an Aldi or Lidl in your area I highly recommend starting there, they have a small selection but excellent low prices. Trader Joes is also a great lower priced grocery store, and of course Walmart can be a money saver too.
Track prices of your regularly purchased items
Use the tracking sheet below to keep track of items you buy on a regular basis and what store has the best price. By keeping track of the normal price you can see when the best sales are happening.
Pay attention to the unit price
When comparing prices, be sure to pay attention to the unit price on the price tag, not just the overall price. One item may seem more expensive than another but also have more product and end up being a better overall value.
This is especially important in inflationary times like now when some brands are reducing the amount of product in the packaging instead of raising prices.
Use store brands or generic brands over name brand items
Try using store or generic brands over name brand items next time you shop, you can save so much money shoppings generic. Many store brands (not all) are actually produced by the same company as the brand name and sold as generic. You might not be able to even tell the difference!
Meal plan!
Meal planning is probably one of the easiest ways and the most essential part of saving money on your grocery bill. (I use these printables to meal plan.) By having a distinct and specific plan, you can make a grocery list with only the necessities and resist busting your budget with impulse buys or excessive trips to the store.
Look to sources like Pinterest for recipe ideas with items that are on sale in your store's weekly ad. Once you have your meal plan, inventory what ingredients you already have on hand and make your list from there.
Set a grocery budget (and stick to it)
Speaking of budget, set one and stick to it! It can be very difficult to set a grocery budget if you have not used one in the past. I suggest using the first month as an example just to set the norm. Then, use the next 3 months to hone in on a realistic budget for your family. Budgeting expert Dave Ramsey says that the food budget is the most underestimated category when families first start budgeting.
Avoid impulse buys
Armed with a budget and a meal plan, the key to saving money at the grocery store is to avoid impulse buys. Never go shopping on an empty stomach!
Grocery stores are planned specifically to encourage impulse purchases, just think of all the candy lining the checkout lines and all the most expensive products placed at eye-level on the shelves. Stick to your meal plan shopping list and you'll save money.
Stock up!
When one of your household staples is on sale, be sure to stock up while its at its lowest price! The usual sales cycle is about 6-8 weeks. When prices are drastically dropped, purchase enough to last that long so you don't have to pay full price later.
As an example, if chicken breasts or ground beef goes on sale in my grocery store I will buy it in bulk and then portion it out in freezer bags to freeze for later.
But...don't overdo it!
While we're talking about it, stock up according to your storage space available. If you have a huge pantry or basement storage-awesome! Stock up when things are on sale to help save you money.
It can also be helpful to have an extra refrigerator or chest freezer if you have room for it. If you don't have the extra space, no need to fill up the kid's rooms with canned goods 😂. Prioritize your go-to staples so you make room to stock up on the items you can find at the largest savings.
Shop the sales
Before meal planning, take a moment to look over the weekly sales flyers for your stores. Planning your meals around the discounts available is a great way to take advantage of sales. For example, if bell peppers are on sale, add roasted peppers as a side dish when you menu plan.
Buy fresh
Fresh fruits and vegetables are usually less expensive than buying processed snack foods, and healthier too. Look for inexpensive options like bananas and baby carrots, and take advantage of sales to grab some healthy food for the family.
Cut fruit and veggies into snack-sized portions and keep in an airtight container in the fridge for easy access. I like these see-through containers so everyone in the family can see the snacks easily and be more likely to grab them when hungry.
Don't buy individually packaged foods
Instead, use your own bags to make smaller portions. Not only do individually packaged foods cause more wasted packaging, they also cost more than buying in bulk. These are great reusable containers you can portion out snacks in.
Pay attention to the expiration date
Buying a bag of salad mix for a meal three days from now does no good if it's brown and wilted the next day. Always check expirations dates on the perishable items you purchase. You can usually find fresher product in the back of the refrigerated case as well.
Get a rain check!
If an item on sale is out of stock, don't give up those savings, most grocery stores will issue a rain check for you to redeem the sales price later when it is back in stock. Just ask at the store's customer service desk.
Consider a meatless meal
Meat is one of the largest expenses for most families, so consider a vegetarian meal once or twice a week. Using staples like rice and beans to flesh out your meals can help cut costs. Not only will you save money, but eating less meat could be healthier too! Try this pasta primavera or these sweet potato and black bean taquitos to get started!
Use apps to help you save
Most grocery stores have their own apps where you can join their loyalty program or rewards program with digital coupons you can "clip" for savings.
You can also download a money saving rebate app like Ibotta to your smartphone to help you save even more!
Buy items in bulk
You can almost always save money if you buy items in bulk over smaller packaging, especially on nonperishable items like lunch box snacks and household items like toilet paper. Pay attention to the unit price and if you have access to a warehouse club like Costco or Sam's Club, take advantage of their member pricing.
Ask for a price match
Many grocery stores will price match their competitor's sales prices if you show them the sales flyer. It doesn't hurt to ask at customer service, it could save you from making a trip to a second store to get the savings.
Check out your local farmers market
You can find fresh produce and selections of local eggs, milk, meat, and other items. Not only will you be helping a local farmer but your food will be more fresh and many times more affordable.
Look at what's available at the Dollar Tree
The Dollar Tree is often overlooked when it comes to grocery shopping but there are many pantry staples that you can get for a large discount if you look carefully. Check out this list of things to buy at The Dollar Tree.
Those are my best tips for saving money without clipping coupons, did I miss any of your favorite ways to save? Leave them in a comment below so I can add them to the list!