This post is sponsored by the Plant-Based promotion at Publix. The opinions and text are all mine.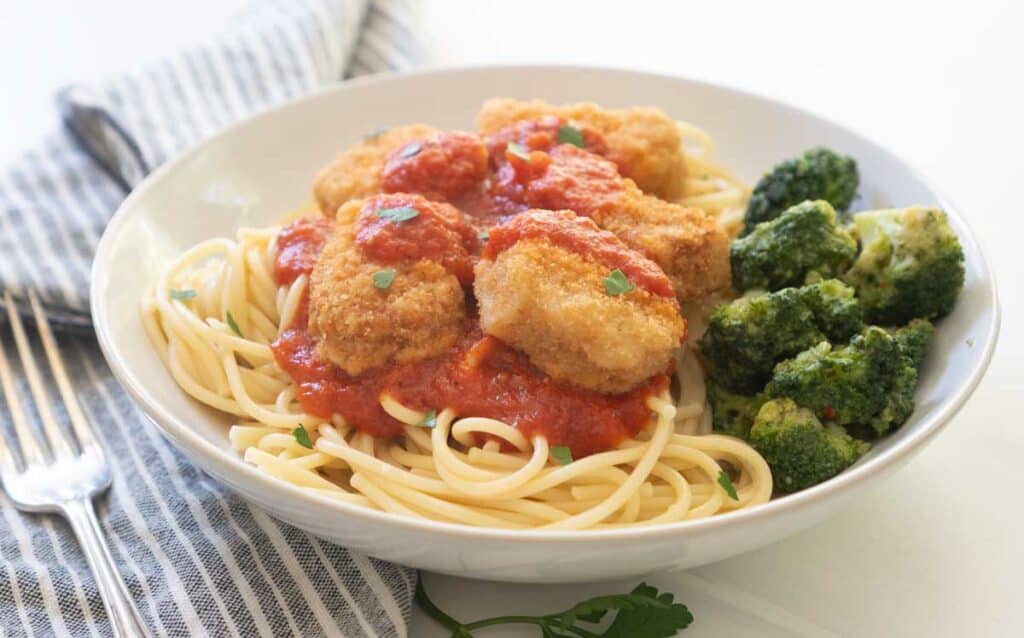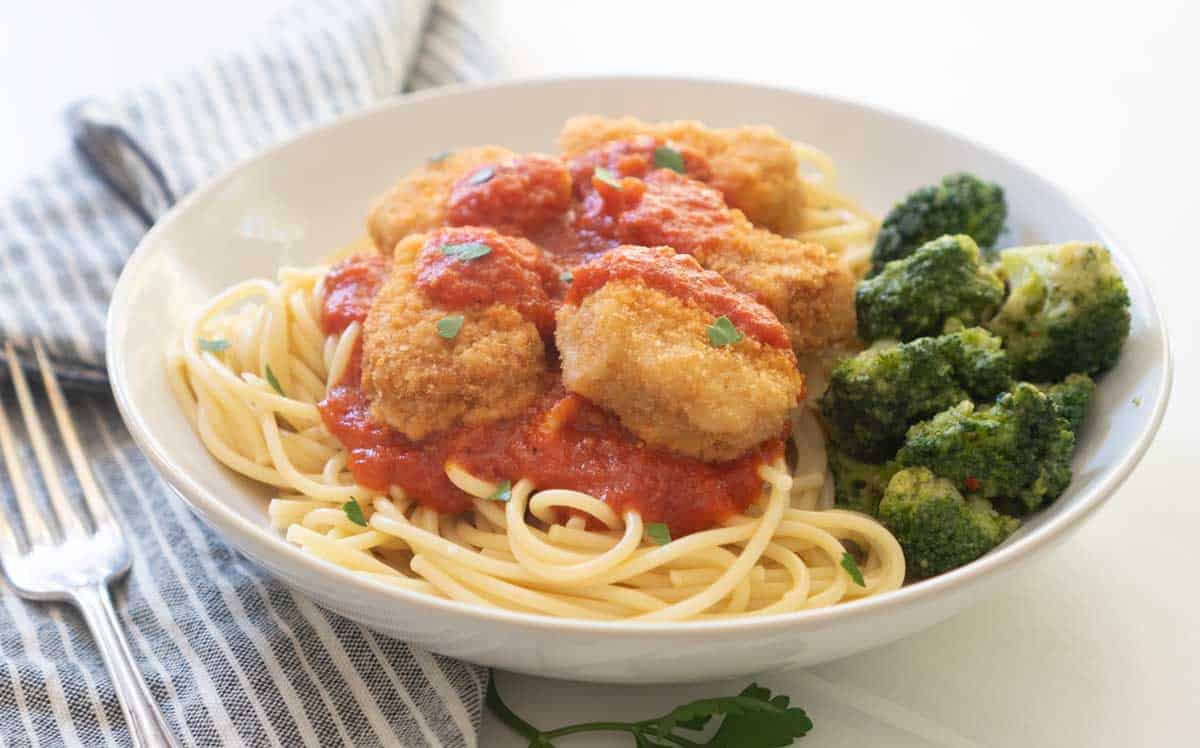 Our family tries to have a completely plant-based meal at least once or twice a week. I was nervous when we first started trying it out, fearing that we wouldn't have a lot of options but the longer we eat this way the more creative and delicious our meals get! This week's meal is a vegan twist on traditional Chicken Marinara!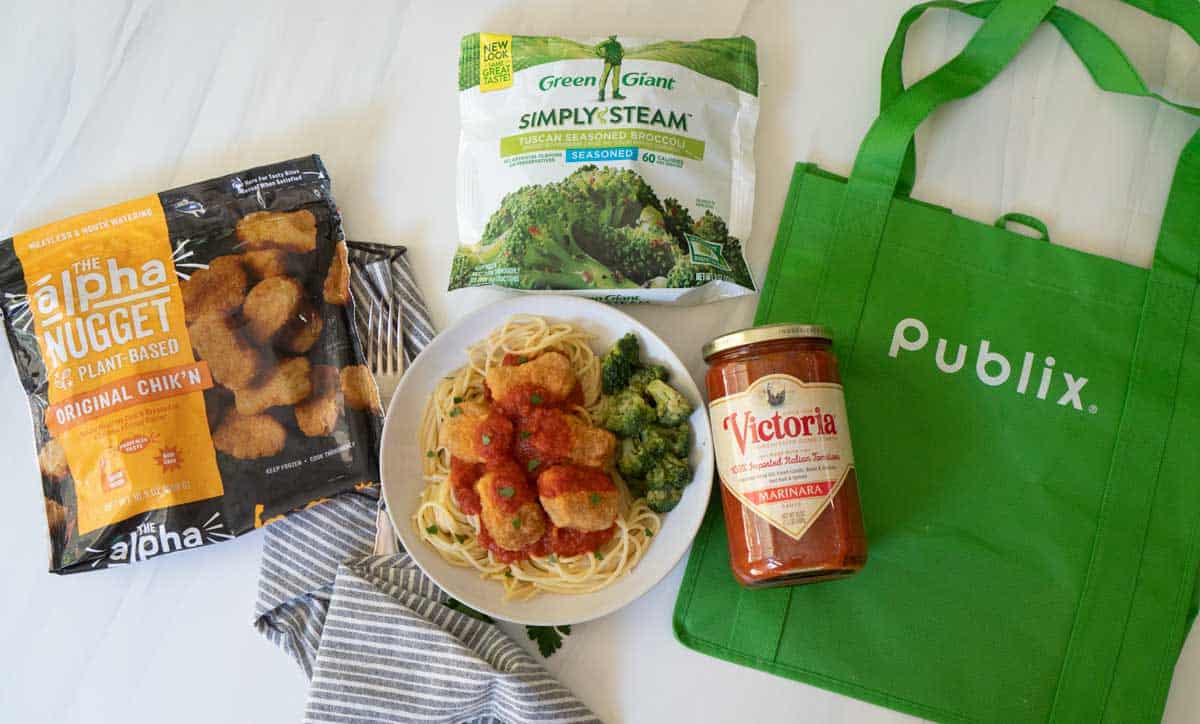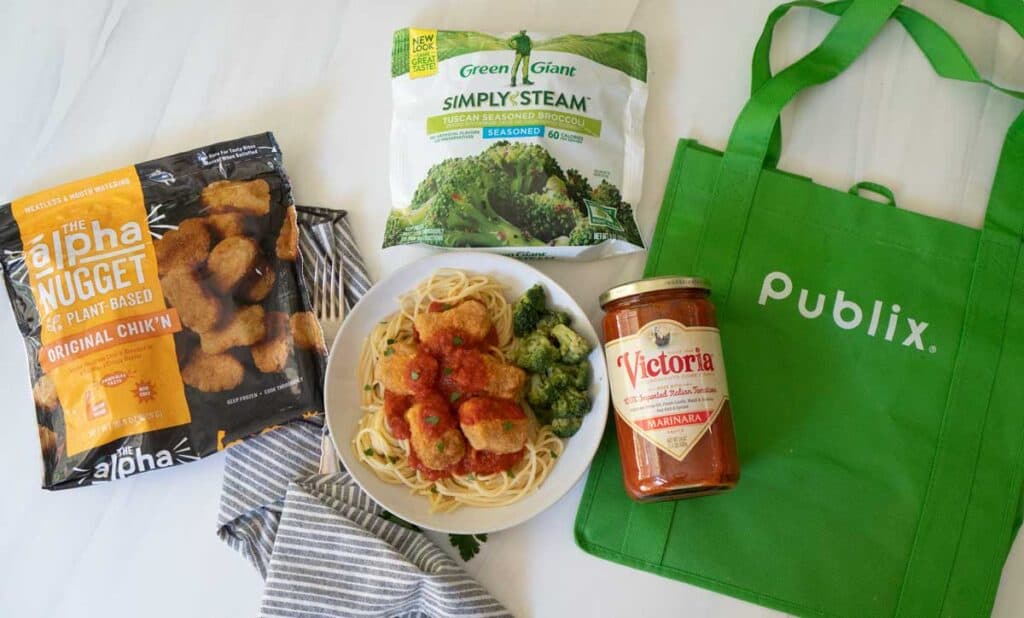 I started planning this recipe when I grabbed the Extra Savings flyer at the kiosk by the entrance of my local Publix (they also have them at customer service). I always scan for deals as I walk in the store as well as looking for the on-shelf signage as I go through the store.
This week's plant-based deals just screamed Italian to me: 2 for $7 Victoria Premium Sauce 24-oz your choice, 2 for $4 Green Giant Simply Steam 9-10 oz your choice, and $2.99 The Alpha Nugget Plant-Based Chik'n 10.9 oz (frozen) (in select stores). The promotion runs through 6/18/21. I grabbed my Victoria Marinara, Green Giant Simply Steam Tuscan Seasoned Broccoli, and The Alpha Nugget PlantBased Breaded Chik'n and got to work!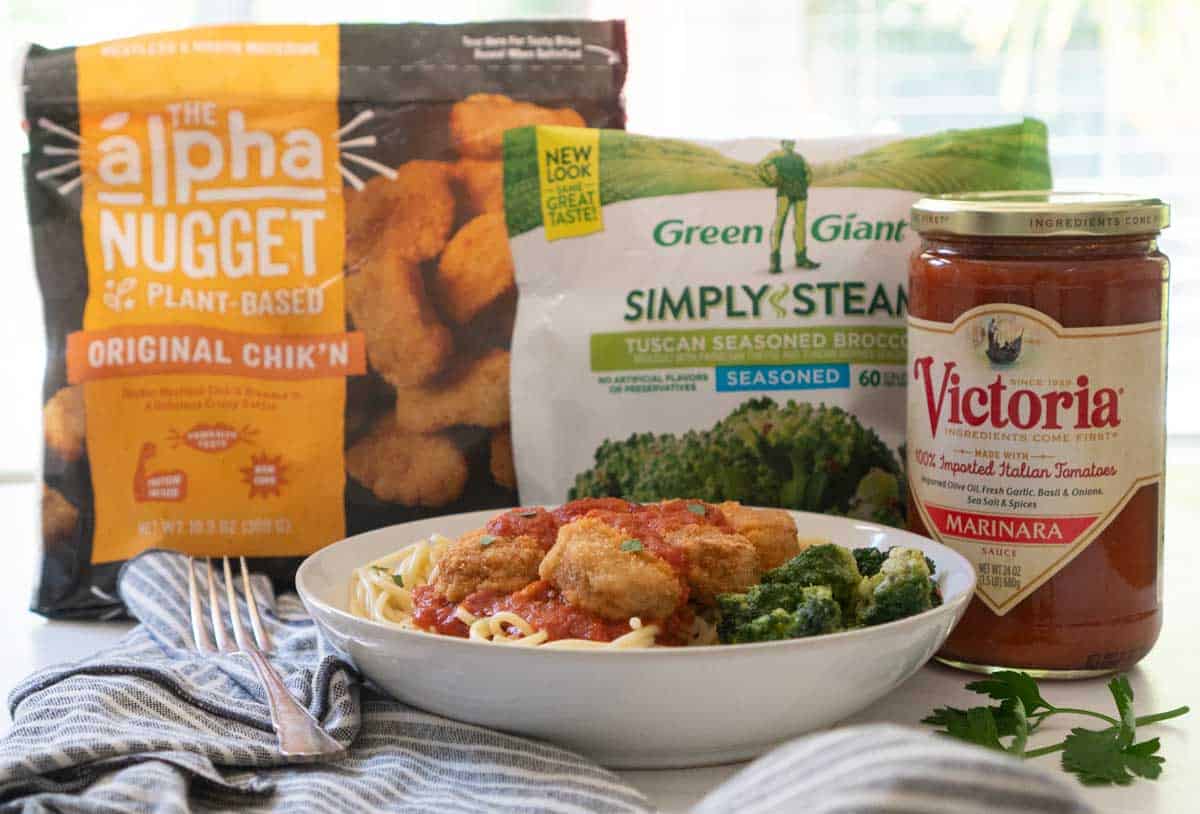 (As an aside, our bagger at Publix told us he was a vegetarian and he remarked on how much he loved The Alpha Nugget Plant-Based Chik'n as he bagged our groceries!)
Normally Chicken Marinara is a time-consuming recipe. Chicken has to be dredged in flour, egg, and breadcrumbs before browning on the stovetop and baking in the oven. This plant-based version is so much faster which gives it extra bonus points in my book!
Because The Alpha Nugget Original Chik'n was already breaded, this was a fast meal to whip together, another bonus on a busy weeknight. The longest wait was probably waiting for the water to boil for the pasta!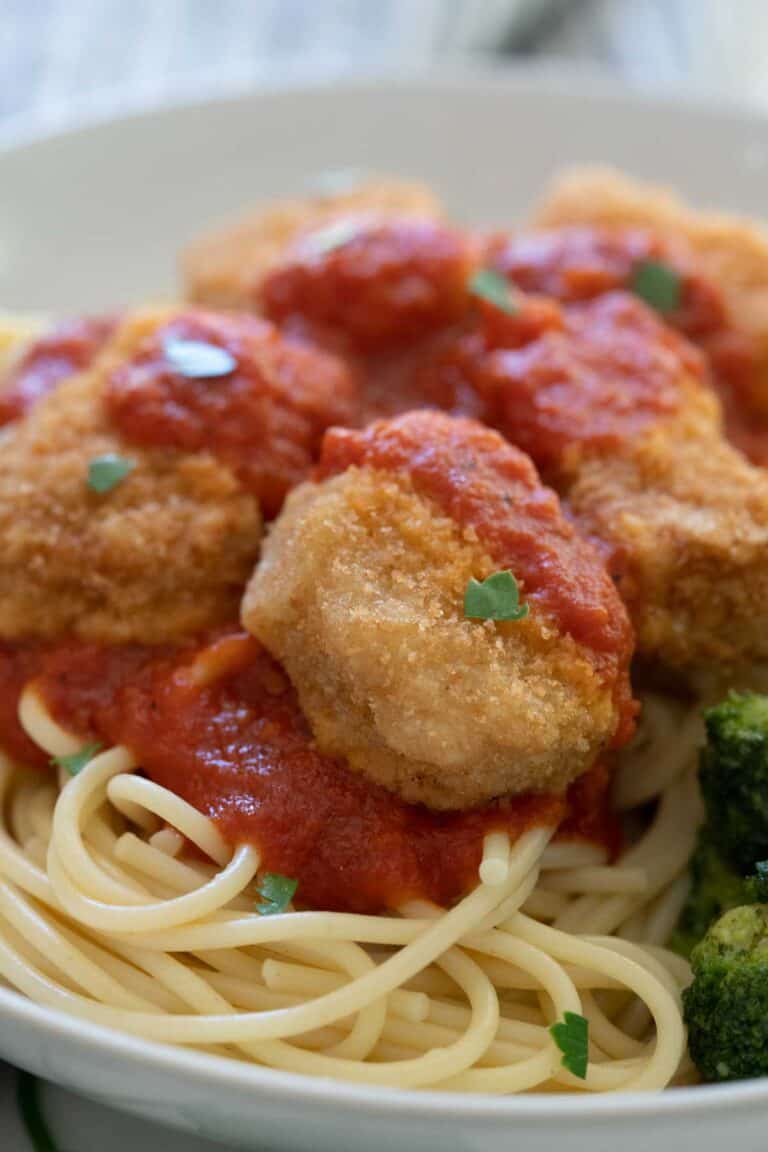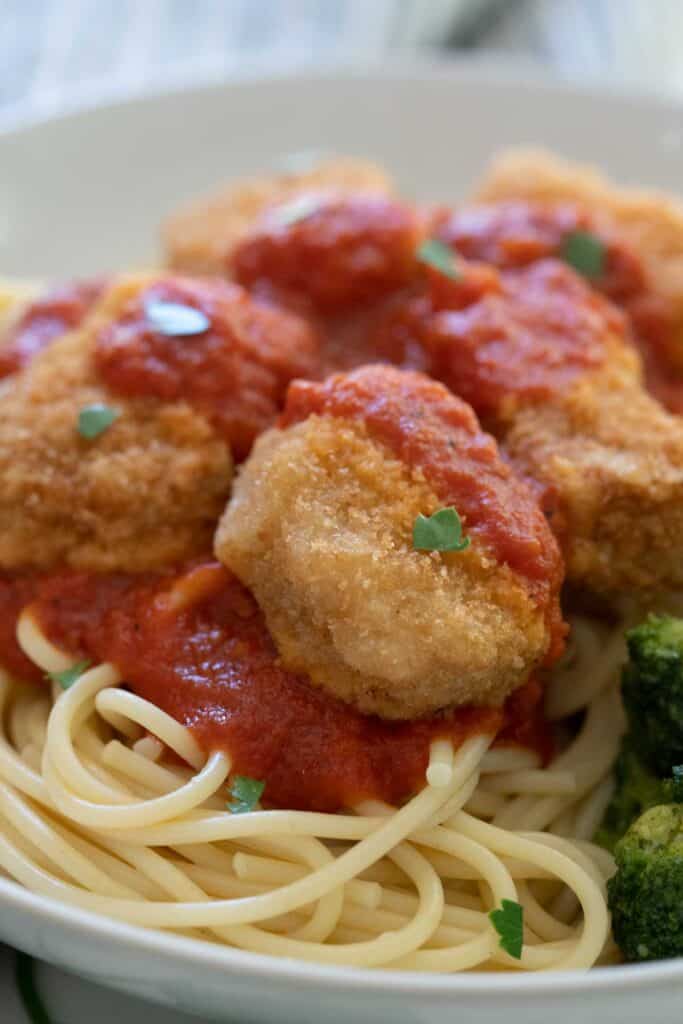 As the spaghetti boiled, I heated the marinara in a small saucepan. I then easily heated up the Chik'n and Simply Steam Broccoli in the microwave. Once everything was heated through, it was just a matter of topping the spaghetti with the Victoria Marinara, then The Alpha Nugget Plant-Based Chik'n and serving the Green Giant Simply Steam Tuscan Seasoned Broccoli on the side. A little fresh parsley from the garden was the finishing touch!
The entire meal took just 15 minutes to pull together, and the family gobbled it up! It was perfect for our weekly plant-based meal and an option that will be in heavy rotation from now on!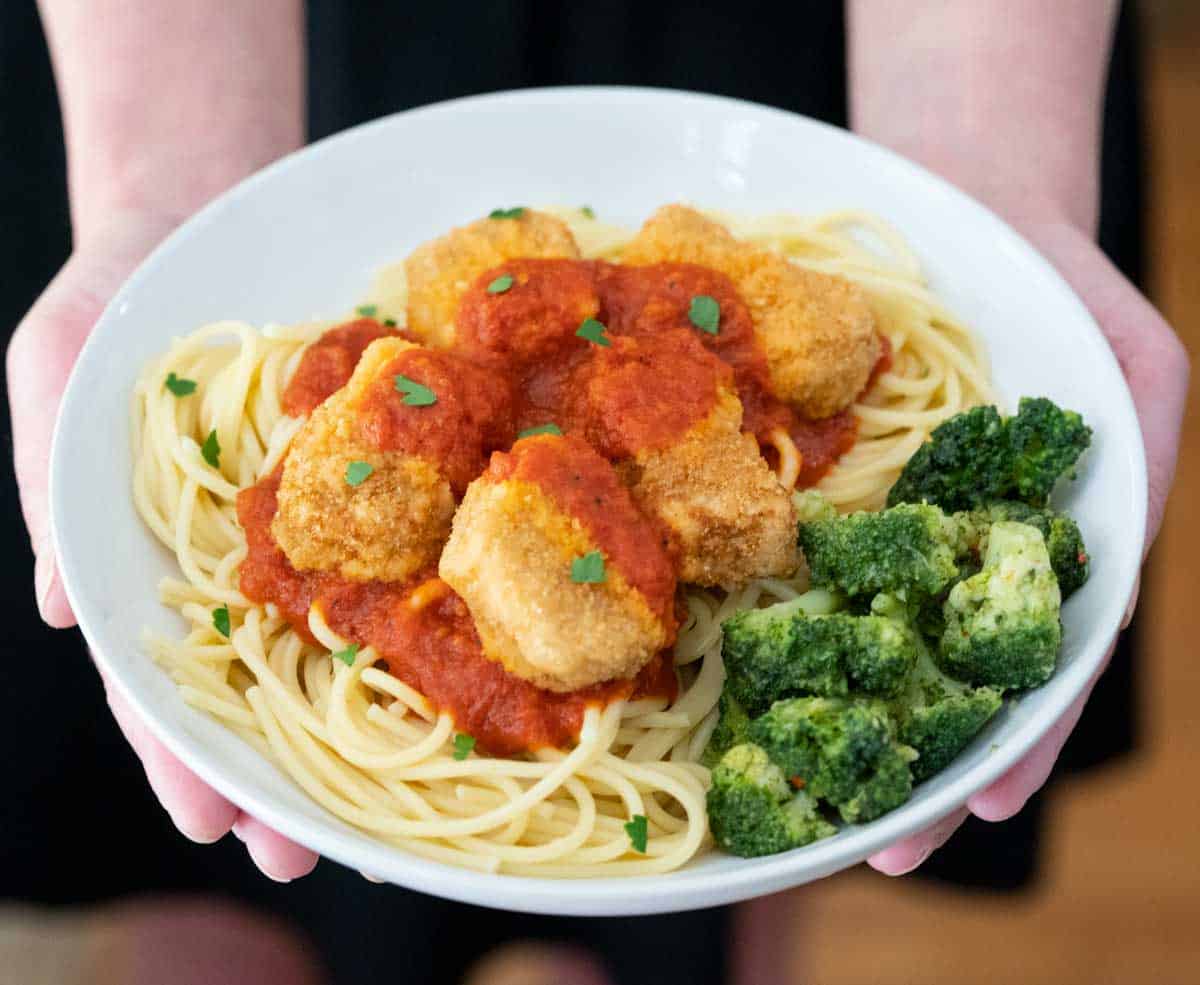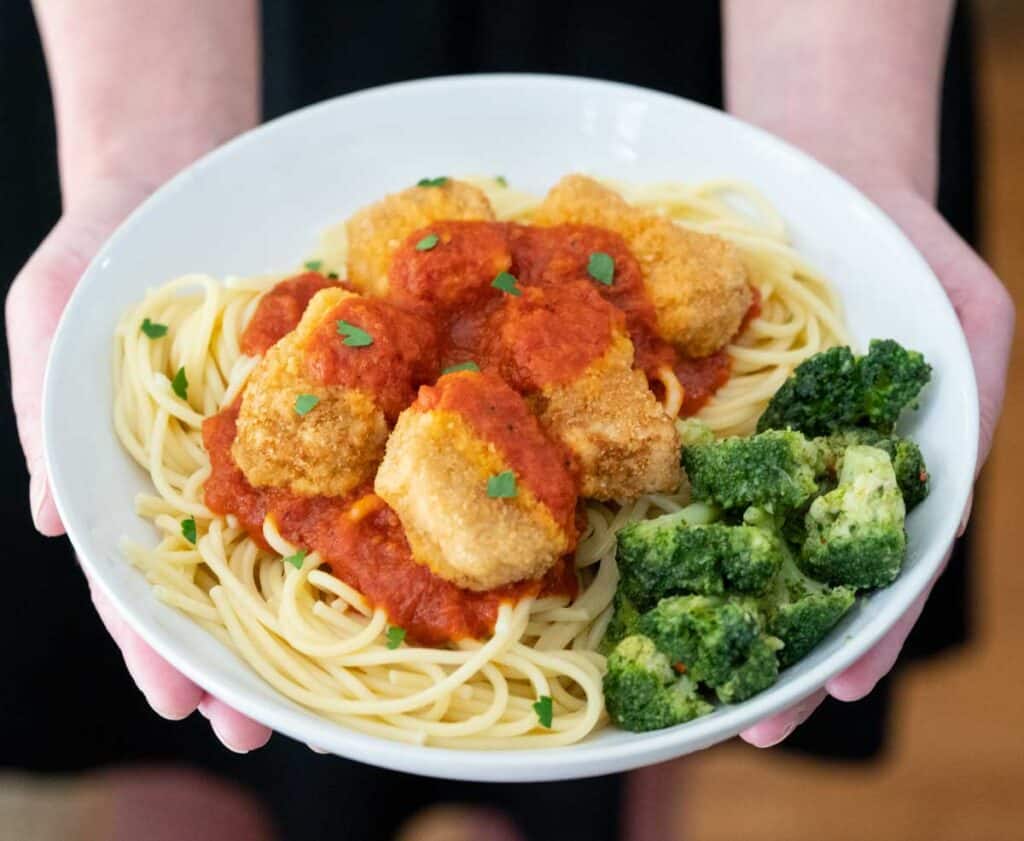 Be sure to grab your own copy of the Publix Extra Savings flyer this week and check out the amazing savings on plant-based foods being offered now through June 18th! You can find the flyer at the kiosk by the front door or simply ask for one at the customer service counter. Or visit getthesavings.com/plant-based to see all the savings. Afterwards, come back and let me know what tasty plant-based meals you came up with so I can try them too!