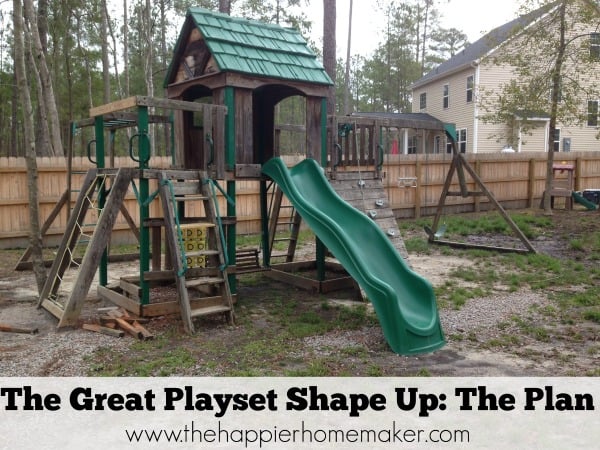 I'm back today with a little update on the playset update-you may remember when
I shared a couple of weeks ago
that my son had fallen off of our playset and into the rocks that cover our french drains…the fall was a big reality check that I needed to do some work on the playset before we move and our renters come into the house. Today I'm sharing the progress I've made so far.
The first thing I needed to do was kill all the grass and weeds growing under the playset to prepare for the mulch we'll be putting down. I used Spectracide Weed & Grass Killer to attack the problem-it is rain safe in as little as 15 minutes (a great bonus in the rainy springtime!) and you can start to see results in as little as 3 hours. This kills anything it touches so it's a great option for clearing areas like under the playset or preparing walkways or patio areas.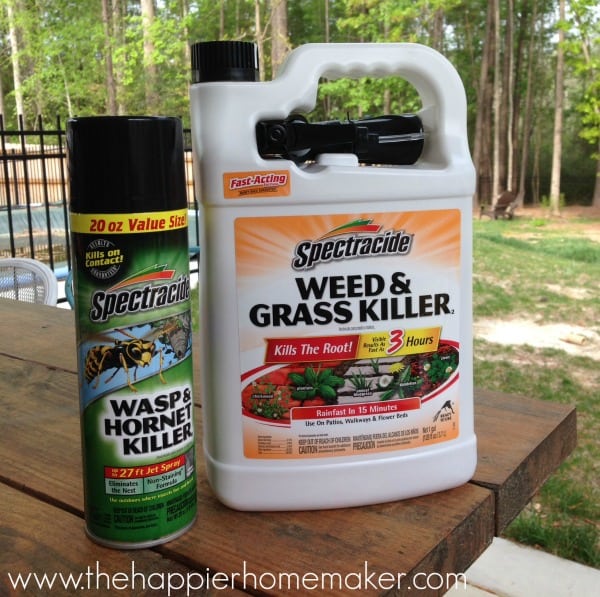 I started by reading the instructions fully-when handling any sort of chemical it's important to be safe right!? The Spectracide bottle was easy to prep-I remove the flip top of the jug and attached the hose without any issues and I was ready to start!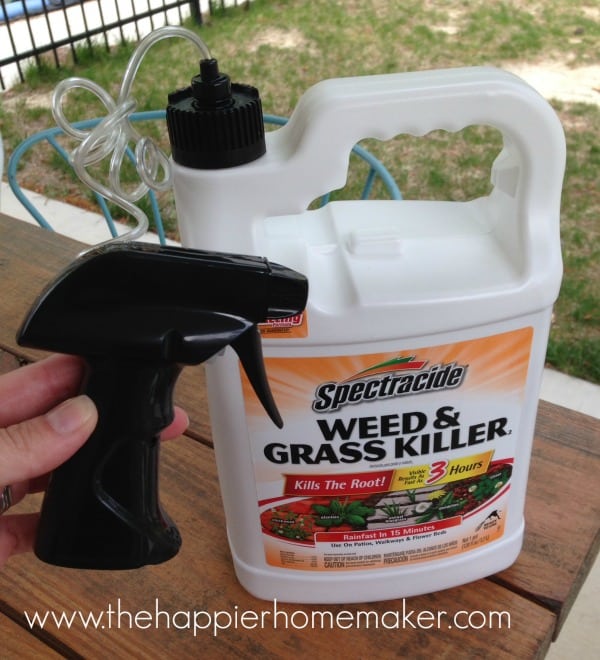 I systematically worked my way around the playset making sure to thoroughly wet the plants I wanted to kill. The Spectracide works through the leaves and goes down to the roots to thoroughly kill the plants you don't want.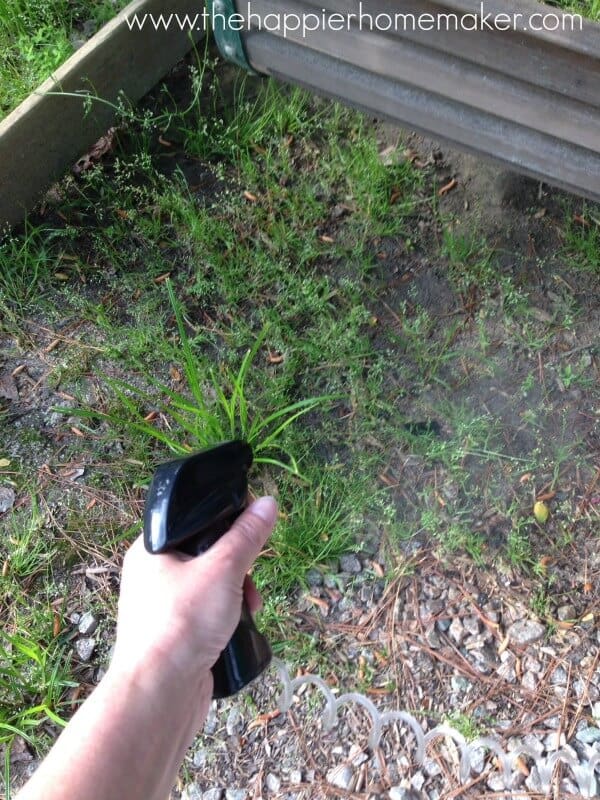 Once the spraying was complete it was time to inspect the interior of the playset for wasp nests, we get them very badly here in NC and I try to vigilant checking and spraying any nests they might start. I found one tiny one in the playset roof and used the Spectracide Wasp & Hornet Killer to get rid of it-not only does it kill the wasps right then, it continues to kill any that return to the nest for a while-a great bonus.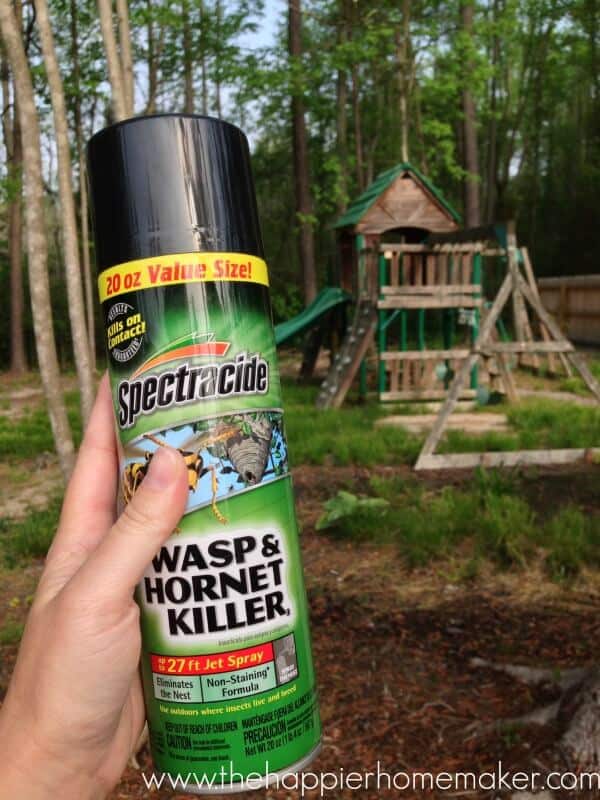 Once the playset was clear and the weeds and grass sprayed I was able to get a little work done on the natural spring area that I am trying to landscape. It's very murky and wet there so I first used a weedwacker to trim down the tall grasses so I could see what, if any, of the plants I had added there last year were returning.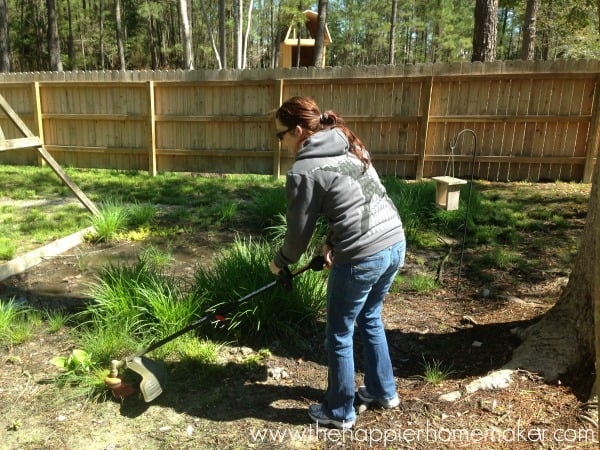 I was excited to see my creeping jenny and hostas as well as some of the bog plants I put in last year are coming back on their own.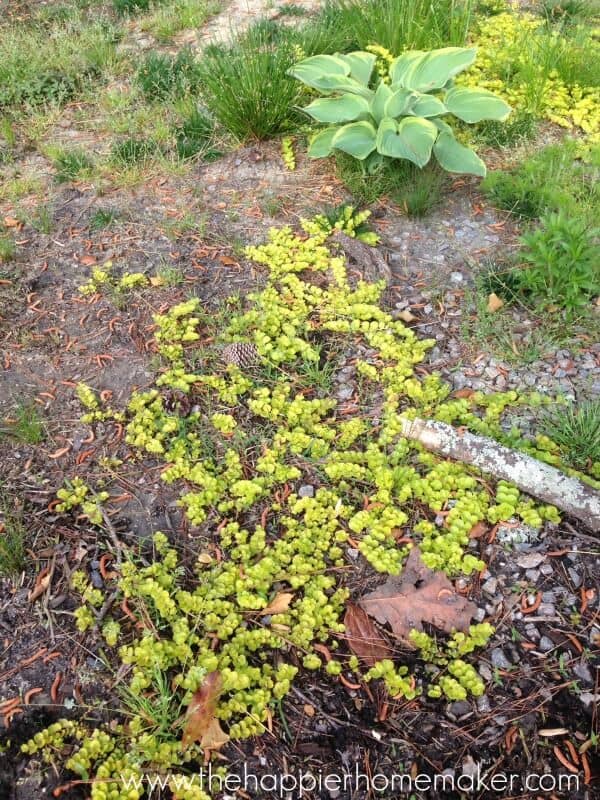 I added a few more creeping jenny plants in the bare areas as well as some aquatic mint that will hopefully grow to help cover those areas.
So now the plan is to allow the Spectracide to continue to work and then cover the area with mulch this weekend as well as any final landscaping of the area. I'll be posting the "after" pictures of the project in just a couple of weeks!