Over the past 10 years I've shared dozens of cleaning checklists, tips, and advice and recently I received an email requesting I gather all of that info into one master Home Cleaning Guide. So here is your 2022 Home Cleaning Guide.
Intro
The purpose of this guide is to consolidate everything you need to know about cleaning into one go-to resource to help even the most inexperienced cleaners take care of their homes easily and efficiently.
Basic cleaning supplies
Before we get started in the "how" let's take the time to make sure you have the basic cleaning supplies every home should have on hand. I have linked my favorite brands below.
How often to clean
All cleaning tasks in your home can be categorized by how often they need to be done: daily, weekly, monthly, seasonally, and yearly.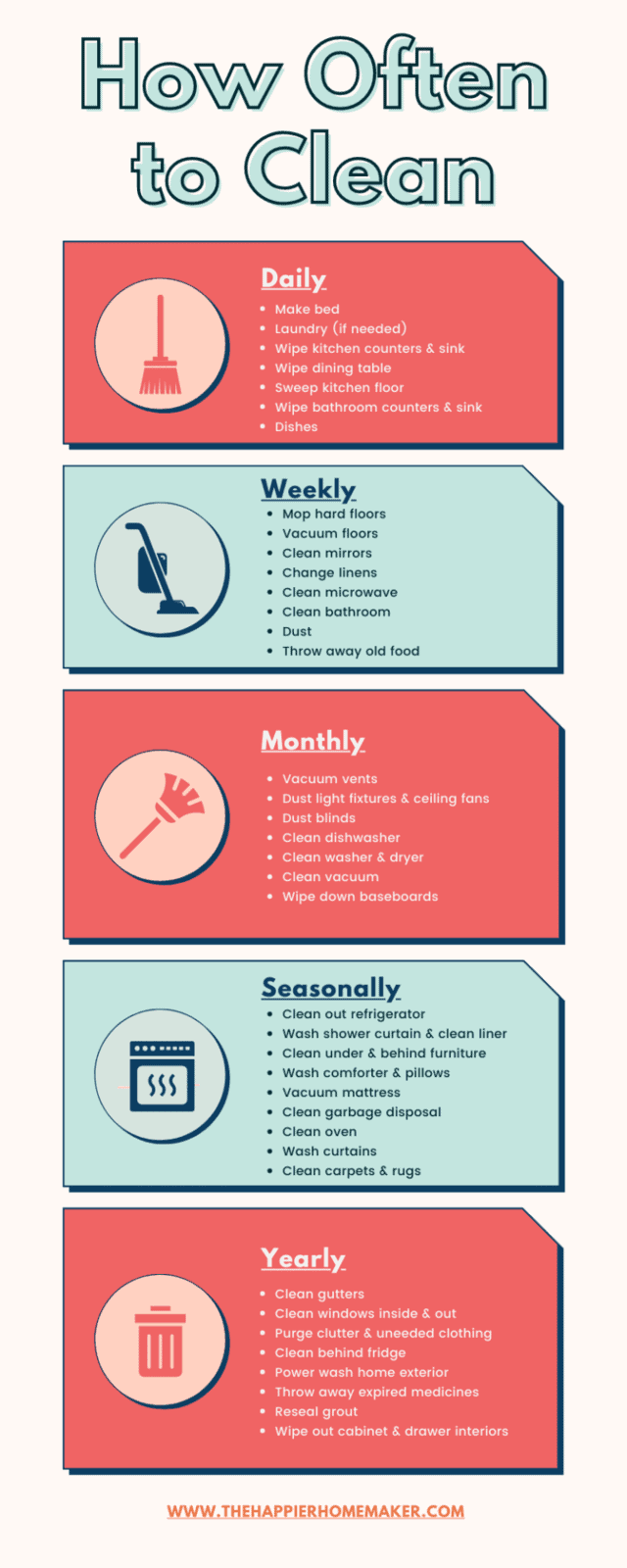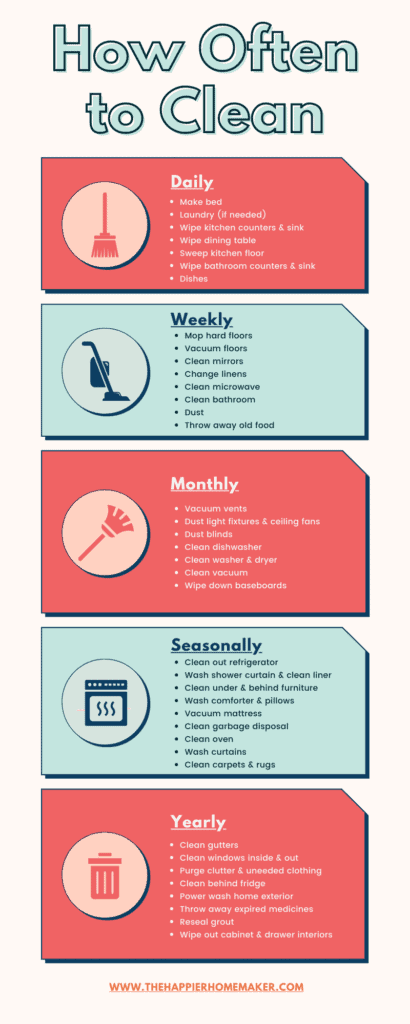 Share this Image On Your Site
Daily tasks are easily done through the routine of your day. They keep your home running smoothly and make weekly cleaning faster and easier.
Tip: Try an approach called "habit stacking" to make daily cleaning tasks easy to remember. Attach a daily task to something you already do every day to help you remember. For example, after you brush your teeth in the morning, quickly wipe down the bathroom counters before moving on with your day.
Weekly and monthly tasks build on each other to prevent cleaning from taking up too much time. By addressing these areas before they build up, we save time in the long run.
Seasonal and yearly tasks are chores that need to be done rarely, but still addressed on a regular basis. These jobs are usually done in associated with spring or fall cleaning to help you remember when they were last completed and when they need to be addressed again.
Where to start cleaning a house
If you are starting from scratch you're probably wondering where to start cleaning a messy house? No worries, the first thing you need to do is a basic fast all-over home cleaning so you can begin with a blank slate, then you'll use the routine tasks to maintain it. Follow the steps below to get your clean your house in a day if you don't know where to begin.
In a rush and need a fast whole-house surface clean in just an hour? Click here to learn how to clean your whole house fast!
Start cleaning by taking a few "sweeps" through the house to gather up items. Don't get distracted during these tasks, focus only on the items you are looking for in each step. This should be a fast, 15 minute process.
Pick up trash
Grab a trash bag or bin and do a quick walk through each room of the house to pick up any trash. Carrying the bag with you helps make this sweep of the house fast and easy.
Gather dishes
Next walk through the house and gather up any dishes, cups, utensils, etc and return them to the kitchen sink. No need to wash them right now, just leave them in the dishwasher, sink, or next to the sink on the counter.
Pick up laundry
Grab a laundry basket and sweep the house again to gather up stray clothing. If you have time, strip the bed linens in each rooms and add those to the basket as well. Put the laundry in the washer and start a load, making sure the buzzer is on to alert you when its time to move it to the dryer.
Collect clutter
Take your empty laundry basket and do one last sweep of the house to pick up clutter. Place anything that doesn't belong and either put it back in its place quickly (if it belongs in the same room) or place it in the basket. Don't get caught up in organizing, we're simply clearing the space at this step.
Now it's time to address the actual cleaning!
Clean kitchen
Return to the kitchen and wash dishes or load into dishwasher. Fill the sink with warm soapy water, grab a sponge or cleaning rag, and wipe down the cabinets, knobs, counters, backsplash, and appliances rinsing the sponge/rag often in the warm water to clean.
Take a quick look in the refrigerator and throw out any food that is bad or expired. Dust the light fixtures and you're ready to move on!
Now is a good time to switch out the laundry if needed!
Clean bathrooms
Gather your supplies: glass cleaner, paper towels, multipurpose cleaner, and microfiber cloth (affiliate link). It is helpful to keep these supplies in a caddy under one of your bathroom sinks for ease of use.
We are going to clean all the bathrooms at once. You can either do each one at a time or rotate through them doing the same task in each before moving to the next step.
Spray the shower, tub, counters and sink. Wipe all the surfaces with paper towels. Clean the mirror then polish the faucets with the microfiber cloth (affiliate link). Wipe down the cabinets.
If you need to switch laundry loads or take a break to fold laundry, do that now before moving on!
Clean bedrooms
Make beds with fresh linens. Clear any clutter on dresser, nightstands, etc. Dust the room starting at the top and working your way down so dust doesn't settle on clean surfaces. Wipe baseboards if needed and finish by vacuuming.
Check on laundry again and fold/switch loads if needed!
Living areas
Now it's time to address the main living areas of the house. First dust, again starting at the top and working your way down. Don't forget to dust wall art or photo frames!
Sweep or vacuum floors anywhere you had not already gotten to, then wipe down baseboards if needed. Finally, fluff any pillows or cushions on your furniture.
Outside
To finish up cleaning the house take a moment to address the outside of your home. Sweep porches or walkways if needed, use a broom to clear any cobwebs around the doors and thresholds, and wipe down any outdoor furniture you may have.
You did it! Now that you have a clean home, it's time to keep it that way by creating a cleaning schedule that will help you maintain your home with small tasks. This helps you avoid having to do an intense clean like the one you just finished.
How to create a cleaning schedule
The best way to become efficient with keeping your home clean is to create a schedule. The base schedule you should establish is a weekly schedule. You can use the Printable Cleaning Checklist below to create a schedule that fits your lifestyle. Using a cleaning checklist can help you keep your house clean in about 20 minutes a day.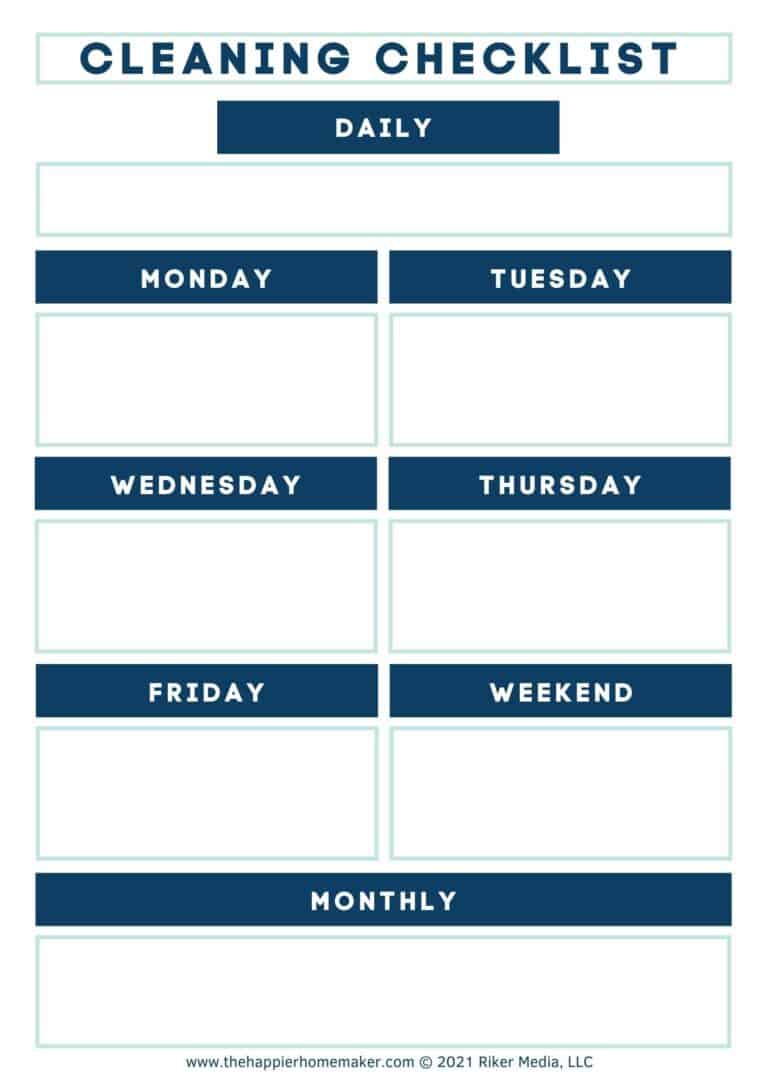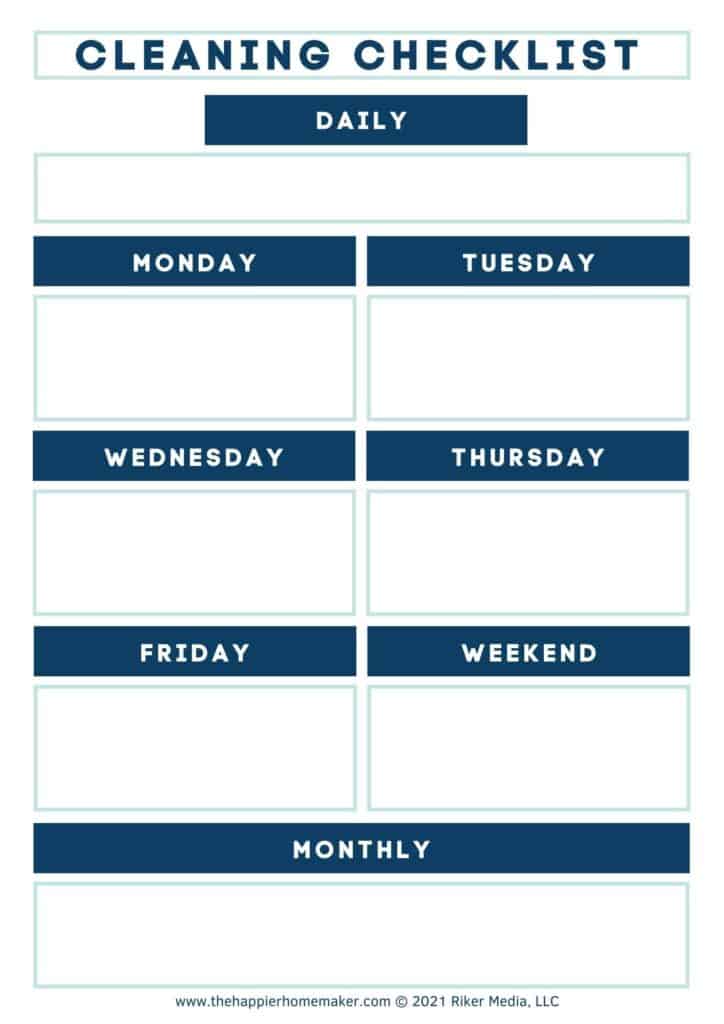 You can use the infographic above to help you fill in the tasks or read this in-depth guide to creating a cleaning schedule that works for you.
Some people prefer to tackle a little bit of cleaning each day of the week while others prefer to knock it all out in one or two sessions. Experiment to see what works best for you.
Tip: Be sure to give yourself grace as you begin to keep a cleaning routine. Remember that nothing is set in stone and you can always adjust your schedule as needed to make it work for you!
Need more help? Join one of our eCourses below to get a detailed, guided pathway to taking control of your home (and getting the kiddos to help!)
Want both eCourses? Click here to get special bundle prices when you enroll in both!
Whole House Cleaning Tips
Learning a few simple tricks can make cleaning your home faster and easier.
Take shoes off when you enter the house to prevent tracking in dirt and grime.
Play some upbeat music or listen to your favorite podcast to make the cleaning time go by quickly!
Always clean top to bottom so you don't spread dirt and dust on already clean surfaces.
To make cleaning faster, batch tasks. Vacuum the entire house in one session rather than room by room. Spray cleaner in all bathrooms then circle back to wipe down, etc.
Keep a cleaning caddy under the bathroom and kitchen sinks so you can grab-and-go when it's time to clean.
Keep a basket or box in your car trunk or a coat closet to gather items to donate. Having a designated space helps you purge unneeded clutter as you clean rather than putting it off.
Always end the night with an empty sink. Washing all the dishes or running the dishwasher in the evening sets you up for a successful start the next day.
Useful resources
Cleaning tutorials (How to clean anything!)
Homemade cleaners recipes
Cleaning Printable Lists