Don't stress out this Thanksgiving-check out these 10 Thanksgiving Hacks that will make life easier, your meal tastier, and leave you more relaxed!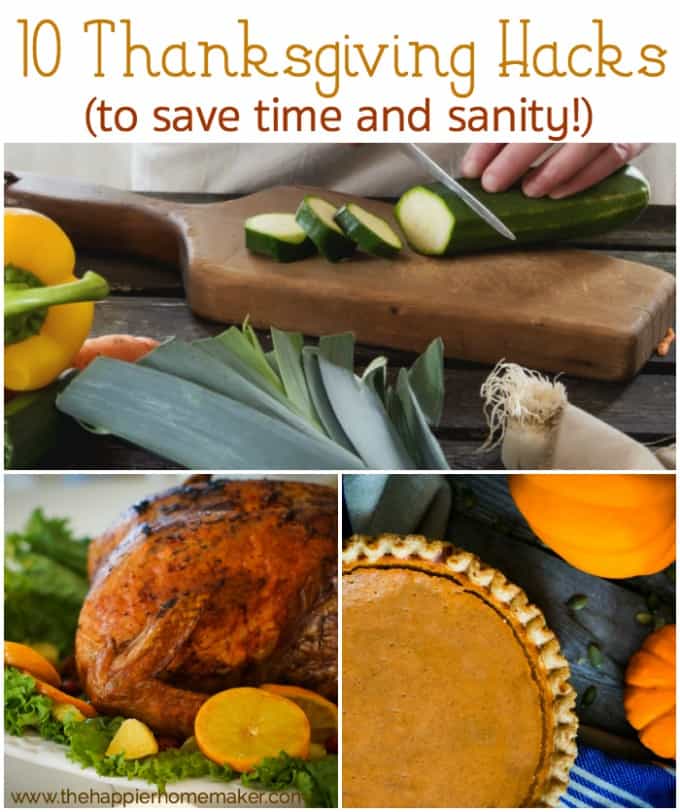 I love Thanksgiving-everything about it. I love the food, the family time, the football! This year I'm hosting family at our home and I'm so excited I've already started planning for the big day.
In addition to choosing what recipes I'm using I've started thinking about some time saving and stress relieving Thanksgiving Hacks, I'm going to incorporate into my Thanksgiving planning this year-I thought you might find some of them helpful too!
10 Thanksgiving Hacks
Set the Table the Night Before
Who has time to worry about setting the table when you're juggling a giant turkey and multiple side dishes (not to mention dessert!) Set the table the night before to save yourself the trouble on the big day!
Tape Recipes to Cabinet for Easy Reference
Unless you have a ginormous kitchen, chances are you're going to be utilizing just about all of your counter space when preparing Thanksgiving dinner-save time (and your cookbooks) by taping copies of your recipes to your cabinet doors for easy reference.
Ice Turkey Breast Before Cooking
Place ice packs over the breast of your turkey for 15 minutes prior to placing in the oven-the breast meat will be slower to cook and come out moist rather than dry!
Grate Butter into Flour
When a recipe calls for cutting butter into flour, try grating your butter into the flour instead. The butter stays nice and cold, preserving those flaky bread but takes less time and muscle power!
Prep Veggies Ahead of Time
When your Thanksgiving meal calls for peeling, cutting, or dicing, prepare your vegetables the day before and store in the fridge. Assembling your recipes will be faster and easier and you'll thank yourself for thinking ahead!
Skip the Potato Peeling
Don't waste your time peeling potatoes-instead boil potatoes with the skin on, then "shock" them by dunking them in ice water and watch the skin peel right off!
Prepare Desserts and Appetizers Ahead of Time
Since you'll be chopping vegetables the day before Thanksgiving, go ahead and prepare your desserts and appetizers as well if possible. Both Pumpkin Pie and Pecan Pie need to cool and set before eating so baking the day before works out perfectly!
Dips, cheeseballs, and other cold appetizers and finger foods are also just as tasty when prepared ahead of time and free up precious kitchen space Thanksgiving Day.
Keep Sides Warm the Easy Way
There's nothing worse than carving the turkey and realizing that none of your side dishes are still hot! The key to keeping sides warm until serving is to store them smartly-wrap in foil and store in the microwave or an insulated cooler to help preserve heat.
If you're lucky enough to have a double oven I mentioned earlier and you're not using both ovens you can set one to warm to store sides until mealtime.
A crockpot set to warm or low can keep dishes like mashed potatoes hot until dinner is on the table and the gravy can easily be kept piping hot in a large Thermos!
Set Up a Drink Cart
Kitchens are busy on Thanksgiving Day and guests filtering in and out for beverages can disrupt the work flow-set up a beverage station outside of the kitchen with pitchers, and ice bucket, and glasses so guests can help themselves as needed and save the cook interruptions.
Do you already do any of these Thanksgiving hacks? What are your favorite sanity-savers for Thanksgiving dinner? Do you have any tips to add?