The Happier Homemaker First Generation Scholarship
Hi there friends, I can hardly contain my excitement to finally announce something that my husband Randy and I have had on our hearts for a while now, a scholarship!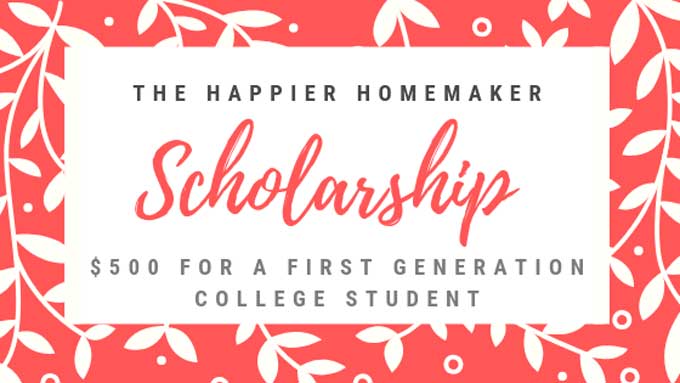 We're very proud to offer a $500 scholarship to a student attending a 4-year college or university who will be the first in their family to receive a Bachelor's degree.
Both my husband and I were the first in our family to attend and graduate with a Bachelor's degree and we both went on to graduate-level education as well. We know the challenges that face students who are pioneering into new territory without a lot of guidance from family.
RULES & DISCLAIMERS:
Employees of Riker Media, LLC, as well as immediate family, are ineligible to participate.
Participants must be enrolled in 4-year post-secondary education as of the application deadline. Riker Media, LLC reserves the right to verify your enrollment status.
One winner will be selected for The Happier Homemaker Scholarship. One alternate will also be selected. The winner will be announced on TheHappierHomemaker.com and via email by June 30, 2020. Dates are subject to change.
Winner will receive a $500 scholarship payable to an accredited college where the winner is enrolled in the upcoming year. If the winner does not enroll in an accredited 4-year college or university in the upcoming school year, the prize will be forfeited and awarded to an alternate. Scholarship payment may be applied to tuition or any valid school charges. Scholarship cannot be transferred. An IRS Form 1099 will be issued if applicable.
Only one entry per student will be accepted.
You agree to allow your name to be published on the scholarship page and any social media announcements.
Your personal information, such as your name, address, phone number, email address and school will not be published or shared with any third parties without your express written permission and will be used only for the purpose of contacting you to distribute your prize.
The prize is non-transferrable, non-refundable and cannot be substituted or exchanged for other prizes.
These rules are subject to change at any time and without notice.