Okay ladies, get ready to send this blog post straight to your significant other because I've narrowed down the 12 gift ideas for the crafty, stylish, DIY-er you know you are!!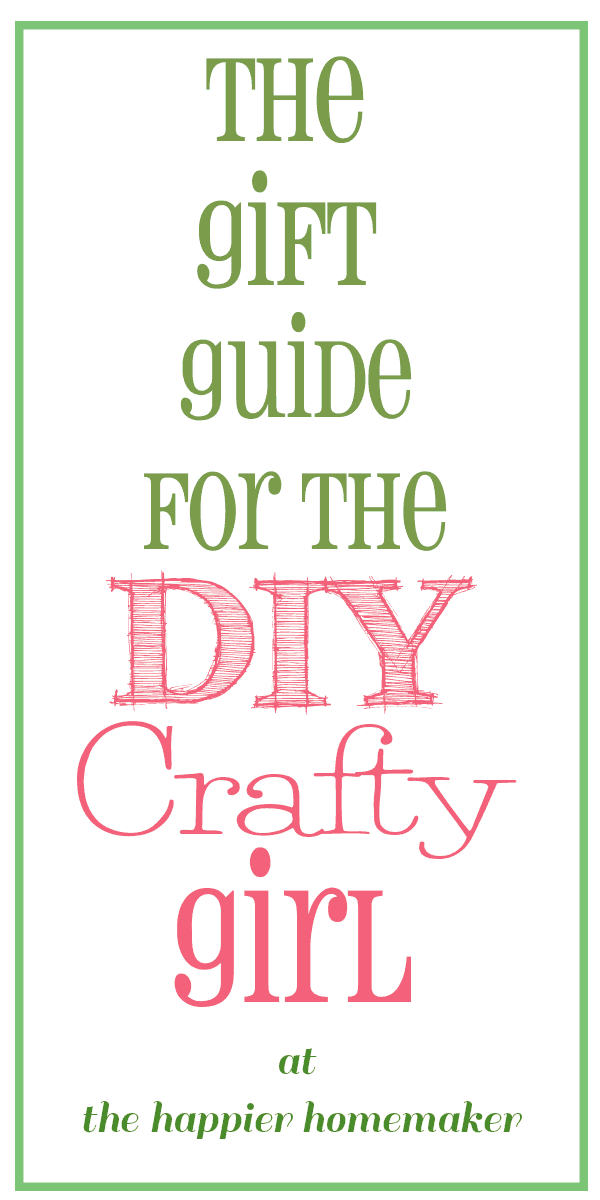 Tools
What's a DIY girly without her tools?
Kreg Jig-From their website: "The Kreg Jig is an incredibly fast, strong, and simple way of joining wood. In just three easy steps (Drill. Drive. Done!) Even beginners can create incredibly strong joints with far less time and frustration." This is one thing that I've been dropping major hints to my hubby for and hopefully it will end up under my tree this Christmas (if not it will be in my Lowe's cart soon after!)
Miter Saw-Another thing topping my wish list this winter is this miter saw. A miter saw can cut wood at angles making it essential for cutting moldings (like for that picture frame molding I'm still dreaming of installing in the dining room!) or framing out mirrors (a few of those are on my list too!)
Books
Quite a few bloggers in the DIY niche have come out with books recently and I know I'd love to receive any of these as gifts!
The Handbuilt Home by Ana White  
If you don't know who Ana White is-you should.  She is amazing.  Her new book is full of plans from beginner to advanced as well as advice and tips to help empower those that want to build their own home furnishings.
Inspired You by Miss Mustard Seed
Miss Mustard Seed has an amazingly beautiful blog and she created this just-released book full of DIY and home decor advice on making your home beautiful but most of all having it reflect you!
Young House Love: 243 Ways to Paint, Craft, Update & Show Your Home Some Love by Sherry and John Petersik
Two hundred and thirty-four projects from one of the most popular home/DIY blogging pairs out there? Yes please!
Mod Podge Rocks by Amy Anderson
Go beyond standard decoupage and think outside of the box with over forty Mod Podge projects for you to recreate!
Craft Supplies
Silhouette Cameo-What can I say?? This multi-purpose cutting machine seems to be in the arsenal of so many craft superstars-from tshirts to subway art it can do anything!
Burlap Anything! Ummm…in case you missed it, burlap is "in" right now.  Burlap garland, yardage, and even jute or sisal twine-natural fibers are so popular in home decor this year! You really can't go wrong with any of these! (No, guys, I'm not joking-your lady love with adore you if she finds her stocking full of burlap yardage-seriously!!!)
Spray Paint-y'all know me and my affinity for spray paint.  You just can't go wrong with some Krylon Dual (my fave brand-no priming sounds good to me!) Sounds like an awesome stocking stuffer to me! Some of my favorite colors are Ivy Leaf, Regal Blue, and Piston Gray!
And last but not least…
Gift Cards
Etsy-Did you know you can now buy Etsy gift cards? Be still my heart! A gift card to a place where I can find fantabulous handmade one of a kind goods? Yes please!
Home Improvement Stores-Ace, Lowe's, Home Depot, True Value…whatever your pleasure-every crafty girl has need of a gift card to the hardware store to fund that next big (or small!) DIY project!
Craft Stores-Joann's, Michael's, Hobby Lobby…going to these stores nowadays gives me the same feeling I got walking into Toys R' Us as a kid.  There's never a shortage of wish lists at the craft store and rather than wading through the aisles a gift card is a fast, easy way to gift your crafty girl.
Alright now ladies…scroll down a bit and find those share buttons just above the "Comments" area and send this post to your family and friends so you can find some of these crafty goodies under the tree next month! Oh, and if I missed something on your wishlist, leave it in the comments below!