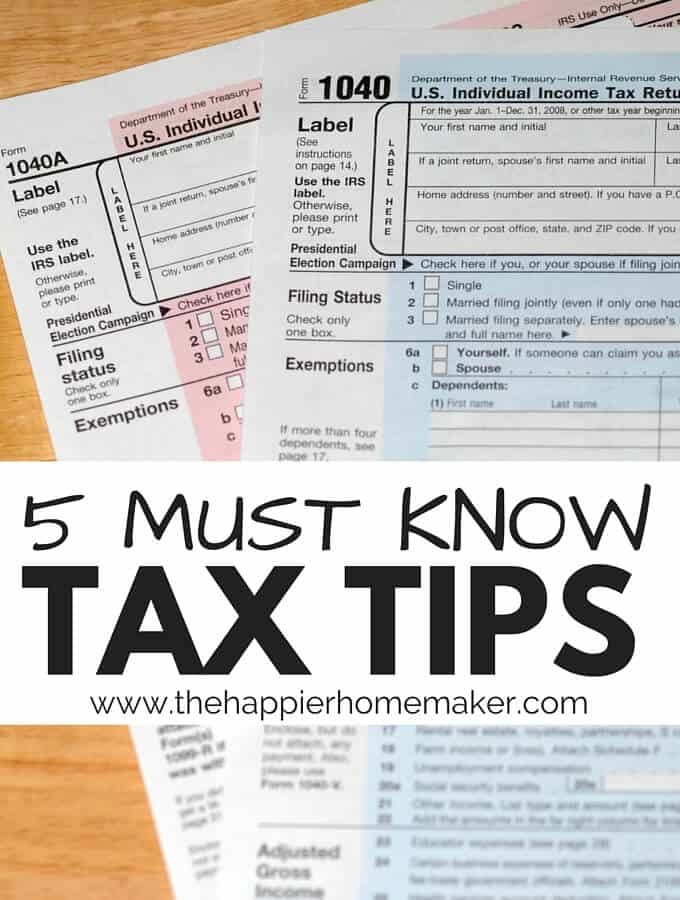 I'm a math girl-I love math.  I used to actually enjoy doing my taxes (I know, I know-I'm a weirdo!) but that was back in my twenties when I did a nice short little 1040EZ and would pat myself on the back after an hour of number crunching.  Fast forward ten years and I'm a self employed blogger married to a military service member, not living in our home state of record, with a home we rent out in a third state, and various retirement and college savings accounts. Doing our taxes has gone from simple to straight up stressful.  Last year I was near in tears trying to get it finished so this year I've finally decided to hire help. Whether you do your taxes yourself or hire help to get it done there are my top 5 Tax Preparation Tips that will make it easier on you (or your CPA!)
Organization
If you don't have last year's tax documents organized I feel for you-I really do.  Lack of organization is the biggest time waster of tax preparation.  Do yourself a favor and create files for the items you'll need for your taxes next year-do it NOW for next year!! For our family because we have quite a few moving parts we have multiple folders-one for my business, one for our rental home, one for other expenses.  See the checklist at the bottom of the post for what kind of documents you should be saving through the year.
Don't Guess!
If you are uncertain of an answer or how to proceed when filing taxes please don't guess or make up numbers.  These things will come back to to haunt you and it's just not worth it-ask anyone who has gone through an audit.  When in doubt look it up on the IRS website (not the easiest read references admittedly) or contact a CPA.  I found my local CPA through Dave Ramsey's Endorsed Local Providers (ELP) program.
Mind Your Deadlines
April 15th y'all.  It doesn't change year to year-so cement it in your noggin.  And this doesn't mean panic and call a CPA April 14th-collect your documents and get on it as soon as you can.  We usually don't receive the last of our necessary tax documents until mid-February but the moment I do we go ahead and file.  Don't risk missing the deadline and for goodness sakes if you are going to be late, file an extension, don't get fined!!
Use Technology
If your tax situation is fairly simple and you are filing your own taxes take advantage of the many free or low cost tax filing programs available and file online.  Many of those programs recognize common deductions and other tax credits and will guide you through the process to ensure you don't miss those claims.
Get Help When You Need It
It's okay to reach out for help if your taxes are overwhelming.  Accountants are trained to find you all the deductions you deserve and usually pay for themselves with the amount of money they save you.  And I'm not talking about those pop up tax preparation places that train people for a few weeks then let them prepare your taxes.  I'm talking about actual tax professionals.  If you are like me and don't know a CPA or who to turn to, I personally used the Dave Ramsey's ELP program to find mine.  Our family has been working on becoming debt free for a year now using the Dave Ramsey "Baby Steps" plan so I trust that organization to help me take care of my finances responsibly-his ELPs are screened and I love that they make sure the professionals they refer people to with the program have the heart of a teacher so they can help you better understand your own finances, not just tell you what to do!
(Click the checklist to print as a pdf)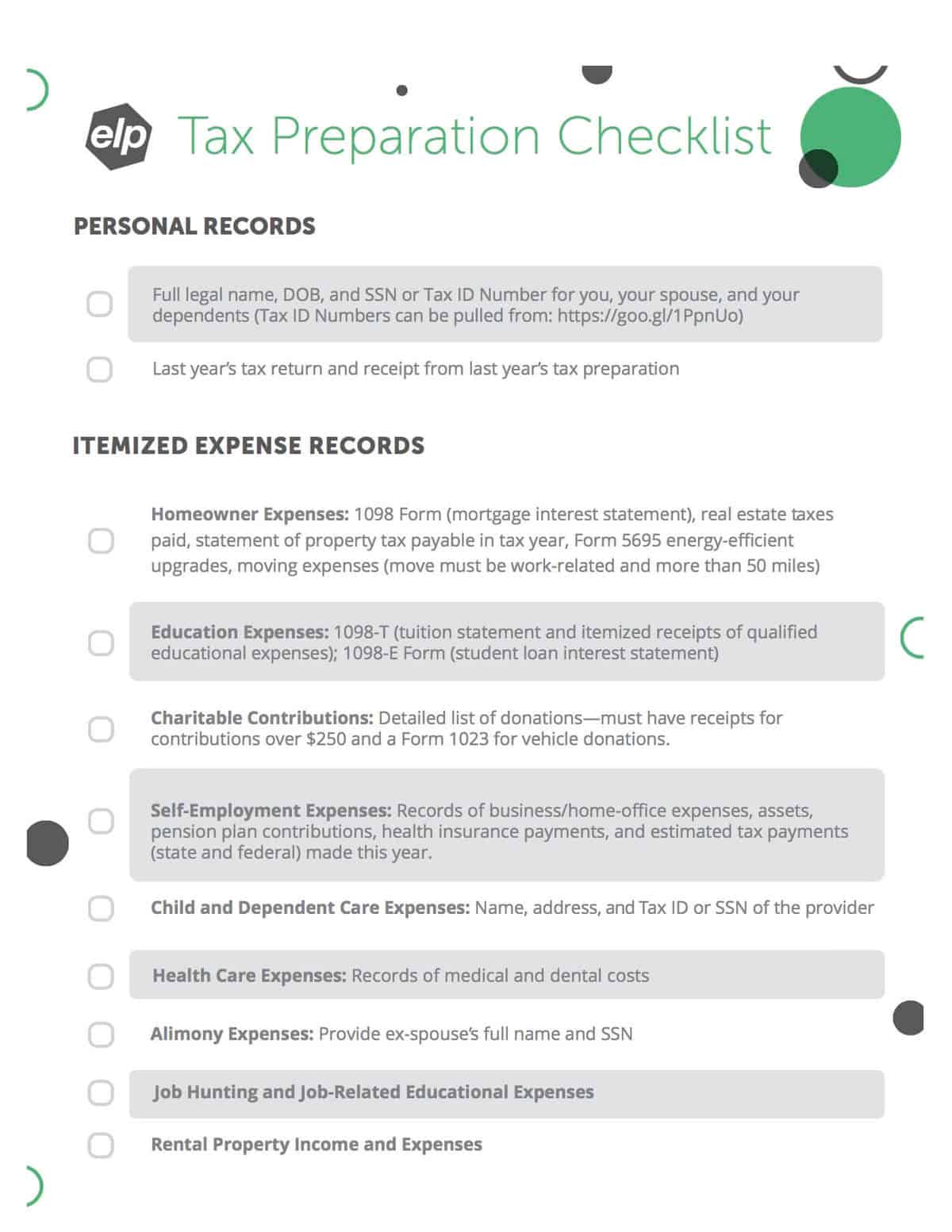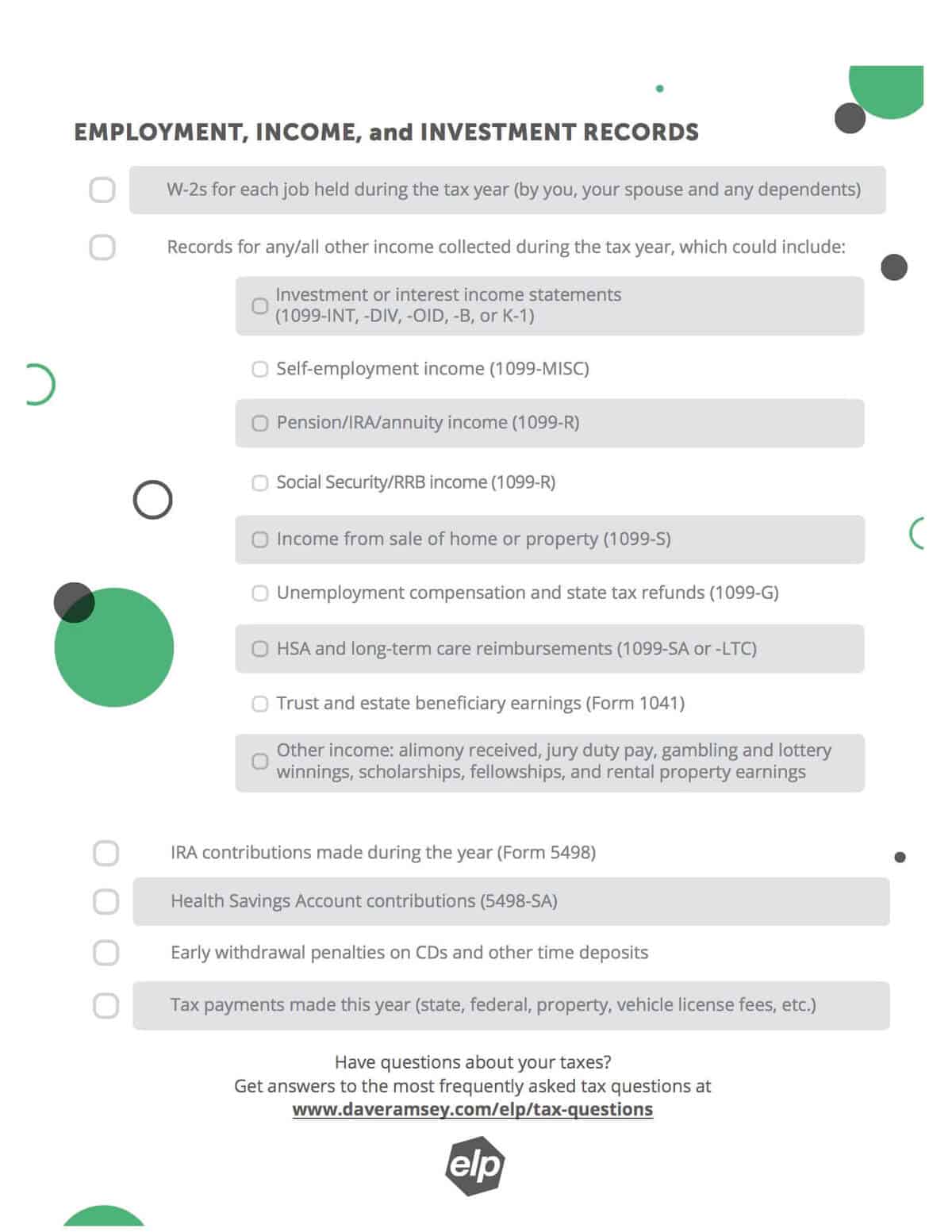 Tax time is not much fun but keeping organized and on top of the process makes it a lot easier.  Do you have any other tips I should add?
Thank you to Dave Ramsey's ELP program for sponsoring this post-as always all thoughts and opinions are my own!