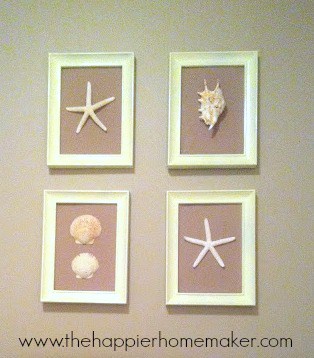 Last week I saw a this great DIY gallery wall on the Addicted 2 Decorating blog. I absolutely loved the idea and knew immediately I wanted to try something similar.
I started by picking up four 5 by 7 frames from Walmart for $2.50 each, some cloth napkins for $3 (pictured later), and a couple starfish and shells from AC Moore. I gave the frames two coats of Rustoleum Heirloom White that I had left over from a previous project. I originally planned to spray paint the shells/starfish too but decided against it at the last minute.
After the frames were dry I planned on covering the cardboard backing with the fabric napkins I had picked up. This was actually the hardest part as I hadn't realize that the frame backing didn't totally detach, instead it just folded from one side, making it more difficult to get a smooth backing. I also had to iron the napkins-which I most definitely did not appreciate…I generally try to avoid ironing at all costs!
Here is what the frames looked like after I added the napkins to the backing….starting to come together right? My next step was to add the shells and starfish to the individual frames. I had planned to do this with the hot glue gun but having just moved I ended up spending an hour in a futile search for the glue gun only to come up empty handed. I decided to rebel and try the tacky glue, I know, I walk on the wild side!
Once I had them all glued I left them overnight to dry and hoped for the best. Luckily they turned out just as I had imagined. I hung them up in our spare bathroom and they were perfect for the space. I'm thinking a couple more beachy accents like the shell-filled mason jars here are in order next!