There were two big things I was looking forward to when we moved back to the US from England last month-craft stores and gardening! One of the very first things I did when we moved into our new house was hightail it down to JOANN to do a mini restock my craft room. Our shipment from the UK won't arrive until mid-September and there was no way I could suppress the craftiness that long! Because I had indulged in my craving to garden and purchased herbs for what I hope will one day be a nice kitchen garden, I wanted to make some cute little stone markers for my new plants. I picked up some craft paint (can never have too much!), paint brushes and river rocks at my JOANN store in nearby Savannah-I even used their new app to show a coupon to save a little money at checkout!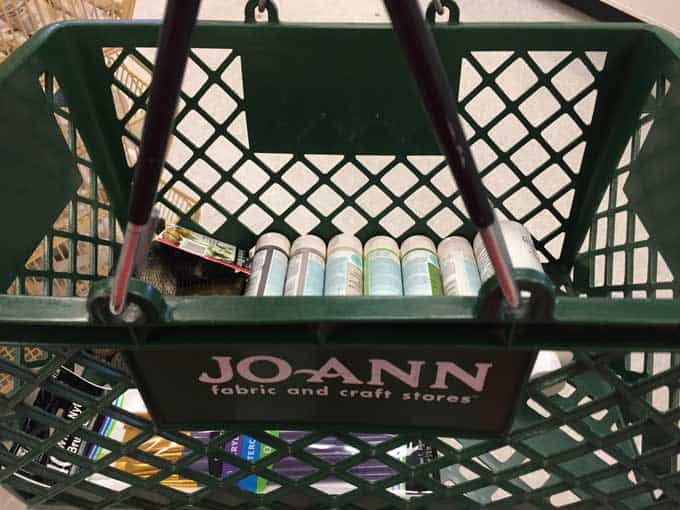 I had installed the new JOANN app on my phone pretty much immediately once our airplane landed this side of the pond, not only does it have coupons to use in store but I can see store specials and lots of project inspiration and instructions. I thought it would be fun to create my own project to share on the app so I shot a little video of my rock painting to share. It was super easy to upload straight from my phone and add music, captions, a supply list, and instructions right in the app!
Supplies:
Martha Stewart Craft Paint in Summer Linen, Green Olive, Green Curry and Gray Wolf
Nylon Craft Paintbrushes
Polished River Rocks
Americana Multipurpose Sealer
To make the plant markers I first picked rocks that had a smooth surface on at least one side. I painted the rocks with two layers of white paint, letting them dry thoroughly between coats. Then I used a fine tip paint brush to write the plant names and make a little doodle of the plant-no fancy art skills required-just a little drawing. Once that layer was dry I added a layer of sealer over the entire rock to protect it from the elements and it was all done! Easy-peasy, right?
Don't the rock plant markers look cute in my new herb garden? Now I can send the kiddos outside to grab me herb cuttings without having to worry they won't know which plant I'm talking about!