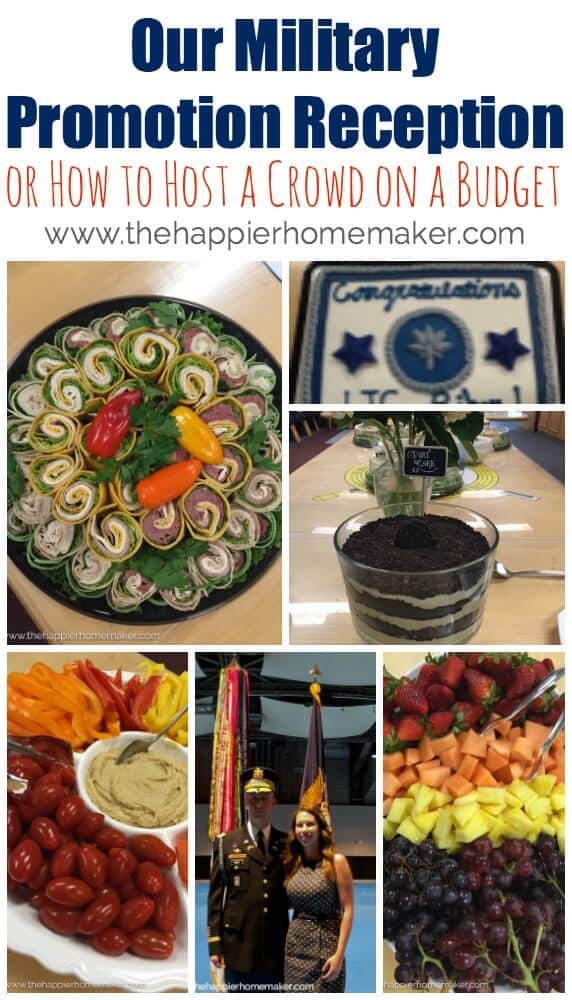 Get ready guys, this is going to be a long, picture heavy post! Many of you know that we're a military family and if you've been following on social media recently you'd have seen that my husband was getting promoted at the beginning of this month.  This was a pretty big deal, as an Army officer this is only the 4th time he's been promoted in his 17 year career, it just doesn't happen very often, in fact he's only been promoted one other time in the 12 years we've been together!
In the military you generally have a promotion ceremony and afterwards have a party or reception for coworkers, family, and friends.  The rule of thumb is to spend the equivalent of one month of your pay raise you receive for the promotion-in our case, as a Lieutenant Colonel that gave us a budget of $700. My husband estimated about 100 people would come to the reception, which would be held at lunchtime in his office conference room. He also wanted to host a dinner for out of town guests that evening so I was really trying to do the lunchtime reception on a budget to be able to have a nicer dinner in the evening with our guests as well.
You all know I'm a do-it-yourselfer and that approach was confirmed when I started pricing party platters and catering.  I just couldn't justify paying the prices I was finding.  I started making lists and trying to get organized about two weeks ahead of time. We wanted a casual but more upscale finger food type of reception. Something where the people could easily fill a small plate but we weren't necessarily trying to feed all 100 people a full lunch-that wasn't in the cards!
Here was the menu I decided on:
a variety of pinwheels-turkey, roast beef, ham
fresh fruit
vegetable trays with hummus
marinated olives and feta
pasta salad
truffles
vanilla cake
sodas and water bottles
After much consideration I decided to outsource the cake and pinwheels.  I ordered the cake from our military commissary and gave them this pin as inspiration. I ordered three pinwheel trays from Harris Teeter-the rest I would do on my own.
Here's how I organized my week so this process didn't get too crazy (on top of homeschooling and blog work!)
Monday- Shop for party supplies/drinks, organize servingware
Tuesday- Shop for dessert ingredients, make dessert signs
Wednesday- Make truffles and freeze
Thursday- Make pasta salad, dirt cake, shop for fruit/veggies/olives, pick up pinwheels
Friday-pick up cake & flowers, move all food to reception and set up
Monday
My husband wanted higher end disposable plates and cutlery so we headed to our local Party City and purchased some plastic white plates, silver look forks, and you know I had to get some cute chevron silver and white napkins! I also picked up some silver tongs for serving the pinwheels and veggies. We also bought the water bottles and sodas and went ahead and dropped everything at my husband's office to minimize the things to transport the day of the reception.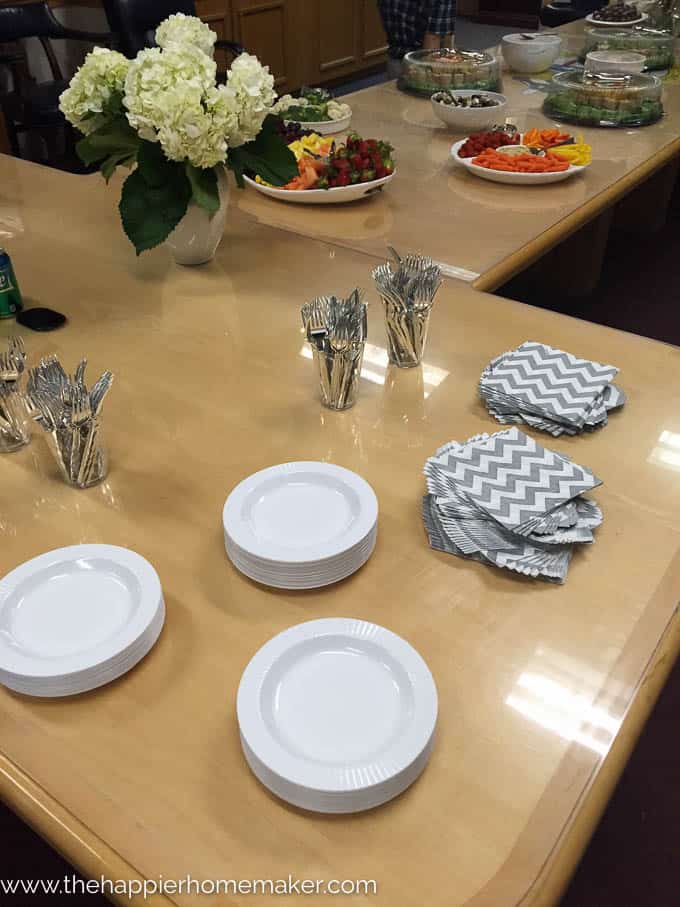 I also organized all my servingware and labeled it with sticky notes to make sure I had enough dishes for everything. (I was thankful I always buy everything plain white because I had to use almost everything I had!
Tuesday
Tuesday was sort of like the calm before the storm. I shopped for the ingredients to make the truffles and dirt cake-it was a lot of OREOs!!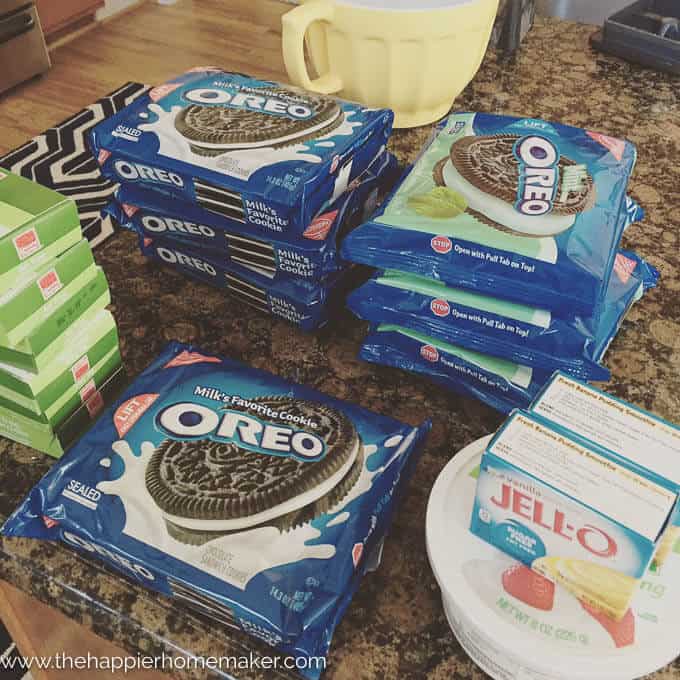 I also used some small chalkboard signs and a chalk pen in my craft stash to create some signs for the desserts.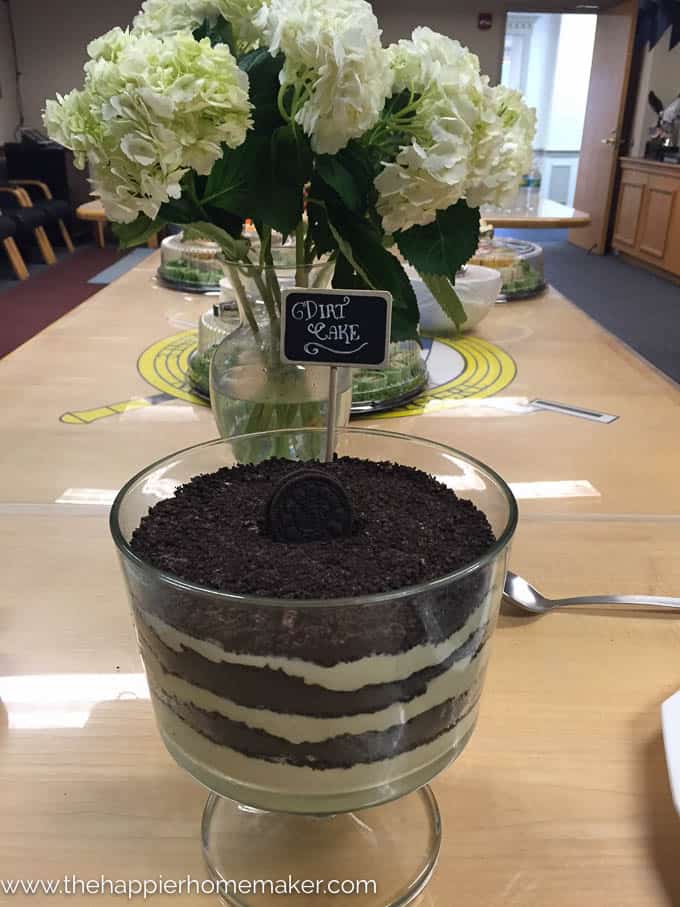 Wednesday
Wednesday I spent much of the day on and off making truffles-I made 2 batches each of my OREO truffles and Mint OREO truffles. I froze them until Thursday night.
Thursday
Thursday was intense! We had family coming in in the evening so I spent the day making the dirt cake, pasta salad, and running a shopping trip to pick up fresh fruit, fresh veggies, hummus, and load up at the olive bar.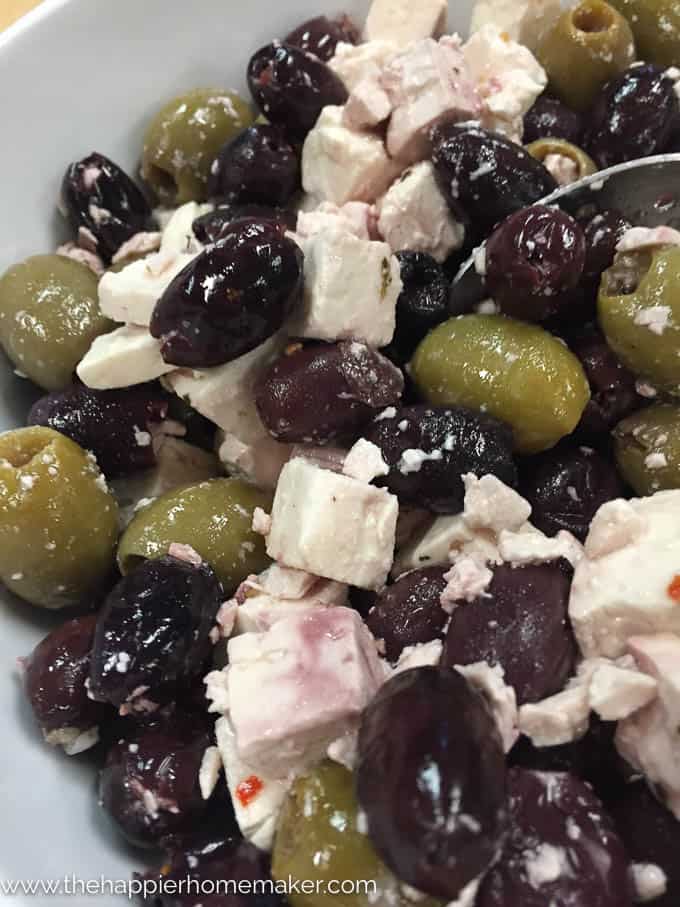 I knew I wanted flowers to add to the food set up so I swung by my local Trader Joe's on the hunt for hydrangeas.  They were out but the manager confirmed they would get a new shipment the next morning and even offered to open early for me so I could pick them up-awesome customer service!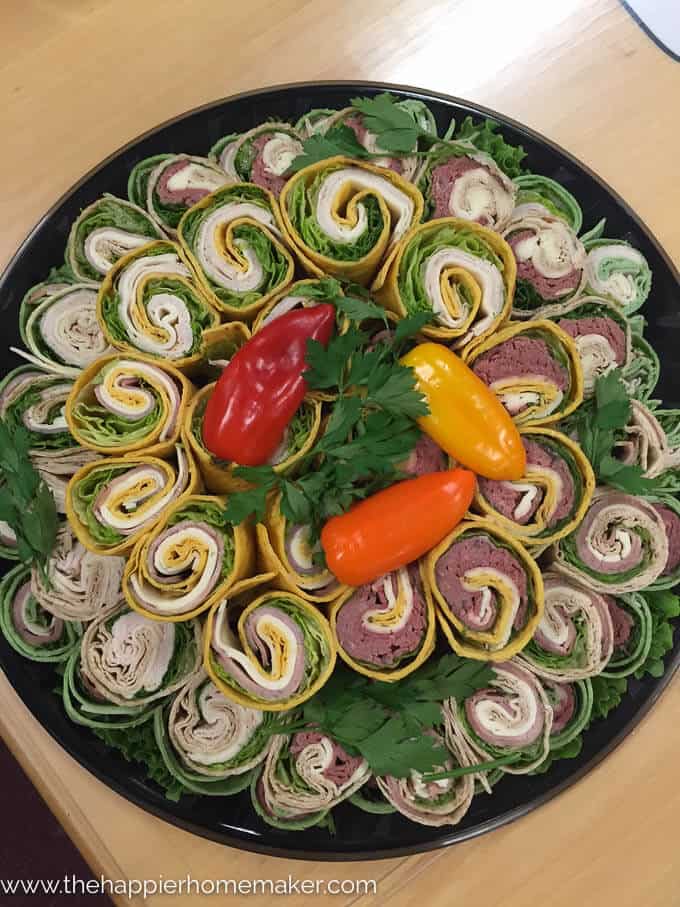 That evening I also picked up the pinwheels and pre-chopped the fruits and veggies-check out how stuffed the fridge was!
We had barely enough room for milk and some breakfast foods for the kids!
Friday
I wish I had more pictures of the process of getting to my husband's work that morning-it was pretty hilarious! My stepmother Cindy was an angel for coming into town to help me out. She and I got all gussied up early in the morning then we, along with my nine year old son, loaded into her Prius with all the supplies (it was packed!) while the boy's "Pappy" stayed home with the younger two until closer to the reception time.
We swung by Trader Joe's to pick up gorgeous hydrangeas then hit the commissary to pick up the cake-it turned out perfectly!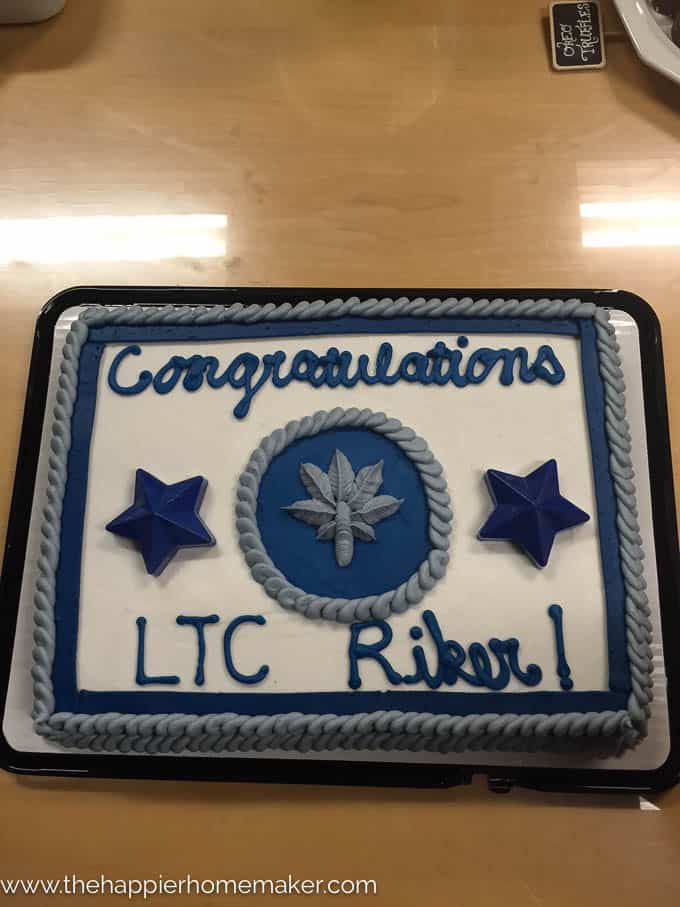 Then we were off to my husband's work with about an hour and a half to set up the food. It came together beautifully!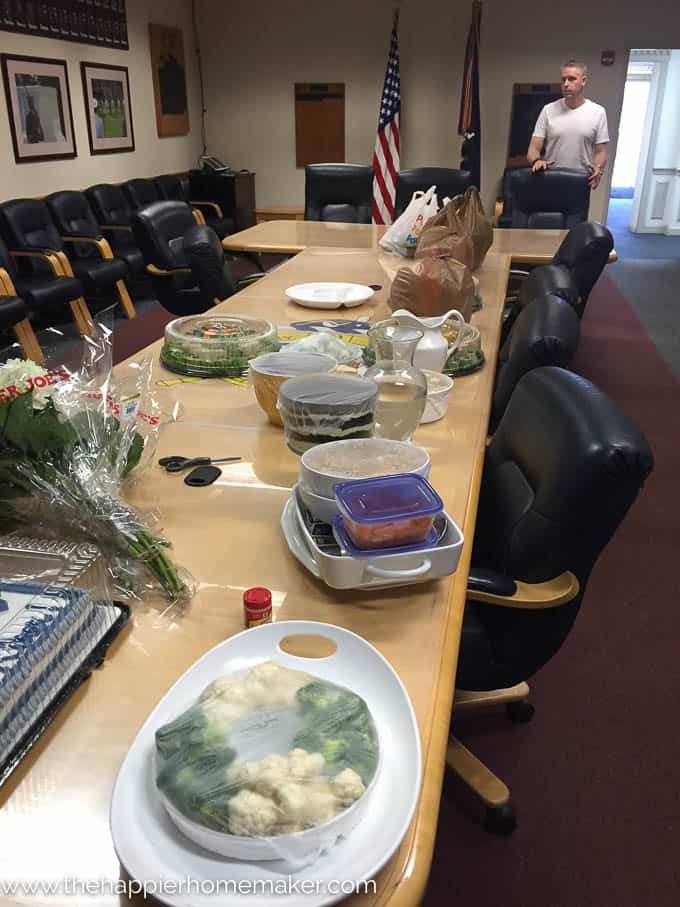 You can see I had my alum so that my hydrangeas wouldn't wilt! (See that tip here.)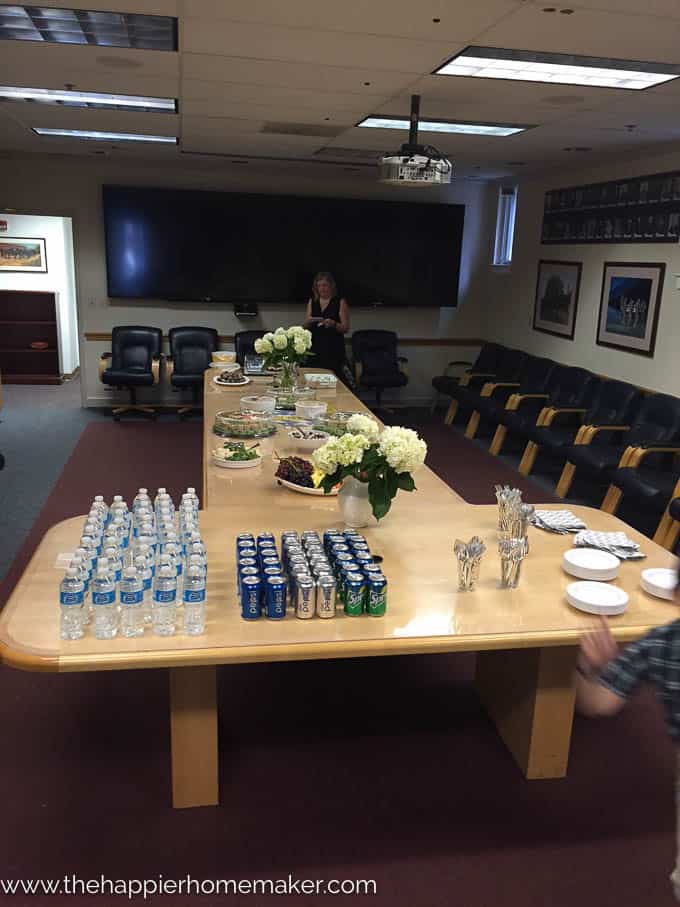 My nine year old has seen me style things enough for my blog he knew I wanted things to look nice-he set all the drinks out himself so nicely!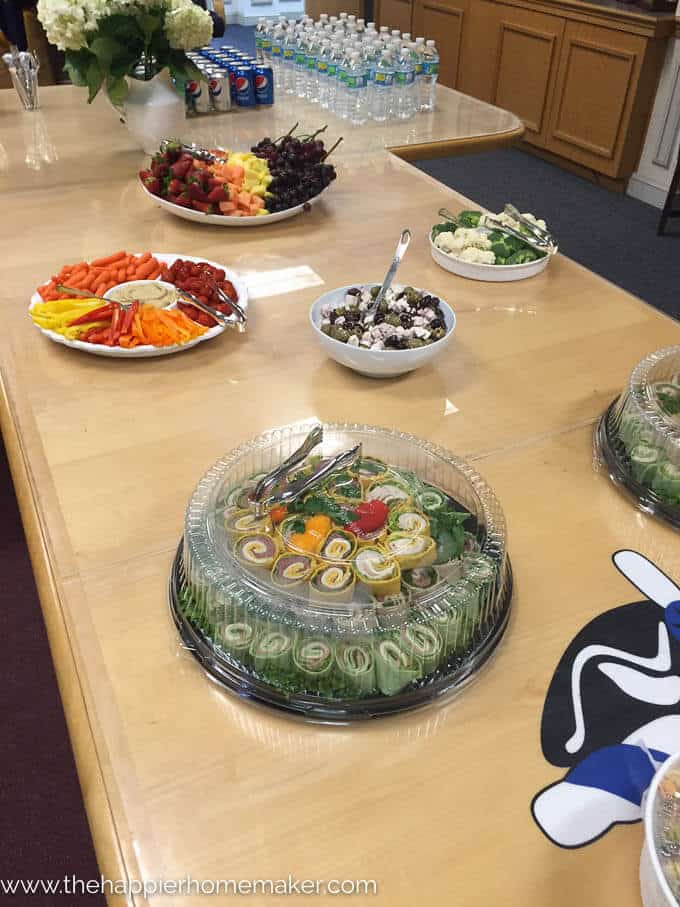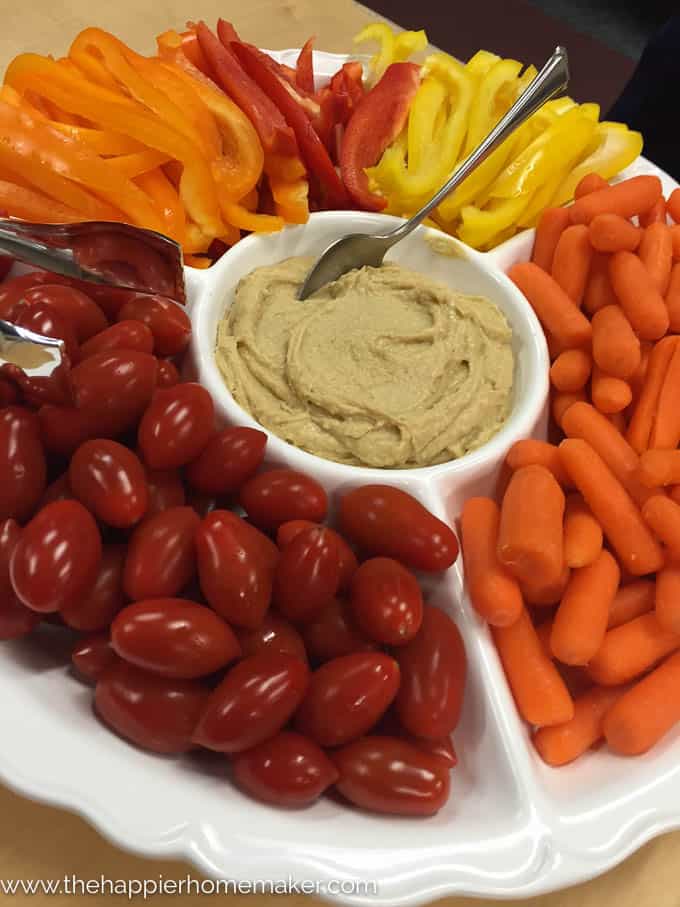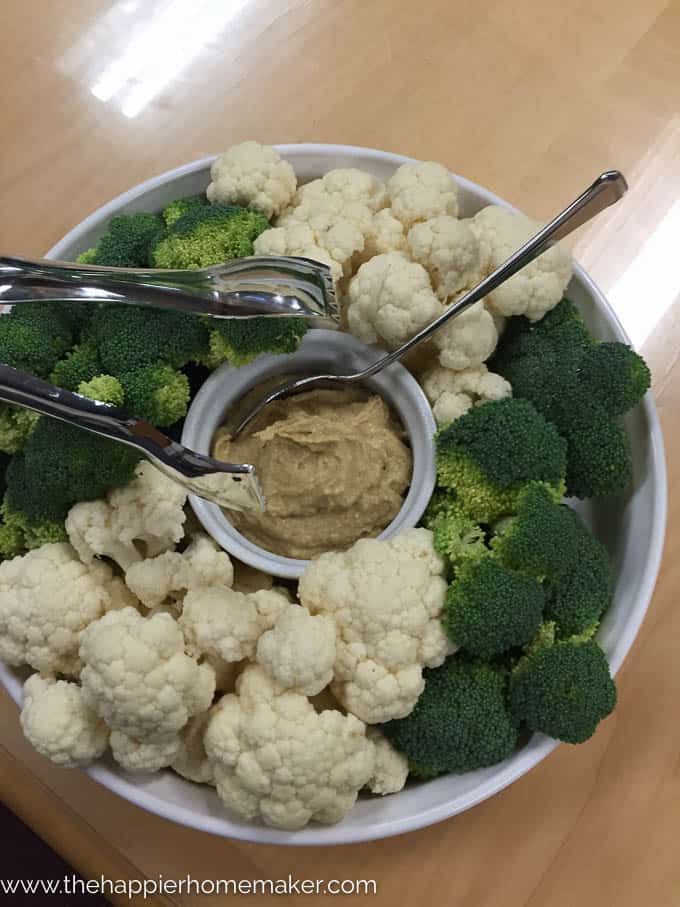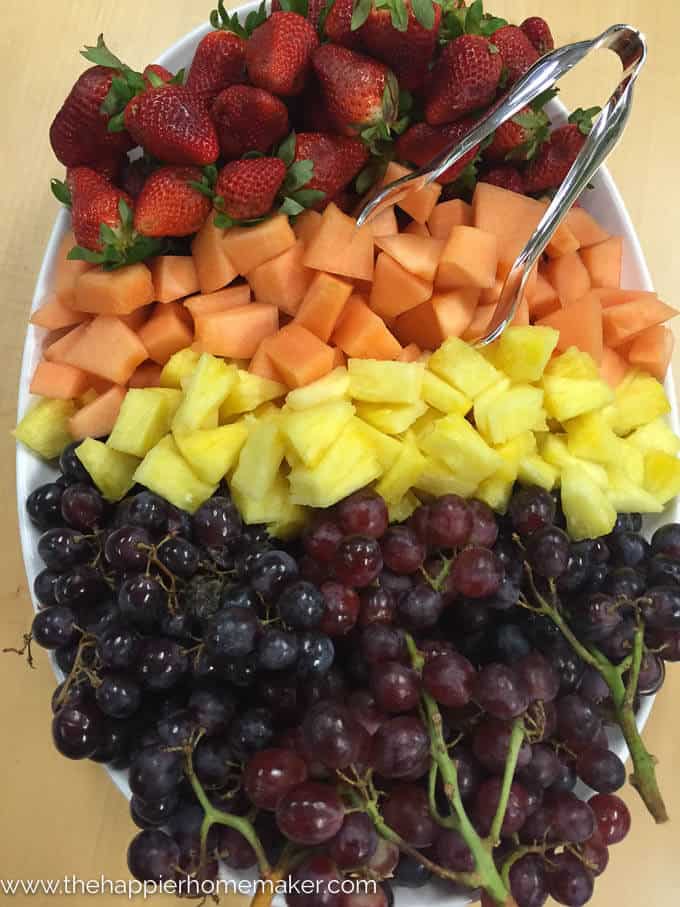 We finished setting up with plenty of time to spare and were relaxed as we headed to the actual promotion ceremony. (I didn't take these pictures-they were taken by the photographers from his unit.)
The day was a blur but everything went as beautifully as I ever could have hoped!  Here's the final cost breakdown:
Party Supplies: $57
Pinwheels: $140
Cake $35
Groceries $200
Flowers $35
Total: $467
Not too bad for feeding 100 people! We actually had plenty of food leftover as well, I could have done without one of the pinwheel trays and about half the pasta salad! The truffles were the biggest hit of the reception along with the olives and feta.
If you hung in through the whole post I'm impressed! Hopefully this can help anyone else planning a promotion reception or any casual reception for a crowd like this!