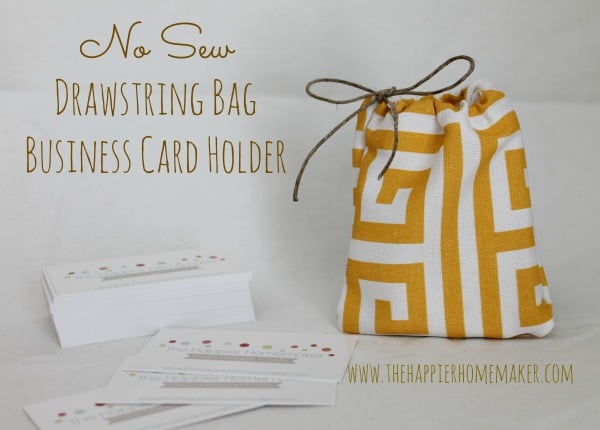 Have you heard of Craft Lightning? It's a series cohosted by The Country Chic Cottage and 30 Minute Crafts that features bloggers sharing crafts that can be completed in 15 minutes or less! I love a fast craft (with three little boys to chase around I rarely get more than that uninterrupted anyways!)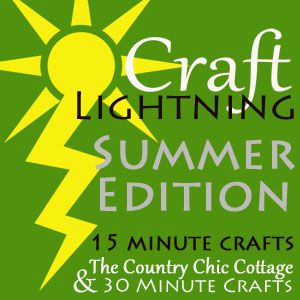 My 15 minute project pulls double duty-not only is a an easy and fun tutorial to share with y'all but it's also going to help me out when I travel to Atlanta later this week for the Haven Conference with all of my favorite home/DIY bloggers.  With all those blogging superstars roaming the hotel I'm going prepared with a good 300 business cards to share.  I decided to make a little no sew drawstring bag to hold my backup business cards in my purse!

Supplies:
Fabric scraps cut into two 3″ by 4″ pieces
Ribbon or string to use for the drawstring, I used 12″ of jute twine
Hot glue and glue gun
Instructions:
1. Face your two fabric scraps with the right sides facing each other (3″ sections at top and bottom, 4″ sides to the left and right)
2. Lift the bottom of the top piece of fabric and place a line of hot glue along the entire seam, pressing together firmly while still hot.
3. Lay your twine or ribbon across the top edge of your fabric about ½″ below the top edge.  Apply a line of hot glue directly below the twine and fold over the fabric to create a pocket for your twine.
4. Turn over the fabric piece and repeat step three with the other piece, using the same piece of twine.
5. Secure the sides of your pouch using the same method as the bottom, applying a line of hot glue along the edge and pressing firmly together.
6. Flip your pouch inside out and it's ready to go!  You could use this for anything-it would be perfect for holding jewelry or makeup-but I thought it was just the size for my new business cards!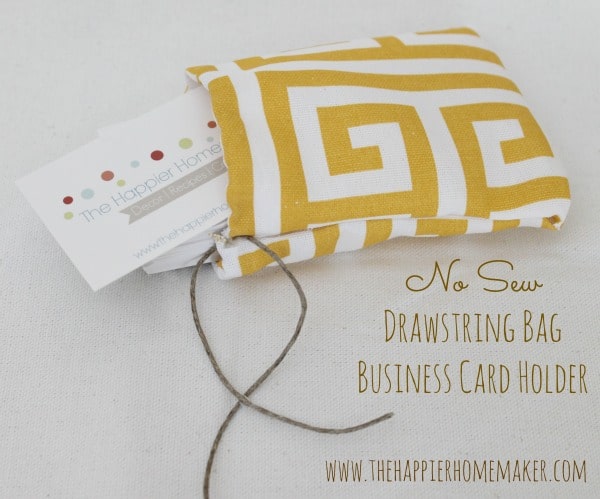 I hope you enjoyed this super easy little tutorial! Be sure to pop over to Craft Lightning on The Country Chic Cottage or 30 Minute Crafts and check out all the other bloggers' projects all week long!