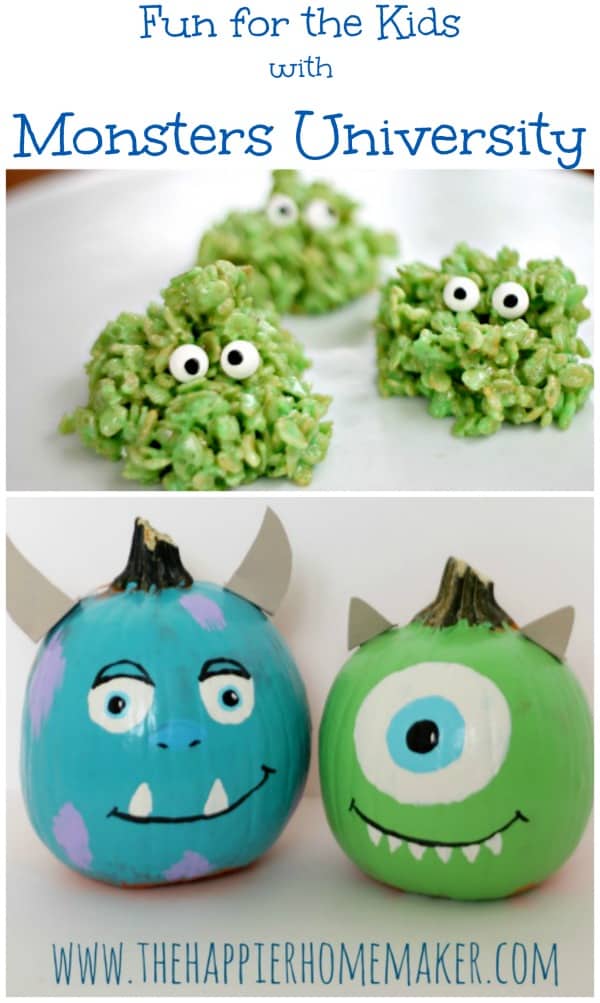 This is the story of how a movie can save your sanity. Namely, how Monsters University saved the weekend where a mommy almost lost her mind.
This past weekend was a rough one. It all started Thursday morning when my oldest son (he's 6) complained of feeling tired. I chalked it up to a bad night's sleep and sent him to school only to get a call to pick him up about an hour later. To the doctor's office we went and came home with a confirmation of strep throat and prescription for antibiotics. I kept him home Friday and things went smoothly enough. I was cautiously optimistic that my other sons-ages 5 and 2-would be spared their own bouts of strep throat.
That is, until about 2am Friday night/Saturday morning when my 5 year old climbs in bed with me complaining of an upset stomach. I settled him in for a cuddle when it started: non-stop throwing up for the next 3 hours. Did I mention that my husband wasn't home (thanks Army.) Did I also mention: I'm a hard-core sympathy puker.
It was a bad night.

My 5 year old was adamant that he didn't have a sore throat so I turned to you all on Facebook for advice and you confirmed that one can get strep without a sore throat so off to the Dr we went again and this time, yes it was strep but we took it one worse for a diagnosis of scarlet fever! He was covered in a bright red rash from head to foot by time we got to the Dr's office!
Again home with antibiotics and steroids and benadryl…and lo and behold a special delivery was awaiting on the front step-an advance copy of Monsters University!! I don't know about you but when my kiddos are sick it's movie time, but often we have trouble finding something good-and "new"-enough to hold their attention when I'm trying to get them to stop bouncing off the walls and fighting with one another long enough to get some rest and recover! So that beautiful DVD was an immensely well-timed delivery!!
I popped it in and enjoyed 104 minutes of quiet mommy time…a true sanity saver. By time the ending credits were rolling I was refreshed and ready to get creative with the boys so we made some Monsters University inspired goodies. First were these cute painted pumpkins.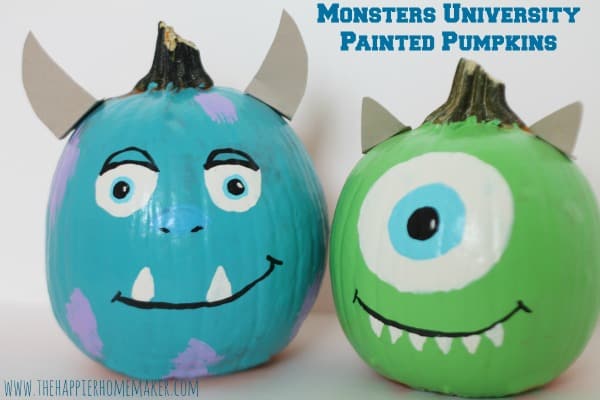 I admit these are my painted versions-theirs didn't so much end up looking like the movie characters, but they had a great time painting!! While they finished their pumpkins and started decorating the house with fake spider webs I whipped up a super yummy batch of monster rice krispie treats inspired by the no bake cookie monsters I saw last week on Shaken Together Life (they look awesome!)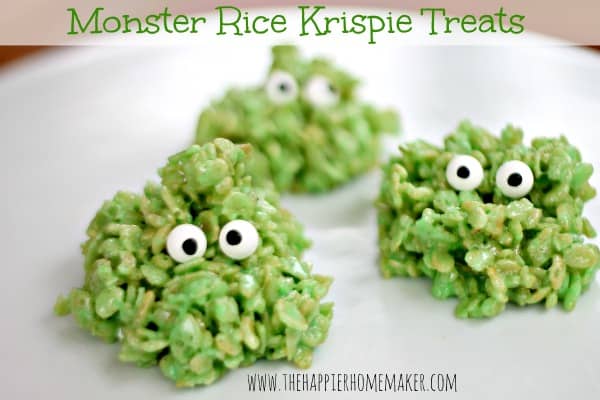 Monster Rice Krispie Treats
3 tablespoon butter
5 ½ cups mini marshmallows
6 cups rice cereal
7 drops green food coloring
"eyeball" candy treat toppers
1. Microwave butter in a large bowl for 30 seconds.
2. Add Marshmallows to bowl and stir
3. Microwave mixture for 45 seconds. Stir and add food coloring. Microwave an additional 45 seconds.
4. Stir marshmallow mixture well and add rice cereal.
5. Use two spoons to create "lumps" of cereal on wax paper. Add monster eyes.
6. Allow to harden and enjoy!
Overall the weekend ended on a high note and the boys were enough recovered to be back in school yesterday!