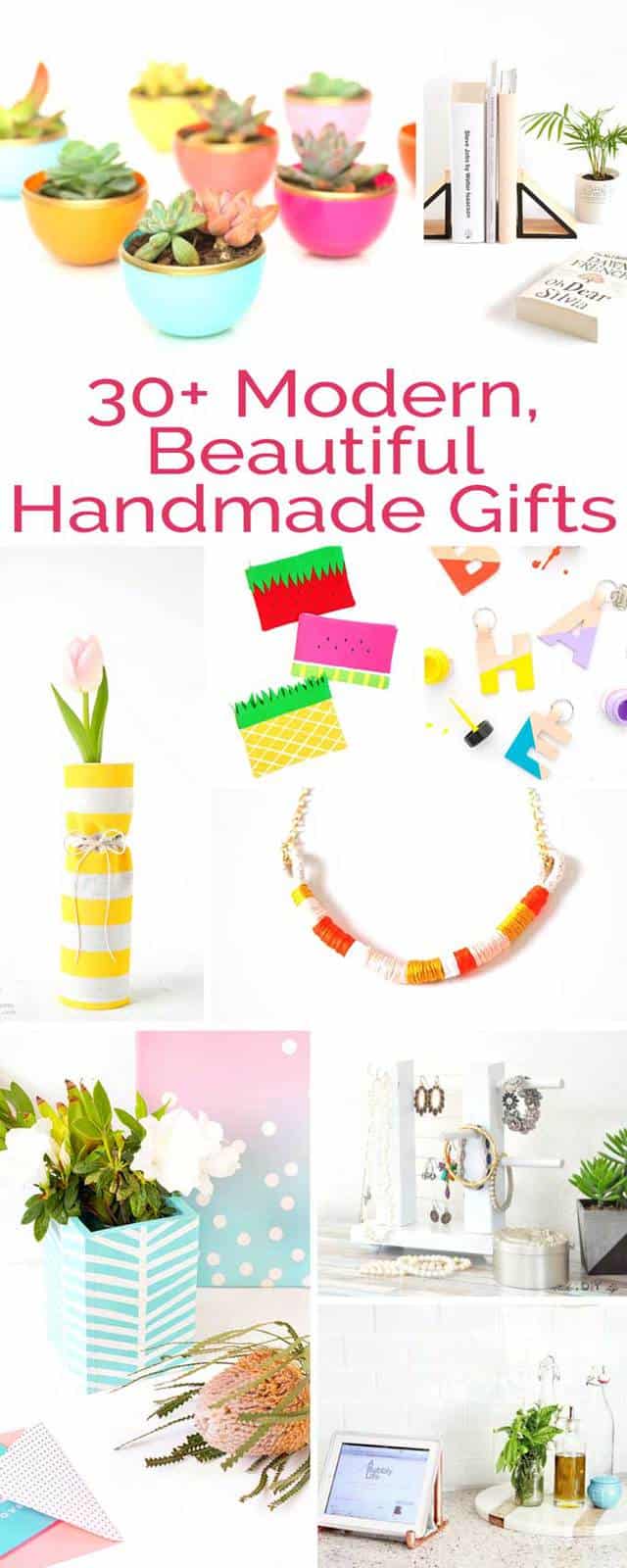 About 7  years ago I made the switch to handmade gifts for those outside my immediate family.  This was a decision made in part by budget…we were a single income military family expecting our third child at the time. (Right around the same time I started this blog!) It was also a decision prompted by the hustle and bustle and commercialism of the holidays nowadays.  No one needs unnecessary clutter in their life-so I have collected a list of over 30 Handmade Gift Ideas that are easy on the budget, easy to make, and will bring joy to whoever is lucky enough to receive one!
Chocolate Chip Cookie Mix in a Jar
DIY Mini Spring Succulent Planters†from akailochiclife.com
His + Her Sharpie Mug DIY†from abeautifulmess.com
DIY Zipper Pouches†from lilluna.com
DIY Keychain from damasklove.com
Easy DIY Fringe Scarf Tutorial from merricksart.com
Diy XoXo Throw Blanket from sugarandcloth.com
DIY Wood Triangle Bookends from makeandtell.com
DIY Donut Coasters from helloglow.co
Leather Kitchen Accessories: How To Make A Leather DIY Potholder from papernstitchblog.com
DIY Fruit Pencil Pouches from damasklove.com
Everyday Neckties†from madeeveryday.com
DIY Painted Monogram Mug from onebroadsjourney.com
DIY Copper Pipe Ipad Holder from abubblylife.com
Peppermint Crown Sugar Lip Scrub
Emoji Magnets from thesurznickcommonroom.com
DIY Table Top Jewelry Holder From Scrap Wood from anikasdiylife.com
Hugs and Kisses Mason Jar Gift 
Fabric Covered Spring Vases from iheartnaptime.net
Easiest Necklace Ever from thelovelydrawer.com
How To Make A Cozy, No Sew Throw Blanket from maisondepax.com
DIY Patterned Box Vase from makeandtell.com
DIY Sneakers for Spring†from abeautifulmess.com
What are your favorite handmade things to gift for the holidays? What is the best handmade gift you've received? Let me know in the comments below!