Use M&Ms to celebrate the true meaning of Christmas with this easy, inexpensive M&M Christmas gift with free printable poem.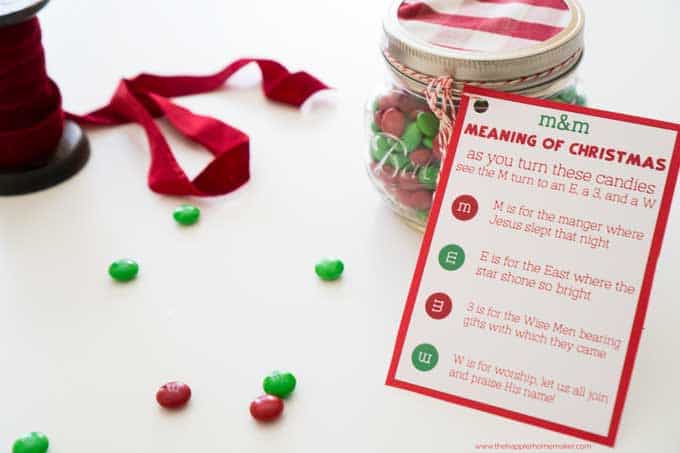 Y'all, I have had this printable on my to-do list for YEARS! I can't even remember the first time I saw the classic M&M Christmas poem but it was long before I had a blog and I remember loving it so much I copied down the words in my planner. Now, so many years later I finally got around to creating my own printable M&M Christmas poem and I'm just tickled with the way it turned out.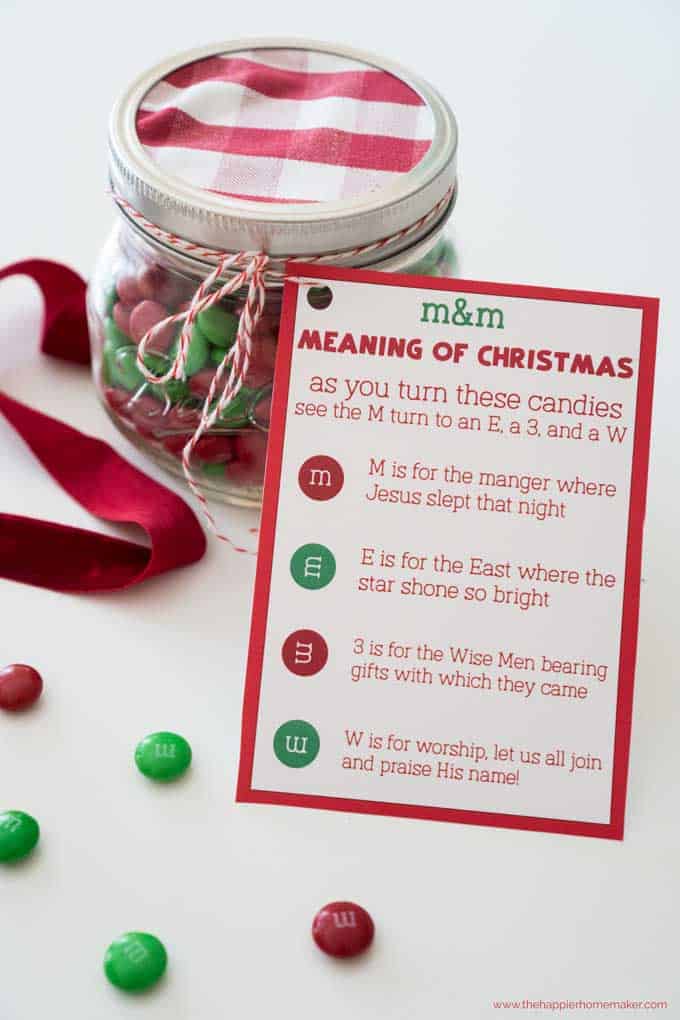 M&M Meaning of Christmas Poem
The poem is meant to be read as you turn the M&M candy clockwise to represent an M, E, 3, and W.
M is for the manger where Jesus slept that night, E is for the East where the star shone so bright, 3 is for the wise men bearing gifts with which they came, W is for worship, let us all join and praise His name!
I love this printable because it makes such an easy Christmas gift that also keeps the true meaning of Christmas and our celebration of Jesus's birth in mind.
My boys will be giving these out as neighbor gifts this year and we'll drop them off as hostess gifts for the parties we're attending.
A pint-sized mason jar will perfectly fit an 11oz bag of M&Ms then simply tie a printable poem to the jar for a gift that's done in under a minute! You can also tie the poem to M&Ms candy canes that are sold around the holidays as stocking stuffers.
Printing instructions
Click here to download your printable Christmas M&M poem (prints four to a page.)
I recommend printing on cardstock if possible. I had mine printed on 80lb cardstock at my local office supply shop for 55 cents per page but you can easily print at home as well.
You might also like these other easy homemade Christmas gifts:
Get Exclusive Printables for Subscribers!
Join our community to get subscriber-only bonus printables straight to your inbox every month!