You'll love this refreshing and healthy green smoothie recipe inspired by the Dr. Oz 3 Day Cleanse!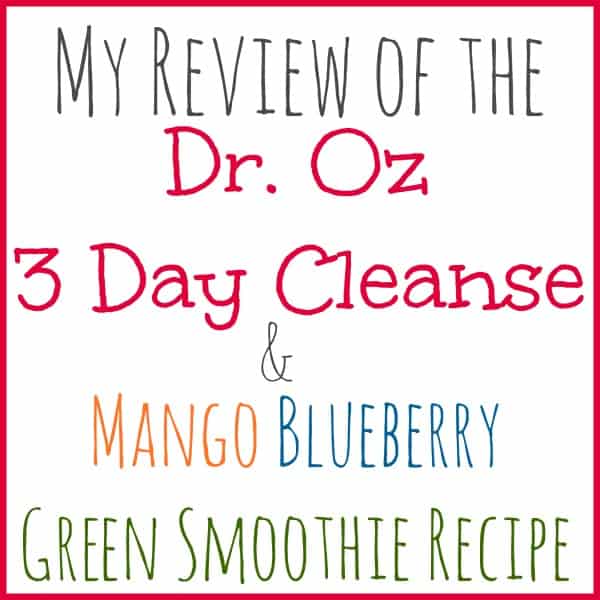 If you follow along on Instagram you may have seen last week that I was trying Dr. Oz's 3 Day Cleanse. I found it to be a really interesting experience and it opened my eyes to how great green smoothies could be so I thought I'd share my experiences with you and a new green smoothie recipe I came up with during the cleanse.
First, I'll tell you that I wasn't on a huge quest to lose a bunch of weight and I didn't think that three days was going to totally detox my system...what I did feel I needed though was a sort of reset. I had gained about 5-8 pounds last fall and despite a regular workout routine it wasn't going anywhere. I knew my diet was to blame but I was having a really hard time getting it under control. I would try hard to eat healthy but I constantly craved fast food and snacks. And I was being pretty generous with my nightly glass or two of wine as well. I felt bloated and just "blah" physically even though I was eating mostly healthy foods and working out.
When I came across the Cleanse I just knew it was what I needed to reset my appetite and get under control. The Cleanse consists of three shake recipes-breakfast, lunch, and dinner, and you can repeat one of those shakes as a snack. It also has you have a glass of green tea in the morning; take multivitamins, Omega-3 supplements, and probiotics daily, and a "detox" bath in the evening with Epsom salt and lavender. I knew I could do it since it was only three days and I hoped it would help me feel better.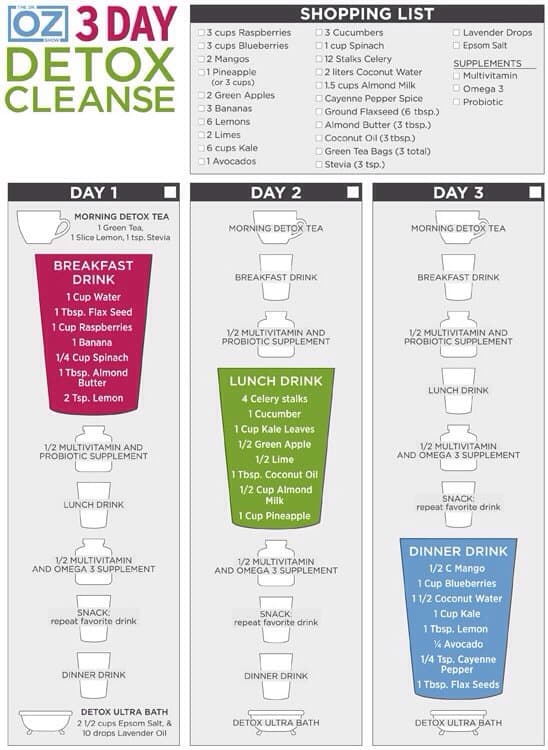 Day 1 I started with the tea, which is something I often do anyways. I didn't care for adding lemon to my tea as having it first thing in the morning it didn't taste good with my freshly brushed teeth. A bit later in the morning I had the breakfast shake and loved it, very refreshing and filling.
At lunchtime I was very hesitant because the recipe called for 4 stalks of celery and I hate, seriously HATE, raw celery. I wanted to try it though so I put in 2 stalks hoping it wouldn't be so strong. It. was. horrible. I couldn't drink it. I choked down half in about two hours and made myself a breakfast shake for snack that day to meet the hunger mid-afternoon.
The dinner shake was actually very good in an interesting way-it had mango in it among other things but also cayenne pepper and I thought it was a very unexpected combination that I actually liked. Never during the day did I feel famished although it was odd to not "chew" anything all day. The detox bath was very relaxing before bed and I slept fantastically.
Day 2 was very similar except I changed up the lunch smoothie (I share the recipe below) and did not have a snack smoothie. Again, I felt hardly any hunger or the crankiness I have when I normally try to "diet."
Day 3 followed suit although I was getting tired of not eating normal food. I craved protein...keep in mind this entire time I was still feeding and cooking for my husband and 3 little boys. I accidentally ran out of bananas for my breakfast smoothie so I made it without and I finished only half of my lunchtime smoothie because I just didn't want it again, then no snack. At dinner time I called my husband and decided to end a little early because I had no desire to have another smoothie and I knew I hadn't gotten enough calories that day. I had a very small bowl of chicken and asparagus with whole grain pasta for dinner and it totally filled me up and tasted fantastic after all those smoothies.
So the results...I did lose 4.5 pounds in the three days, a week later I haven't gained any of it back. It may have been water weight but like I had mentioned I had been feeling very bloated and weighed down so I'm glad to be rid of it whatever it was. I feel like since the cleanse I've gotten back on track with my healthy eating habits-my portions are a lot more reasonable and fill me up and I've been craving fruits and veggies more than fast foods and junk food.
I think one of the most surprising things about doing the cleanse is that it showed me how I was eating without thinking before. A cheese cube while packing my son's lunch, finishing a little of my toddler's sandwich when he didn't eat it, or gobbling down my food without tasting it when my kids were acting up at mealtime.
So, moving forward so far I've been able to eat a reasonable diet of whole grains, lean protein, and lots of fruits and veggies and maintain as well as hopefully continuing to lose those last few pounds! And I will be incorporating green smoothies into my diet a lot more-they are a great way to get a ton of nutrients into my diet quickly and taste great (in the right combination!)
So enough with my blabbering, here is one of my new favorite green smoothie recipes!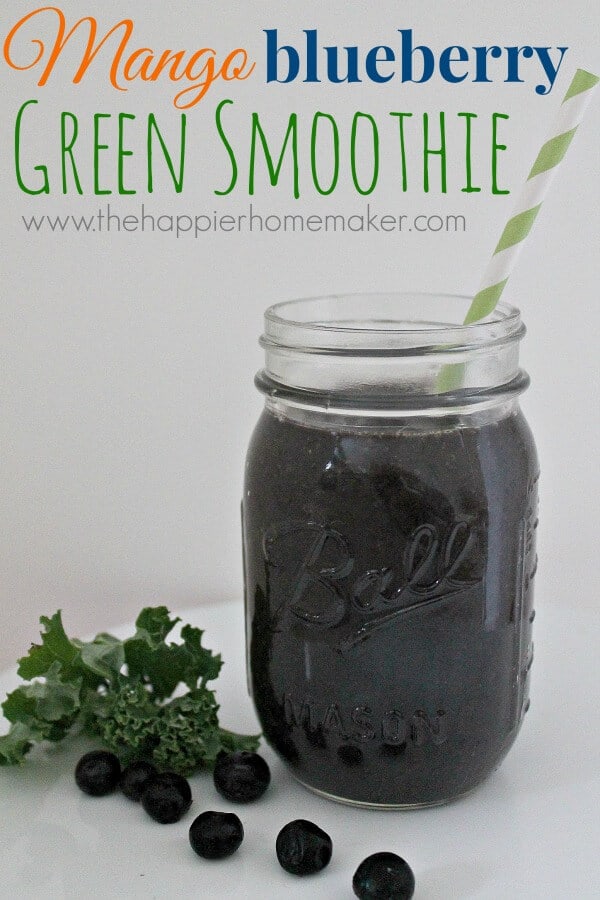 If you've tried this recipe please comment and rate it below, I love hearing from you! You can also follow me on Instagram, Pinterest, and Facebook to see more delicious recipes.
Print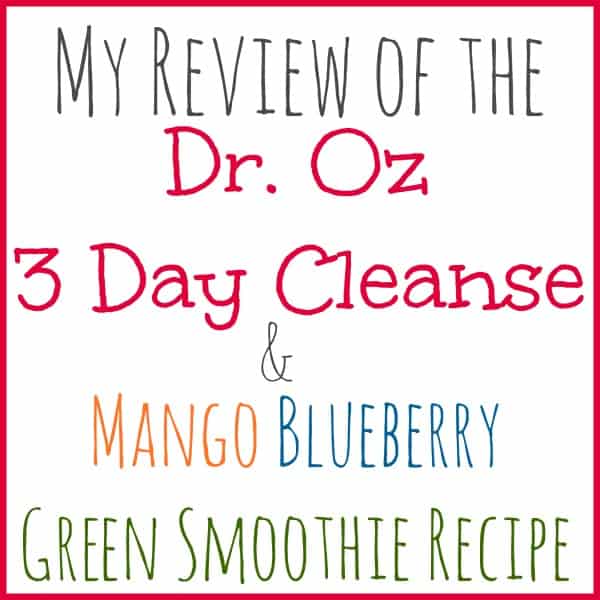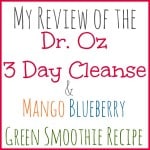 Mango Blueberry Green Smoothie Recipe
Author:

Melissa Riker

Prep Time:

5 minutes

Total Time:

5 minutes

Yield:

1

1

x

Category:

Drinks

Method:

blender

Cuisine:

American
---
Description
You'll love this refreshing and healthy green smoothie recipe inspired by the Dr. Oz 3 Day Cleanse!
---
1

cup

fresh kale

1

cup

light almond milk

⅔

cup

mango (fresh or frozen)

⅔

cup

blueberries (fresh or frozen)

½

cup

water
---
Instructions
Combine all ingredients in a blender (affiliate link), starting with the kale at the bottom. Blend until smooth. {I recommend using one or both fruits frozen to give the smoothie the right texture)
---
Keywords: Mango Blueberry Green Smoothie Recipe