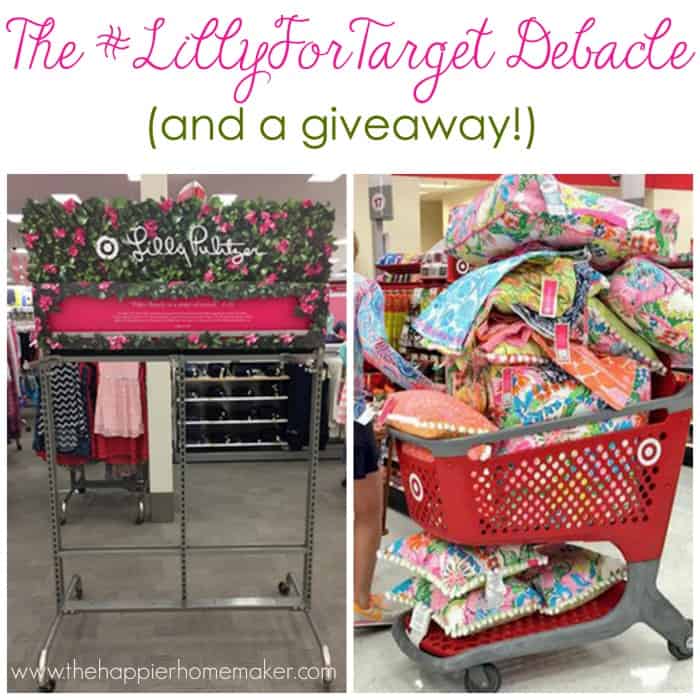 Okay y'all…I hadn't originally planned to post anything about the Lilly Pulitzer for Target collection but I think we all can agree that that entire bucket of crazytown deserves to be addressed. First of all let me say that as a Southern girl, Lilly Pulitzer is about the gold standard of preppy style. For most of my life it's been out of my price range of what I'm comfortable spending though so while I love the style I don't have many Lilly pieces.
That being said, I was SO excited when I heard about the Lilly Pulitzer for Target line. I spent the last week adoringly browsing the look book and planning what I wanted to buy-we're going on a cruise in a couple of weeks so I was resort-wear ready! Sunday morning I woke up and made a cup of coffee and headed out to my closest Target about a half hour before the store opened, you know, just in case anyone else was waiting. Y'all. I was SHOCKED when I pulled up to the store!
The line when I got there a half hour early was longer than Black Friday! (Yes, I was there so I know!) By time the store actually opened there were about 300 women (and about 5 guys!) in line. I was brekaing a sweat-how was I going to get anything with a good 75+ people in front of me?? Everyone was nice in line and joking about the hysteria and people were pretty polite even when the doors opened at 8. I beelined straight for the TWO racks of clothes and grabbed what I could-anything I could. First, let's backtrack and make sure you heard that right-there were TWO racks of clothes, that's it. This is what the racks looked like in less than 10 minutes:
I managed to grab three things totally at random-a size 7 sandal, XS shirt and Small dress. While everyone else looked around at the clothes I literally RAN to the back of Target to the seasonal section where I had read the home goods would be. Luckily I was one of the first there and I really made out-wine glasses, a beautiful ceramic tray, appetizer plates, and two of the wine sets. I stumbled off to find a cart and then the trading began…
There was a group of three women that had come together and were at the front of the line that had two carts of things. People were gathering around them to try and barter sizes, etc. I traded my shirt for a medium jumper and a headband I had managed to grab for a cosmetic case. I also traded a candle holder for a sheath dress-which ended up being the only piece of clothing I kept from the entire ordeal. I went off to stand in line, figuring I'd take my chances with what I had managed to grab.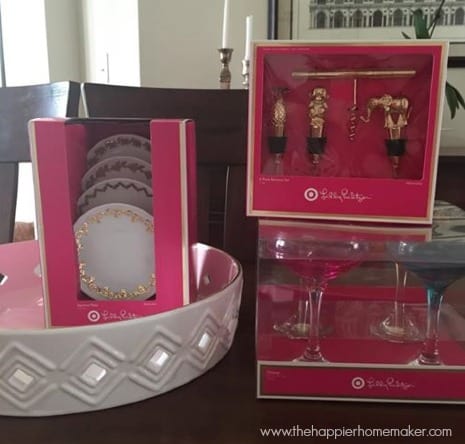 At home I was still in a sort of shock at the scene of the store. I tried on my clothes and realized the jumper, one of the dresses, and sandals all didn't fit. I threw them up on eBay about 9am because I normally do that with my clothes I buy and change my mind on, easier than returning honestly-I didn't price them for hundreds of dollars, etc just put them up for the cost with shipping. About an hour later I looked and saw that eBay was BLOWING UP with Lilly for Target items. It made me so mad, I took my listings down. (One already had a bid so I changed the listing to end as soon as I could so there wouldn't be bidding wars-it did sell for my minimum price which was enough to cover the shipping, cost and tax so no, I did not contribute to the hysteria.)
The other items I posted then on Twitter and Instagram hoping I would find someone with something to trade. People were setting up Instagram account JUST to sell things they bought that morning. The entire thing was just frustrating. I don't understand why Target let people buy so many of the same items in stores when it was limited to 5 online. I don't understand why most everyone I talked to said their store had only two racks of clothing. I don't understand why there were over 18,000 eBay listings for Lilly at Target items within 12 hours of the sale opening. It was such a disappointment and seemed to leave a bad taste in the mouths of most people-it seems like a total wasted opportunity by Target.
Later in the day it passed from disappointing to laughable….$1300 for two Lilly for Target lawn chairs? $125 for a $38 maxi dress? My husband looked at eBay and pointed out to me that I could buy a brand new Lilly Pulitzer maxi dress for the same amount, so you know what? I did. Then I sold all the clothes other than the one sheath that fit to sweet ladies on Instagram for ONLY the cost plus tax and shipping. Crazy right?
I highly encourage anyone who missed out to NOT buy this stuff for 3 times the price on Instagram or eBay or Craigslist. DON'T validate the slimeballs that took advantage of Target's poor policies to make a profit. If you really want a Lilly Pulitzer, pass on the inflated Target prices and save for one authentic Lilly piece from her store or one of the locally own small boutiques that stock her designs and don't try to create social hysteria in some crazy marketing scheme. And if you were one of the people who managed to find some items at the store Sunday-don't be a jerk….if you're not going to keep it, don't try to make some crazy profit off of it. Your integrity is worth more than the profit you'll make off an in demand shift dress, I promise you that.
I'm going to save some of the other items I got (that I realize now were just impulse buys!) for gifts and I decided it would be fun to give away the extra corkscrew and wine stopper set I bought to one of you-because I know so many of you were disappointed like I was with how it all went down and many didn't manage to get anything from the collection.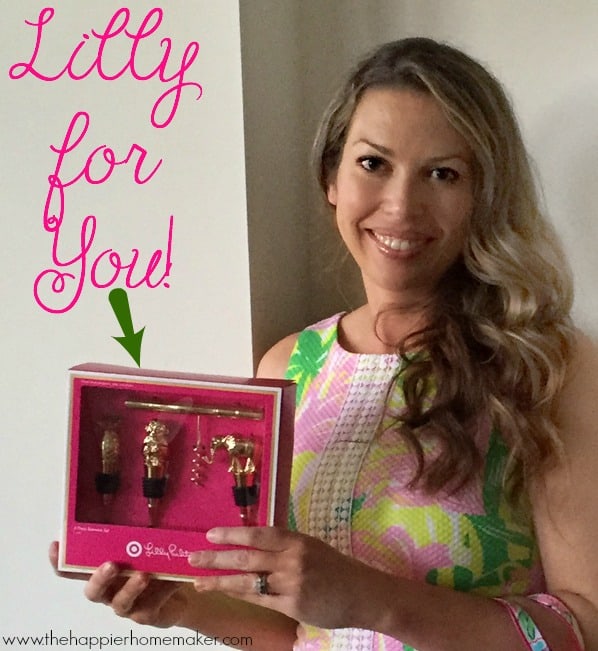 Just use the Rafflecopter widget below to enter, I'll pick a winner next Tuesday! (If you're reading via reader or email you'll need to click through to enter! GIVEAWAY OVER