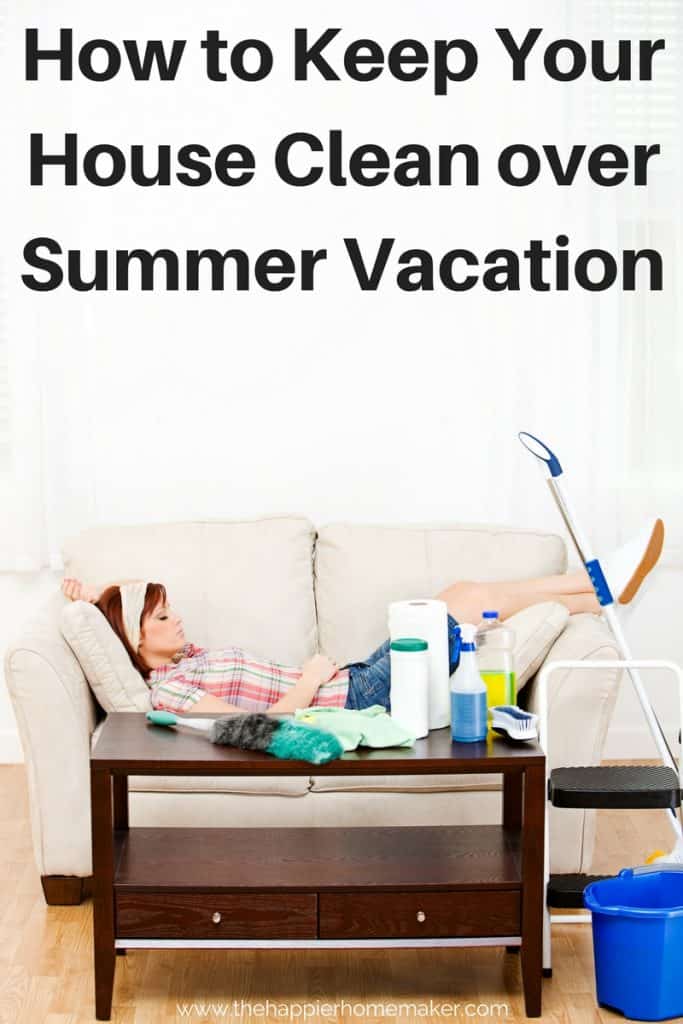 Wow. Can you believe that the end of the school year is already sneaking up on us? I feel like this year has zoomed by!
With summer vacation looming on the horizon my thoughts are turning to keeping my three boys occupied while not having my house look like a tornado came through!
It's definitely a shift in gears when you are used to the kids being in school during the week – I do most of my cleaning while the house is empty. No worries, with a few tips and tricks you can keep your home looking clean and tidy even when the kids are home in the summer!
Keep a Schedule
The number one thing you can do to keep your home clean in the summer (and year round) is to keep a cleaning schedule. Breaking up your cleaning tasks into daily "to-dos" that fit with your family's schedule helps reduce the clutter and dirt pile up and keep things running smoothly. (See the example below!)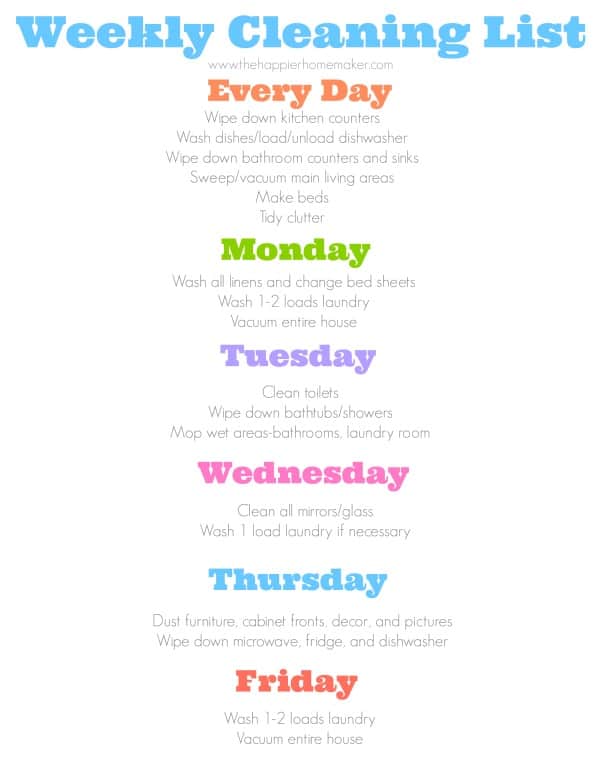 If you already keep a cleaning schedule don't forget to adjust it to account for any schedule changes in the summer, some tasks may need to be done more often when the family is home all day while others less so. For instance, I schedule my laundry days around when I need to wash school uniforms during the week. In the summer I can do less laundry during the week to allow for day trips and out-of-the house activities!
Make it Easy
There's no need to spend excessive amounts of time cleaning all summer when you can be out at the beach or pool and enjoying time with the kids – so make life easier where you can. Bathroom cleaning can be made easier by spraying a leave-on cleaner in the shower each time you use it and wiping down counters daily with cleaning wipes you keep handy.
Involve the Kids
Ask my kids who cleans the house and they will tell you everyone has a job. As soon as my children could walk they became responsible for small tasks around the house. They know they are responsible for their own dishes, tidying up after themselves and weekly chores.
I keep chores appropriate to their age level but honestly kids are capable of a lot more than most of us think nowadays. Even a three-year-old can sort socks or dust low surfaces.
You can also start teaching young kids to clean with my printable Kid's Chore Cards featured in my shop. This is a super easy system for handing out chores for all ages!
Now that my youngest is five he empties the small trash cans in the house and wipes down doorknobs and light switches. My eight-year-old is responsible for caring for our family pet, and my ten year old is learning to do laundry independently. Get the kids involved and maybe you'll even have less housework to do all summer!
Give Yourself Grace
I love keeping a sparkling clean, organized house – it's part of why I started this blog years ago! But sometimes we need to step back and realize that it might not happen that day, or that week.
I'm not saying to let the mess pile up all summer but we only get so much time with the kiddos before they are grown – if there are dishes in the sink and your kids ask you to come outside to catch fireflies, do it! Make memories while balancing keeping your home maintained. There is a balance there to find!
So, what are your biggest cleaning challenges in the summer when the kids are home on vacation? Let me know in the comments!
Get Organized!
Sign up for my FREE 7 Day Organizing eCourse-exclusively for my subscribers!