It's hard for me to wrap my head around the fact that I've been blogging and sharing with you all here for almost seven years! This little blog started as a way to occupy myself as a pregnant stay at home mom when my husband was deployed to Iraq. I never imagined it would turn into my business and full time job, but I'm so grateful that it has! Over the years I've shared a lot of ways that you can decorate your home on the cheap-it's a bit of a passion of mine. Today I thought it would be fun to look back at some of the inexpensive Christmas decorating ideas I've shared in the past to help get your home looking festive without emptying your bank account!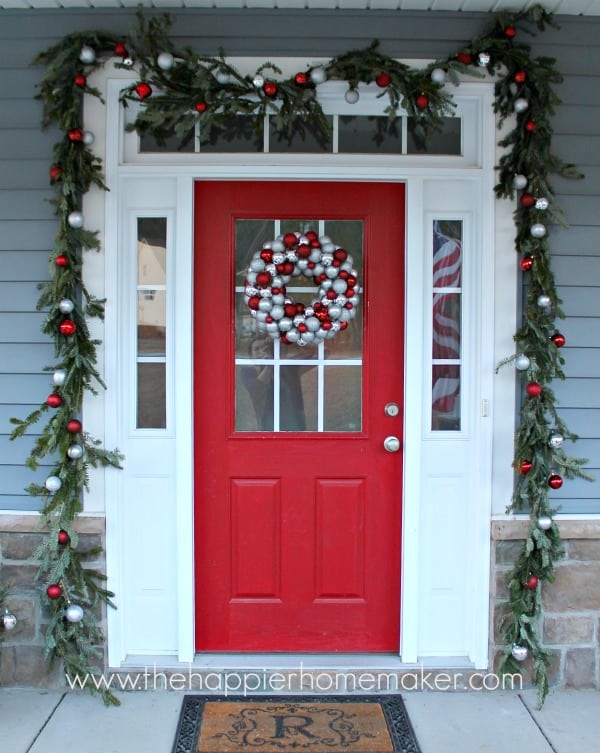 One of my most popular Christmas decorating posts is a DIY Ornament wreath. If you look for a great deal on bulk ornaments you can save a lot of money and get a lot of bang for your buck. Just this week I was at Michaels and saw a sleeve of 100 ornaments on sale for $10-more than enough to make this wreath. In the picture above you can see I also bought inexpensive live garland at my local hardware store and used floral wire to add ornaments to it as well.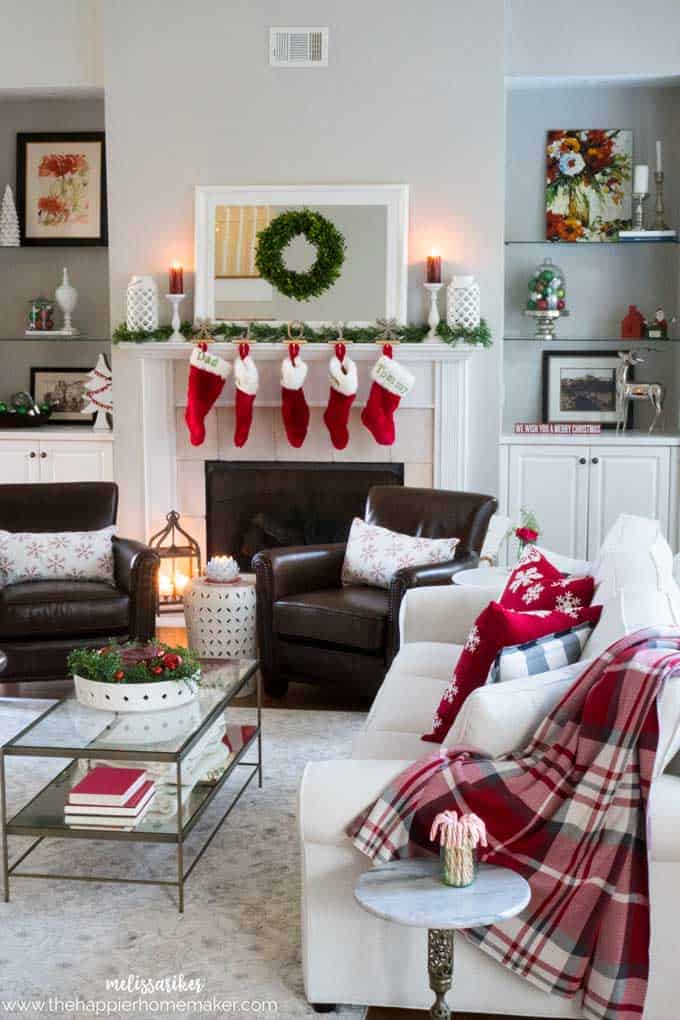 As you can see on the shelves in the picture above I also use inexpensive ornaments to fill cloches and jars to add color to a room. It's an easy way to change up decorating colors each year without spending a ton of money!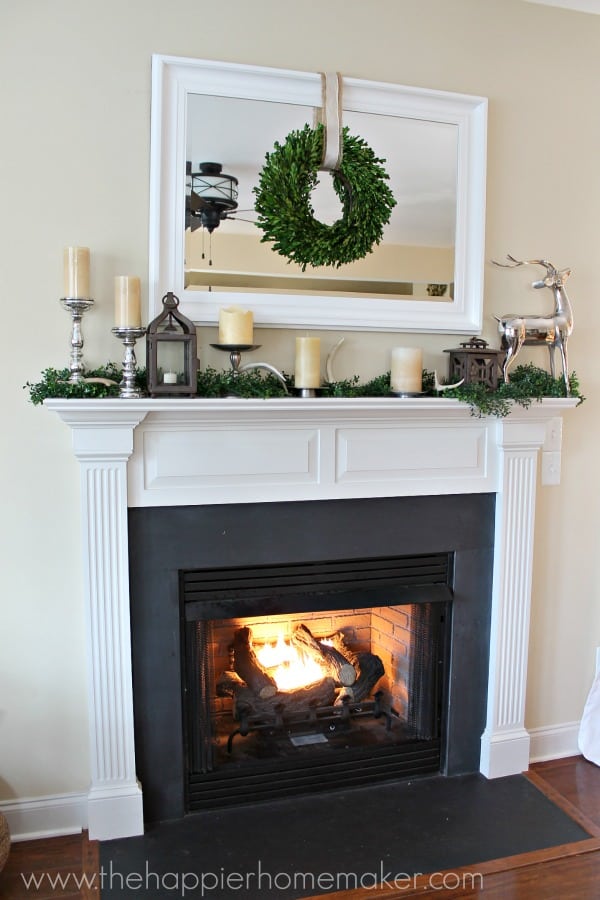 Shopping your house is another way to decorate on the cheap. On the mantel above I gathered candle holders and lanterns from around my house to compliment the silver reindeer I had. Grouping similar items creates a higher end look and helps pull the mantel decor together.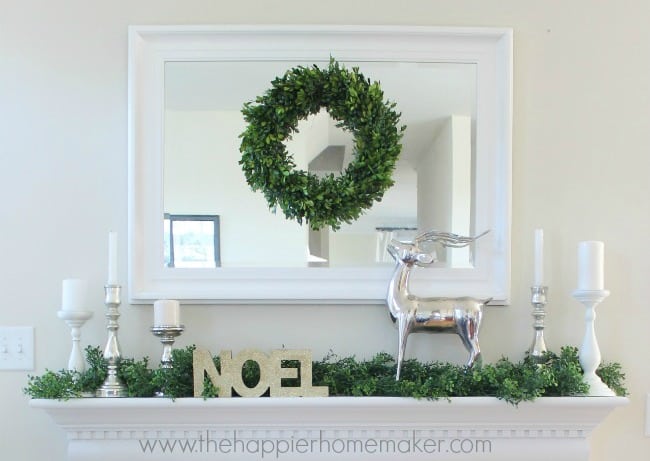 Another year you can see I used that same reindeer to create a different look. Having one "statement" piece to work around can save money! I love to shop the day after any holiday for decor on clearance that I can use for years to come. Oh, and that Noel sign? It came from the Dollar Spot at Target!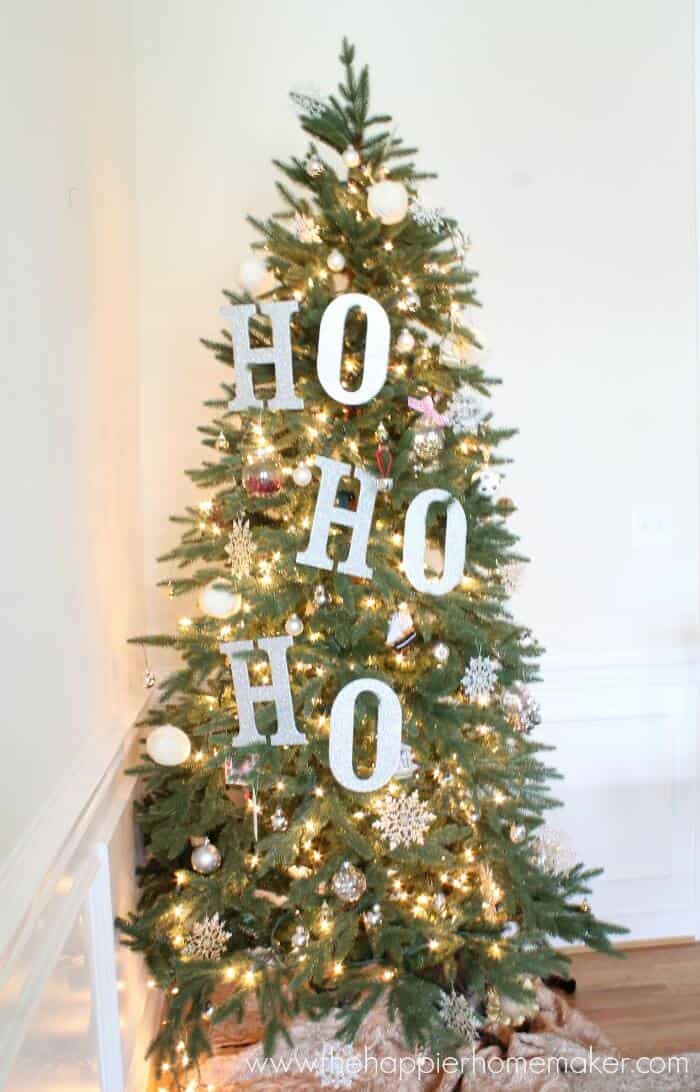 On this Christmas tree I used dollar store snowflake ornaments that I glittered, along with giant scrapbooking letters to spell out the "Ho Ho Ho." Making or embellishing my own ornaments is a must for me each year!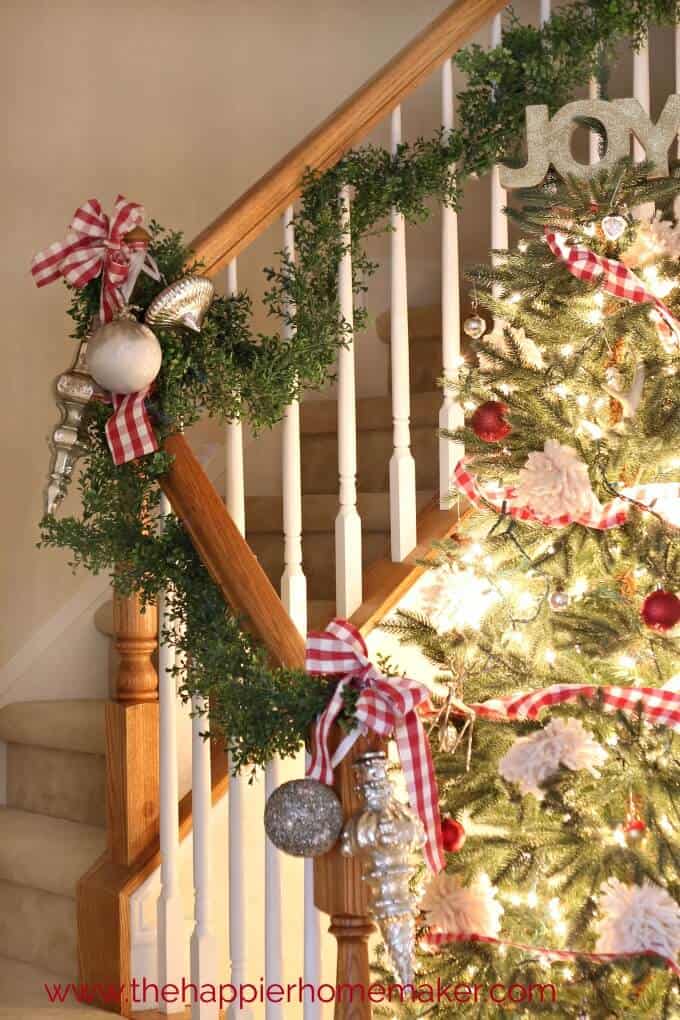 Ribbon for decorating can be expensive but it pays to think outside the box. The ribbon above is actually fabric (from IKEA) that I cut into strips! It was significantly less expensive than buying the amount of ribbon I would have needed to create this look otherwise. (Another Target Dollar Spot sign served as a tree topper that year!)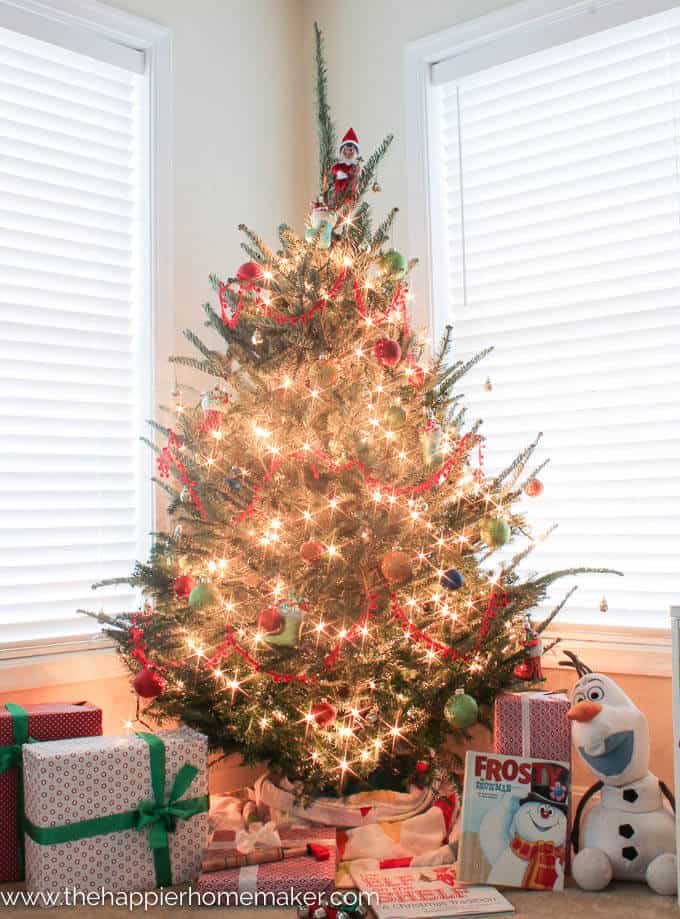 This fun tree was decorated with pom pom garland found in the Target Dollar Spot, dollar store ornaments, and simple jingle bells. It was one of my favorite trees I've done, it sat in my sons' playroom and they loved it!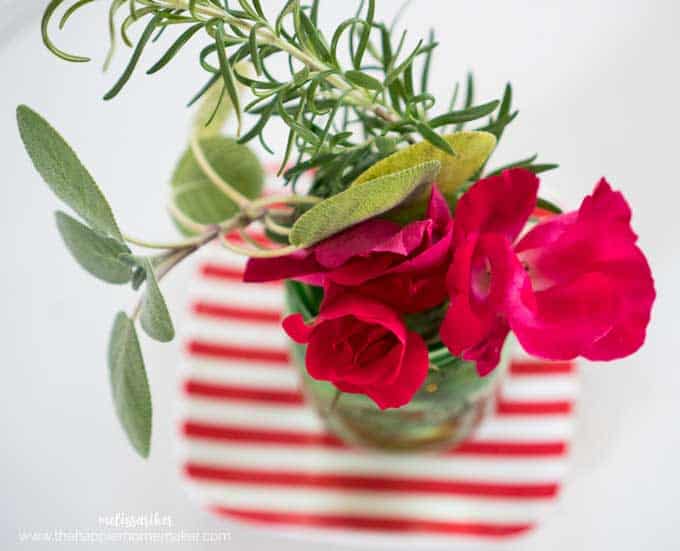 Looking into my yard for holiday decorating is another way I like to save money. This little bouquet from this year's holiday decor is simply some herbs and roses from my yard in a green mason jar. The striped plate was another Target Dollar Spot find from years ago.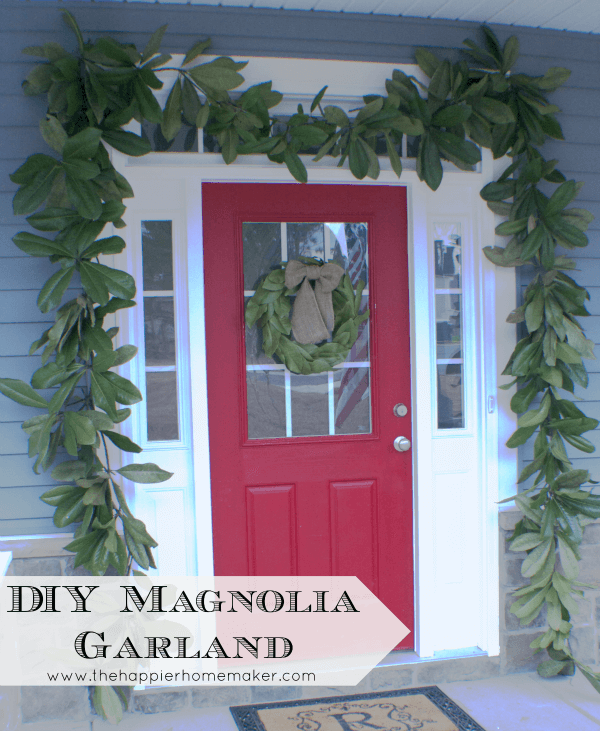 One of the first years I blogged we had a large magnolia tree in our yard which I scavenged to create this DIY Magnolia Wreath and garland. It only cost some time and patience!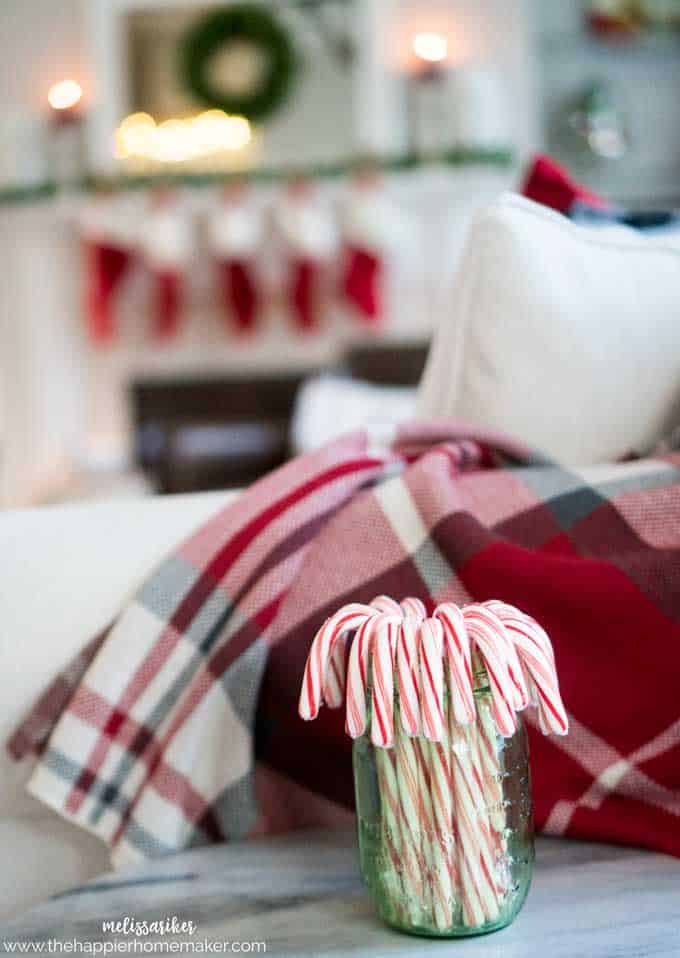 Most years I've done very neutral decor for the holiday so this year when I wanted to do a more traditional red and green color scheme I was searching for ways to add pops of color to the room. Here I took grocery store candy canes in a green mason jar to add a little pop of red and green!
And of course, where would I be without mentioning decorating with printables?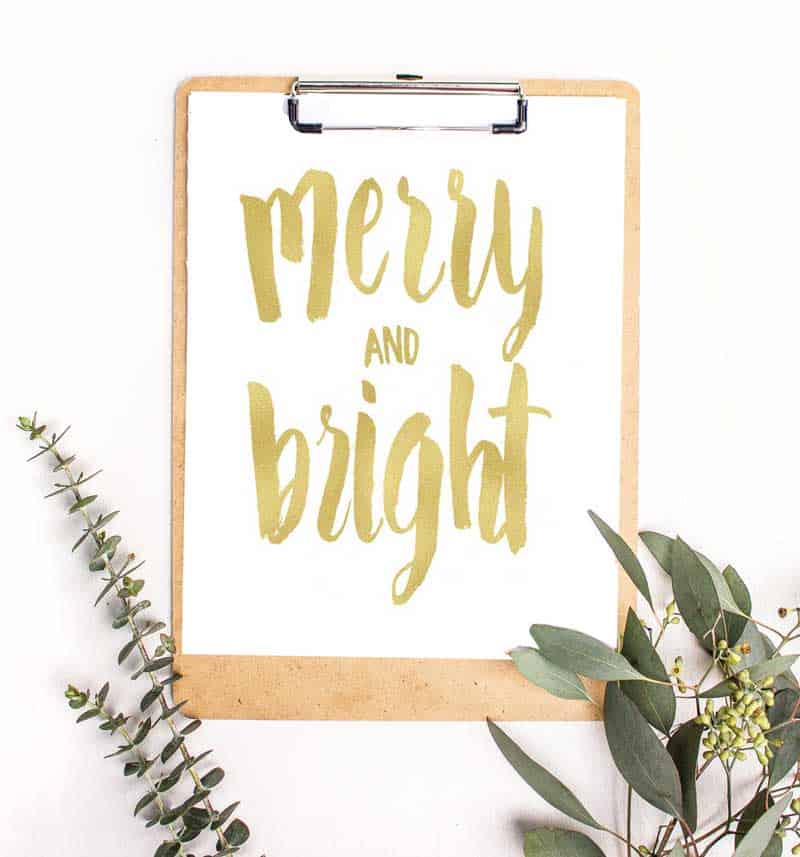 I L-O-V-E using printables to update my decor quickly and easily. I have a lot for you to choose from here.
I hope this post could inspire you with ways you might not have thought about to save money when decorating your home, it was a little different than my usual blog posts. I'd love to see your decor, tag me on social media if you use any of these ideas!