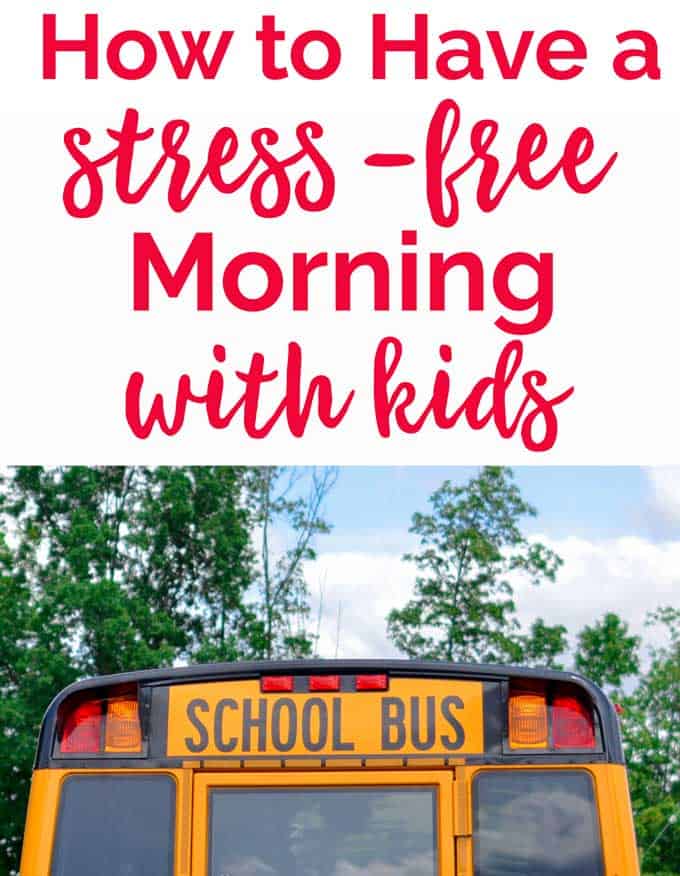 Our family had quite the culture shock when it came to school mornings when we moved back to the US from England last year. Our three boys are all in elementary school: first, fourth, and fifth grades this year. In England school started at 9 in the morning, allowing us plenty of time to wake late and get ready at a leisurely pace. We'd then hop on our bikes or scooters and make our way down meandering paths to the village school. Nice right?
Fast forward to two weeks after our move and school was starting here in Georgia. Here school starts at 7:40 and if I wanted my kids to ride the bus they'd have to be at the bus stop at 6:30am! No thank you! Instead, I opt to drive them in the mornings (no morning bike rides anymore) and we leave the house at 7:05 in order to beat the car line traffic. It's definitely been a huge change for our family morning routine but over the past seven months we've streamlined our routine and found a few ways to ensure we have a stress free morning so I thought I would share those with you today!
ROUTINE!
Pretty much the key to anything in our home is routine. I talk about it all time when it comes to cleaning. We have a very set routine that our boys know and it helps the mornings to run smoothly. I wake them at 6:25 and they brush teeth, make their beds, get dressed and come downstairs. Because they're little boys this takes them all of ten minutes, if you have girls or boys that actually care what they look like (mine barely look in the mirror!) you would need to allow extra time. This is also the first time my boys have not had school uniforms so they love picking out their clothes each morning. When they wore uniforms we would set them out the night before but this year they've not needed to do that to ensure dressing quickly.
After waking them I come downstairs to brew coffee, unload the dishwasher (I talk about that routine here and how it makes a huge difference for me) then I pack lunches while they eat breakfast. Twenty minutes later we are gathering bookbags and heading out the door.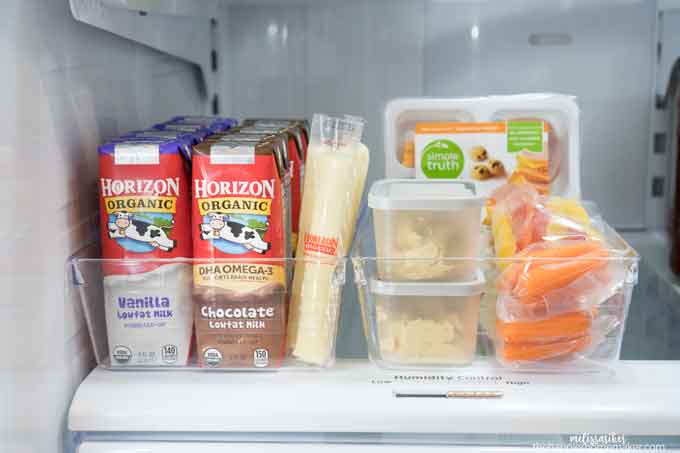 Organized Lunch Packing
I've posted about this here previously but I'm a stickler for organizing my lunch packing. When I'm putting together three lunches with different tastes it makes a huge time difference. All the lunch foods are kept together in both the pantry and the fridge. I can easily grab what I need quickly and it makes the process of packing the lunches lightyears faster.
A Place for Everything…
We don't have a dedicated mudroom in this house but we have purposed half of the laundry room as such. Shoes and bookbags are always put there after school and homework is done so it's easy to find everything we need in the mornings. It's no fun to try and rush out the door after spending fifteen minutes looking for someone's homework or missing sneaker. Been there, done that.
Make it Fun
Despite me letting my boys sleep as late as possible there are still mornings where cranky attitudes prevail. When that used to happen it would make me cranky which would then spread the doom and gloom to the entire family. Not a fun way to start the day. My husband was actually the one who first discovered the power of music in cheering them up one rare morning he was home and this happened. He put in some of their favorite songs and instantly the mood lightened. Now we start our days with Kid's Bop or silly songs and continue the dance party in the car on the way to school too. It's fun to send them off to school singing and dancing with smiles!
It's so important to me to make our mornings run smoothly as I really feel it sets the tone for the entire day. Do you have any tips I've missed? Leave them in the comments!