Having cats is a joy, but nobody wants their home to smell like a litter box! If you're looking for tips for getting rid of litter box smell and how to keep your home smelling fresh, even with multiple cats, look no further! Today, I'm sharing how we avoid litter stinkiness with a few other easy tricks!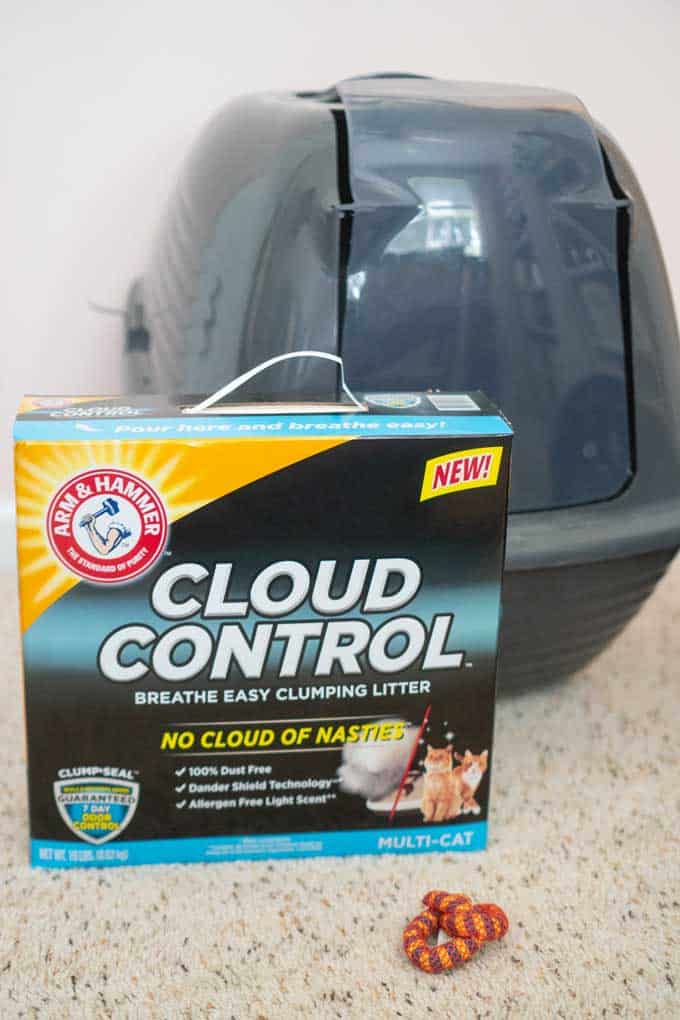 If you follow along with me on Instagram, you might have seen our stray cat saga a few months ago. A stray kitten found his way into our yard, and we went through a multi-week process of getting it comfortable enough to be handled and eventually welcoming him into our home. Little Midnight is now firmly a part of our family, joining our other cat, Jinx, and our goldendoodle, Maisy.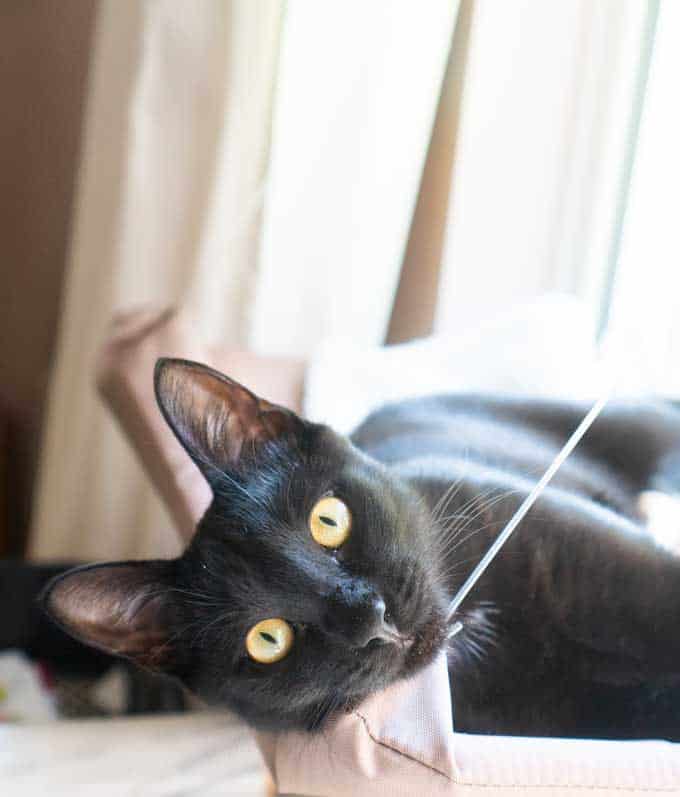 The transition from one cat to two definitely made keeping the litter smells under control a little more challenging. Here's how we have managed to keep our home smelling clean with cats.
Tip #1: Use a High-Quality Litter
After trying what seemed like every brand and variety of litter out there, we found one that actually works for us. Make sure you try different litters if yours isn't controlling smells in your home.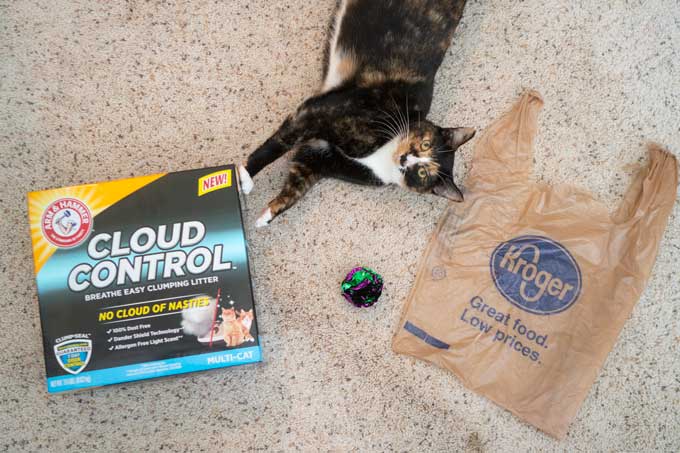 Tip #2: Scoop Often
It's no secret that scooping the cat litter is one of the worst chores, but scooping often goes a long way towards keeping your home smelling fresh. I recommend scooping once per day per cat. When we adopted our little stray Midnight a few months ago, I added a second litter box to the home and scoop them both twice a day. It takes just moments once you get in the habit of it!
Tip #3: Use a Covered Litter Box
Using a covered litter box has a lot of benefits. Not only does it keep the less than appealing litter hidden and helps contain smells but it keeps the cats from kicking the litter out of the box and onto the floor. At our house, it also has the added benefit of keeping a certain Goldendoodle from letting her curiosity get the best of her when it comes to what is in the litter box!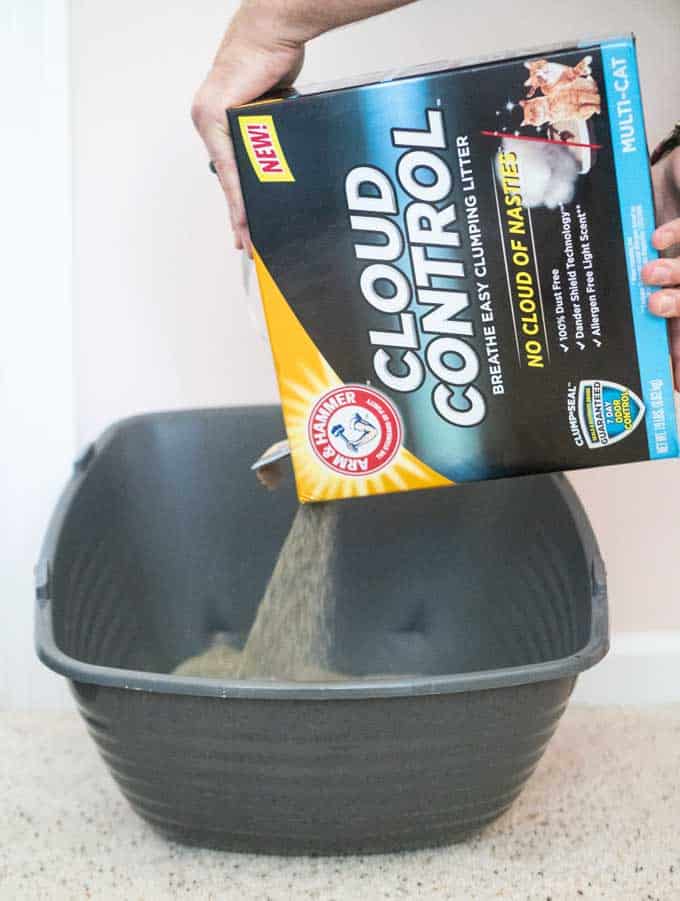 Tip #4: Use Enough Litter
One of the biggest mistakes people make with their litter boxes is not using enough litter. Even the best quality litter can't control smells if you don't fill the litter box up enough. When filling the litter box, first make sure it is completely clean. Then, fill with at least 3 to 4 inches of litter. Add additional litter at least once a week to keep the litter level in the 3-4 inch range.
Tip #5: Place Litter Box in a Well Ventilated Area
It is understandable to want to hide your litter box away in a small area but choosing a poorly ventilated space is a near guarantee that odors will build up. Place the litter box in a well-ventilated spot where air can circulate and disperse any odors.
Tip #6: Clean the Litter Box Itself
I recommend cleaning the litter box itself once a month. Throw away all the litter, clean the box thoroughly with soap and water, and allow to dry before refilling with fresh litter. I also recommend replacing the box itself once a year as over time the plastic can get scratched and allow odor to build up in those areas.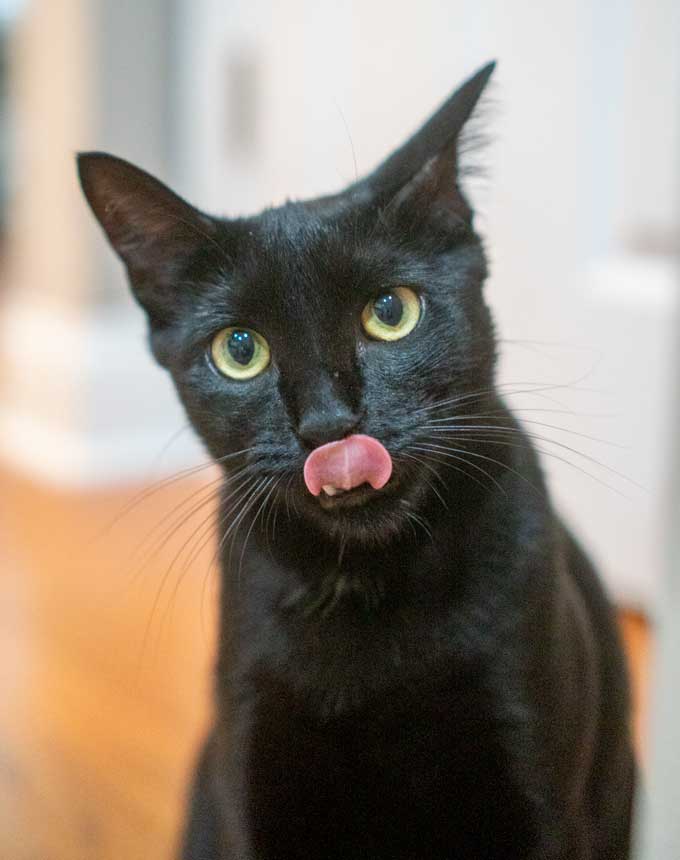 While it does take a little effort to get rid of littler box smells and keep your home smelling fresh, the joys of having cats far outweighs the sacrifice!
You might also like to check out this DIY Cat Water Bowl Planter and How to Spoil Your Indoor Cat.