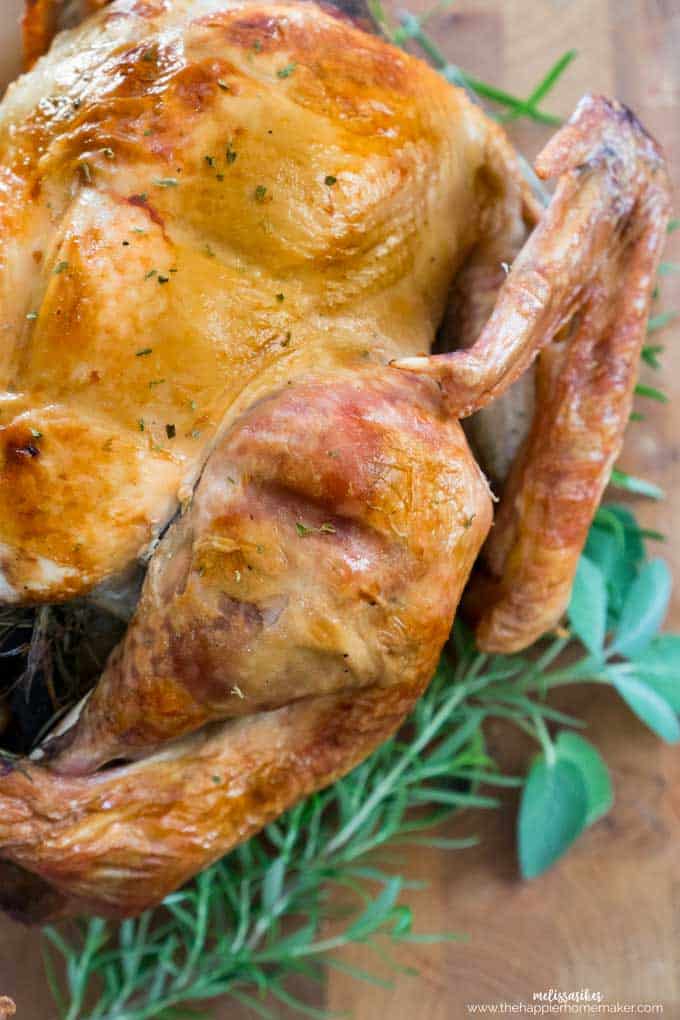 Last year was the first time my husband had gotten involved with the Thanksgiving preparation. He had been wanting to fry a turkey for years and we never got around to buying the supplies and testing it out until we moved back from England to the US last year. We weren't entertaining family or friends last year so I figured it was the perfect timing to figure out how to fry a turkey with a little trial and error-no worrying about serving a charred turkey to guests! The great news was that it was easier than we thought to get a great result learning how to deep fry a turkey. It was delicious and I thought I would share our tips and tricks with you today!
Before I move on, I have to have a little disclaimer. Frying a turkey can be dangerous, we've all seen the YouTube videos of people creating HUGE fires. Fry a turkey at your own risk. If you choose to fry a turkey, be sure to follow the safety tips below.
Safety Tips:
Fryers should always be used outdoors, on a solid level surface a safe distance from buildings and flammable materials.

Never use a fryer on a wooden deck, in a garage or enclosed space.

Do not overfill the fryer.

Never leave the fryer unattended because, without thermostat controls, the oil will continue to heat until it catches fire.

Never let children or pets near the fryer when in use or after use as the oil can remain hot for hours.

Use well-insulated potholders or oven mitts and wear long sleeves and safety goggles to protect from splatter

Make sure the turkey is completely thawed before it is placed in a fryer.

Keep all-purpose fire extinguishers nearby.

If a turkey fryer fire occurs, call 911 immediately.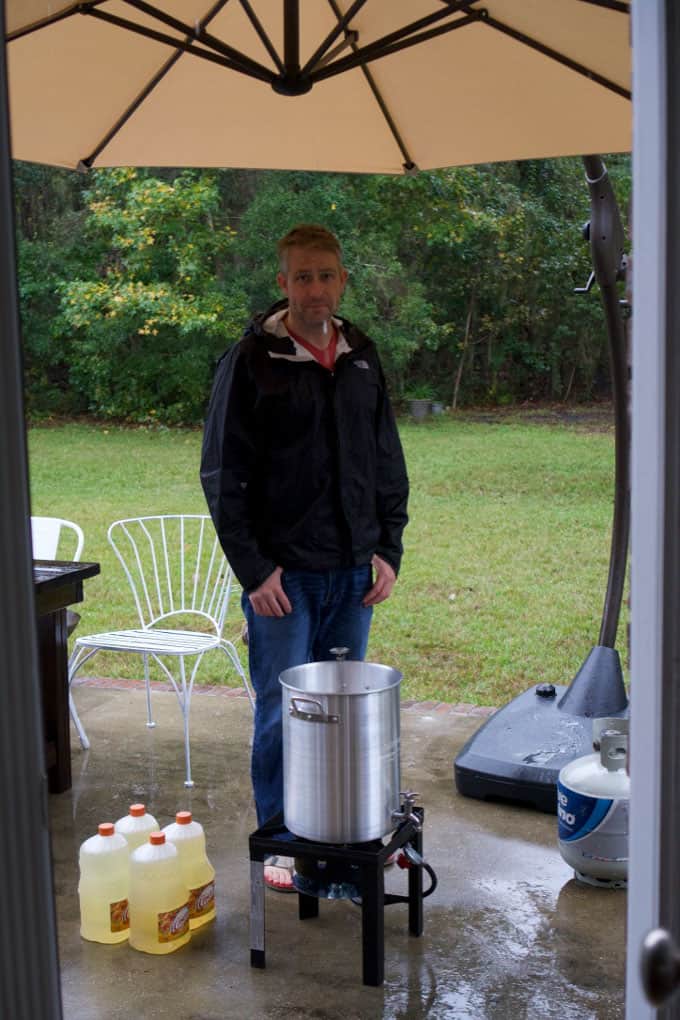 Friends, meet Randy, my handsome husband. We had a rainy day and did not want rain to get in the hot oil so there was a bit of discussion about the safest place to set up the fryer. We ended up in the driveway and pulled a patio umbrella over to shield it from the rain. This kept the rain from getting in the oil but kept the fryer away from the house with minimal flammable items around just in case.
How to measure oil for fryer
Depending on the size of your turkey and your fryer the amount of oil it takes to fry a turkey can vary. Most will take between 3-4 gallons of oil.
We were really paranoid about overflowing the turkey fryer so prior to cooking we put the thawed turkey in the fryer and then filled it with water to cover it. We then removed the turkey and marked the water line once it was not in the fryer so we would know how much peanut oil we'd need to cover the turkey without overflowing. This is a hugely important step. Most fires come from overflowing the oil, so please don't skip this.
Preparing the turkey for frying
After measuring I prepped the turkey while Randy got the oil heating to 350 degrees. To prep the turkey I removed the giblets and neck from the cavity (ew!) and rinsed it inside and out, being careful to make sure there was no ice left in the cavity. I let it drain for about five minutes then thoroughly patted it dry with paper towels.
It's important that the turkey is completely dry. We coated with first with a mixture of salt, pepper, and garlic powder, then with a Creole rub I had purchased when I bought the turkey fryer. Then we let the turkey sit out until it reached room temperature while the oil was heating. (Beware at this step if you have a counter-surfing Goldendoodle as we do, nobody wants the pup to ruin Thanksgiving!)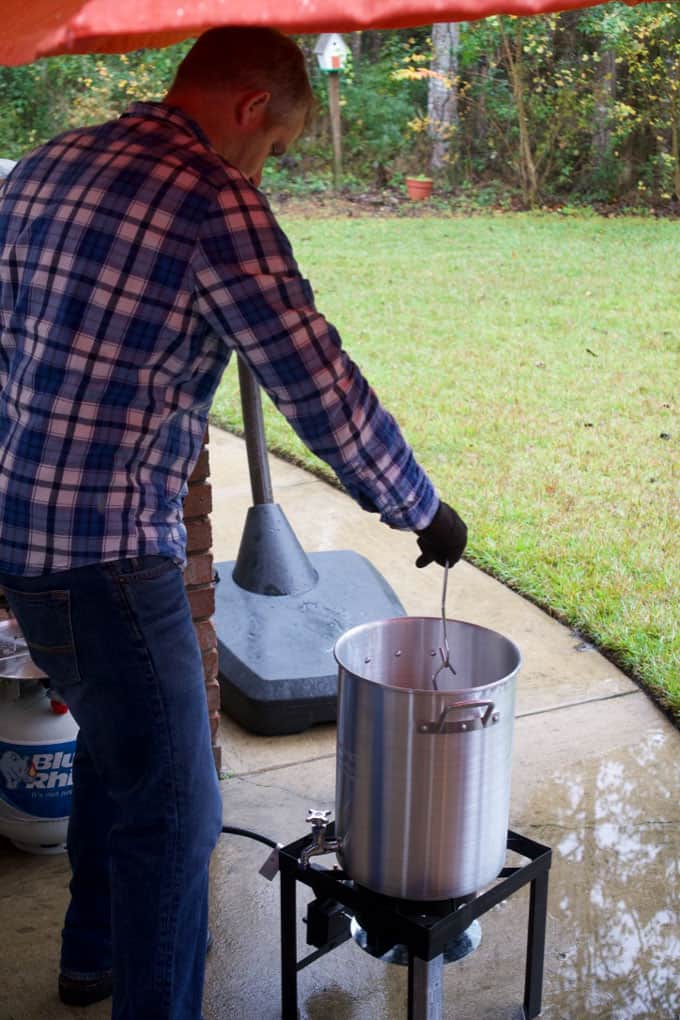 This was the moment of truth, Randy carefully attached the hook to the turkey per the instructions on the fryer and lowered it in slowly. The oil level was perfect. Be sure that the oil completely covers the turkey and again, do not let the oil overflow!!
Cooking time
Cook the turkey for 3 minutes per pound plus an additional five minutes. For our ten-pound bird that worked out to 35 minutes of frying time. (3x10=30 + 5=35 minutes), a 20-pound turkey would fry for 65 minutes.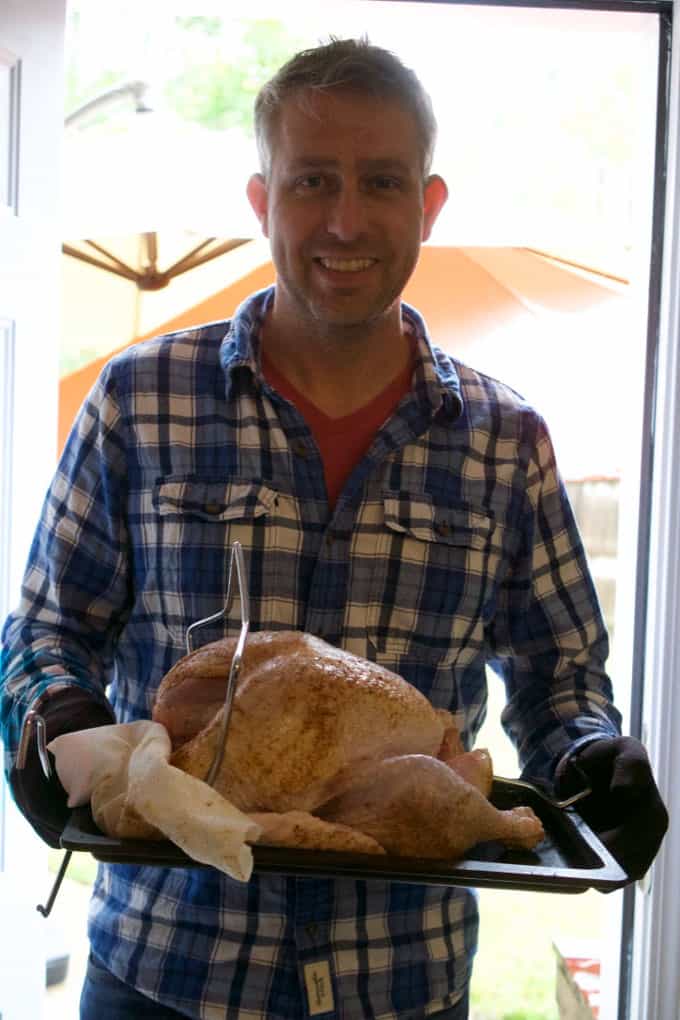 Doesn't he look so proud of himself?? The turkey was fabulous and I definitely think we'll be going this method again this Thanksgiving, in fact we have busted out the fryer a time or two since for no special reason!
Yield: 1 fried turkey
How to Fry a Turkey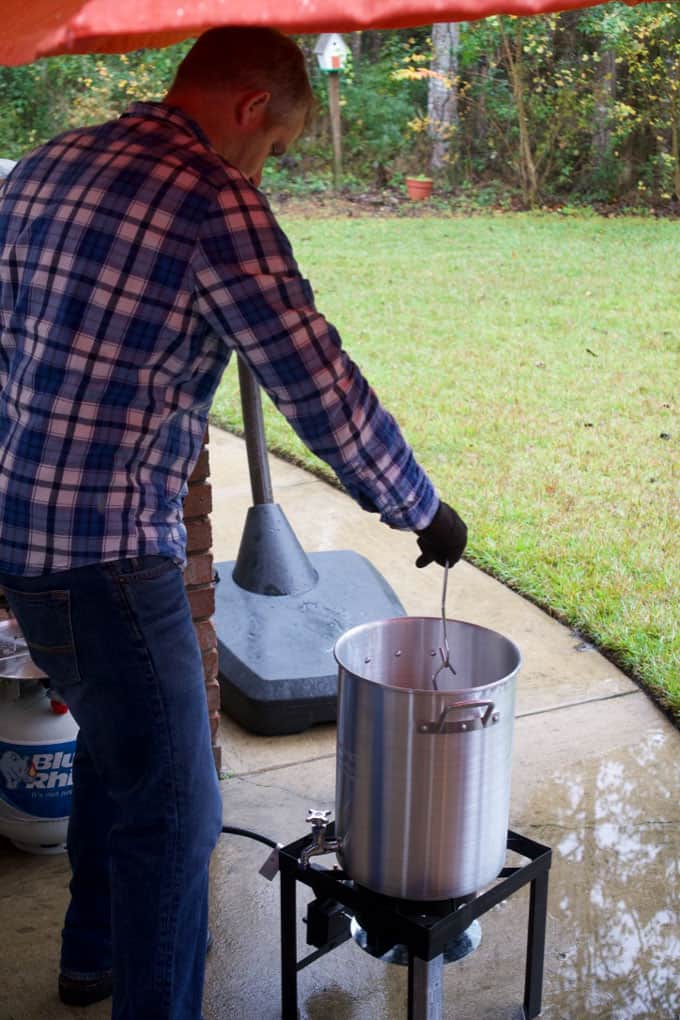 Deep fried turkey is a huge Thanksgiving trend. Learn how to fry a turkey with this easy step by step tutorial.
Total Time
1 hour
35 minutes
Materials
turkey, COMPLETELY thawed, inside and out!
1 tablespoon salt
½ tablespoon pepper
½ tablespoon garlic powder
2 tablespoons dry rub of your choice, we used creole
3–4 gallons peanut oil
Instructions
Remove neck and giblets from turkey. Wash the turkey inside and out with lukewarm tapwater and allow to drain. Pat dry with paper towels.
Mix salt, pepper, and garlic powder in a small bowl. Rub onto outside of turkey. Follow with dry rub, coating turkey well. Allow to rest until turkey is room temperature.
Heat peanut oil in a turkey fryer to 350 degrees F. (SEE NOTE BELOW)
Lower turkey slowly can carefully into fryer, being careful not to splash oil and make sure turkey is fully submerged. Cook for 3 minutes per pound plus an additional 5 minutes.
Remove turkey carefully from oil and check temperature. When it reaches an internal temperature of 145°F , it's ready. Let it rest and drain on paper towels for about 20 minutes before cutting into it.
Notes
DO NOT overfill your turkey fryer, to do so can cause a fire. To measure the amount of oil needed to fry the turkey: Prior to rinsing and patting turkey dry, place the turkey in fryer, add water to the top of turkey, remove the turkey and the water line will indicate how much oil will be needed to fry your turkey.
Recommended Products
As an Amazon Associate and member of other affiliate programs, I earn from qualifying purchases.
Happy Thanksgiving friends!