This is your essential step-by-step guide for how to cook bacon in the oven. Now you can cook bacon without the mess, whether you like it chewy or crispy!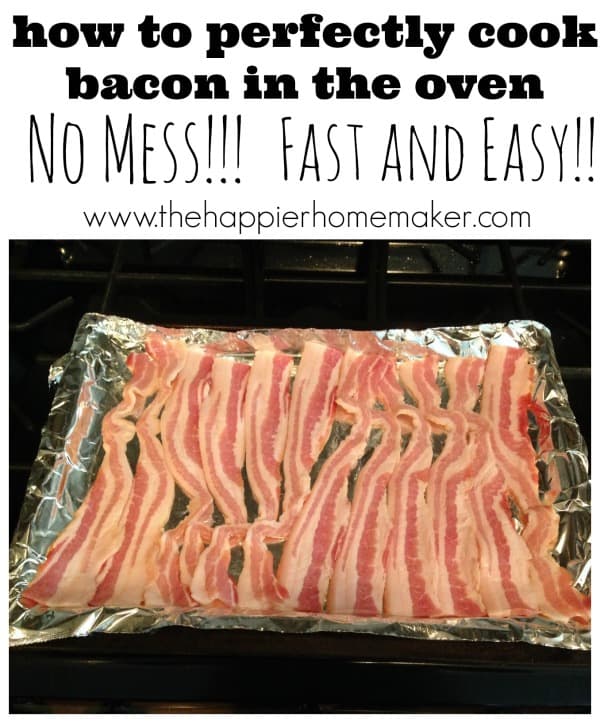 This post about how to cook bacon in the oven, my friends, is a post bred from necessity. If you follow along on Facebook you may have seen that I posted that my bacon turned on me. In our house I cook a full breakfast on the weekends, and I was cooking bacon a few weeks ago and the grease popped and I ended up with a pretty decent burn on my face.
It hurt. Bad.
I still have a scar on my cheek. Fun times.
Alas, I could not give up my bacon but I was reluctant to put it back on the stovetop again after that so I started researching and experimenting with baking bacon in the oven. (Baking bacon, sortof makes since right?)
After perfecting this baked bacon recipe I doubt I'll go back to the skillet-it's easy, mess-free, and totally simplifies my breakfast routine!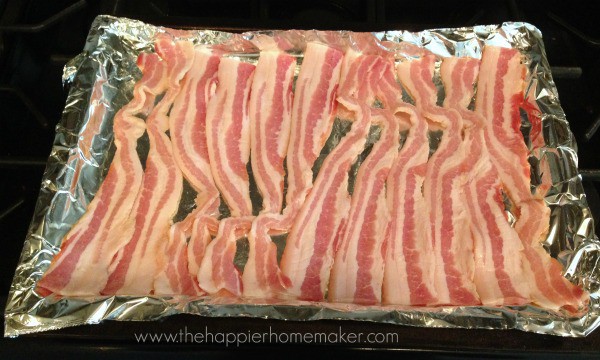 How to Cook Bacon in the Oven
To start DO NOT preheat your oven! Seriously, start that sucker off cold! All you need is a baking sheet and aluminum foil.
Line the baking sheet with foil (to contain the grease) and lay out your bacon in single layer. My baking sheet holds one package of thick cut bacon on one baking sheet.
Put the baking sheet and bacon in the oven and turn it on to 400 degrees.
How Long to Cook Bacon in the Oven
For my thick cut bacon the cook time was 24 minutes from turning on the oven until the bacon was perfectly cooked. If you use thinner bacon it will be less and turn out more crispy. I keep my oven light on and keep my eye on it from about 16 minutes on. You want to take the bacon out of the oven when it is golden brown and not yet crisp for softer baked bacon.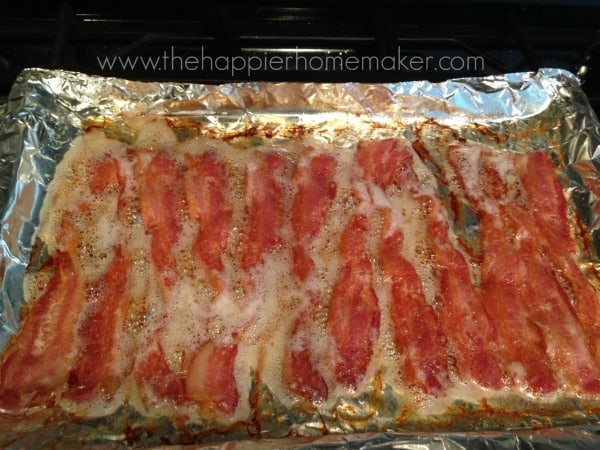 When you remove the bacon from the oven place it on a paper towel covered plate to drain excess grease and enjoy perfectly cooked bacon! I love that you can just throw away the foil and the cleanup is over!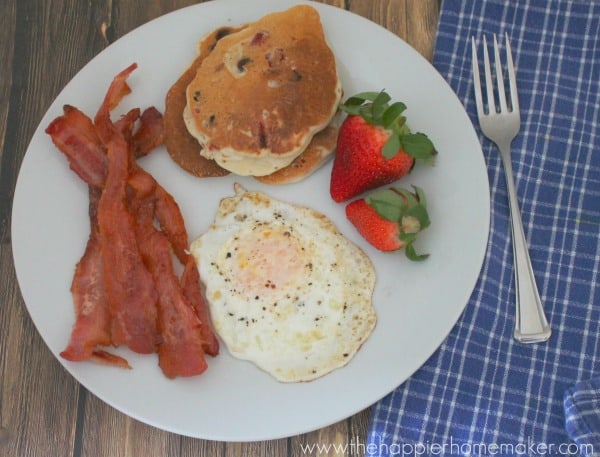 How to Cook Crispy Bacon in the Oven
To make your bacon more crispy when baking it in the oven, you have a few options. Like I mentioned earlier, you can buy thinner cut bacon for baking. You can also line your baking sheet with foil then place an oven safe cooling rack over the top. (NOT the kind with a nonstick coating). Bake as described above, again, keeping an eye on the bacon after about 16 minutes to make sure it doesn't go from crispy to burnt!
How Meal Prep by Baking Bacon in the Oven
Baking bacon in the oven is an easy way to simplify meal prep as well. Keep pre-cooked bacon in an airtight container in the refrigerator for up to one week. I like to cook up an extra package on Sunday when I'm making breakfast to use for the week. Then my husband or kids can make a fast breakfast sandwich on those busy weekday mornings. I also like to chop it up for my salads or add to a BLT for lunch!
To reheat the bacon simply wrap the bacon in a paper towel and reheat for about 5 seconds!
Print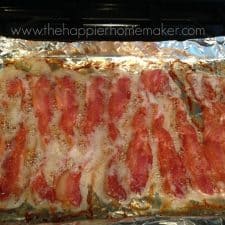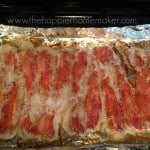 How to Cook Bacon in the Oven
Author:

Melissa

Prep Time:

5 minutes

Cook Time:

24 minutes

Total Time:

29 minutes

Yield:

8

1

x

Category:

breakfast

Method:

baking

Cuisine:

American
---
Description
This is your essential step-by-step guide for how to cook bacon in the oven. Now you can cook bacon without the mess, whether you like it chewy or crispy!
---
16 ounce

package of thick cut bacon
---
Instructions
Line a baking sheet with aluminum foil.
Lay bacon flat on the foil without overlapping.
Place bacon in a cold oven and turn to 400 degrees F.
Bake for 16-24 minutes depending on thickness and desired crispiness.
---
Notes
For crispy bacon use thinner cut bacon or cook on a nonstick cooling rack.
Keep a close eye on bacon after baking for 16 minutes to ensure it doesn't overcook.
Keywords: oven, baked, bacon
Have you tries baking your bacon yet? Or, can you commensurate with a bacon-inflicted injury too?