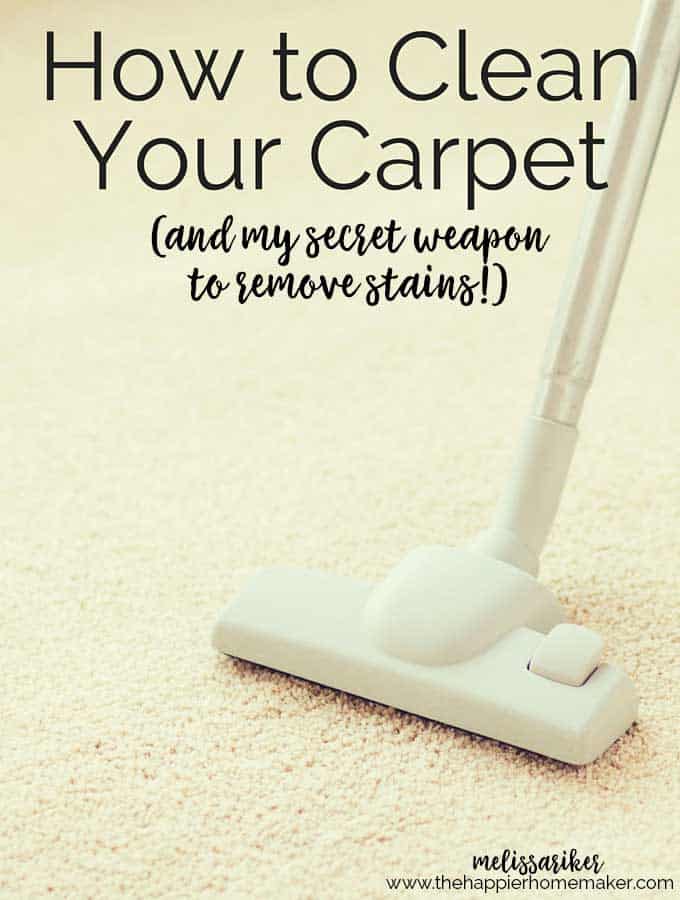 When we were getting ready to move lately I had to take a good long look at our rental's carpets and hope that they would get clean enough for our security deposit to get returned. Between our three boys, a cat, and a dog they had been through the ringer in the two years we lived in Washington DC. I'm happy to say that they did come clean and wanted to share with you today how to clean carpets like a champ!
Remove Pet Hair
If you have pets it can be incredibly difficult to get the pet hair out of the carpet with a vacuum alone. The trick to getting pet hair out is to use a tool to "grab" the hair-I use a rubber squeegee or a small rubber brush (best for stairs and tight corners.) Simply run it over the carpet and prepare to be amazed and simultaneously grossed out by how much hair comes up!
Remove Stains
Oh the stains my kids make! My husband and I joke that the landlord should have made us pay kid deposits instead of pet deposits! Luckily I have a secret weapon-Spot Shot! I have yet to meet a stain that Spot Shot can't handle-it lifts even old stains without scrubbing and eliminates odors too! Here's a video I made when we were getting ready to move out that shows Spot Shot in action:
Awesome right? Check out the before on one of my favorite rugs: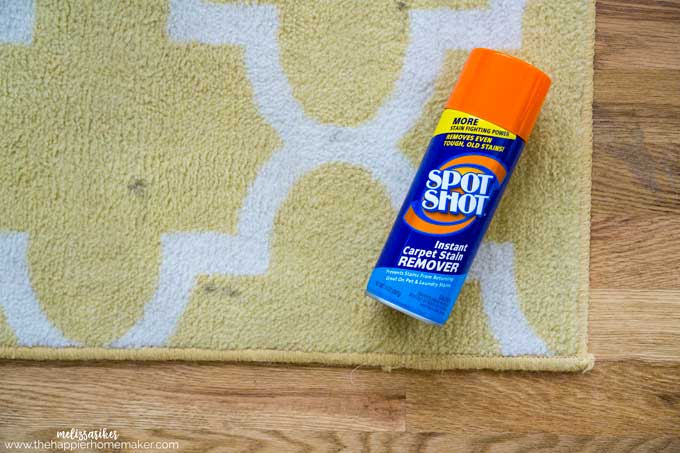 Then the after: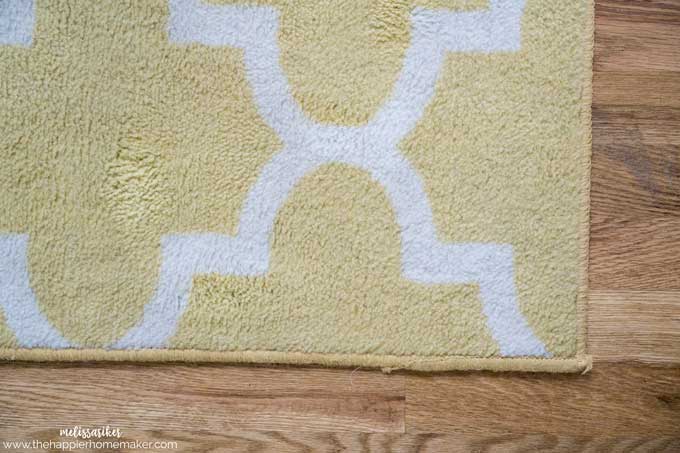 Those stains had actually been there for over six months too-I kept planning on taking the rug to the cleaners to get cleaned so I hadn't bothered trying to get the stain up…now it looks good as new! (And thankfully so because I can't wait to find a home for that pretty yellow rug at our new house in England!)
Deodorize
Spot Shot is great for deodorizing small stains (the prize on that one definitely goes to the pets over the kids!) For full room deodorizing I like to sprinkle some baking soda across my carpet before vacuuming-it's an easy way to help deodorize the carpeting!
Who do YOU think is messier-kids or pets?? Vote here, I'm voting kids all the way—>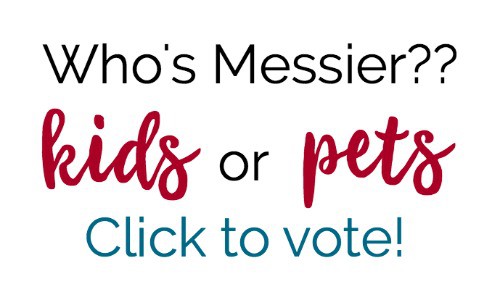 Maintenance
Finally, let's talk long term maintenance…did you know that most carpet manufacturers recommend shampooing your carpets every 12 to 18 months? Yes! Depending on the amount of people in your home and whether or not you have children you may even do it more often.  We have our carpets cleaned once a year. Doing yearly maintenance cleans coupled with the tips above for cleaning your carpet make it easy to keep your carpets in tip-top shape!
GIVEAWAY!!