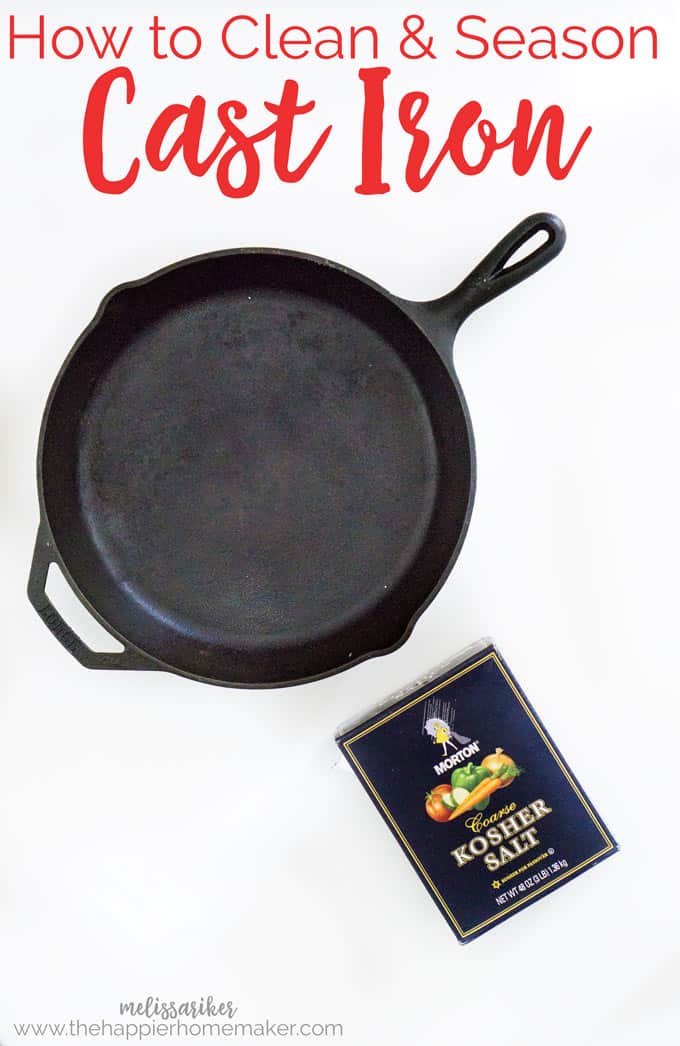 When the movers came to pick up our express shipment to England last week I had such a hard time deciding what kitchen supplies to pack. If I sent it ahead I'd have to live the next couple of weeks without it but I'd have it hopefully shortly after we get our new house next month…if I kept it until our main shipment I may not see it again for two months. Decisions, decisions. I pulled out my cast iron skillet with the intent of shipping it but was shocked to find it totally rusted-apparently my husband had no idea how to clean cast iron so I thought I share that, along with how I season cast iron, with you today.
If you didn't grow up using cast iron it would be very easy to make the mistake my husband did-washing cast iron like any other pan-with soap and water. It's actually very easy to clean cast iron-no soap required! Simply use a sponge or brush and hot water water. If you have hard to remove food create a paste with kosher salt and a bit of water and scrub the pan with that.
RULE #1: No Soap to Clean Cast Iron!
Why don't you use soap? Because you'll remove the pan's seasoning and have to reseason it (we'll get to that in a moment!)
If your pan is rusted like mine was you'll need kosher salt and a lot of elbow grease-some people use half a potato to help grind the salt against the pan, I've found a cheap sponge to work just fine but it can tear the sponge up.
Once the rust is gone or if your pan does get washed with soap you're going to need to season the pan (you need to season most new pans too!)
RULE#2: Season Cast Iron as Needed
To season the pan you'll just need an oven and vegetable oil-beware not to substitute with a different oil that has a lower smoke temperature, vegetable oil works perfectly.Preheat the oven to 350 degrees and line the bottom rack with aluminum foil. Coat the pan with oil all over-handle, top, bottom-everything. Place the pan upside down on the top rack (the foil will catch any drips) and bake for one hour, turn off the oven. Let the pan sit another 45 minutes to cool before removing. Your cast iron will come out ready to use!
Every time you heat oil in your pan you'll be enhancing the seasoning, and you can reseason as needed. I also like to wipe my cast iron pans down with a small amount of oil after cleaning and then store covered with a kitchen towel to prevent dust collecting on it.
Do you cook with cast iron? What are your go to tips for caring for cast iron, I know there are a ton of different methods and this is just mine, so share yours in the comments!