This is a sponsored post written by me on behalf of Boar's Head . All opinions are 100% mine.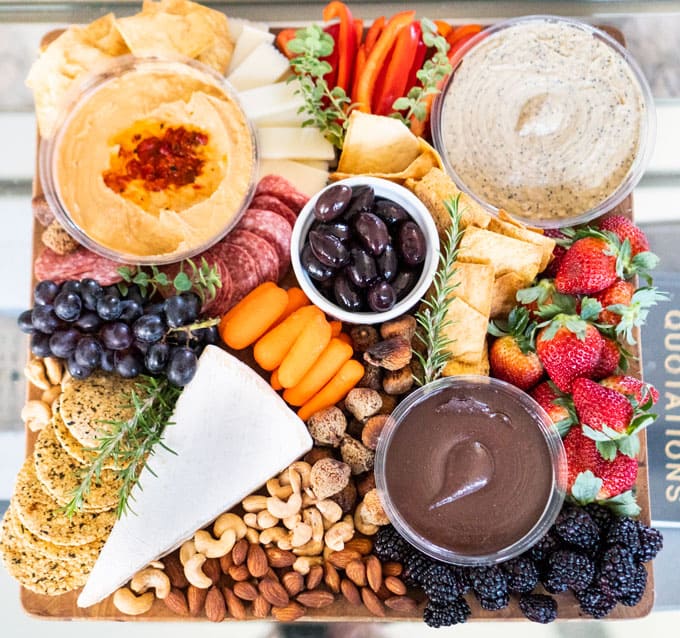 Ahhh, football season. It's a beautiful thing! My husband and I love inviting friends or family over to watch football on the weekends. We're huge college football fans (go Clemson!) and love our professional football as well so it gives us plenty of opportunities to entertain. One of my very favorite ways to feed a crowd is a nice appetizer board. There are so many ways to customize your offering and because there are so many options available you can cater to any taste. Assembling a good appetizer board isn't hard either! Here is a step by step guide to putting together an appetizer board that will impress your guests!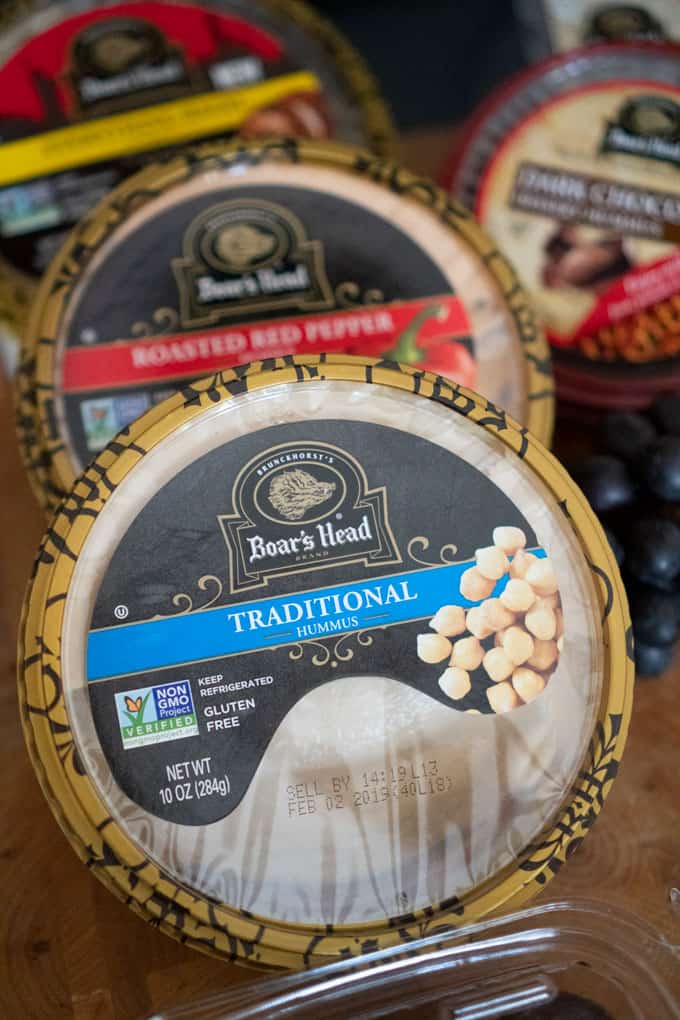 The most important thing to remember when prepping an appetizer board is to buy high-quality ingredients. I always start my shopping in the Boar's Head section of my grocery store deli. I started with multiple varieties of Boar's Head Hummus-Boar's Head actually has 13 different varieties to choose from! The hummus is also Non-GMO Project Verified, all-natural, and gluten-free which is an important thing for us, especially when entertaining.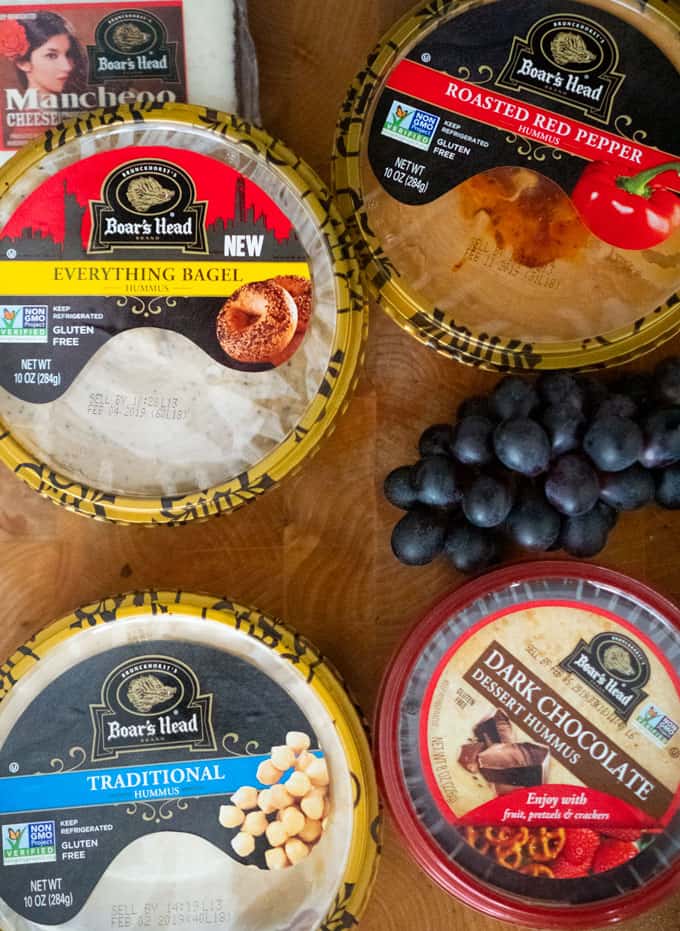 In addition to the hummus, I like to pick up some meats, cheeses, fruits, veggies, olives, and nuts. Gather all of your ingredients and a large serving platter or cutting board, then it's time to start assembling! Start with your largest items, for me it was the Boar's Head Hummus containers. Lay them out on your board to get an idea of how you want to position them.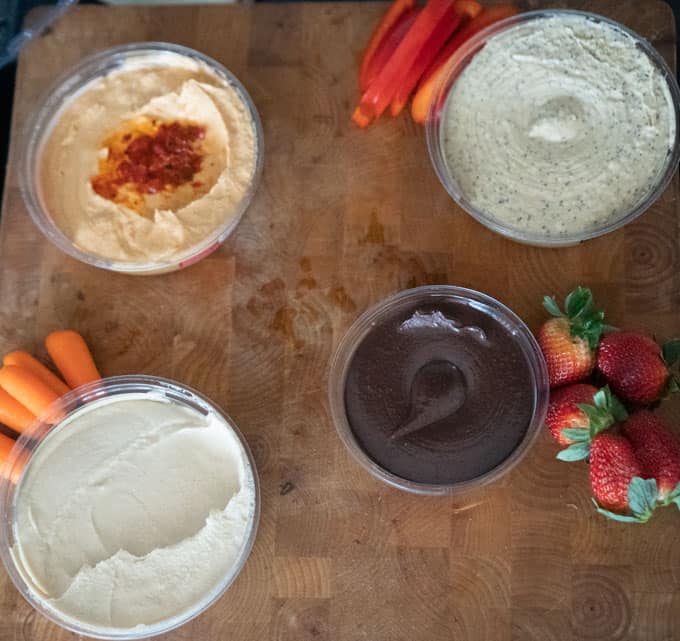 Pay attention to color as you lay your board out. You can see here that I separated the two lighter colored hummus containers to keep the board balanced. I also started to pull my colorful fruits and veggies in to balance the Roasted Red Pepper Hummus (yum!!)
Start adding ingredients and think beyond straight lines! I like to curve my ingredients around the various containers to give a feeling of movement and interest to the board. You can also see that I was having trouble fitting both my Boar's Head Traditional Hummus and my Boar's Head Brie on the board. I ended up deciding to set the traditional hummus aside and let the brie take that space, which worked out well because my guests later finished the Boar's Head Everything Bagel Hummus quick fast and in a hurry and I had the Traditional Hummus on hand to replace it!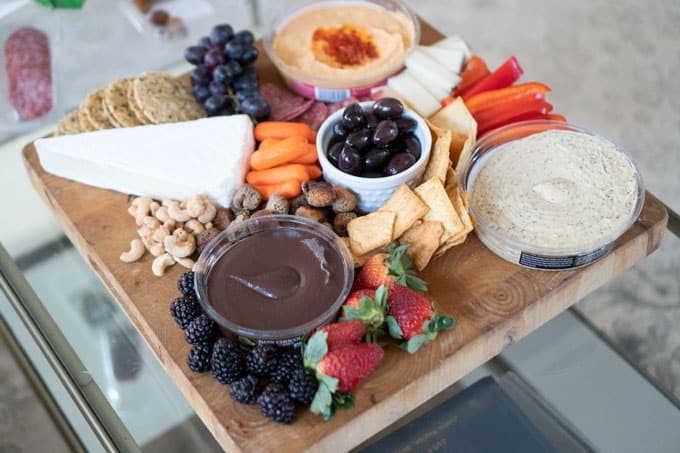 As the board starts to get filled I like to go ahead and move it to the final destination, in this case, my coffee table so guests could nibble while watching the game. I do this because I love the way the boards look filled completely to the edge and it would be very difficult to move once totally full without spilling.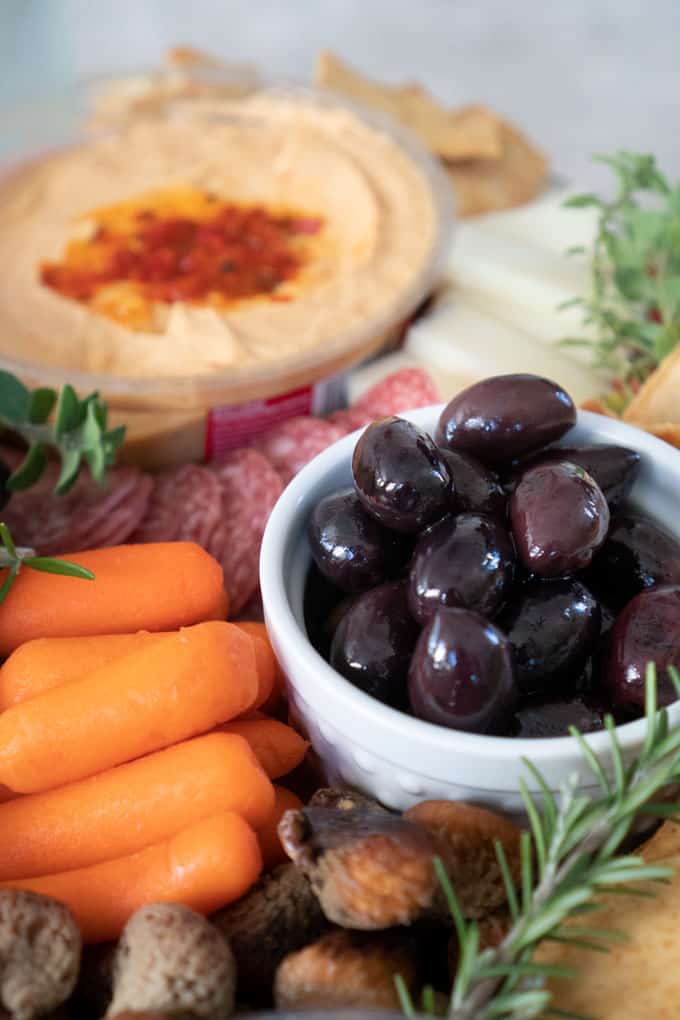 From here you can continue adding your ingredients to finish off the board. I always add a few sprigs of fresh herbs from my garden for the extra special finishing touch!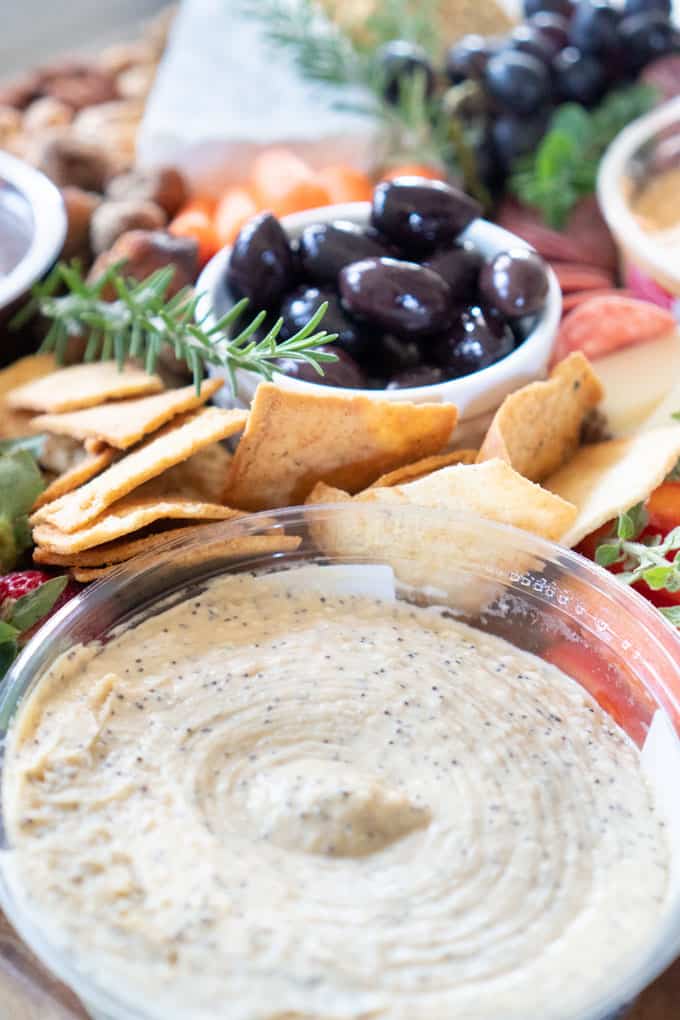 This board has both salty and sweet options, which is nice for entertaining. In addition to the Boars Head Hummus, there is Boar's Head Brie and Manchego Cheeses, Boar's Head Uncured Genoa Salami, red pepper, olives, carrots, and both regular and gluten-free cracker options. (We have a lot of friends and family who eat gluten free which is another reason the Boar's Head Hummus is such a great option for us!) It also had figs, cashews, and almonds.
I also included strawberries, blackberries, and grapes to compliment the Boar's Head Dark Chocolate Dessert Hummus. I discovered this hummus a few months ago when entertaining a friend that was vegan. It was amazing! I highly recommend you try it!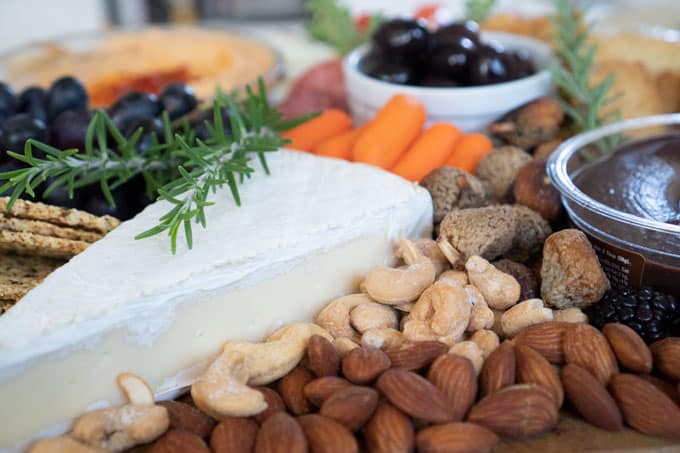 The finished board offers plenty of options for guests to help themselves. They can use crackers or veggies with their Roasted Red Pepper or Everything Bagel Hummus in addition to the meats and cheeses. When their palate wants a bit of sweetness the Dark Chocolate Dessert Hummus and fruit are right there waiting. And of course, the cashews and almonds are great finger food.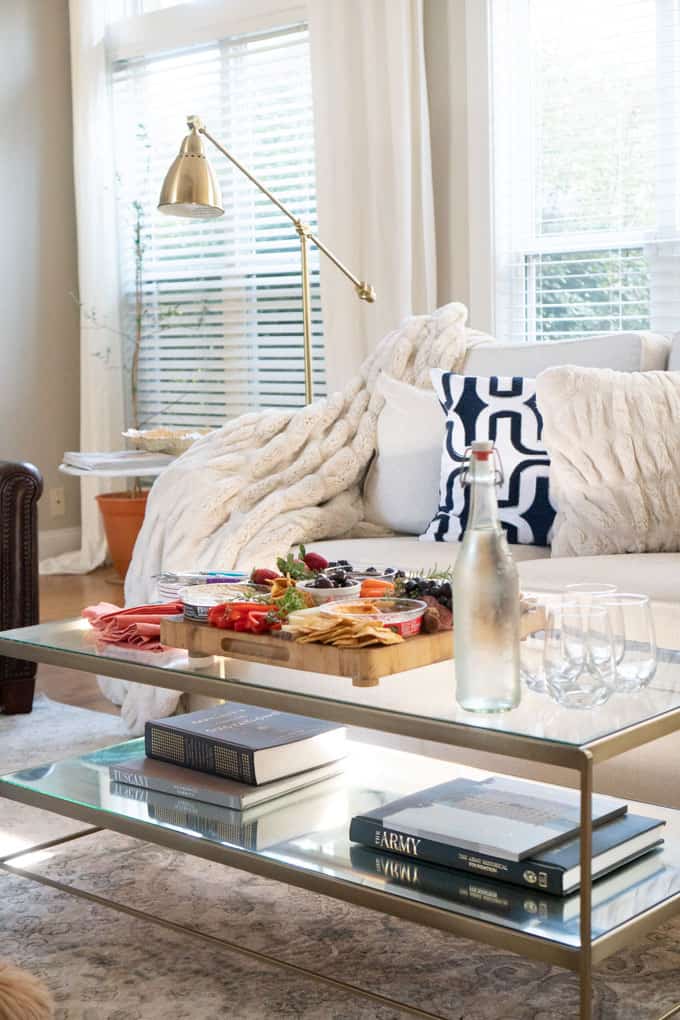 Once the board is assembled I added some water and glasses along with napkins, small plates, and some party forks and cheese knives. Then all that's left is to relax and enjoy entertaining. Oh, and hearing your guests rave about how amazing your appetizer board is!