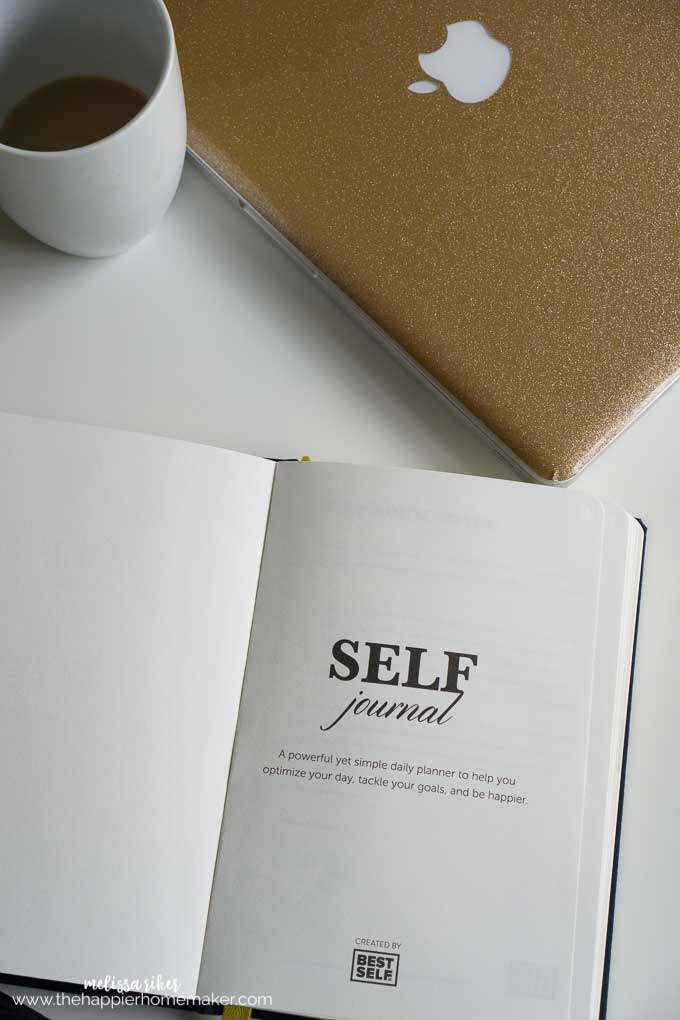 (This post contains affiliate links but obviously I'm a raving fan of the journal and only recommend it because it's helped me so much!)
My brain acts like a pinball machine. My thoughts are all over the place, I'm super easily distractable, and I have a hard time focusing on long term goals rather than short term. Enter The Best Self Journal. I've been using the journal for the past six months and I'm so jazzed up for how much it's improved my productivity that I knew I had to share with you all!
Now to be completely honest, I had been using Erin Condren Planners for the past few years and I did (do) love them. They are gorgeous and fun to use. But I needed something more this year, I needed more than a place to write down appointments, I needed a tool to make me more productive. The Self Journal is just that, let me tell you why…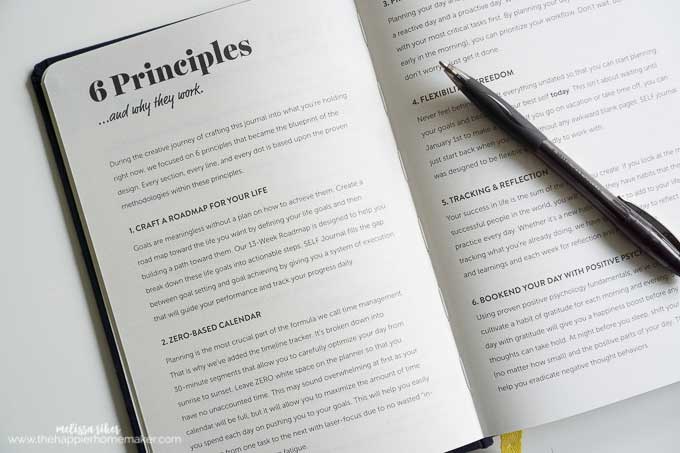 The 6 Principles
The very beginning of the journal walks you through the 6 principles for the journals design:
Creating a roadmap to achieve your goals
Having a zero-based time schedule, so planning for your entire day, even the free time
Prioritizing your days to be more productive
Remaining flexible (the journal is self-dated so no empty pages while you're on vacation!)
Tracking and Reflection-practicing habits and reflecting on wins and losses
Positivity-each day starts and ends with gratitude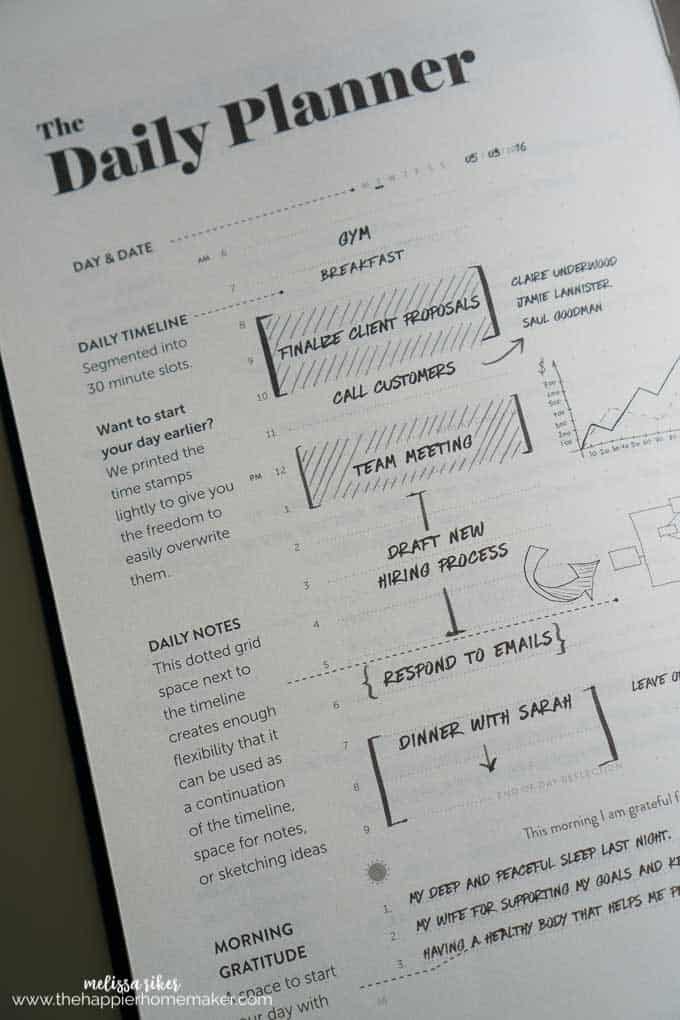 There are worksheets at the beginning of the journal to walk you through your 13 week goals. Not only setting the goals but breaking them up into steps to help you achieve them and track your progress. You identify key actions and tasks you can do to make that end state goal a reality-it's so motivating!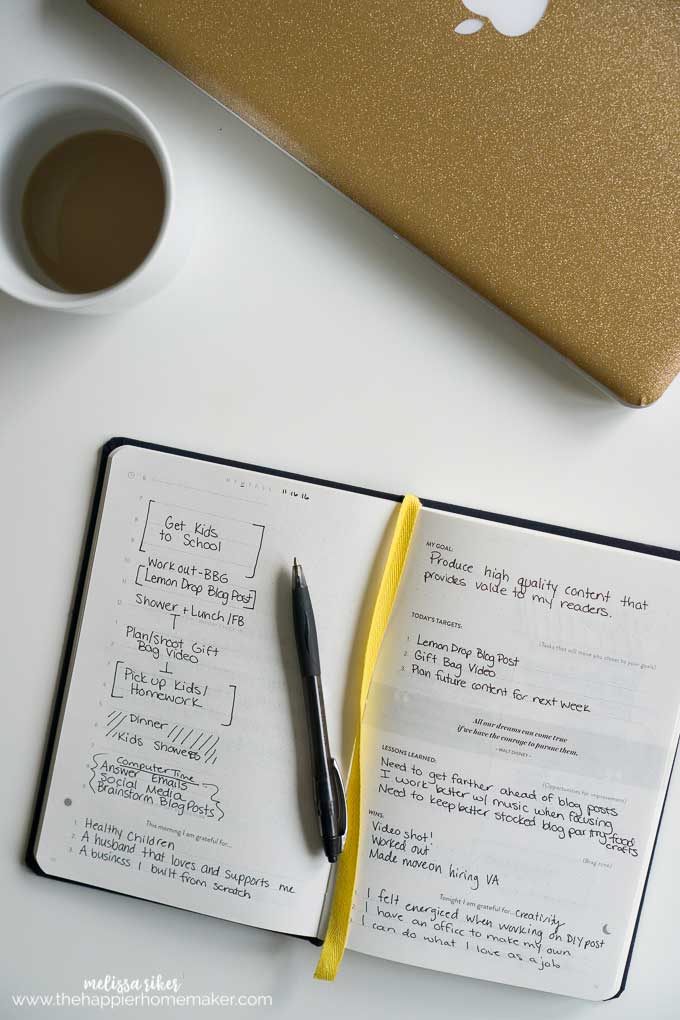 Then you move on to planning your days. Each day is divided into 30 minute "chunks" that you can use to plan your day. That doesn't mean I'm working constantly but rather I am planning for the time I'm not working as well as working. So you can see in the picture above I plan for the times I'm getting my kids up, dressed and to school. I plan for school pick up and dinnertime. I also plan for workouts and free time on social media. BUT I am intentional about it. That means if I have 11-11:30 scheduled for putzing around on Facebook while I'm having an early lunch, come 11:30 Facebook goes bye-bye and I get back to work on what I had scheduled. It give you accountability to yourself and your priorities.
I also love sitting down once in the morning to look over my plan and writing down three things I'm grateful for. In the evening you once more reflect on what you are grateful for as well as lessons learned that day and wins for the the day. (And there's a super inspiring quote on each page!)
There is also place to reflect on each week's progress-what worked, what didn't. Did you focus on the right things, did you keep up the habits you are trying to work into your life. I like to track my exercise and water I drink in addition to my work goals here.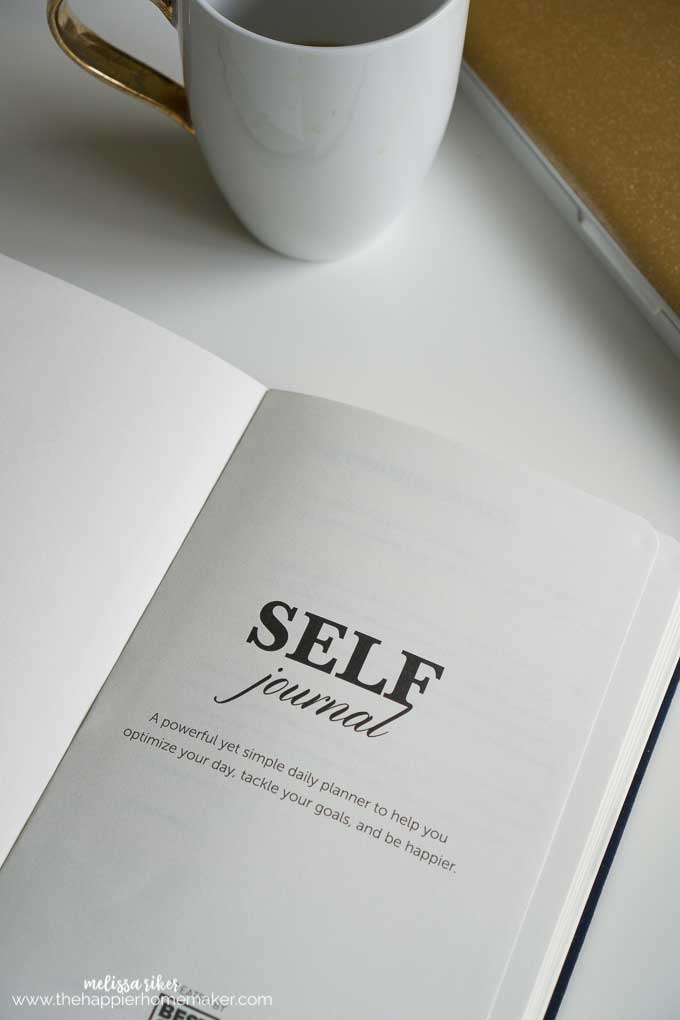 Since I started using this journal I feel like I got an extra hour or two in my days…it's fantastic! So-if you are interested I have great news for you-the people at Best Self are so amazing that they even let you download a pdf of the journal to print and use at home. This is what I did when I was first interested in trying it. I loved it so much I knew I wanted to order a hard copy bound version and now I'm finishing up my second journal!
Click here to check the journal out yourself.
Join our Blogging Community
Join over 2500 bloggers and aspiring bloggers for exclusive tips and tricks via email, access to our private Facebook group and I'll send you a free blog statistic tracking spreadsheet as a welcome gift!