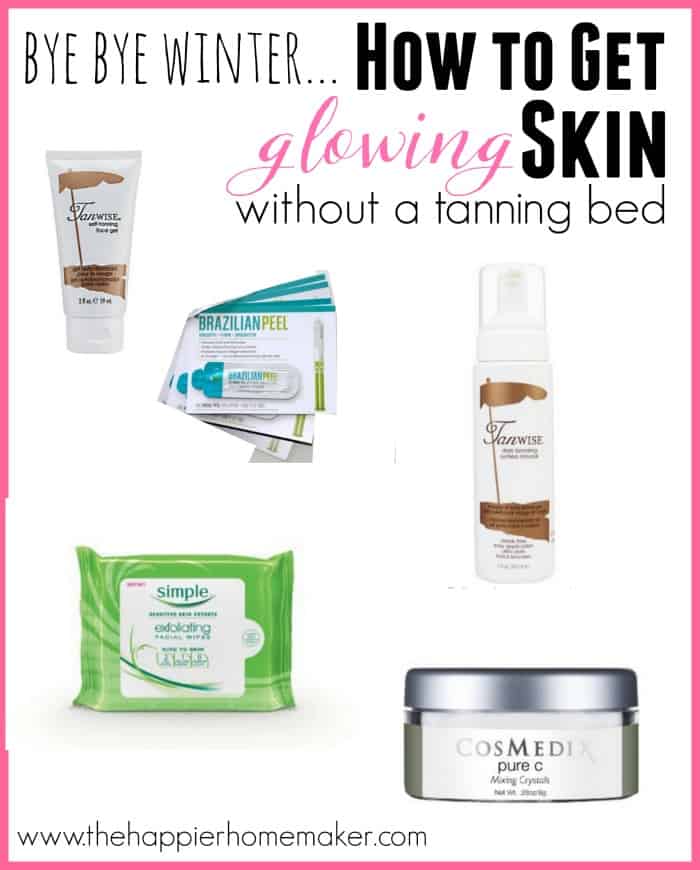 It's that time of year where I start to think about breaking out the shorts and skirts (at last!) but then comes the startling realization that these legs are a little, um, pasty after the winter!! So along with breaking out the shorts and sundresses it's time to give this skin into warm weather worthy glow! Today I'm sharing how to get glowing skin without the tanning bed and without breaking the bank!
There are two parts to getting glowing skin-exfoliation and adding color-first we need to remove the dullness of winter skin by exfoliating! *some affiliate links included

I use a gentle chemical peel once a week, it's a great home alternative to spa peels…I did a professional chemical peel once and hated it-my skin was flaking for 3 weeks afterwards-not a look I like to sport. I have found these weekly peels to be comparable to the results I got from the professional peel when used consistently on a weekly basis without the harsh after effects.
On a daily basis I love, love, love these face cleansing wipes! I'm horrible at washing my face at night unless I use cleansing cloths but most don't give any kind of exfoliation. I saw these recently and tried them and they are awesome y'all! My skin looks so much better for using them and they are inexpensive to boot!
Remember when I got a professional peel a few years ago? Well my esthetician at the time recommended this product and I've been using it ever since. It's very different than most anti-aging products in that it's a powder you shake out into your hand then add to any lotion you're using. So rather than paying a ton for fancy anti-aging creams I add this to my Oil of Olay daily face lotion to get the anti-aging boost. The container lasts forever so it's a big money saver in the end!

Once you've refreshed your skin you're ready to add color! My favorite self-tanner brand is Tanwise. I use the dark tanning mouse for my body and the face gel for my face. Don't worry about the "dark" in the name, I'm fair and it still looks natural on me. The tanner has a bronzer built in which makes it much easier to apply and avoid smears and streaks.
I recommend exfoliating your entire body in the shower, then after drying off using lotion on drier areas like your knees, elbows, and ankles (this is my favorite lotion of all time) Then, using plastic gloves or a tanner application mitt, apply the tanner one area at a time-work in sections: lower leg, upper leg, and so on. Rub the tanner into the skin in small circles until it's blended. The hardest part of the application for me is getting the middle of my back but I can usually manage or if my husband is around I'll call in for backup. You do need to let it dry for 15-20 minutes before dressing so the bronzer doesn't rub off on your clothing…I use it as an excuse to lock yourself in the bathroom and do my nails or read a bit of a book!
I apply the tanner about twice a week to build color and then maintain as needed-it really provides such a pretty, natural color!
Don't forget to accent that glow when applying your makeup-a little highlighter on the cheekbones does wonders! (See my favorite highlighter and all my tips for faking flawless skin here.)
Have you broken out your shorts yet? What are your favorite ways to get your skin glowing? Any favorite products to add?