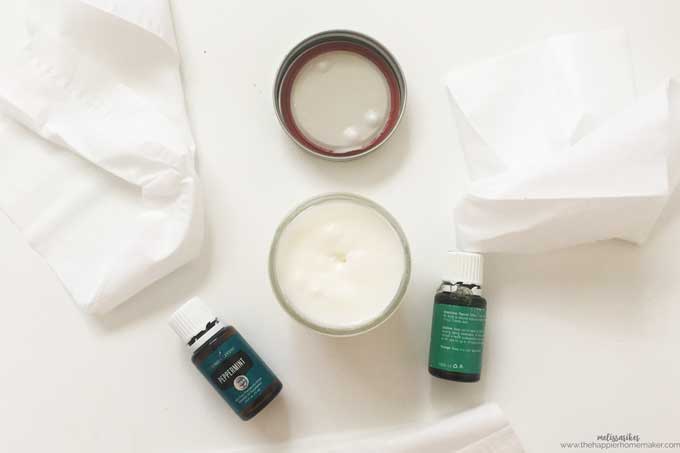 Every we time the military sends us to a new duty station I know it's coming-the allergies. It seems that with between the three kids and my husband and myself at least one of us (usually more) has a bad reaction to the pollen in each new place we move. Normally it is my husband and oldest son who suffer the worst but this move to Georgia gave me the great honor of being the miserable one. Even though I've lived in South Carolina for years when I was younger, just an hour and a half north of our current home, something in the air here has reaked havoc on my sinuses. The congestion is no joke, y'all. To help soothe my congestion I made a homemaker version of Vicks® Vaporub® to help me breathe again. This homemade chest rub is easy and only 3 all-natural ingredients!
Ingredient:
¼ cup coconut oil (remember how I mentioned how much I love it!!)
10 drops peppermint essential oil
10 drops euclayptus essential oil
(* if you use Young Living you can substitute 20 drops RC oil blend for the peppermint and eucalyptus)
Instructions:
To make the chest rub simply melt the coconut oil in a glass bowl in the microwave then add the oils and stir to blend. Pour into a small mason jar or other glass container and allow to harden. To use just rub onto your chest as you would and vapor rub for congestion. I use this on adults only just because I'm cautious like that (I will diffuse these oils for my children when they are congested though!)
This is a good recipe to have on hand, especially this time of year when back to school cooties are running rampant and cold and flu season is on the horizon.
Do you get back seasonal allergies? Anyone know what can be in the air here in Georgia that's knocking me out so badly??