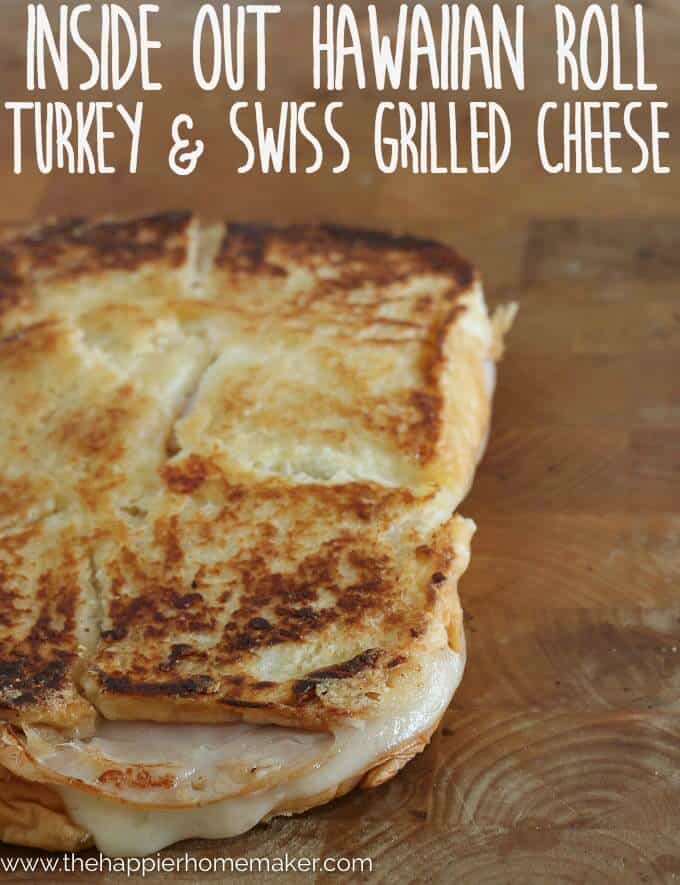 Okay first of all, can I tell you how hard it is to take pictures of a grilled cheese? Not only is it hard to get a good photo that shows you just how amazing this Inside Out Turkey Grilled Cheese is, it's hard not to take a giant bite out of it while you're taking pictures!! This sandwich is sooooo good-sweet Hawaiian rolls turned inside out and grilled to buttery perfection, layered with delicious Hillshire Farm® Naturals Slow Roasted Turkey Breast slices and gooey Swiss cheese. My mouth is watering just typing this!
I realized in the past few weeks that over the holidays my family, especially my boys, had gotten in the habit of grazing all day rather than eating a "real" lunch. The kids were filling up on crackers and snacks rather than eating a full meal and I was missing sitting down together as a family all together for lunch.
I planned these grilled cheeses to fix that problem and give everyone a proper lunchtime while we were snowed in!
Ingredients:
8 oz Hillshire Farm® Naturals Slow Roasted Turkey Breast
8 slices Swiss cheese
12 oz Hawaiian sweet rolls
2 tablespoons butter
2 tablespoons mayonnaise
Instructions:
Carefully separate the Hawaiian rolls into two sections of 6 rolls each for easier grilling. Use a bread knife to slice the bread through the middle to create the top and bottom of your sandwich. Turn the bread inside out so the tops and bottoms of the rolls are facing the interior of the sandwich. Layer turkey and cheese on the bread. Replace top "slice" of bread remembering to face it so the sliced edge is facing up! Spread half of mayonnaise uniformly over the top surface.
Heat a griddle to high heat. Melt one tablespoon of butter on the griddle and grill sandwich until golden-about 5 minutes. Spread mayonnaise on the opposite side of the sandwich before flipping and grilling an additional 5 minutes or until golden.
This sandwich is seriously amazing. I had no problem getting the entire family to gather around the table to enjoy lunch together (no more grazing!) when I served up this lunchtime meal!
Do you eat together for lunch when the entire family is home?
You might also like the Ham and Turkey Hawaiian Sliders!